August 14, 2020
Dreamy Summer Whites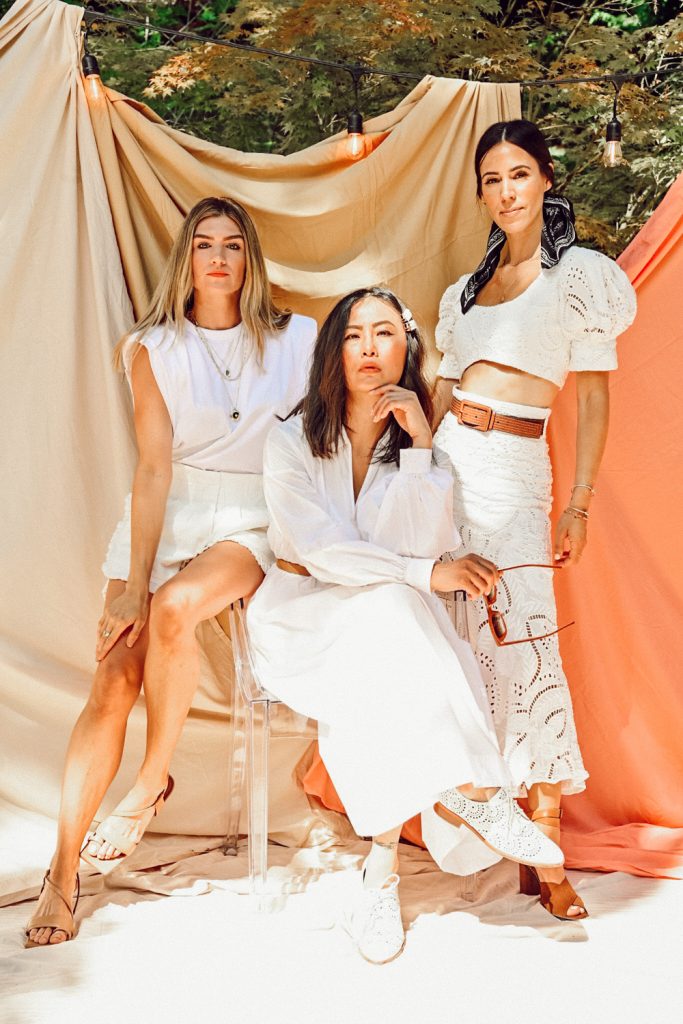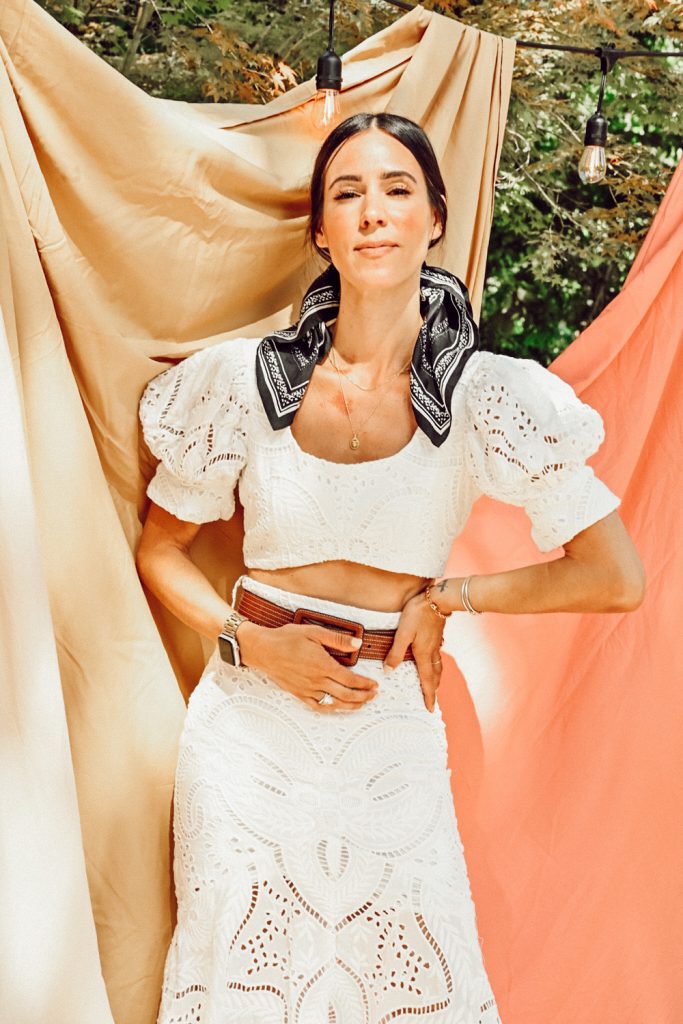 Happy Friday friends!! Who can believe that it's already middle of August! Where is the summer running off to? Today, the Stylelogue is back for another trend report – and it's the most summery of them all!  Earlier this summer we tackled trends like utility styled pieces, romantic florals and closing out summer with dreamy summer whites! I try to get the most use out of all my summer whites during the warmer months, and this month I dusted off this lace stunner for an end of summer bang! It's a classic neutral hue that can simply brighten any summer look with versatility 10 ways to Sunday! In todays post, we sharing three ways to style dreamy summer whites!
To check out all of our previous trend reports here.
s h o p    t  h e    p o s t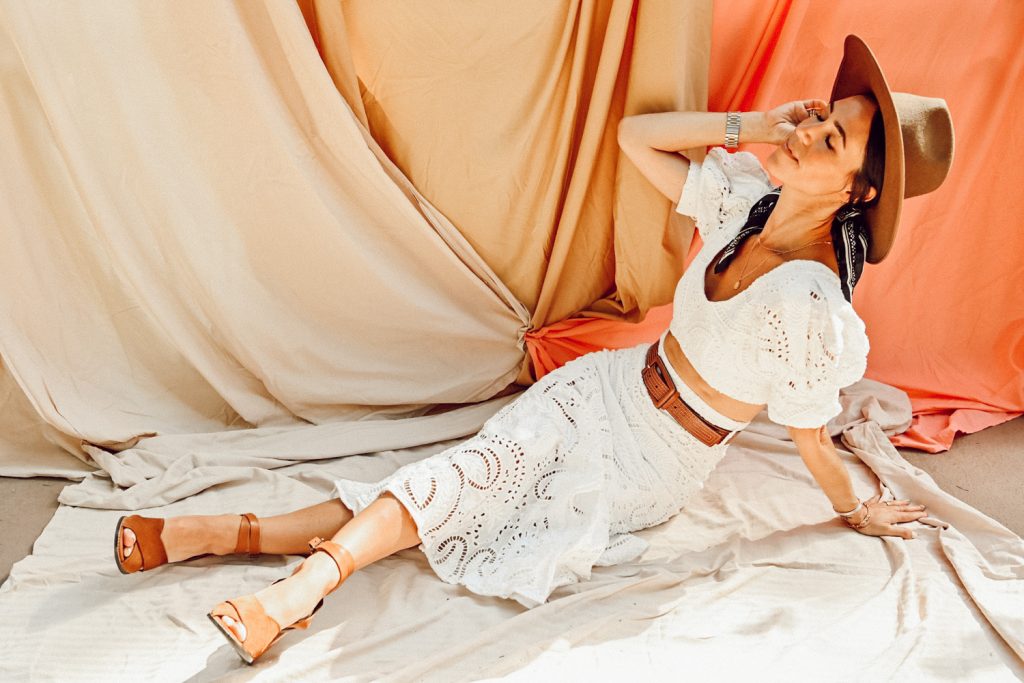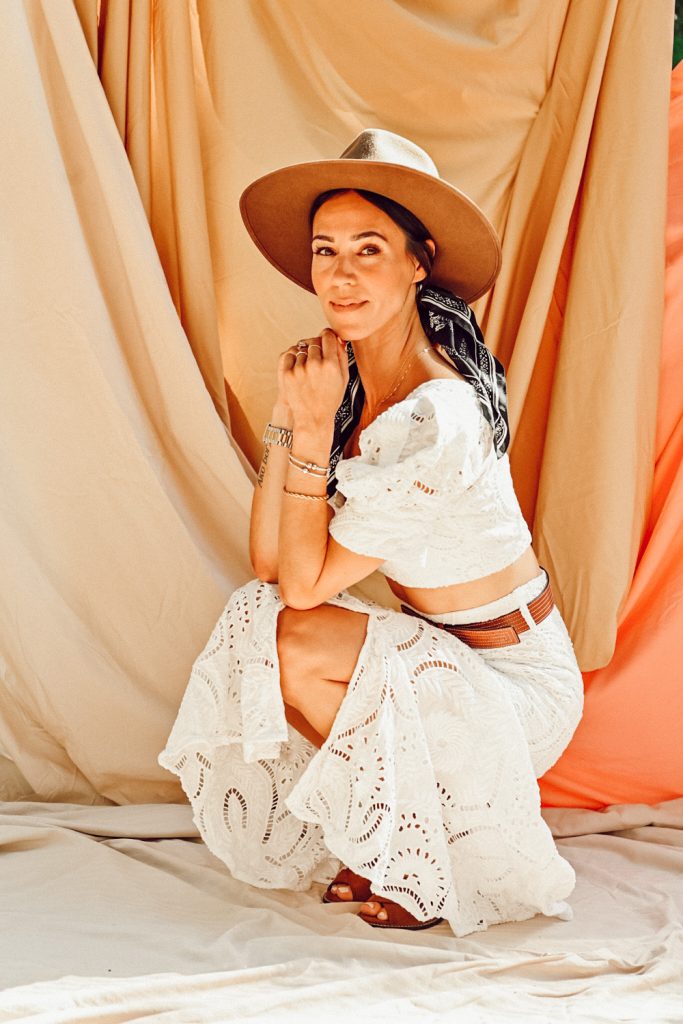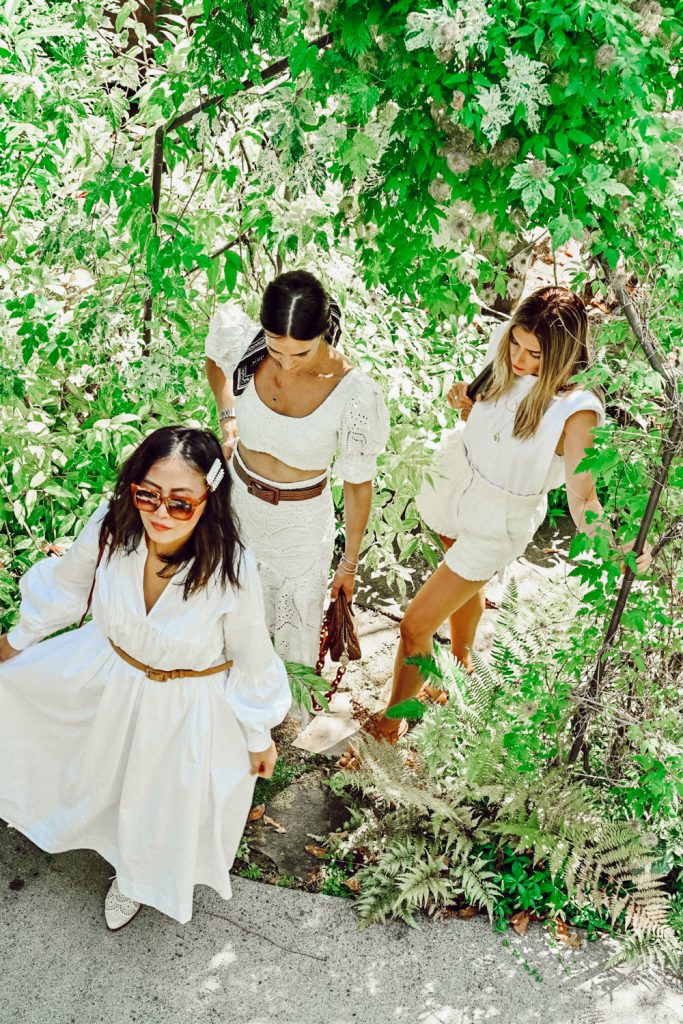 DREAMY SUMMER WHITES
When thinking about styling this look, I wanted to do something a little outside of the box for me – I wanted a look that only captured the trend, but season as well! From the cropped top, to the puffy shoulders, to the midi skirt and lace detailing, this look summer dancing in the summer heat like nothing else…..and that is exactly what I did.
This lace cropped top is a summer stunner! While easily paired with this lace midi skirt, it has the versatility to be style with any summer high waisted pant or denim – thats the beauty of classic summer white pieces. As we head in to fall, I started to incorporate pieces and textures we all love in the early fall season like this wool hat and suede sandals. Also, I will never say no to a good hair accessory like this classic bandana scarf in silk. Looking for ways to shop this summer trend? Shop some of my favorite pieces ready and available to spice up that end of summer wardrobe: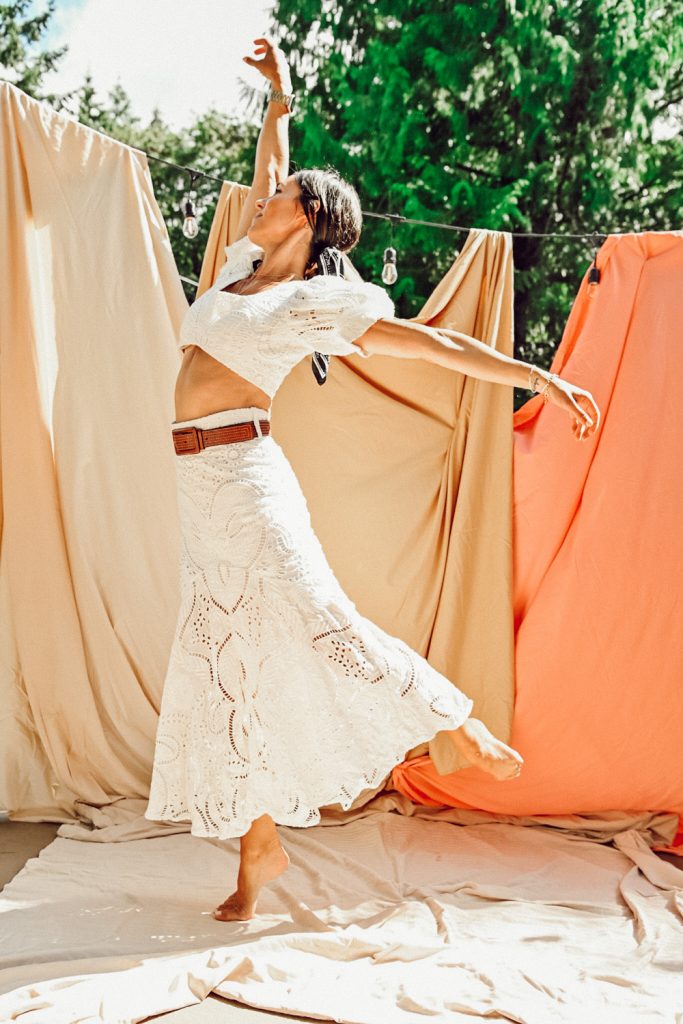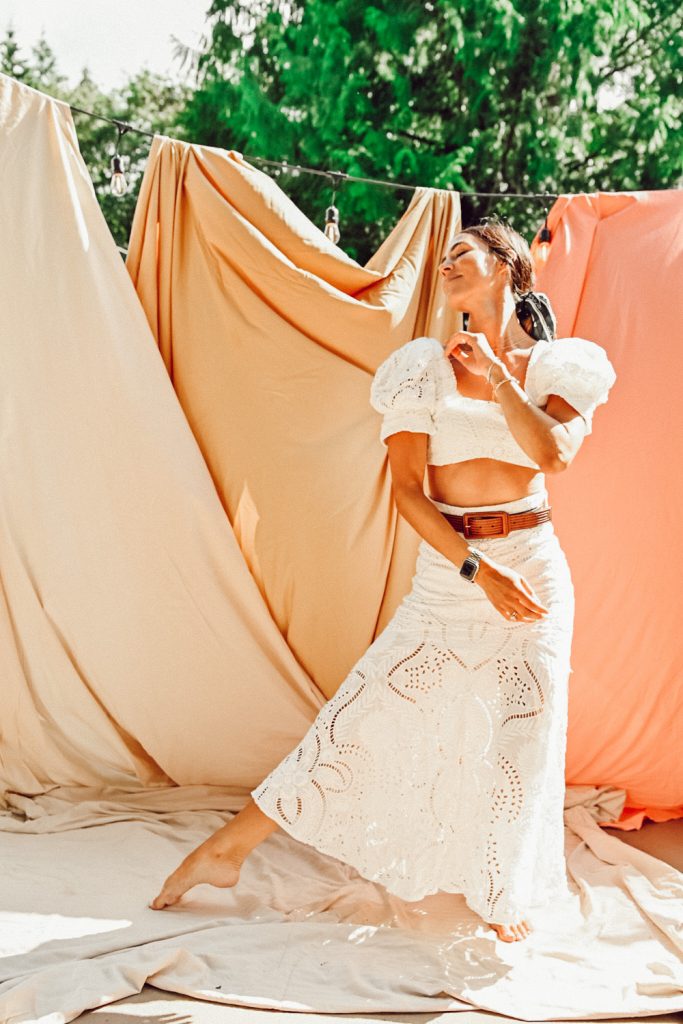 SEATTLE STYLELOGUE
If there is one thing I love, it's when this group and comes together on trend! This week Cortney took summer whites from dreamy to chic! The most coveted tee from spring to summer is this padded shoulder muscle tee from The Frankie Shop – they know to make a good elevated basic! She styled this elevated tank with the perfect summer short with ruffle trim detailing and a square toe sandal to top it all off! I love the versatility of this look and how it can be styled up or down pending on where you are headed!
s h o p    c o r t n e y 's    l o o k 
tank | shorts | shoes | locket | chain set 
Elisa is a stunner in the perfect summer staple – the classic white maxi dress! The balloon sleeve and tiered detailed giving this classic white maxi dress and new look! She dressed the look up by cinching a waist with the perfect belt and added some cut-out oxfords. I'm obsessed with this on-the-go look that is perfect for the weekend for a getaway trip! It's summer ease at it's finest!
s h o p    e l i s a 's    l o o k 
dress | shoes | sunglasses | bag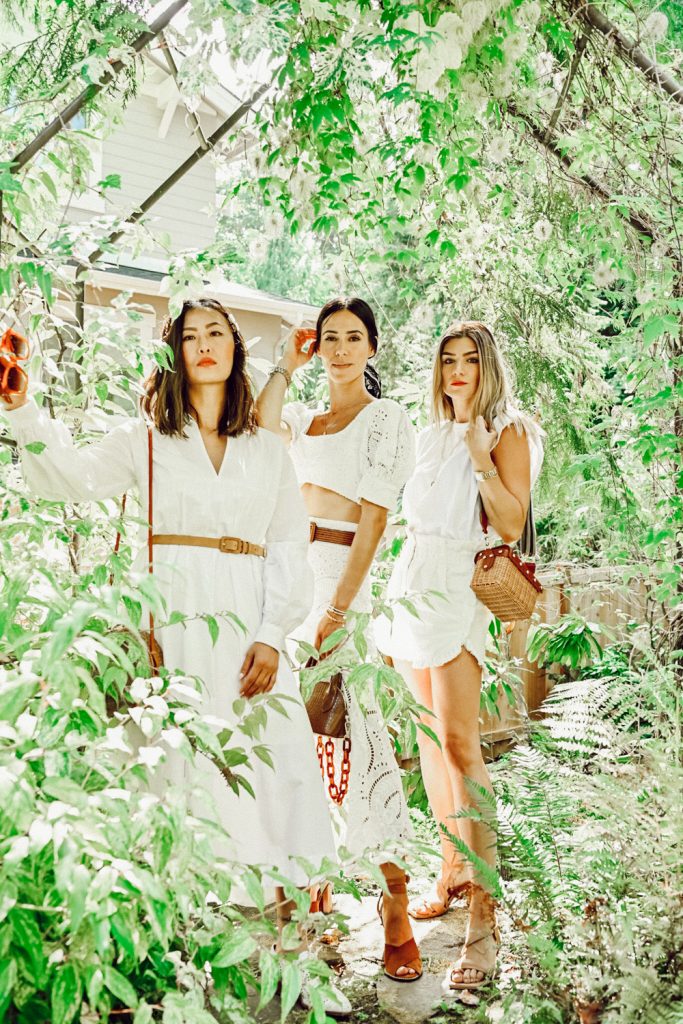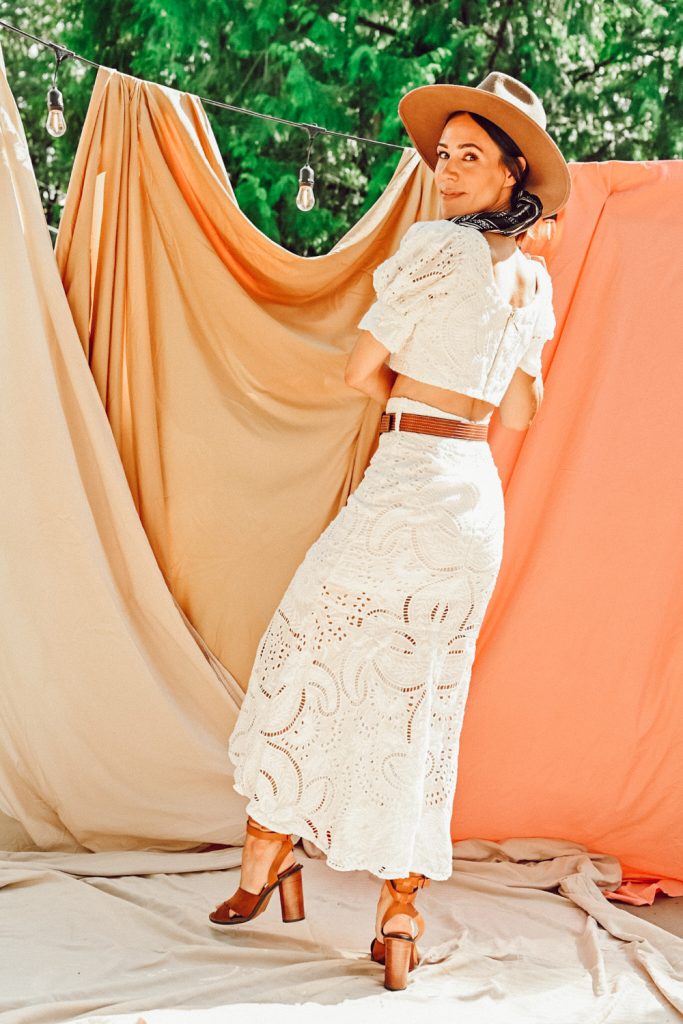 photography by Jason Tang
s h o p    t  h e    p o s t 
lace cropped top | lace midi skirt | wool hat | bandana scarf | suede sandals 

YOU MAY ALSO LIKE