November 1, 2019
The Best Teddy Coat Under $100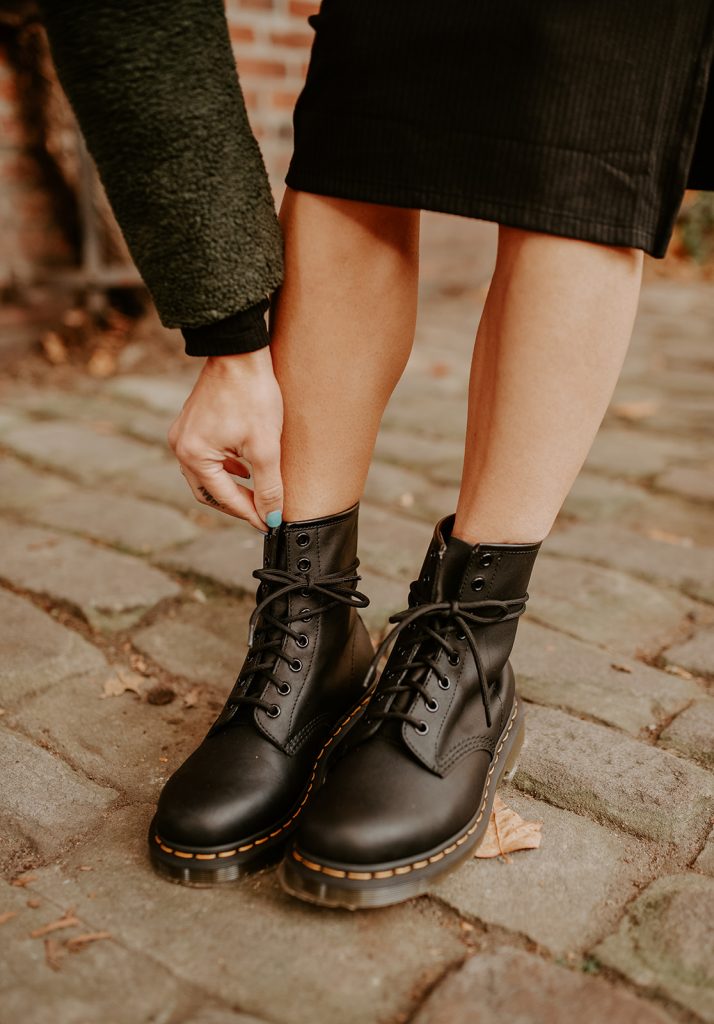 Is it me, or is fall moving at a rapid pace? This week is Halloween and as soon as the clock strikes midnight, out come all the holiday decorations in full force! Poor Thanksgiving…it can't even catch a break! Either way, I love the festive spirit of the holiday season and I cannot wait! While we are still here in Fall, because I am NOT ready for snow and holiday-wear, I'm building a few fall outfit ideas for the remaining days of the season! Today I've partnered with Amazon Fashion to share their Amazon brand pieces for the perfect fall cozy look! Today I've partnered with Amazon Fashion to share their Amazon brand pieces for the perfect fall cozy look like this teddy coat under $100
s h o p    t h e    l o o k (c/o Amazon Fashion)
ribbed dress | teddy coat | combat boots | belt bag | cat eye sunglasses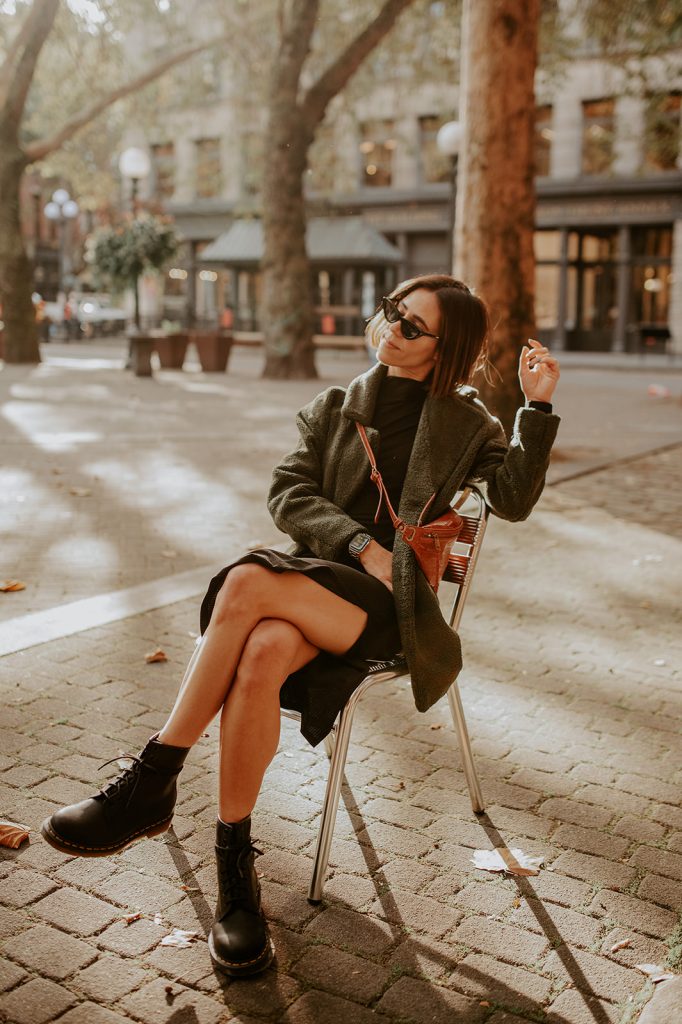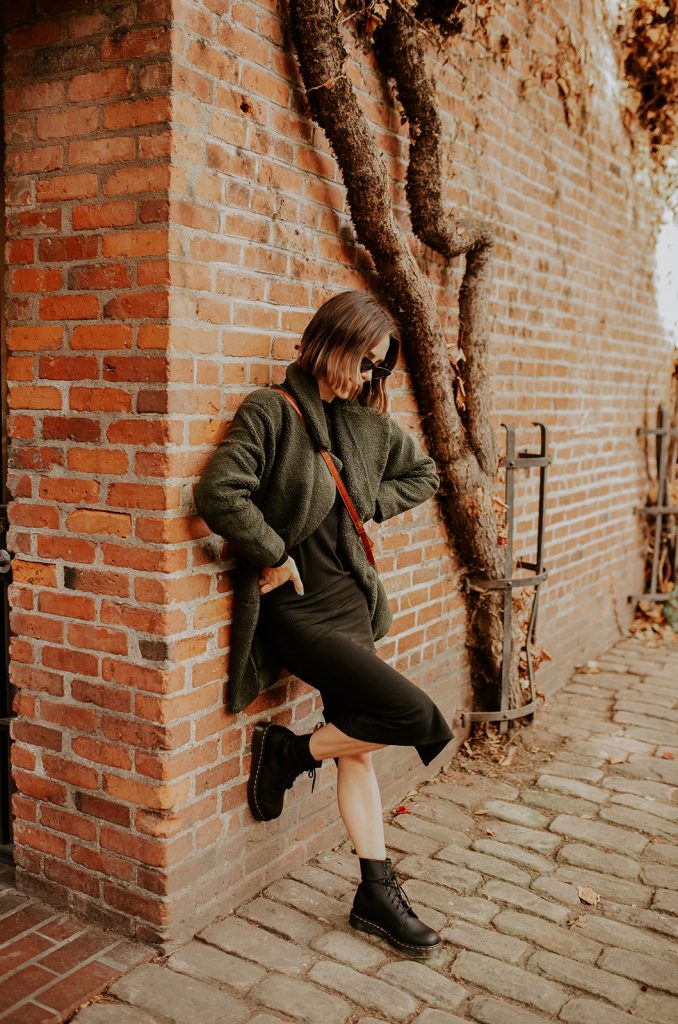 Fall is by far one of my favorite seasons! I'm not sure there is anything better than fall fashion. The feeling and thought brings me back to that first day of school feeling and picking out my fall must-haves from the catalogs! Anyone else? Fall just carries so much nostalgia for me! Anyway….back to the look….did you know that Amazon has their own clothing brands that they sell on
Amazon.com
? From T
he Daily Ritual
to
Amazon The Drop
, all their collections have really great staples that you can add to your wardrobe and style with so much versatility!
With the exception of the shoes, this look is made up entirely of Amazon brand pieces! Not mention, the look is under $200!!! This look centers around this perfect, and affordable, teddy coat. Teddy coats are a dime a dozen today, but finding a quality one is the hardest step! The material of this teddy coat is really great and won't look like a matted dog after a week of wearing it! It's priced closer to $100, but worth the price! I layered this olive teddy coat over a simple ribbed mock turtleneck dress. You can easily style this dress with sneakers, boots or like here, with combat boots! It's a great elevated basic that your wardrobe requires this time of year!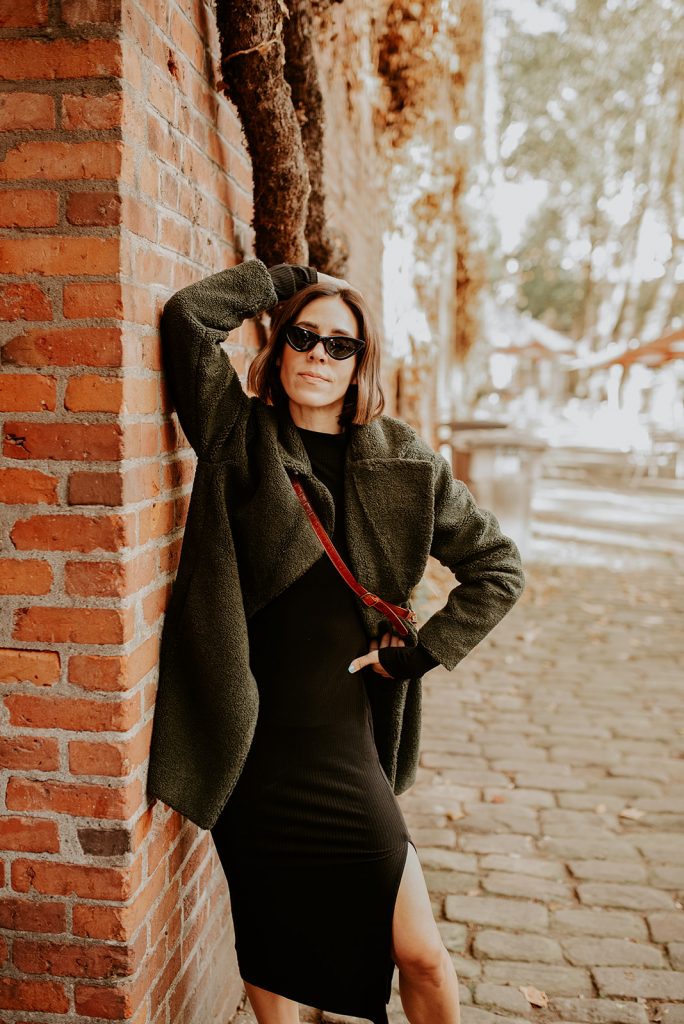 To accessorize, I styled the look with my FAVORITE
combat boots
! Who knew that
Dr. Marten's
would be such a classic and staple brand all these years! I remember when I got my first pair in 7
th
grade  for Christmas! These black boots are a fall staple and can be styled so many ways in your wardrobe! Lastly, this
faux croc belt bag
is a slice of heaven! I am obsessed with my Rebecca Minkoff version and needed a brown colored versions for my neutral looks! The belt bag is a staple within the Amazon Drop collection and comes in a few other colors – it's such a versatile bag and looks killer over a gorgeous coat!
s h o p    t h e    l o o k (c/o Amazon Fashion)
ribbed dress | teddy coat | combat boots | belt bag | cat eye sunglasses

YOU MAY ALSO LIKE