September 17, 2015
Gridiron Fashion: Bear Down with Majestic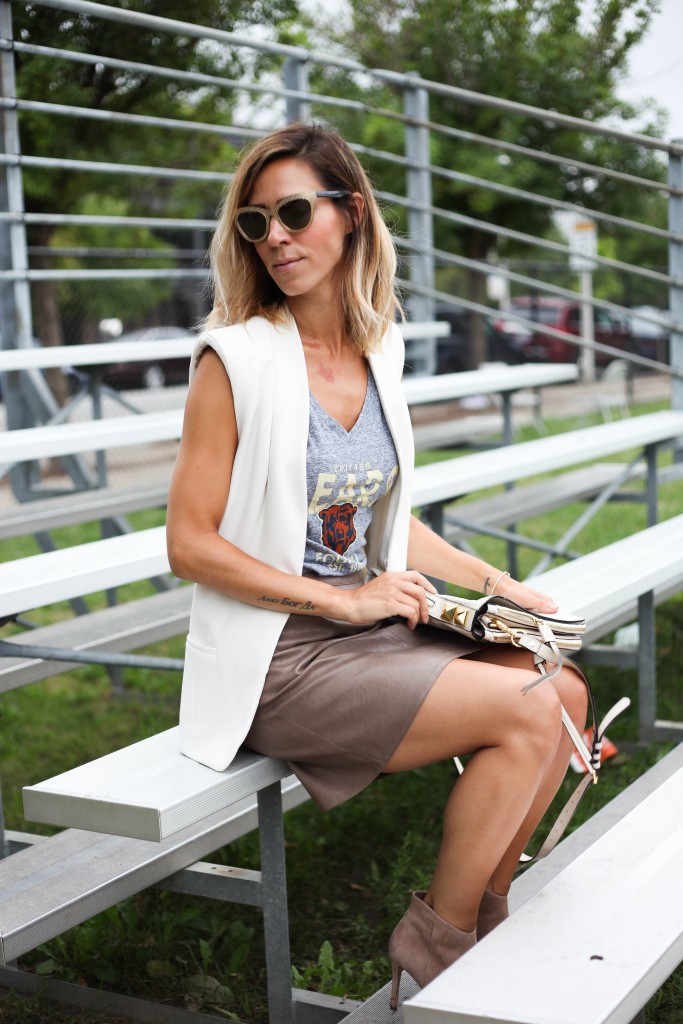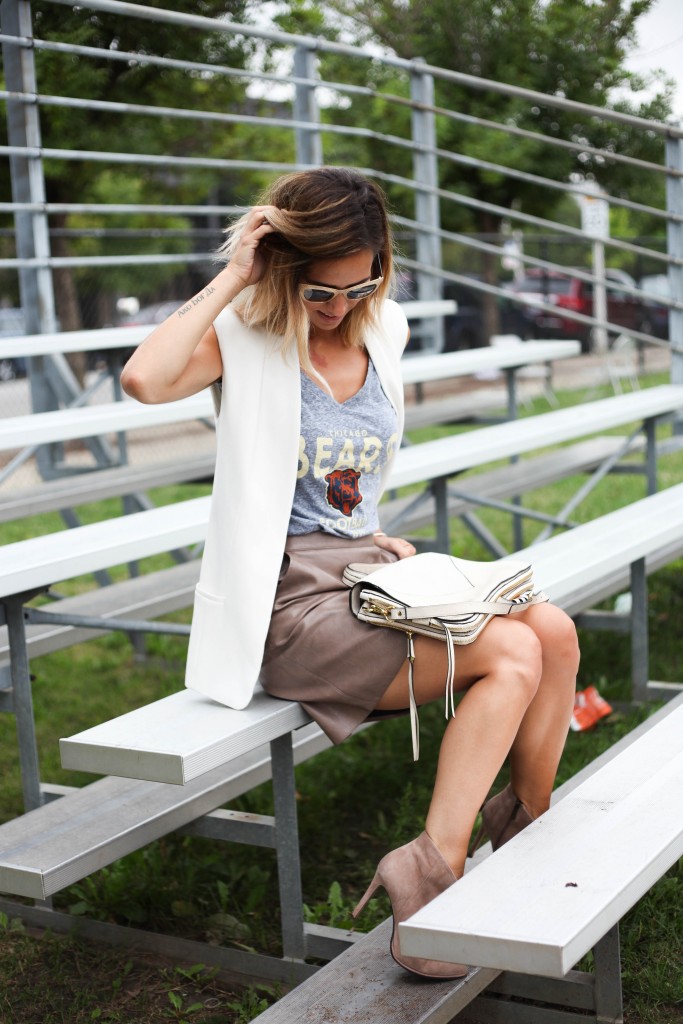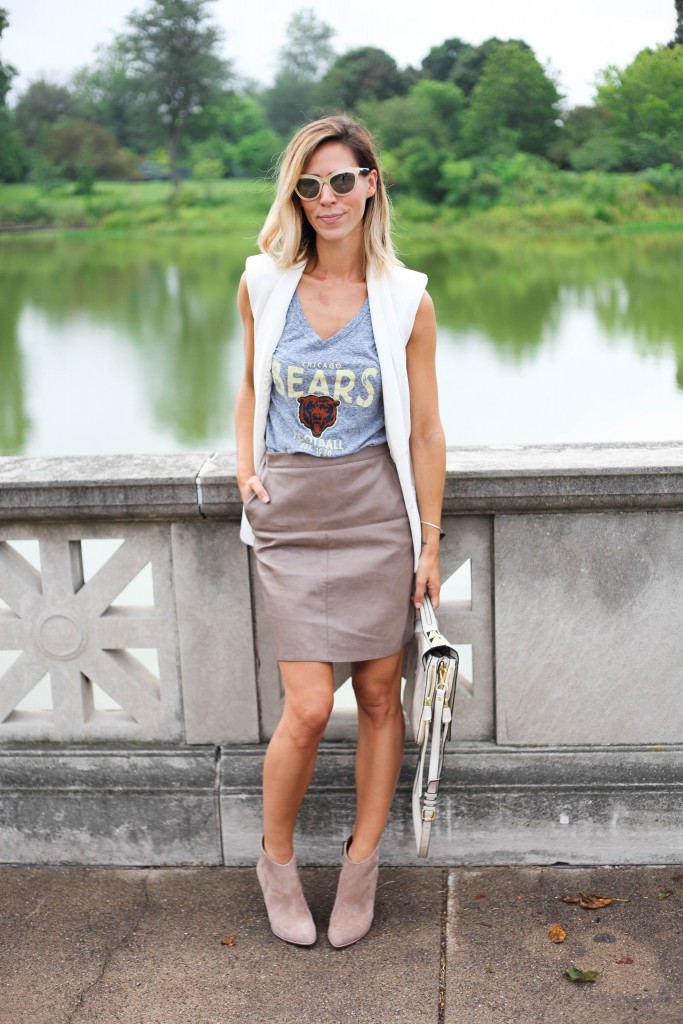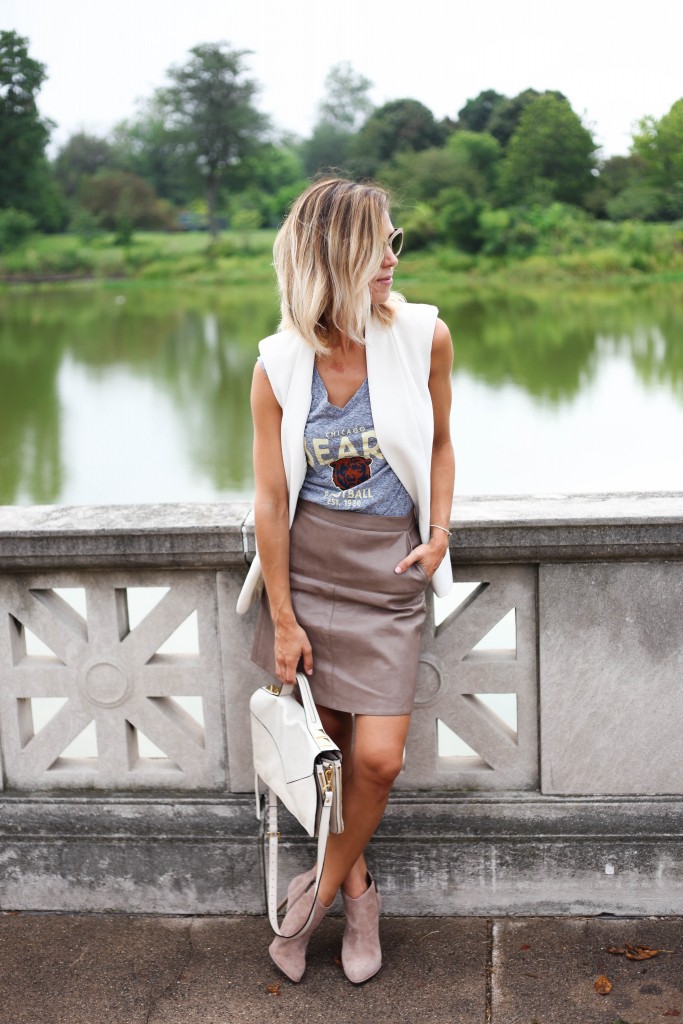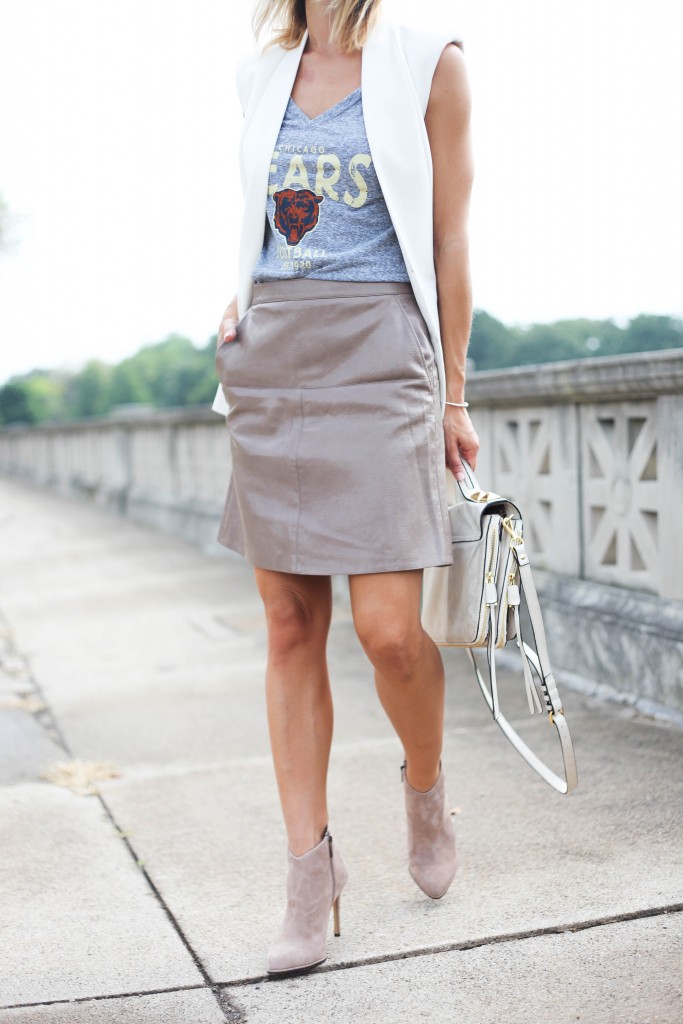 This post is sponsored by Majestic Athletic
There is nothing better than waking up on a Sunday morning, letting the crisp fall air touch your face and the smell of fresh cut grass – that only means one thing….GAME DAY IS BACK! The great thing about being a Chicago sports fan is that when it comes to fashion, pretty much anything goes. You can rock a Bears tee in the most formal of occasions, without getting too many strange looks. To prove this point, I've paired this adorable Majestic Signifcant Speed Tee (Chicago Bears of course), with pieces that are on trend for fall, all of which are functional and comfortable for any situation. And I do mean any – going to a game, watching a game at a bar or a friend's house, a shopping date, girls night out, Friday night cocktails…whatever your little heart desires. That all being said, lets begin….
A good offense is dependent on a number of things, but the most important role behind the offensive line is your quarterback. Just like any football team, every look needs a quarterback too. This short-sleeved Majestic Significant Speed Tee is the quarterback of my look – the backbone and brains behind my fashion plan of attack. The deep V-neck line combined with the weathered screen print decoration, is a touchdown in and of itself! The vintage feel and look of the tee makes it super easy to pair with this seasons fall trends!
What I love about this tee from Majestic is its versatility. Any good team will adapt to the movement on the field – this tee is your quarterback sneak this season. For this look, I paired the tee with this seasons fall essentials. This Nordstrom sleeveless ivory vest is your center – it protects the ball and the quarterback all while making it look good! While the shirt itself is short sleeved, I rolled them up under the vest to give it a different look and feel – it prevents the look from looking too casual. This faux leather skirt from Zara is my tight end – tight ends are hybrids on the field and can easily switch from catching, to running to blocking! This skirt is the perfect complement to the Majestic tee and vest, but can also stand on it's own. Are we loving the neutral color palette or what? It's perfect for fall!
Every offensive line needs two offensive guards, and every gameday look needs two essential accessories – a great bag and the perfect shoe! To play off the neutral color palette that has been created, instead of opting for a pop of color (my usual go to in a neutral look), I decided to pair the tee with this perfect satchel from Linea Pelle and these suede booties from Vince Camuto. This bag goes with me everywhere, if you can't tell by the wear and tear – it's the perfect accessory to any look and color palette. These booties are the best way to transition a nude shoe from summer to fall. When paired with a skirt, they add an extra five inches to your leg elongating and making them look thinner – ummmm, touchdown!!
Today we covered the offensive playbook of a Sportsanista with an easy recipe to style your gameday tee. Check out Majestic's full line of men's and women's apparel here! Thanks for reading!
Shop the LOOK:
Top: Majestic Significant Speed Tee c/o | Skirt: Zara (here and here) | Vest: Nordstrom (here and here) | Shoes: Vince Camuto c/o | Sunnies: Marc Jacobs | Bag: Linea Pelle

YOU MAY ALSO LIKE