December 2, 2016
Chicago Bears Nike Womens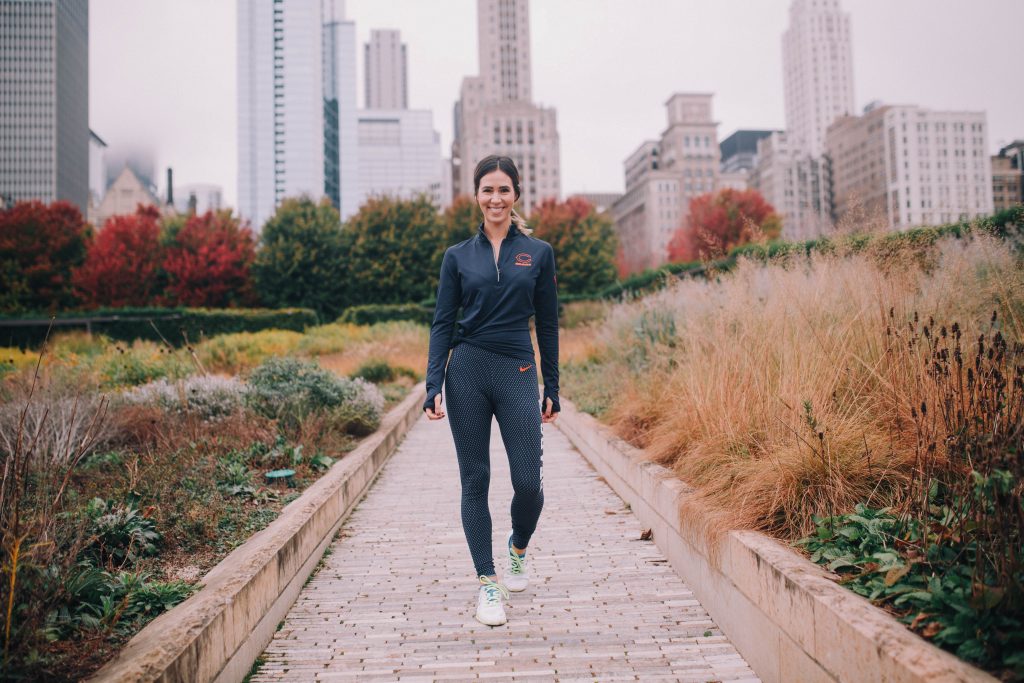 Ok Friday, seriously, you came far too quickly, BUT I'm not that upset. Also, I wrote that sentence to try and see how many commas I could put in one sentence. That might be the most I've done thus far. I'm still in total shock that its Friday and December!! I mean there are like three weekends until Christmas – seriously where is the year going? Ok enough of that. With the holiday season is full swing there is one thing that takes up your time – holiday parties and holiday eating. So many cocktails, so many pigs in a blanket and so many Ferrero Roches! Don't wait until the new year to just start your work our resolutions.
Today I'm sharing some ideas to help get you in that holiday workout spirit with this Chicago Bears Nike Womens look  – it's a plan that involves the stairmaster with a side of holiday cookies 🙂
Shop the LOOK:
Top: Womens Nike half-zip c/o | Bottoms: Nike Tailgate Leggings c/o
Shoes: Nike sneakers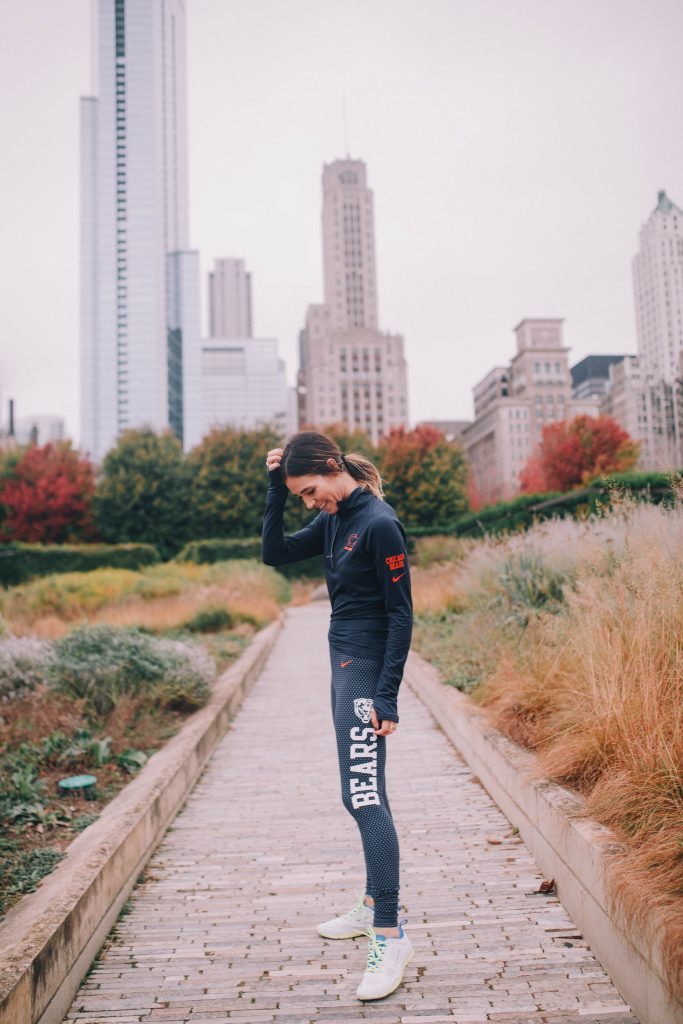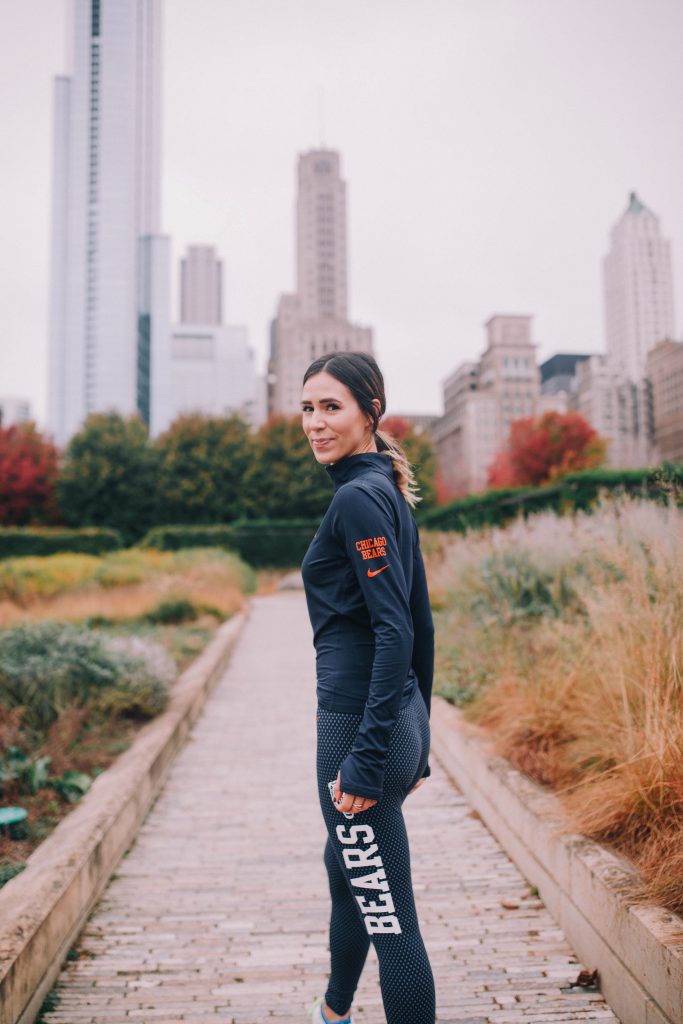 Swap your Schedule
If it seems like holiday parties will take up all your free time this month, you are right. I think in one week I have three parties – thats three night stolen by work parties and three nights of eating out. I try not to let events like these shift my normal workout patterns, so I made a pact with myself that if I miss a workout I have to replace it with another day. If I miss my normal Tuesday 5:30pm Soul Cycle class, I try to make it up on another date. For me, using the lunch hour is the best way to do that – I run over to Soul for a quick 45 min class and then I'm back to the office to have some lunch at my desk. Its that energizing boost I need during the day.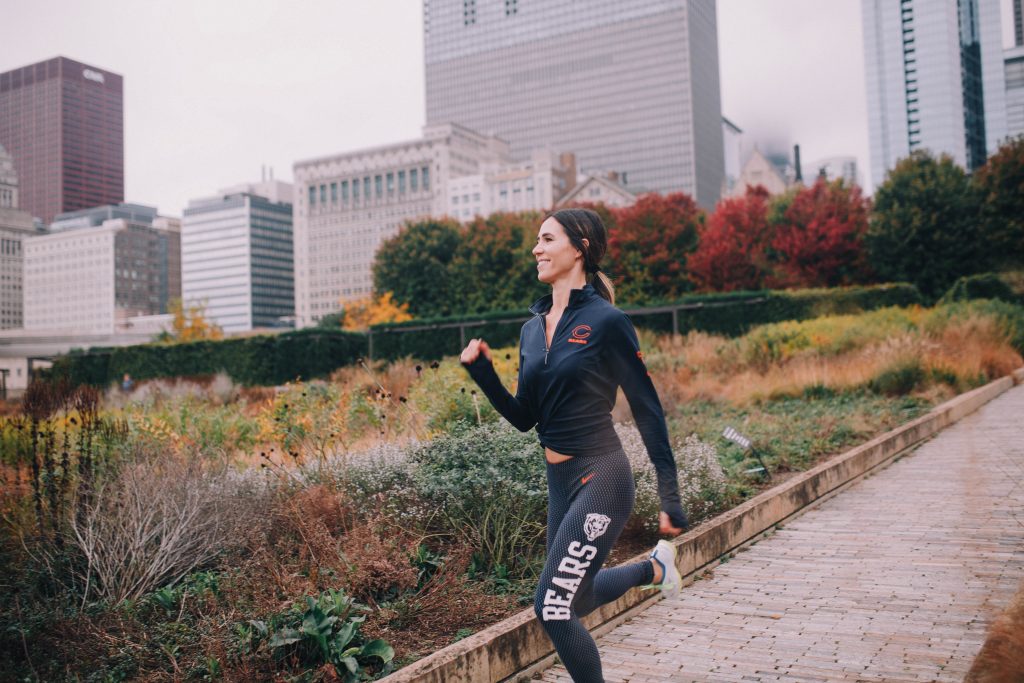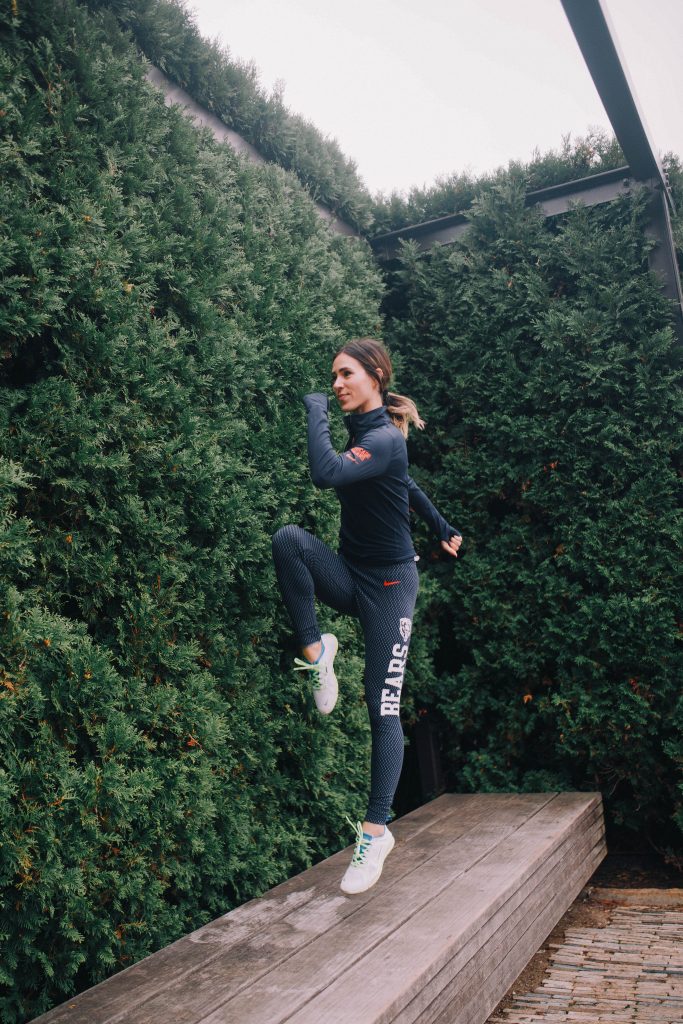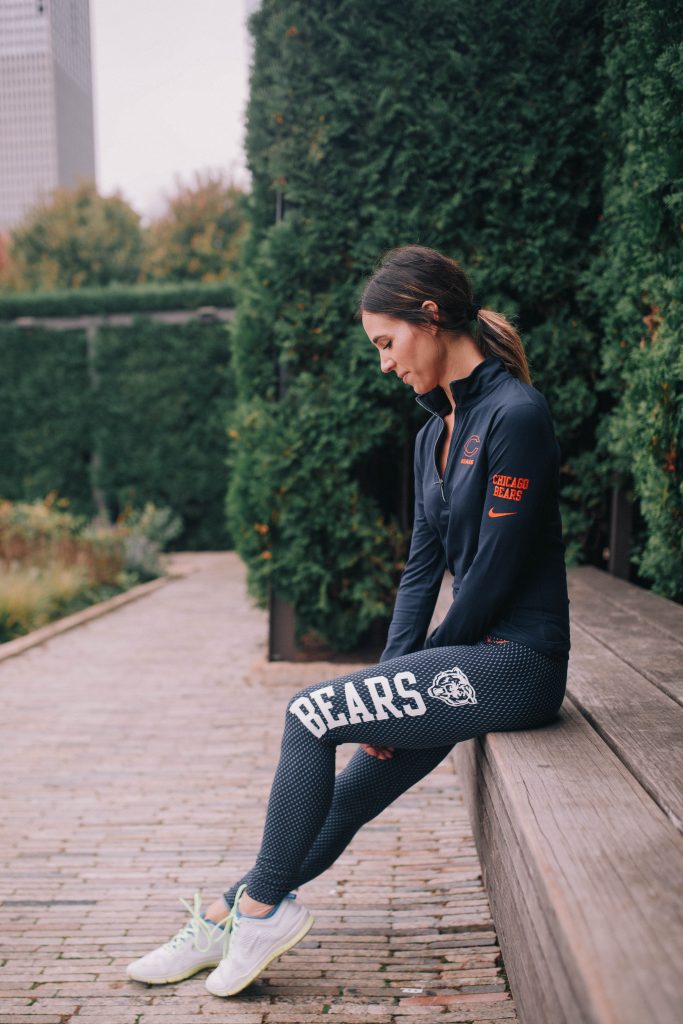 Count your Steps
I got my Apple Watch about 6 months ago and I rarely take it off – I didn't realize how much I actually needed the watch until I got it. I love all of it's functionalities and think they are super useful when trying to keep track of your daily exercise. I've set my watch to send me reminders on when I need to stand up during the day – do you ever blink at work and realize you have been sitting for 5 hours? Scary! Sitting is the new smoking! So my watch buzzes me when it's time to stand.
Don't have a watch, no bigs. You can download apps on your phone to do the same function.  The watch also helps me monitor my steps so that I know I'm on track to walk 10,000 steps (5 miles a day). You can also do this on your phone! It's little efforts like this that will keep you healthy during the holiday season!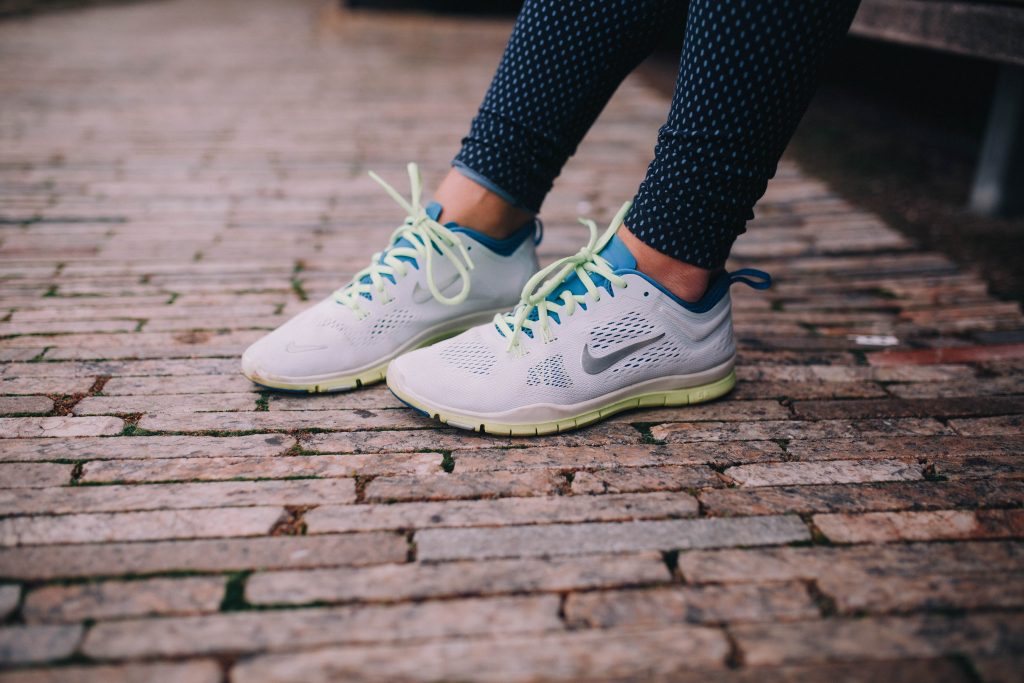 Find a Buddy
Motivation is hard to find, but somehow it's always easier to motivate others versus yourself. Pair up with a buddy this holiday season and motivate each other to attend classes (ClassPass is super great if you want a variety of different workouts). For me, I always feel like I owe that friend to push myself to the next level for her and not just me. If it were up to me the little devil on my shoulder would pick ice cream every time!
And working outset fun if you don't look good right? I love this game day inspired look from Nike. How cute are these Tailgate leggings? They can be worn for a workout, errands or event to the game! Same goes for this half-zip – it's a great layering piece with a side of game day pride!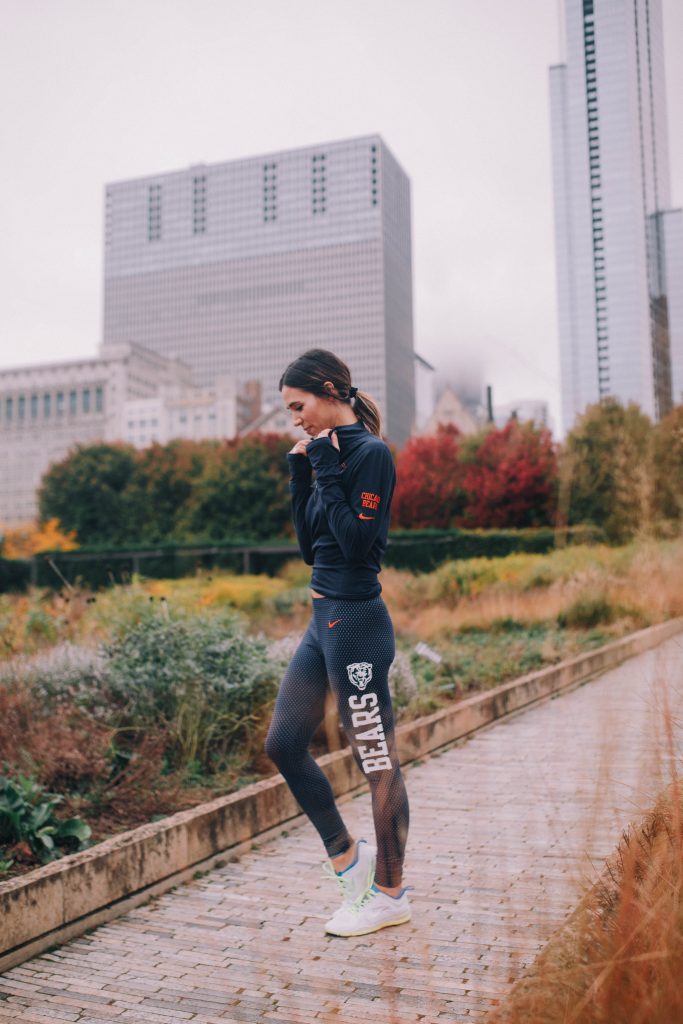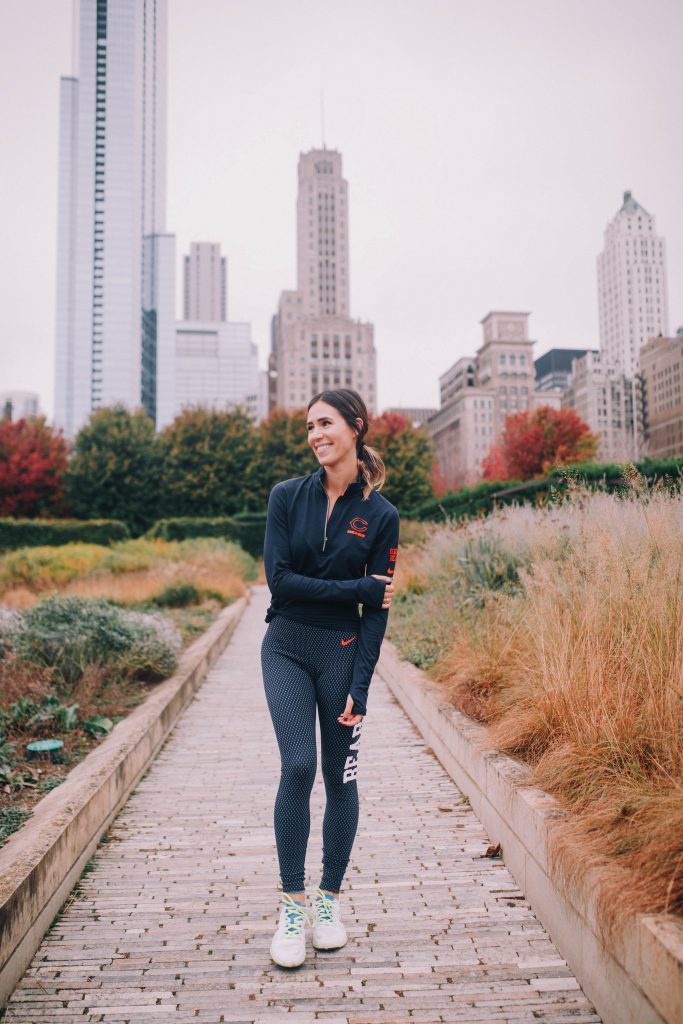 Try Something New
Break up your workout routine with something different. I always catch myself doing the same workout over and over and getting so bored! I'm always looking for new ways to reenergize my workouts. Recently I was introduced to AMPed events here in Chicago and they organize REALLY fun events with a fitness element. I first learned of the event through Gilt City – check out some of their events here. A few weeks ago I did yoga class on the top floor of the Willis Tower with some insane views of the city! Instead of doing yoga poses starring at a white wall, I was looking at miles of miles of city lights. If you'd like to learn more about their events, check them out here.
Thank you to Nike for Sponsoring this post!
Shop the LOOK:
Top: Womens Nike half-zip c/o | Bottoms: Nike Tailgate Leggings c/o
Shoes: Nike sneakers

YOU MAY ALSO LIKE