May 25, 2015
Game Day Fashion + Giveaway
Disclosure: Post sponsored by Collegiate Licensing Company, but all opinions are my own. Please see below for additional disclosure.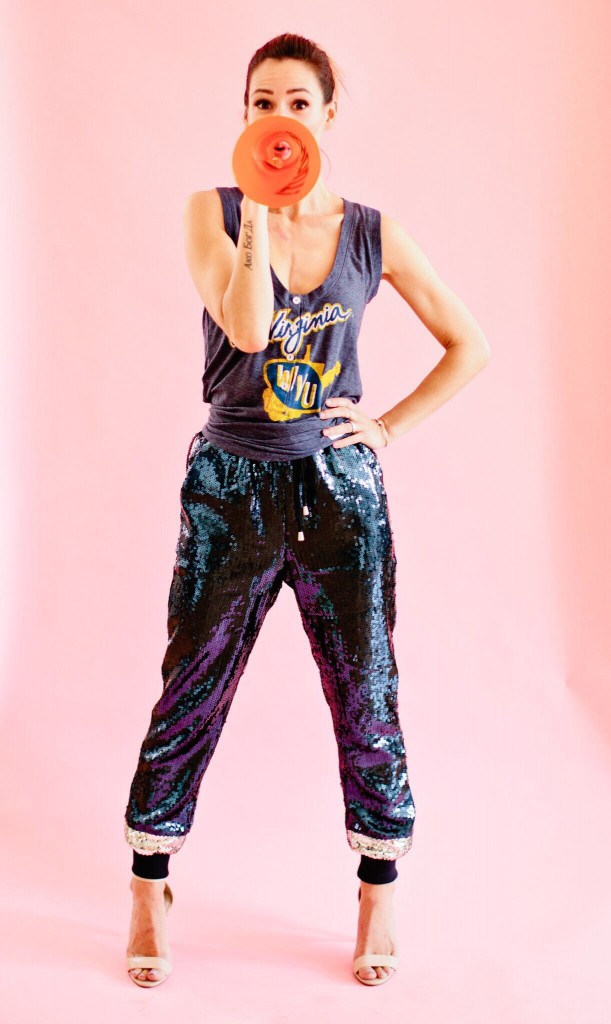 Happy Memorial Day everyone! Memorial Weekend to me, a Chicagoan, means that we "made it"!! We are passed the Winter slump and are sliding head first into Summer.
I recently discovered the brand College Vault while searching for some future game day pieces – 102 days and counting until college football kicks-off! When it comes to game day fashion, I'm very particular and vocal about the apparel available for women – not all of us want pink jerseys and bedazzled tops. It's important that I can find something that helps me stay true to my aesthetic otherwise I'm super uncomfortable – you feel me? It's as if College Vault heard my prayers and created a line of apparel with someone like me in mind.
College Vault is the one brand I can go to for that unique vintage college game day apparel, and not just vintage-like fabrics, but the logos too! Logos that will bring you back to your Starter jacket days. Did you have a Starter jacket? I rocked a Charlotte Hornets one for quite some time.One of my favorite details is that these aren't just vintage inspired, but feature logos that have been exhumed from the collegiate archives – something you won't find anywhere else!
Today I'm sharing four looks with the help of College Vault for the graduation season. With graduation upon us there is all sorts of nostalgia around becoming an alumni! The pride you have of your alma matter will be with you forever, and so will your collegiate tees. I remember graduating from West Virginia and traveling back to Chicago to start a new chapter in my life. It was hard to leave West Virginia and all the fantastic memories and friends I made. No matter where my life was going to take me, I was always able to channel those memories through my favorite tee! I know that sounds silly – how could a tee shirt be nostalgic. It's the sense of affinity you get when you wear the shirt, that sense of pride for your school!
That being said, here are some looks to inspire your graduation weekend looks, graduation gifts or post graduation life!
Who says you can't wear your college tee to work? Well I've found an easy way to give causal Friday a whole new look. I love UNC for a lot of reasons, but most importantly for their perfect color combinations. Pale blue is one of this seasons hottest hues – all the more reason to style it into your every day. I paired the tee with these perfect blue palazzo pants from Forever 21 – wide leg pants so fresh and easy to style. For a little Friday flare, I added this organza floral bomber – you can never go wrong with organza.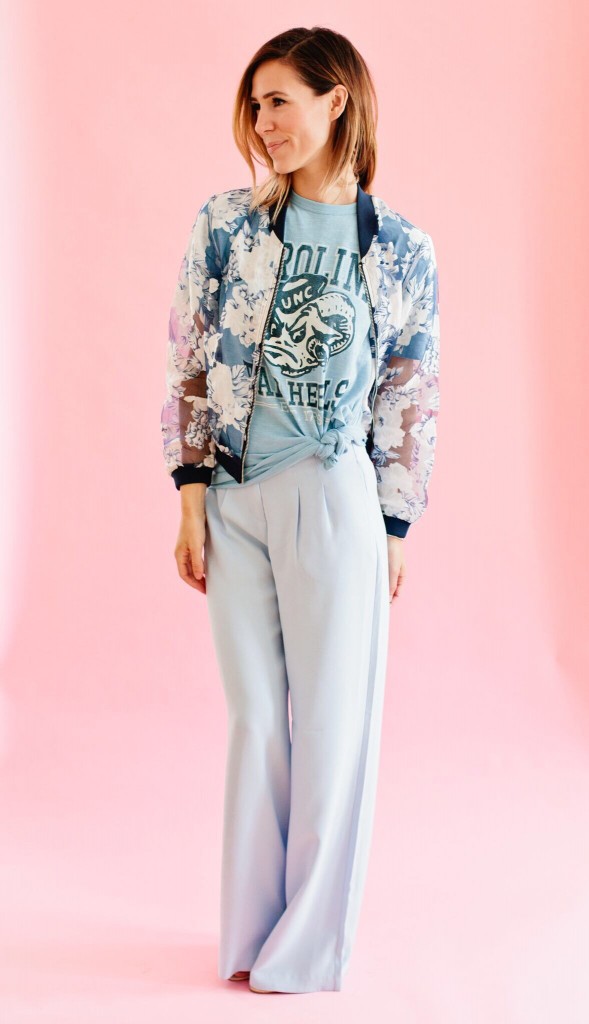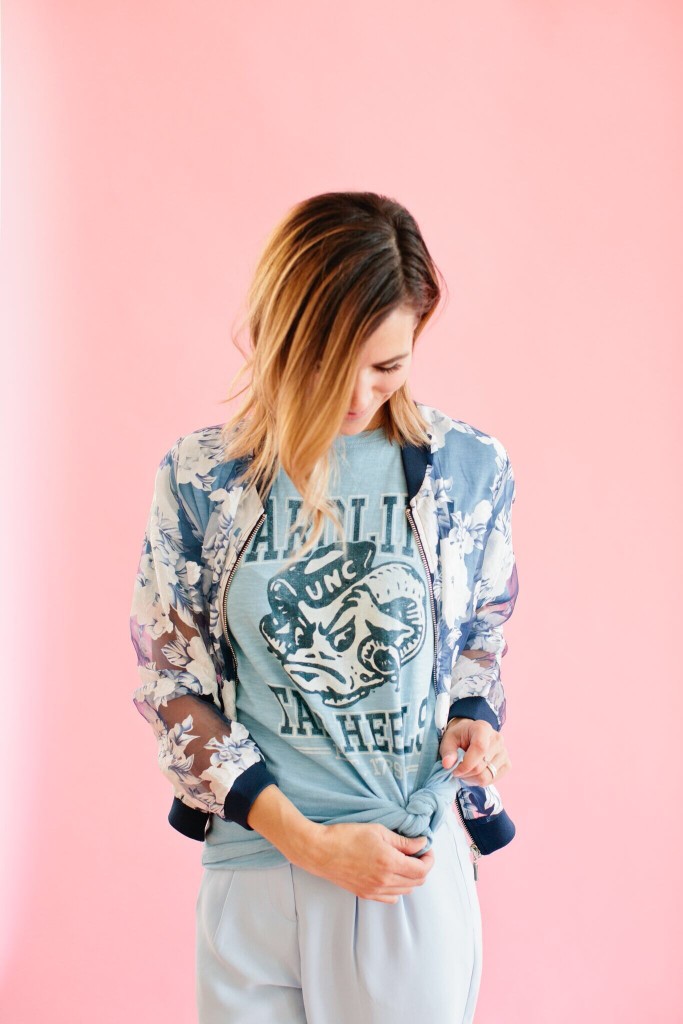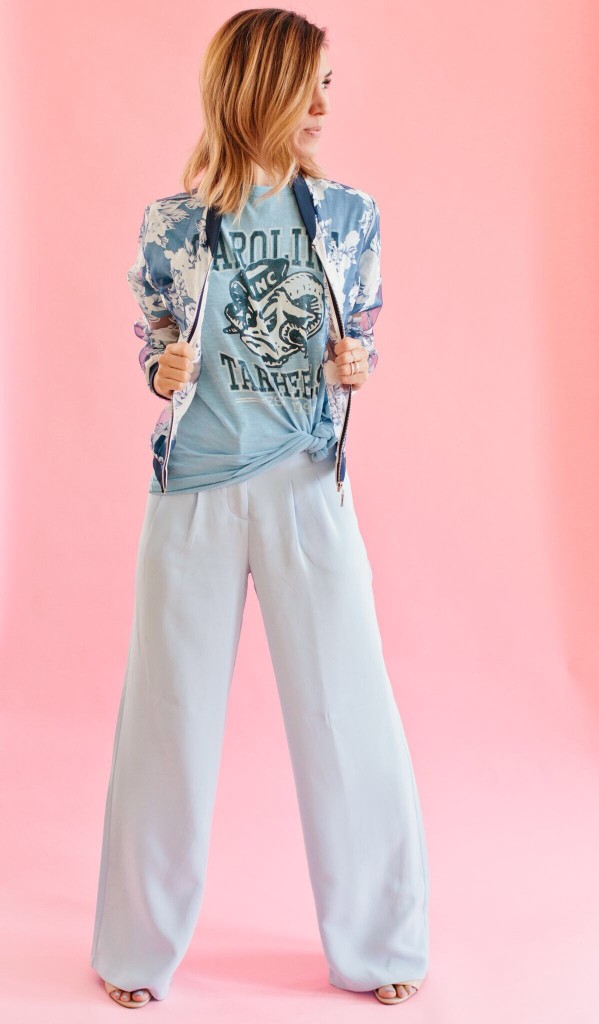 LOOK One –
Top: College Vault | Pants: Forever 21 | Jacket: Bloomingdales | Shoes: Steve Madden

With "Athleisure" taking over the fashion scene, we are seeing sport inspired looks more and more each day – for me, it's just another day as Sportsanista. Try taking your college tee and pairing it with a feminine skirt for summer and adding some bold heels for the icing on top! This look would be perfect for a graduation dinner or even a girls night out!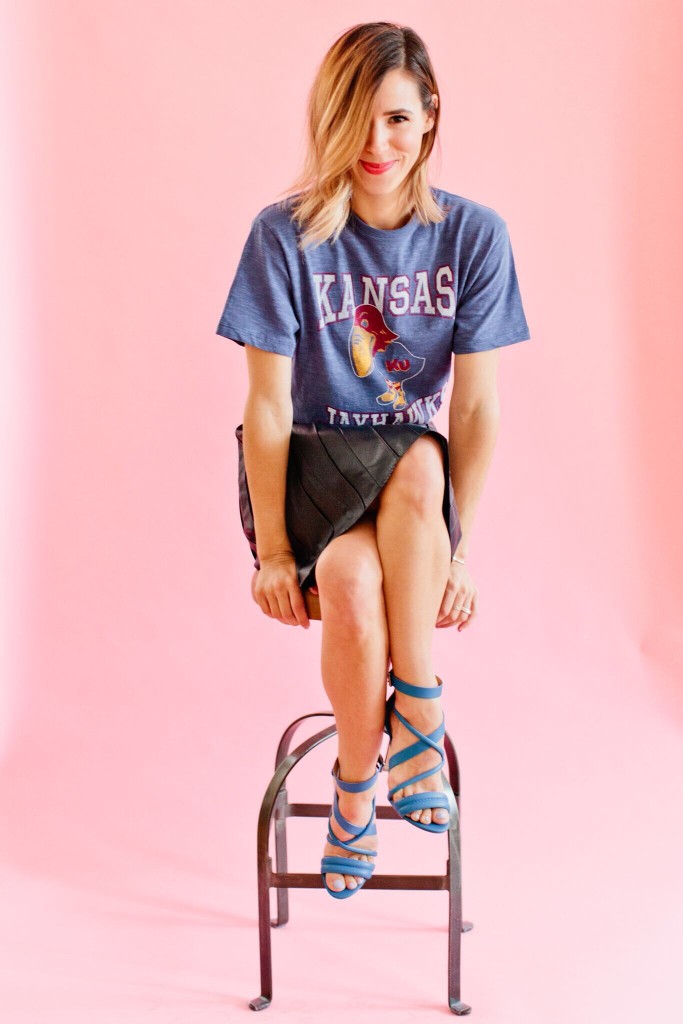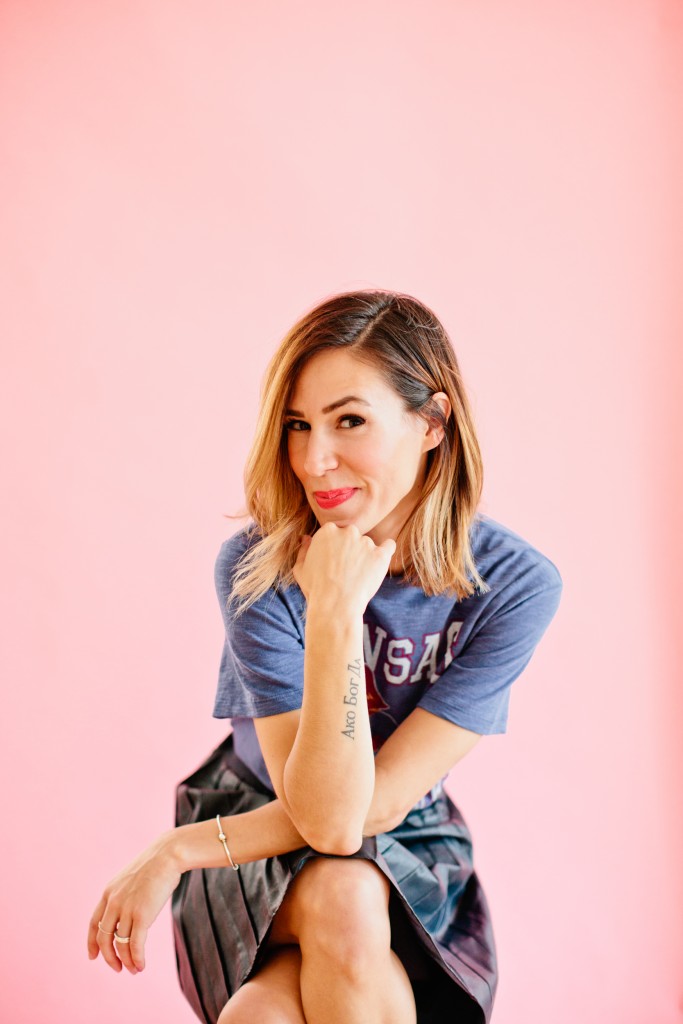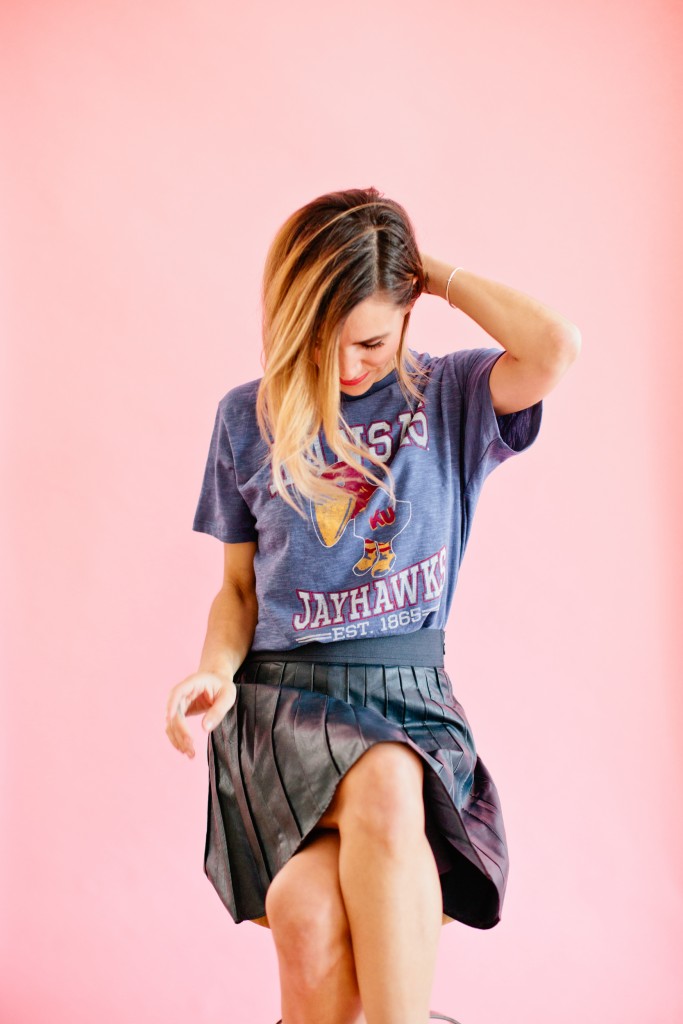 LOOK Two –
Top: College Vault | Skirt: Ann Taylor (similar)  | Shoes: Joe's Jeans | Lip Color: Mac Cosmetics

With the start of summer upon us, beachy vibes is going to be a trending phrase from now until Labor Day. Crop tops can be discouraging, but when paired with the right piece, you can have a killer look. What I love about College Vault is that they incorporate the trends you see today to create wearable college sport fashion. Crop tops are everywhere you turn these days, so it's only fitting that College Vault added one to their collection. Pair the crop top with a high-waisted denim to, you know, "mind the gap". Add a tasseled scarf with a fedora and you have an easy 70's boho inspired look for summer!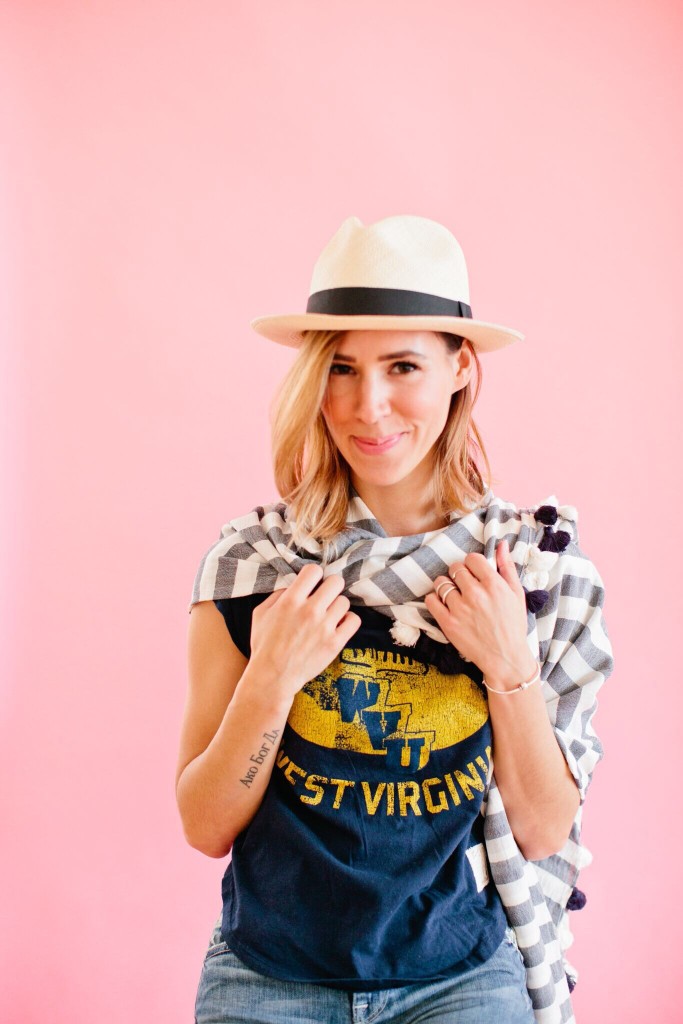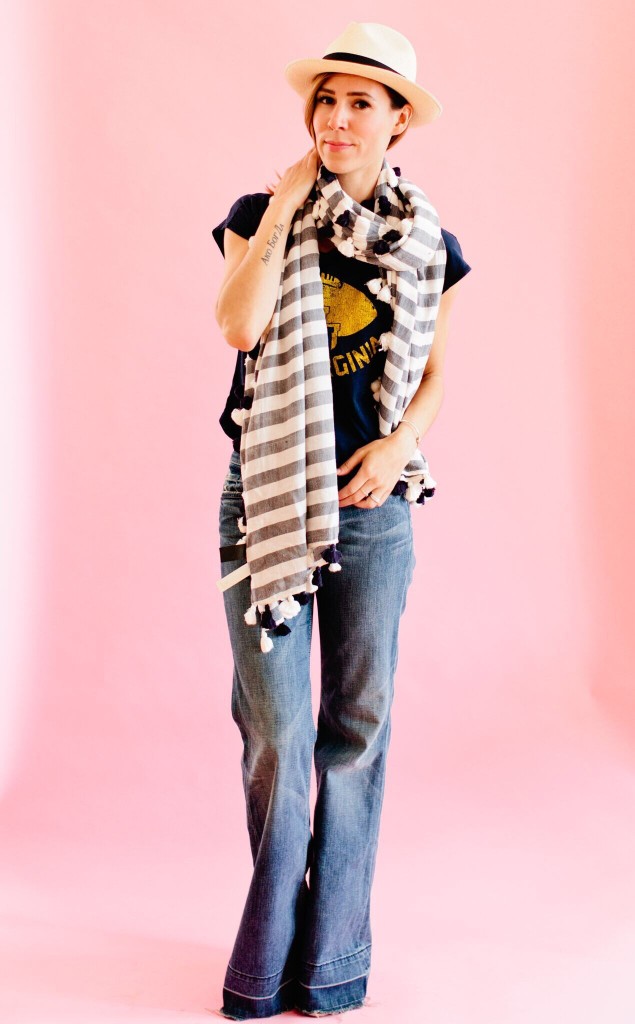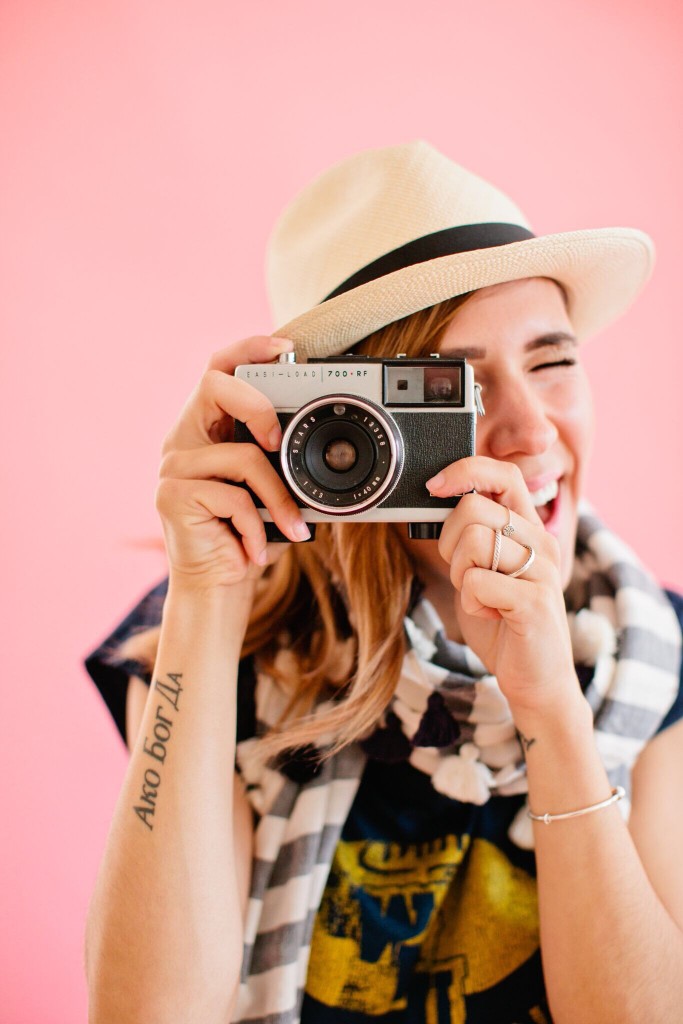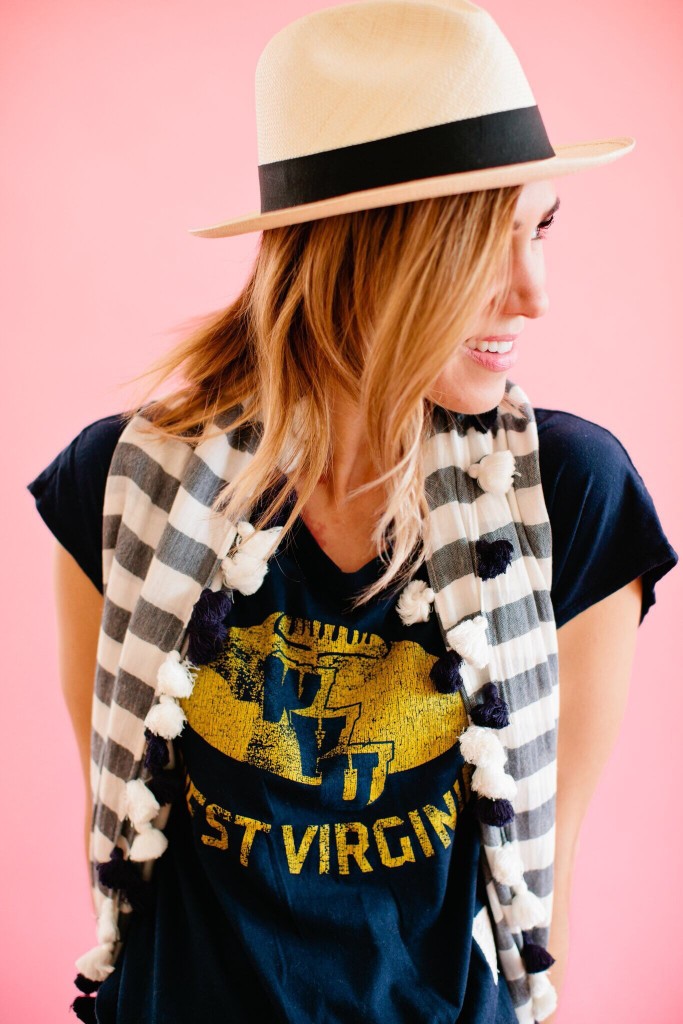 LOOK Three –
Top: College Vault | Denim: Sevens for All Mankind (similar) | Hat: J.Crew | Scarf: Ann Taylor | Shoes: Steve Madden

Going back to this notion of "Athleisure" and how major fashion brands are incorporating sport inspired looks into their collections, take for example these sequin tracks pants. I'm not sure there is a better opportunity to wear these pants than now – it made perfect sense to style them with this perfect vintage tank. It's an easy effortless two-step look that is so chic – take this look anywhere, maybe even to a few graduation celebratory drinks! This is after all your party look!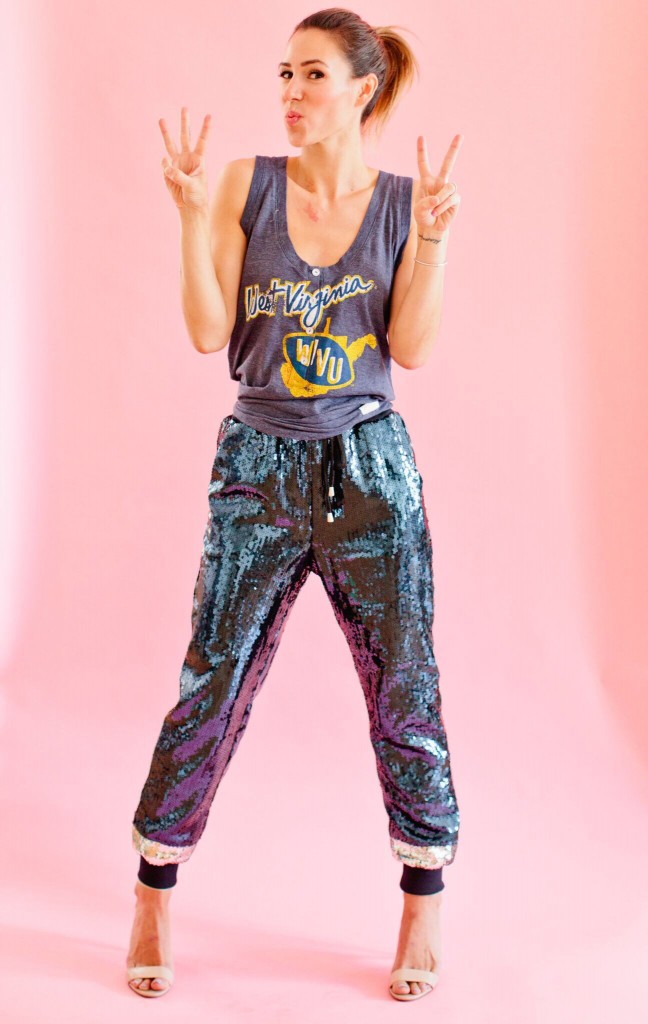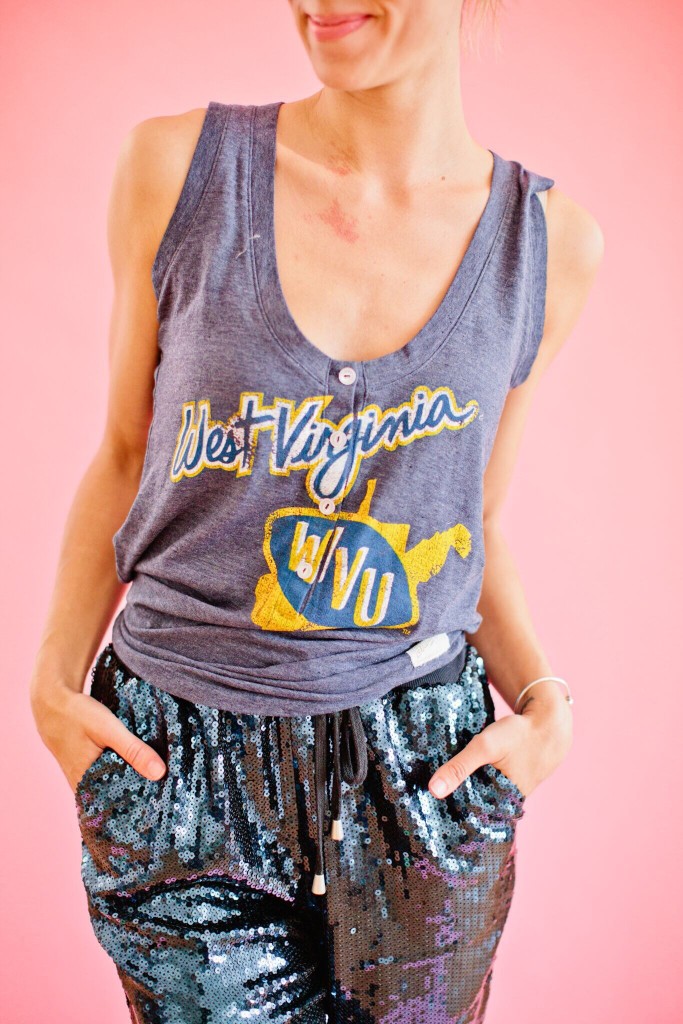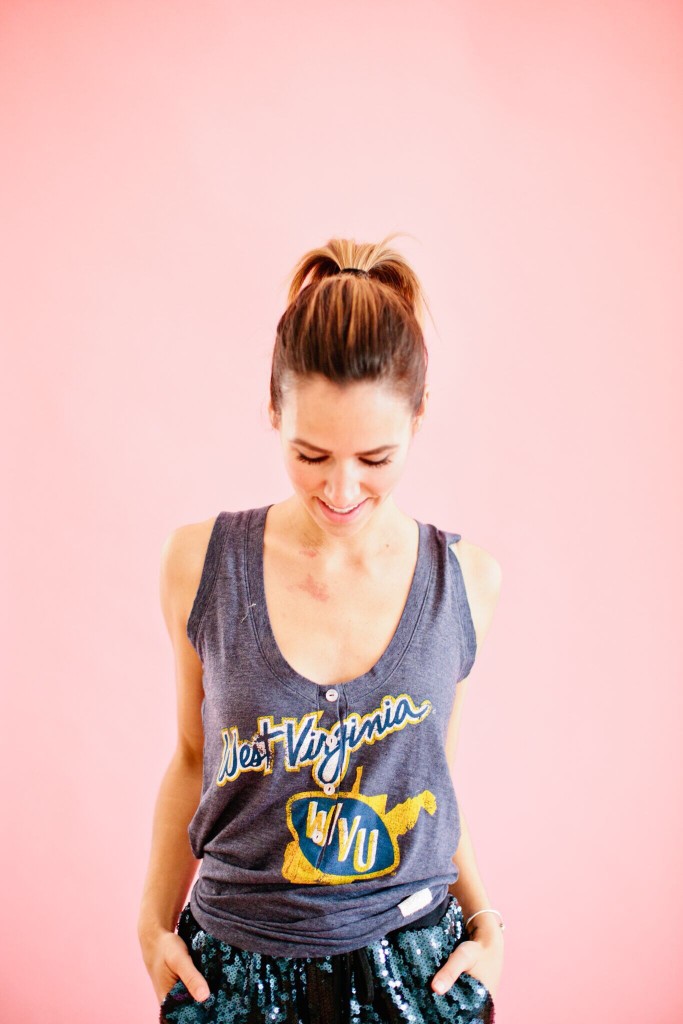 LOOK Four –
Top: College Vault | Pants: ASOS (similar) | Shoes: Steve Madden | Lip Color: Mac Cosmetics

To shop your school on College Vault, click here.
Before I leave you I have one more thing to share….College Vault was also super kind to give $100 AMEX gift card to a one of my readers to kick-start their game-day fashion wardrobe! YAY! Who doesn't like free things! Follow the steps below to enter! Good luck!
a Rafflecopter giveaway
Collegiate Licensing Company partnered with bloggers such as me for their College Vault blogger program. As part of this program, I received compensation for my time. They did not tell me what to purchase or what to say about any product mentioned in these posts. Collegiate Licensing Company believes that consumers and bloggers are free to form their own opinions and share them in their own words. Collegiate Licensing Company's policies align with WOMMA Ethics Code, FTC guidelines and social media engagement recommendations
YOU MAY ALSO LIKE