September 9, 2019
Ann Taylor Pants for Fall
A full week after Labor Day and it truly is starting to feel like Fall! The mornings are a little darker and slightly cooler, and the air is nice and crisp! While I'm sad to see Summer go, Fall is BY FAR the greatest fashion season of them all! The colors, the prints, the textures, the fabrics – it's a season full of cozy knits and chic silhouettes without the freezing temperatures! In the spirit of all things Fall, I have partnered with Ann Taylor today to style their new Ann Taylor pants for fall for both work and travel! Both pants are leggings by nature, but disguised as chic comfortable pant-wear for your every day!
If you have been following me for some time, then you know that I'm an Ann Taylor fan to the max (see here)- I have been wearing and styling their pieces for work for the last 10 years, and with each season, their collection gets better and better! [ezcol_1half]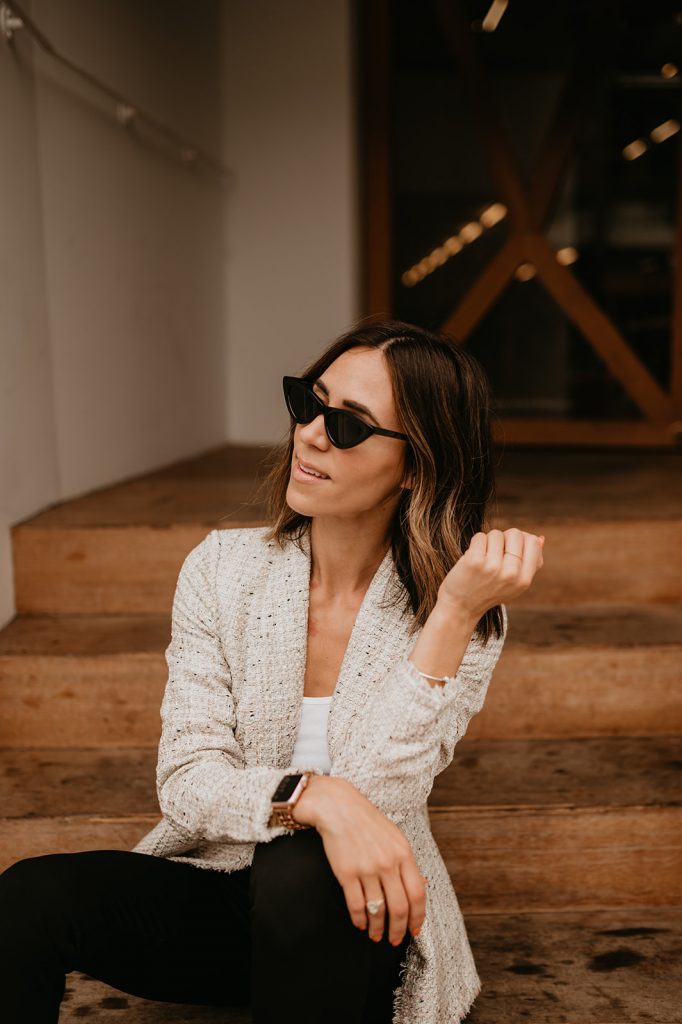 [/ezcol_1half] [ezcol_1half_end]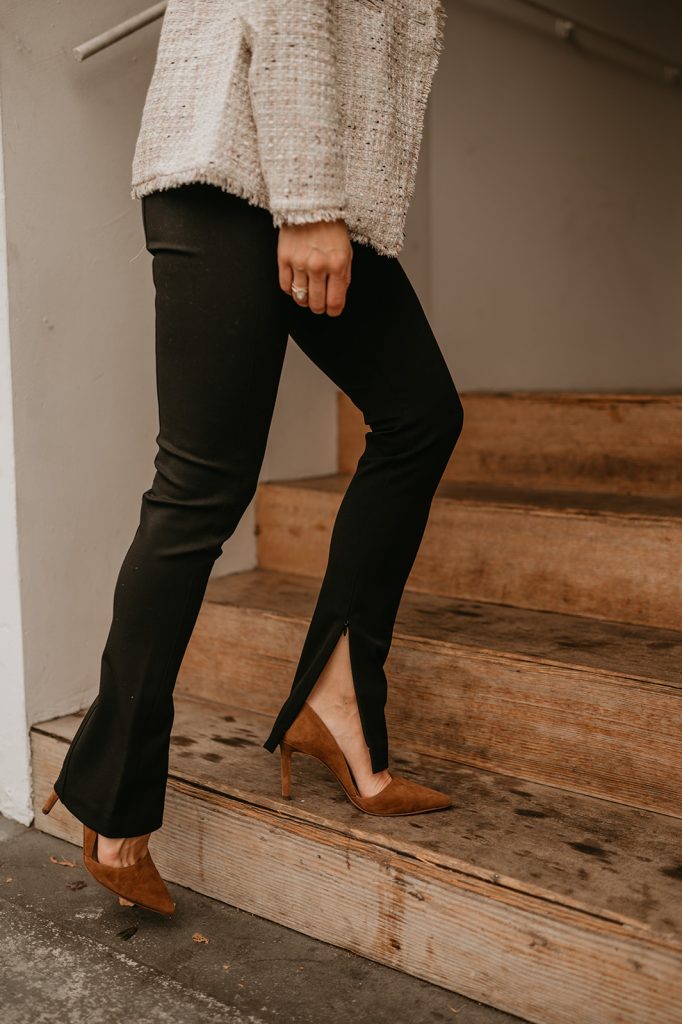 [/ezcol_1half_end]
ANN TAYLOR LEGGINGS FOR WORK
Being comfortable and looking chic, CAN go hand-in-hand in the workplace, I promise you! Ann Taylor just recently launched their Audrey Pant in a Bi-Stretch – the bi-stretch technology creates a super slimming look and feel, while the texture of the pant makes it appropriate for work! Styled here in black, the pant also comes in a beautiful vino for Fall! MY FAVORITE element of the pant you ask? Why the zipper slits of course! It's like two pants in one!! I love how you can style them as a legging or ankle pant, but if you are going for something a little more trendy, you simply unzip the slits! Talk about elevating your look in seconds!
s h o p   l o o k   o n e
Tweed Blazer | White Tank | Pants | Suede Pumps

Because I LOVE a good workwear look, I styled the Audrey Pant for a day at the office. It was always so important to me, to be able to express myself through my style at work. For this workwear look, I've styled the Audrey Pant with this GORGEOUS tweed fringe blazer – the coloring is perfection and can easily be styled across a few seasons! You can also easily style the blazer with a simple tank and some distressed jeans for an elevated weekend look! For a pop of "color" I styled the look with these perfect fall suede pumps that are currently 40%!! It's a classic style and color that you can get a lot of mileage out of! Not to mention, Ann Taylor truly makes the most comfortable work pumps!
[ezcol_1half]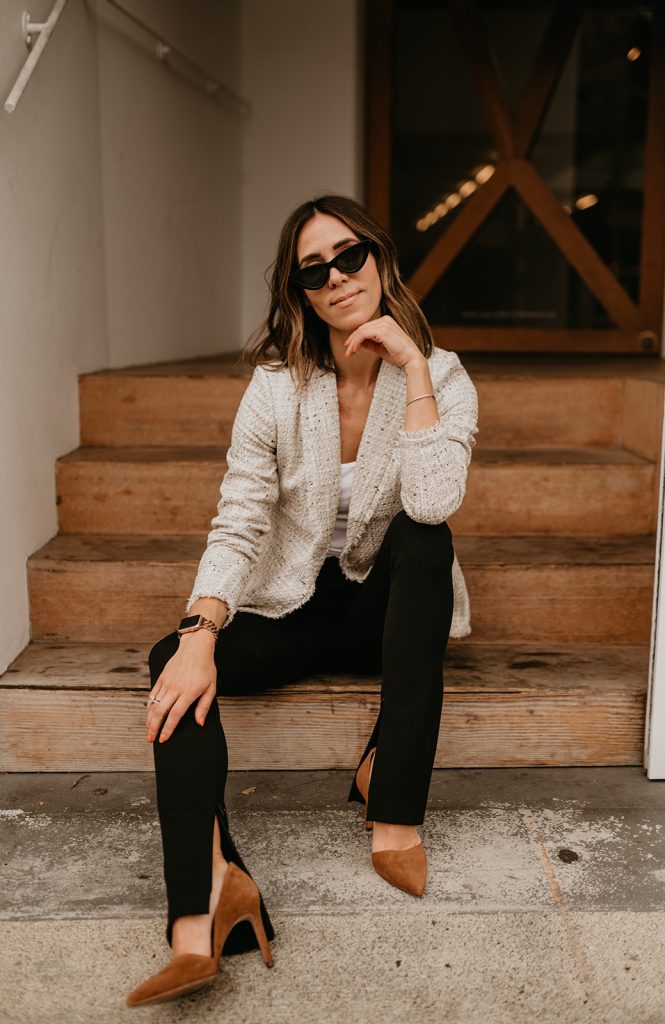 [/ezcol_1half] [ezcol_1half_end]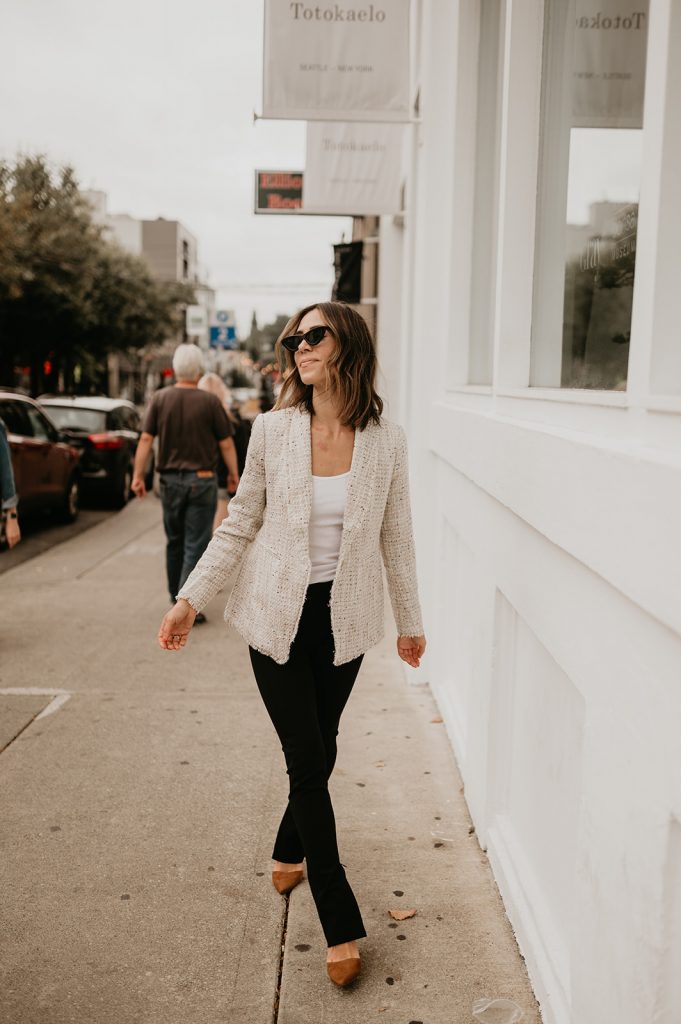 [/ezcol_1half_end]
ANN TAYLOR LEGGINGS FOR TRAVEL
In this time, a millennial will never miss out on an opportunity to travel, so it's important to have the perfect look you can wear on a travel day whether it's for business or pleasure! It feels like somewhere along the line, we have completely dismissed how one should dress at an airport. I miss the time when people would get FULLY dressed for their flight! So, this is that compromise between fully done and sweatpants.[ezcol_1half]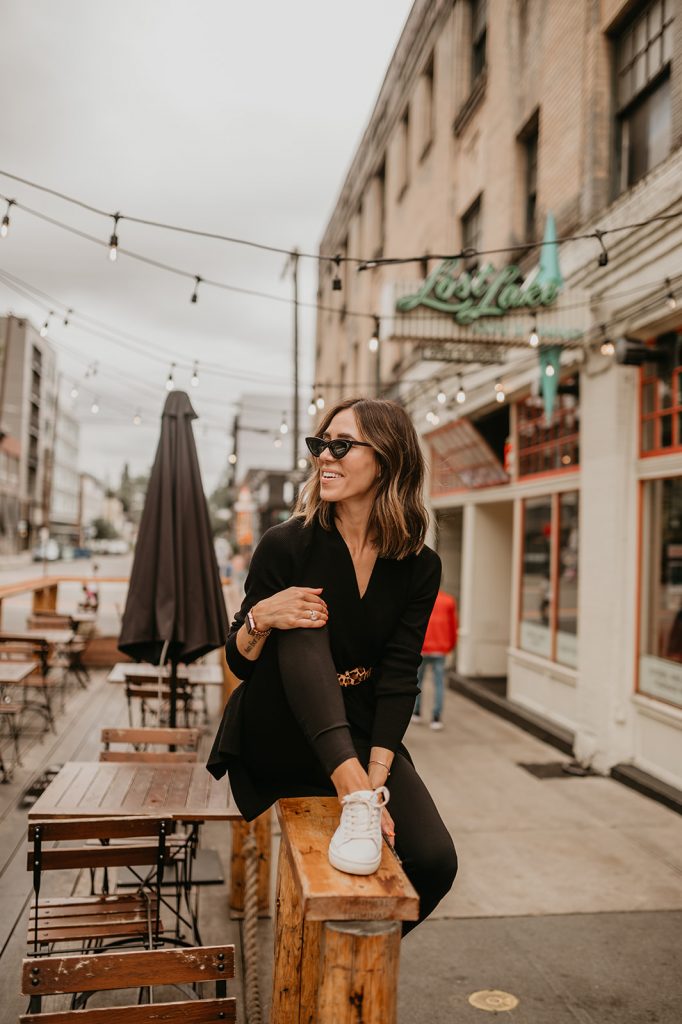 [/ezcol_1half] [ezcol_1half_end]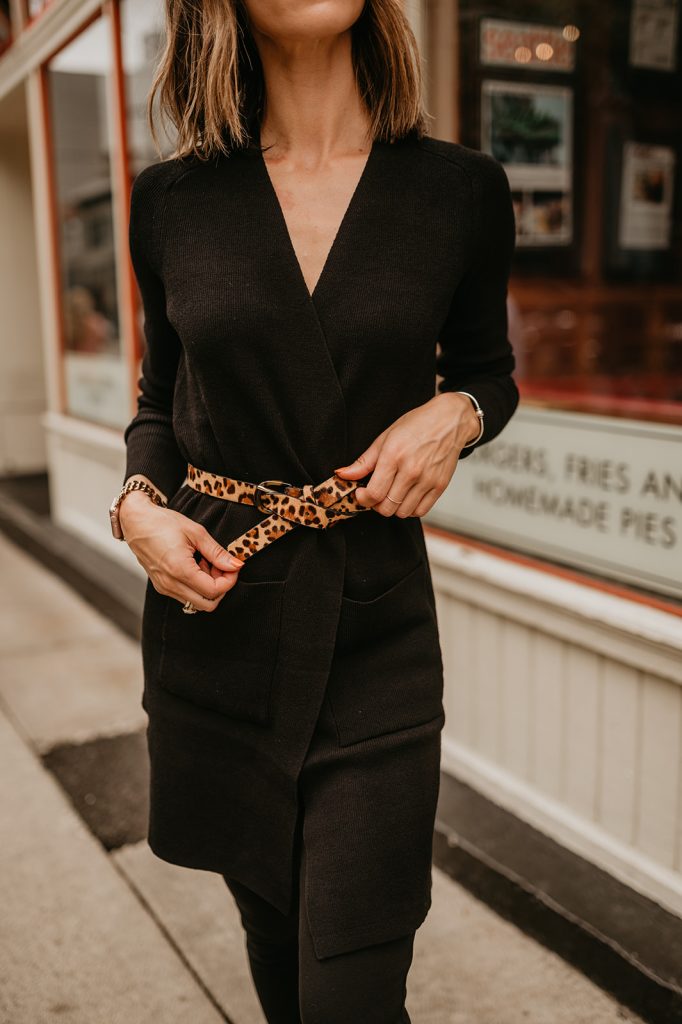 [/ezcol_1half_end]Another item from their Luxewear collection, are these super comfortable Ponte Leggings – they are the epitome of a universal legging.  Not only are they super flattering, but whats the one thing you want from a legging? No pilling!! Pilling only makes the legging look cheap and tired, but not these!! On a travel day I like to bring all the layers because you can never been too prepared for the temperature of a plane. More often than not, it's freeeeezing!
s h o p   l o o k   t w o
Cardigan | Leopard Belt | Leggings | Sneakers 

Styled with these ponte leggings is their Seasonless Yarn Ribbed Open Cardigan – it's also available in mystic navy which is REALLY pretty and the perfect hue for fall! Now it's a seasonless cardigan because of the knit fabric, it's not too heavy and not too light. You can wear it during any season and feel comfortable wearing it – genius concept if you ask me! I have way too many itchy sweaters I can only wear certain times of the year! To add some personality to my all black look, I added this leopard belt for a fun print and pop of color amongst the sea of black. This belt is also a great accessory over suiting or a dress! Finally, travel footwear is super important, so I added these Soludos leather sneakers to top off the look! They are BEYOND comfortable!
[ezcol_1half]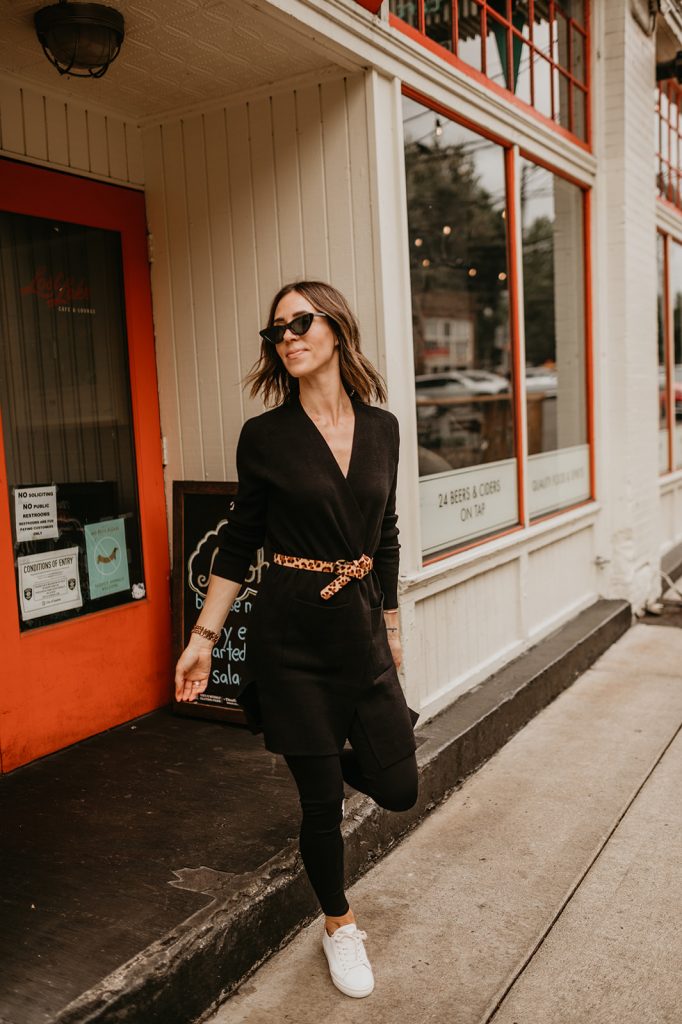 [/ezcol_1half] [ezcol_1half_end]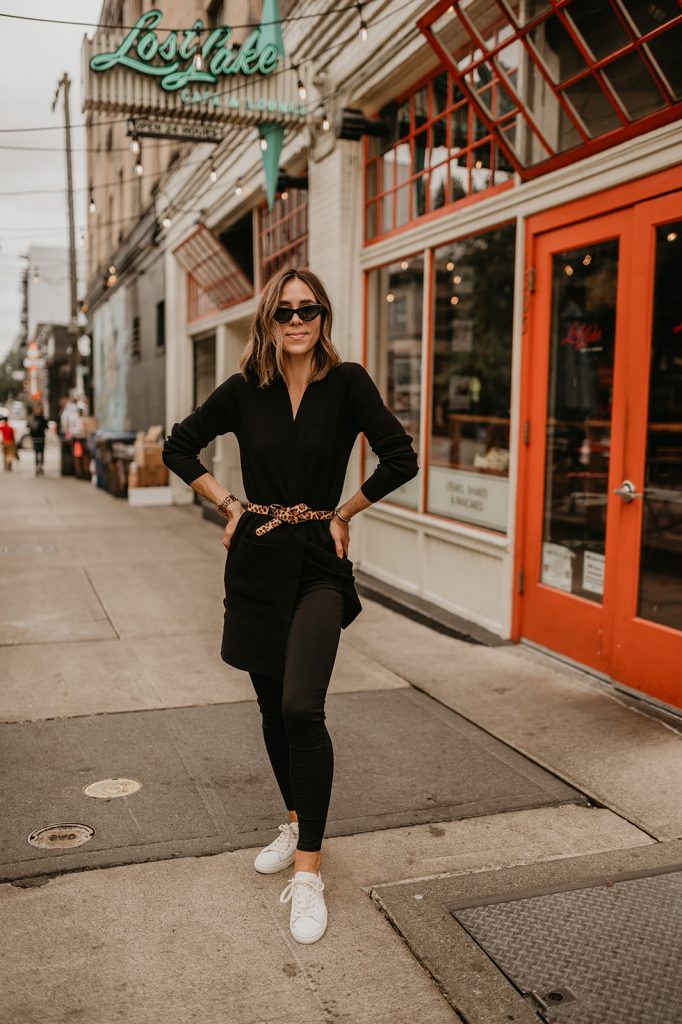 [/ezcol_1half_end]
This post was sponsored by Ann Taylor and rewardStyle – all thoughts are my own. 
s h o p   t h e   p o s t
Tweed Blazer | White Tank | Pants | Suede Pumps | Cardigan | Leopard Belt | Leggings | Sneakers 

YOU MAY ALSO LIKE