July 22, 2019
What I Wore in Cape Cod
Hello and Happy Monday friends! Summer has finally arrived in Seattle and I couldn't be happier! We spent the weekend with every intention of being outdoors from hiking to sitting on the beach! In the spirit of all things Summer, today I'm sharing what I wore in Cape Cod – Cape Cod is the most quintessential American summer destination and I had to dress the part! Everything I packed and styled is under $100 and can be easily incorporate in to your every day wardrobe! One dress I found, by chance, quickly became my favorite dress of the summer and it's under $60!!
WHAT I WORE IN CAPE COD
[ezcol_1half]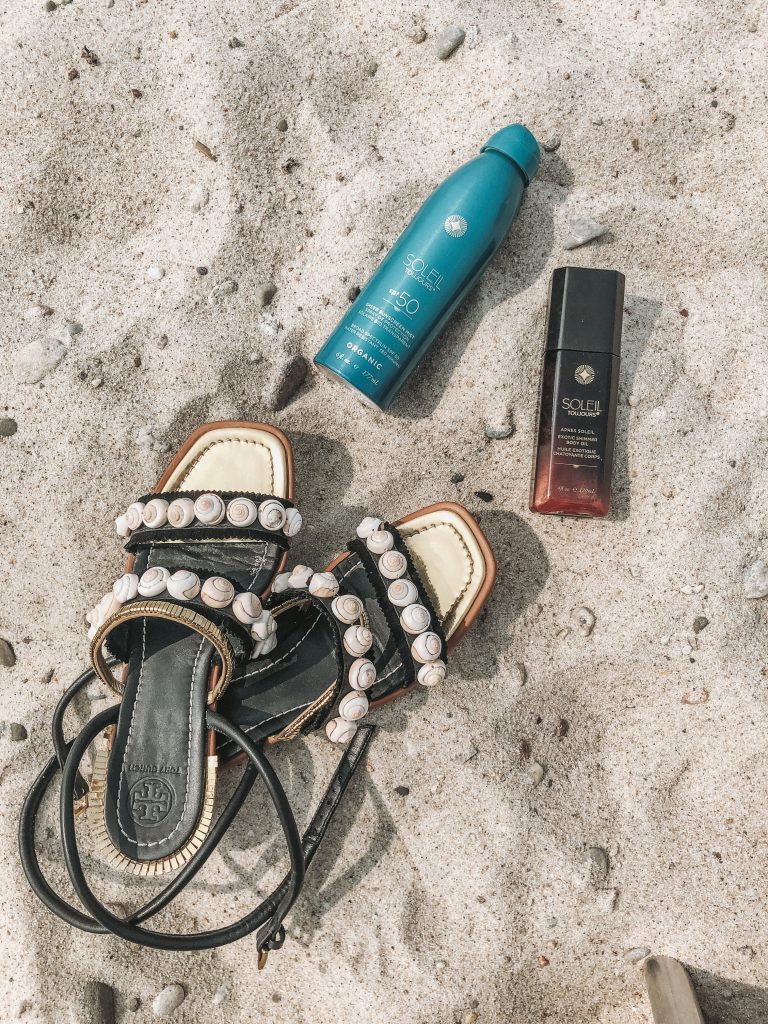 [/ezcol_1half] [ezcol_1half_end]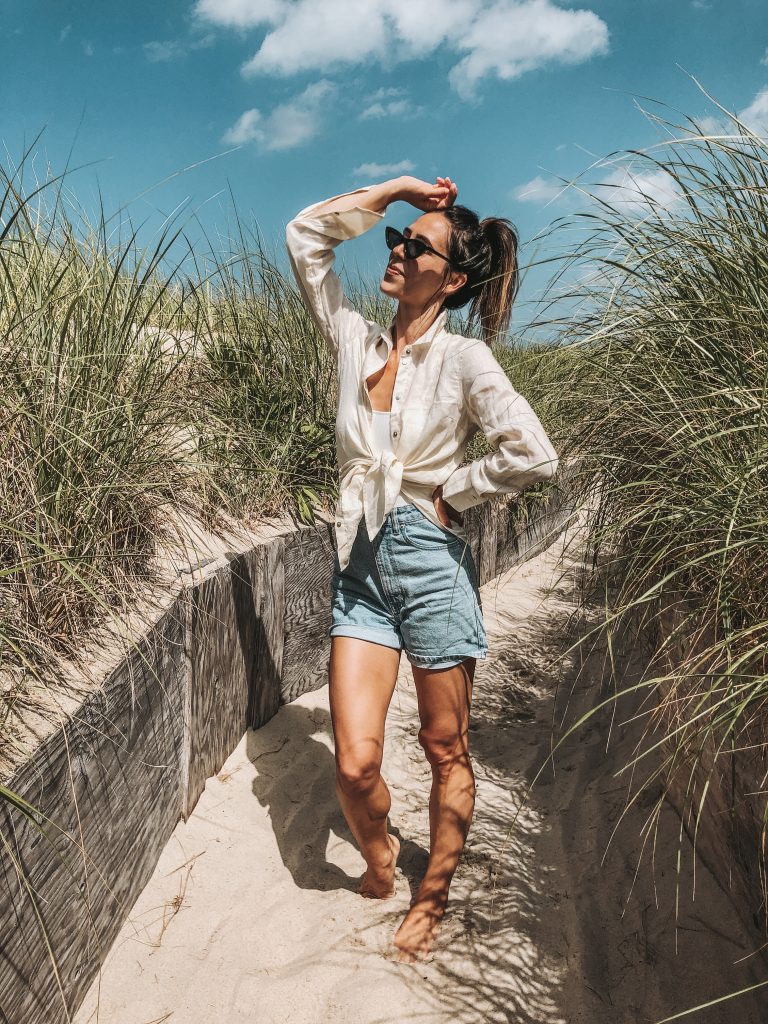 [/ezcol_1half_end]
BEACH DAY
The main goal of the trip, selfishly, was to just sit on the beach and dip my toes in the ocean. The beaches are in Cape Cod are my favorite – they are quite, calm and refreshing! I packed these Tory Burch Shell Sandals because everything about them screams summer and the beach! I'm always looking for new sunscreen, specifically clean and organic! This Soleil Sunscreen from the Dermstore is by far my favorite, and I was loyal to Sun Bum. The texture isn't oily at all – it's super smooth and has a lovely scent! Also, the spray isn't loud…if you know what I mean.
A beach trip isn't complete unless you have some linen and denim handy! I'm obsessed with this linen top from H&M that is currently on sale for $18 – it acts as the perfect layering piece for the beach or can be style with jeans or a skirt when walking around!  If you are in the marketing for a pair of high waisted jean shorts, I'm loving these from H&M or these from Abercrombie – both are super affordable too! Under the linen shirt I wore this one-piece bathing suit from Amazon that is $26 – I love that it doubles as  bodysuit too!
s h o p   t h e   l o o k
TORY BURCH SHELL SANDALS | SOLEIL SUNSCREEN | LINEN BUTTON-UP | DENIM SHORTS | WHITE ONE-PIECE
[ezcol_1half]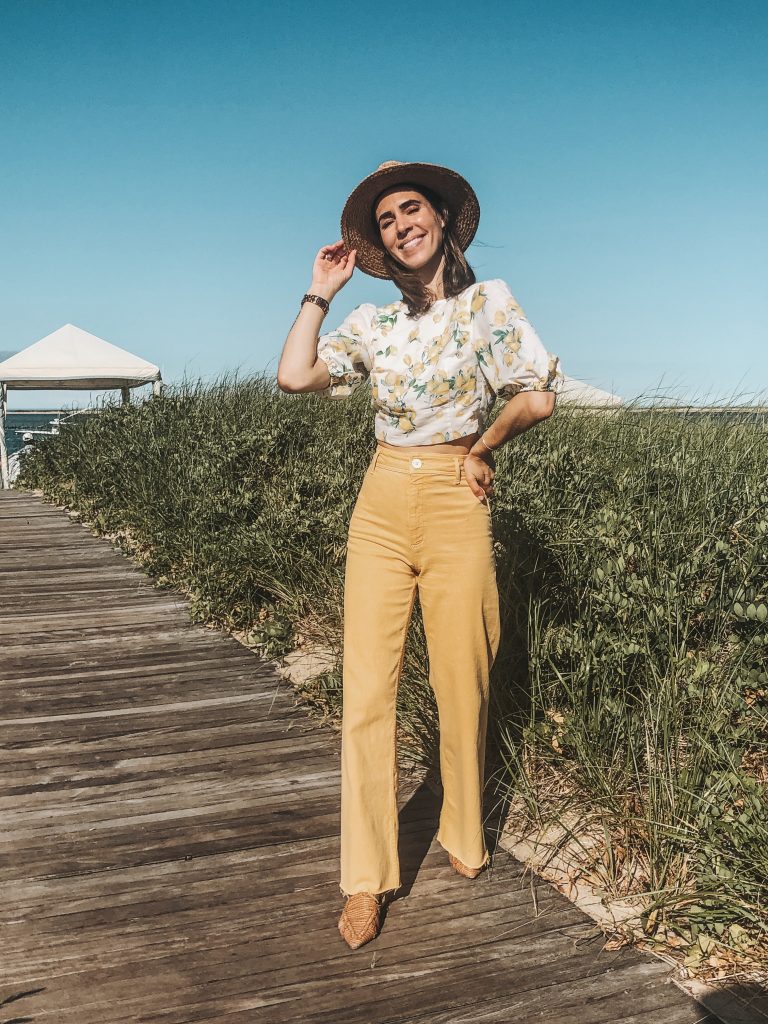 [/ezcol_1half] [ezcol_1half_end]
[/ezcol_1half_end]
DRINKS ON THE WATER
We spent an entire afternoon walking around Chatham which is the cutest little town on the Cape. They have a strip of cute boutiques, antique stores and ice cream shops. Chatham's little gem is the Chatham Bar Inn – the cutest little beach club and the best place to get rosé on the beach in Cape Cod! They also do Oyster Bakes and cute little activities on the beach! After a day of shopping we posted up at the bar and sipped on rosé while enjoying the ocean views! For a day of walking around I wore this adorable lemon cropped top from H&M (sold out but found this one and this) and these yellow high waisted jeans from Zara. When walking these Schutz woven mules are MY favorite – I wore them all around Japan and didn't get ONE blister! They are THE best Spring / Summer shoes!
s h o p   t h e   l o o k
LEMON CROPPED TOP | YELLOW HIGH WAISTED DENIM | STRAW HAT | SCHUTZ MULES
[ezcol_1half]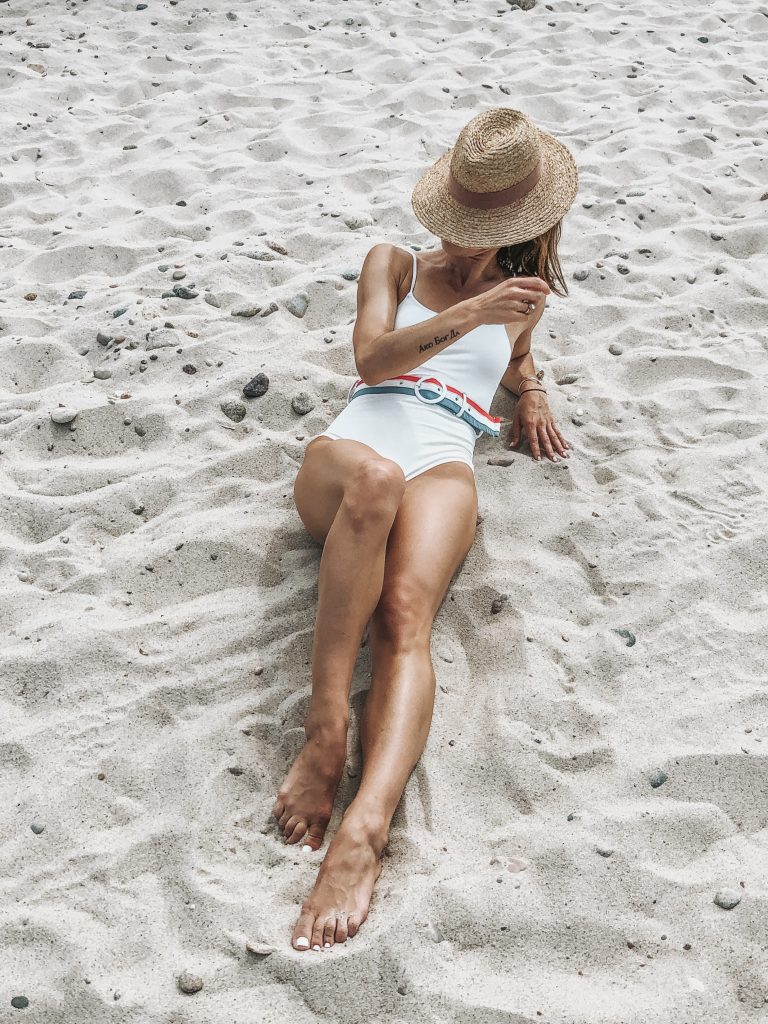 [/ezcol_1half] [ezcol_1half_end]
[/ezcol_1half_end]
BATHING SUITS
Packing my swimwear was imperative for this trip – it's all about those beach days in Cape Cod! I packed two of my favorite bathing suits for this trip including my favorite Amazon find of the summer! This $26 bathing suit, that also comes in another color, with this adorable striped belt is the best money I've spent on Amazon! The bathing suit is super high quality meaning the fabric is really thick and the padding is in the right places! This yellow bathing suit, also worn here for a Stylelogue shoot on re-styling swimwear. The lace detailing in the front is my favorite and this can also double as a really great bodysuit!
s h o p   t h e   l o o k
WHITE ONE-PIECE BATHING SUIT | YELLOW ONE-PIECE BATHING SUIT | BLACK STRAW HAT | BEIGE STRAW HAT
[ezcol_1half]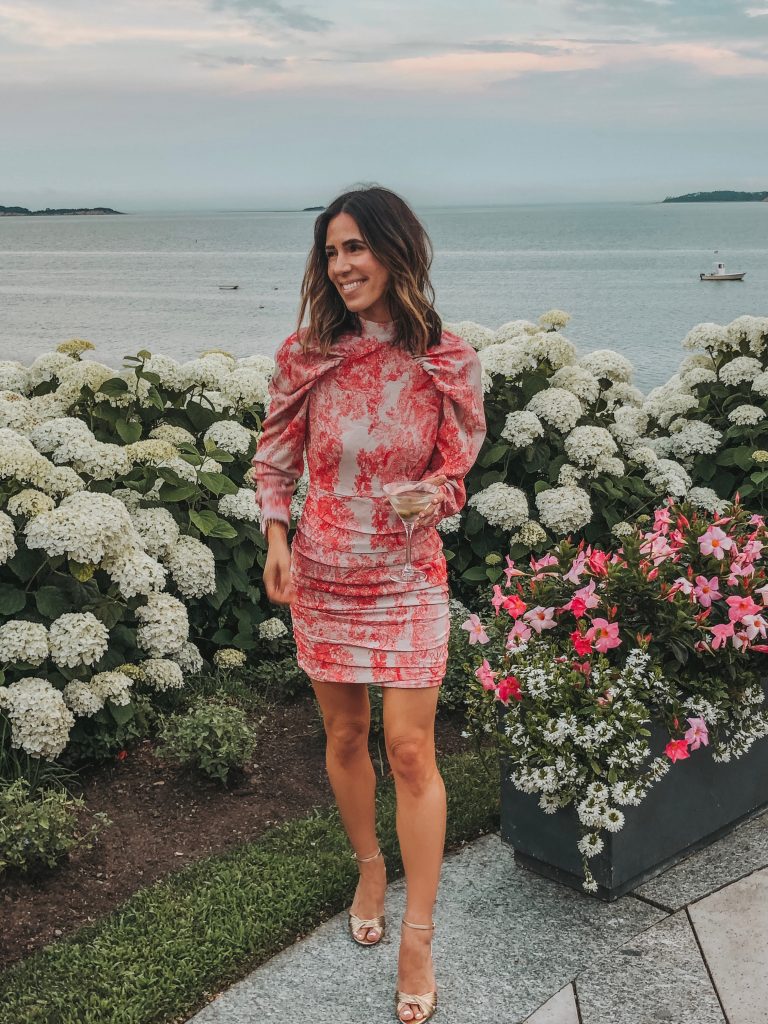 [/ezcol_1half] [ezcol_1half_end]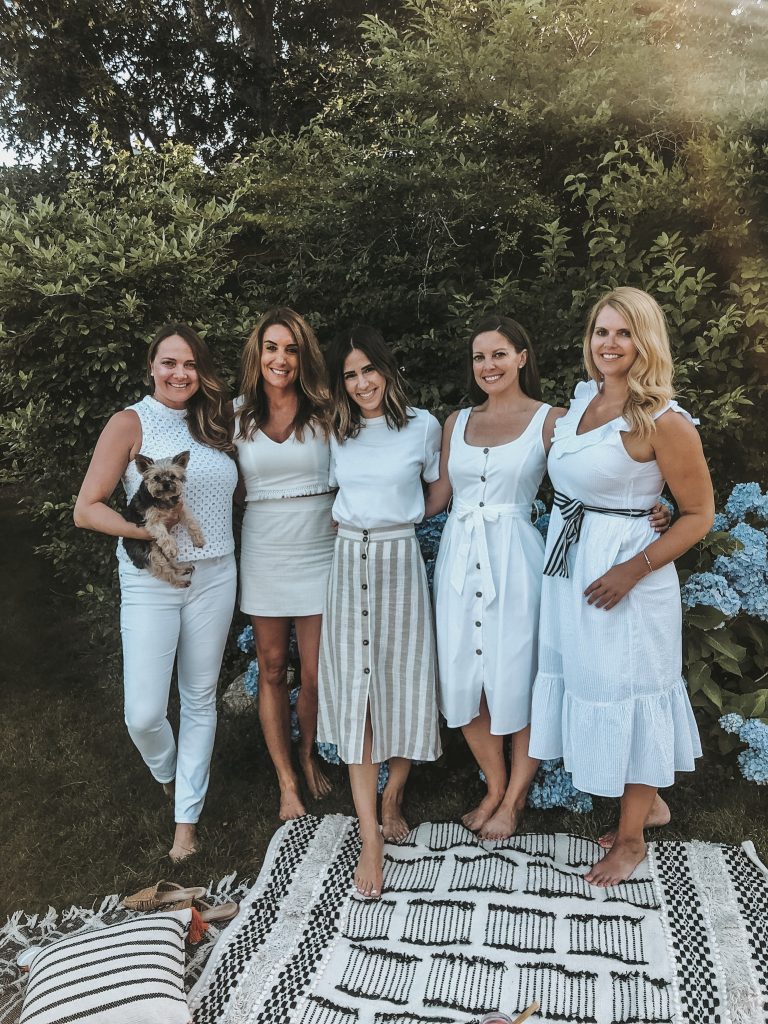 [/ezcol_1half_end]
NIGHT OUT WITH THE LADIES
Of course we had to plan a few nights out of the house eating some delicious east coast seafood! The first place we went to was Twenty Eight Atlantic at the Wequasset Resort – if you've never been, I highly recommend it! It's a beautiful resort on the water with THE best restaurant on the Cape! We enjoyed the Chef's tasting menu which including fresh oysters from the bay just outside! I wore this gorgeous red print dress with an open back – this actually was an Instagram ad that I clicked on and couldn't have been happier. Here is another version of this dress, but in black! It's SOOOO stunning and can be worn for so many occasions! If you purchase this dress, order a size up if you want a looser fit around the waist since it's ruched.
Another night we planned a little picnic outside, because why not? I styled a basic white tee with this adorable $29 linen striped skirt! Stay up to date with all my outfit posts by following me on the LikeToKnow.it app – I post all my daily looks and then some on here before they are featured on Instagram.
s h o p   t h e   l o o k
RED PRINT DRESS | BASIC WHITE TEE | STRIPED LINEN SKIRT
YOU MAY ALSO LIKE