July 8, 2019
Stylelogue Un-Caged Animal Print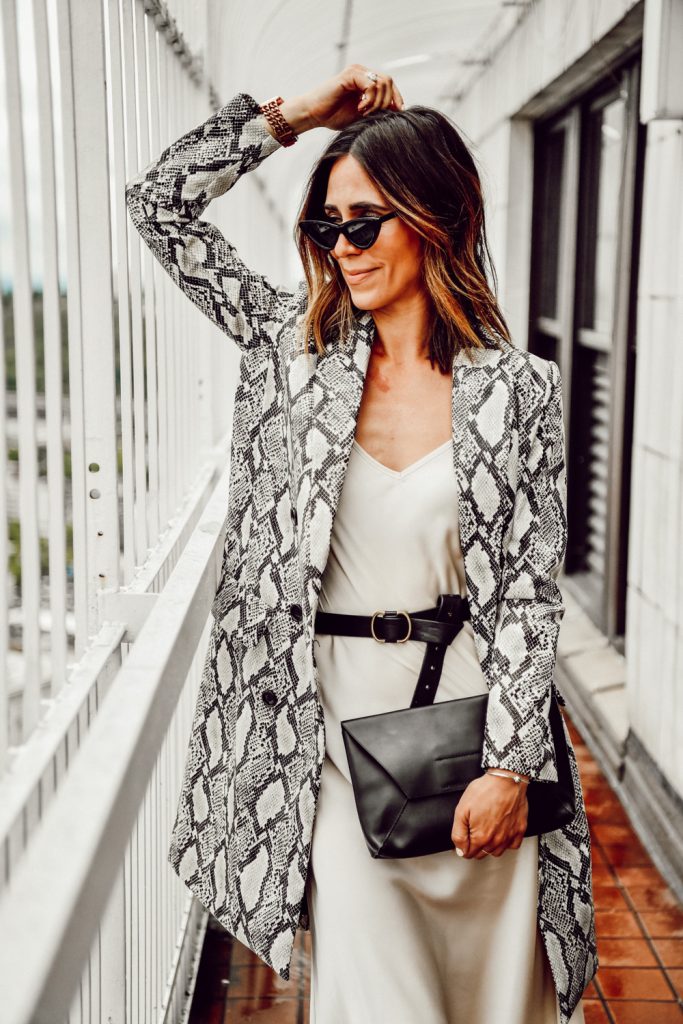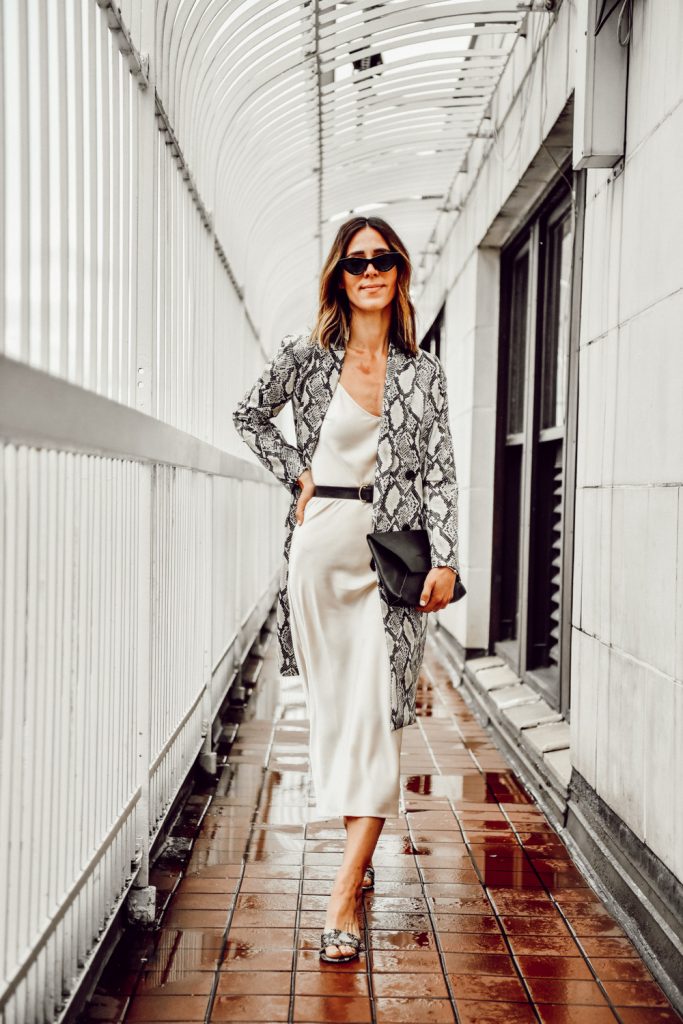 Phew! Now that was a fun weekend! The novelty of the fourth of July is by far my favorite – it's the American Summer holiday! The patriotism, the food, the fireworks! Counting down to next year! Now that we have wished America another glorious birthday, it's time to get back to some regular programming and we are kick off the week with the NINETH edition of
Stylelogue
!! Can you believe it?! NINE! I know that each month I feed you the line, "this month's edition is MY FAVORITE", but truly, this one is my favorite and speaks my love language! On this months edition of
Stylelogue
we are chatting all things animal print and how you CAN wear animal print for your every day and to work!
SHOP THE LOOK: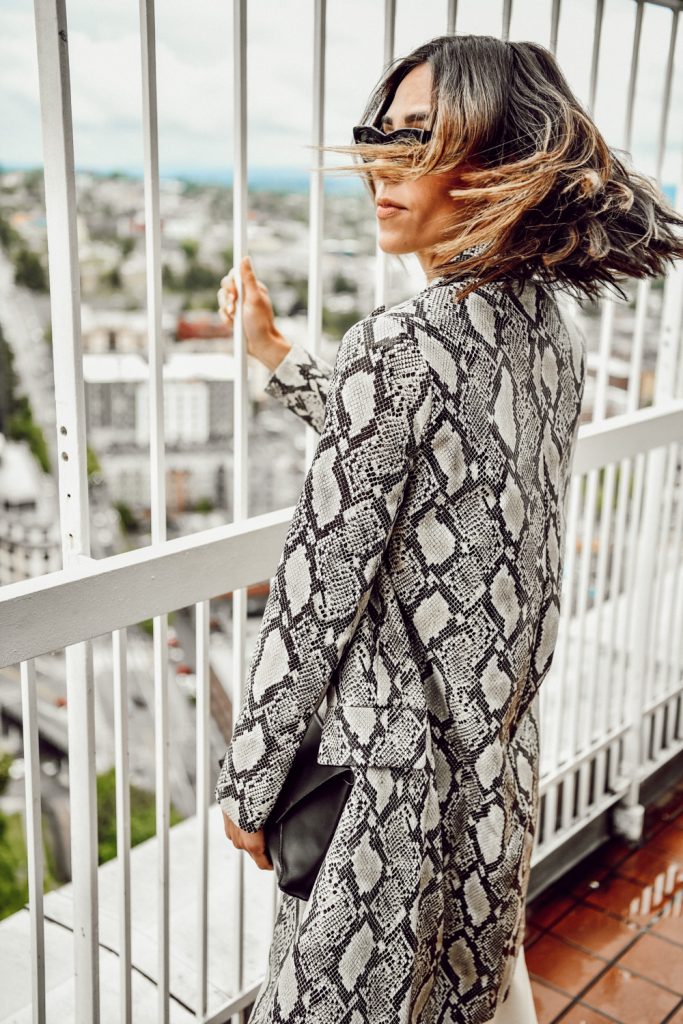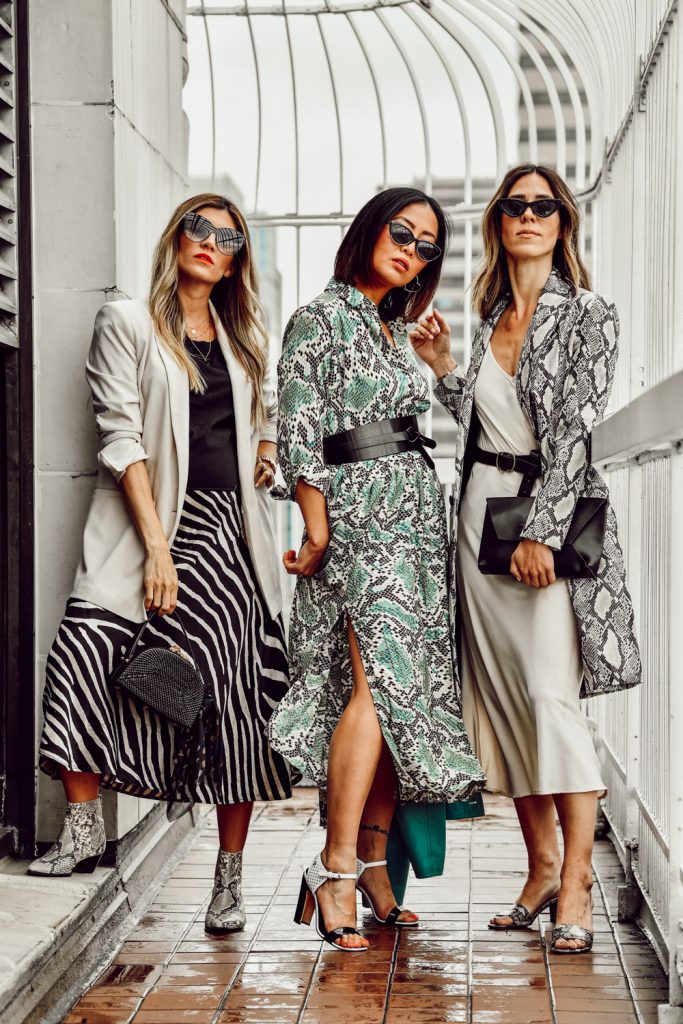 STYLELOGUE UN-CAGED ANIMAL PRINT
I think it will come as to no surprise to you that I'm quite the fan of all things animal print – especially after it's comeback this past fall! Just recently I styled this leopard wrap dress from an Amazon try-on – it's the perfect way to incorporate animal print to work! Back in 2018 I put together a post on all my favorite leopard pieces under $100 and including this off-the-shoulder dress from Target that was $29! Around the holidays I scored this gorgeous pleated midi dress from H&M that is still in my closet and will be for some time! A few weeks ago I shared how you can style animal print for summer with a smocked top and sandals! So, as you can see, my love runs deep 🙂
MY LOOK
When we agreed on this trend, I was in and READY! This Faux Leather Jacket is 100% the hero piece of my look! Soon we will start to chat about transition fashion and this is one of those pieces you will want in your closet! The quality of the jacket is superb and is priced at $100! Style it with a Cami Slip Dress and Black Belt, like I did here, or over a t-shirt and jeans with a KILLER pump! Head to my instagram stories to see how else I styled this coat!
To accessorize this look I added my go-to Cat Eye Sunglasses – I never leave the house without them! Next up are these amazing Snakeskin Mules from the Who What Wear collection at Target! They are currently sold out, but I found a similar pair here and here.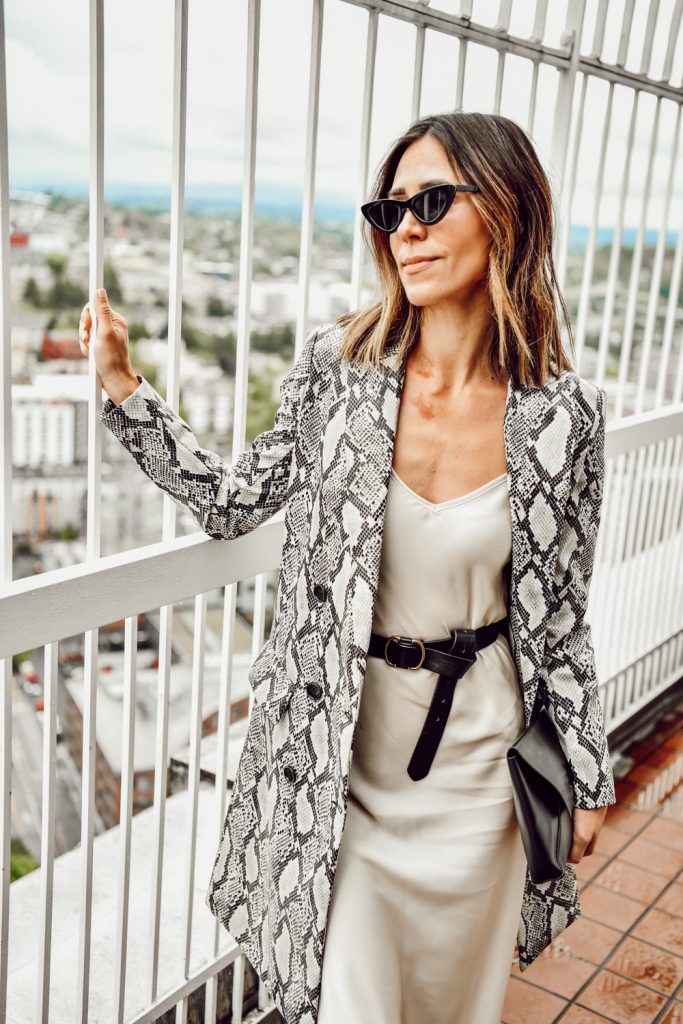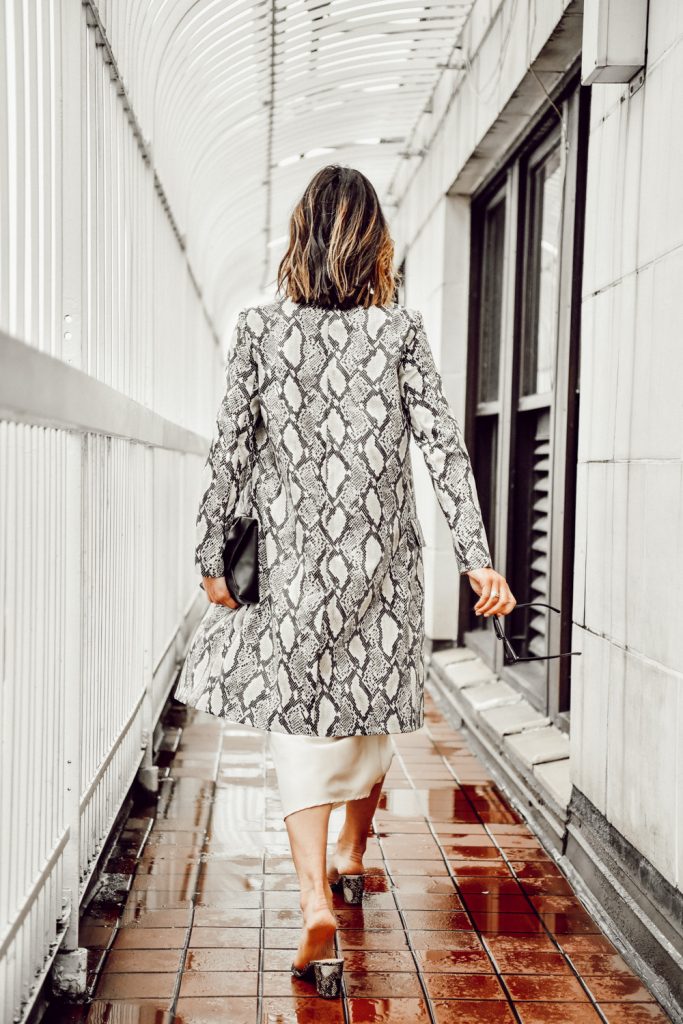 STYLELOGUE LOOKS
While I took a more monochromatic approach with my snakeskin, Cortney upped the ante and style this gorgeous zebra print satin skirt with her snakeskin booties! By the way, did we mention that zebra is the leopard? Cortney is ahead of the curve with her super effortlessly chic zebra look! Her snakeskin booties are another really great example of how you can incorporate animal print in to your every day by just accessorizing – not to mention they are super versatile! Visit The Grey Edit to see the rest of her post.
shop cortney's look
top | skirt | duster | booties | bag | sunnies | necklace | scarf
Elisa showed us that animal print doesn't have to be traditional in any sense, especially in color! Her teal snakeskin dress is animal printing for the pros – this is for someone who says "animal print doesn't wear me, I wear it!". Her look exudes confidence and says "I'm going to kick some ass today." Her fearless unconventional style continues to inspire! Head to E for Elisa to view the rest of her post.
shop elisa's look
dress | sunnies | sandals | bag | belt | earrings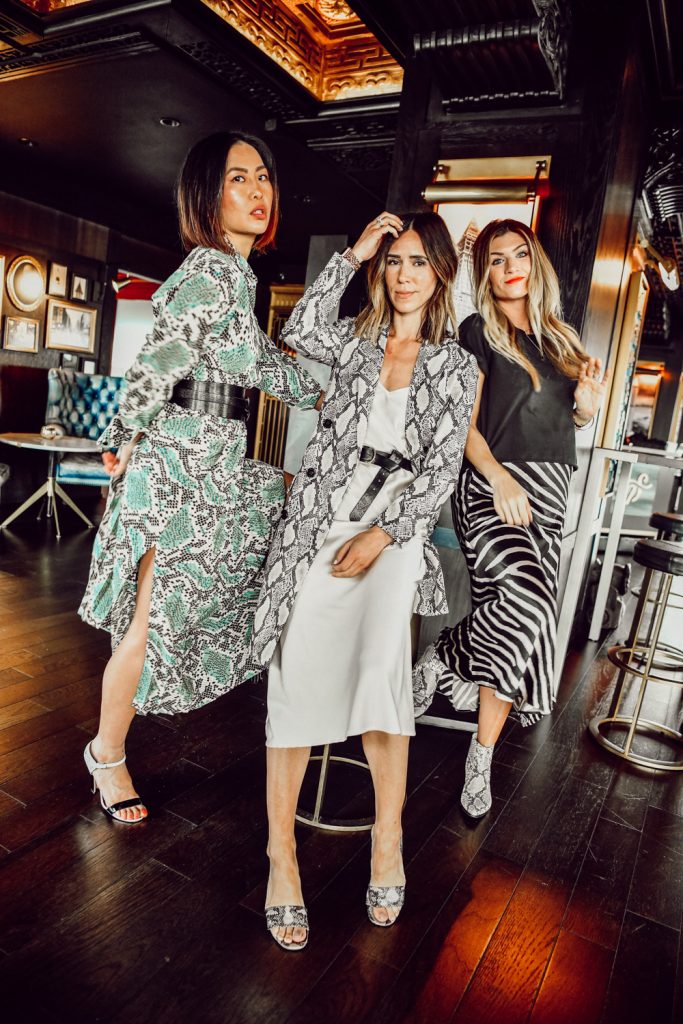 Thank you to the Smith Tower Observatory for allowing us to use your space!
SHOP THE LOOK:
Faux Leather Jacket | Cami Slip Dress | Black Belt | Cat Eye Sunglasses | Snakeskin Mules | Envelope Clutch 

YOU MAY ALSO LIKE