July 1, 2019
Amazon Workwear Try On
Happy Monday!! I am so ready for the short week! Anyone else? In case you missed it, last week I shared some 4th of July outfit inspiration to kick-start you holiday break! Following a couple Amazon try-on's, I was inspired to put together a try-on that was geared more towards women in the workplace – I was determined to find fashionable affordable pieces for my every day work! Today I'm sharing the details from last weeks Amazon workwear try on and breaking down every look for inspiration on your next business causal day!
[ezcol_1half]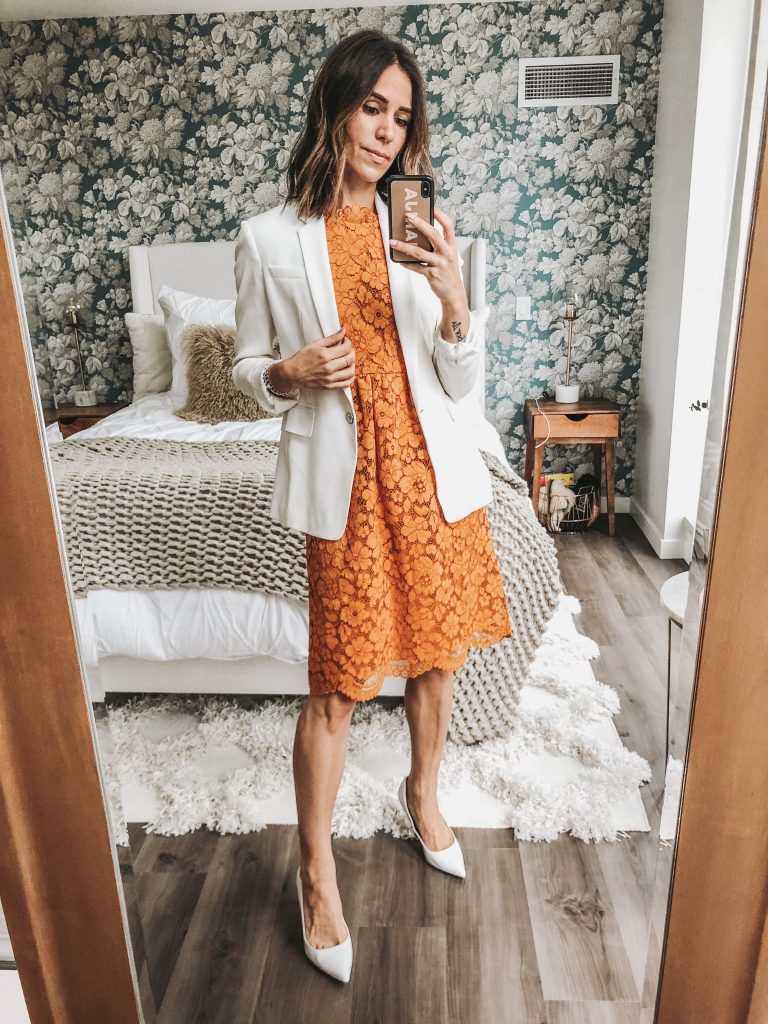 [/ezcol_1half] [ezcol_1half_end]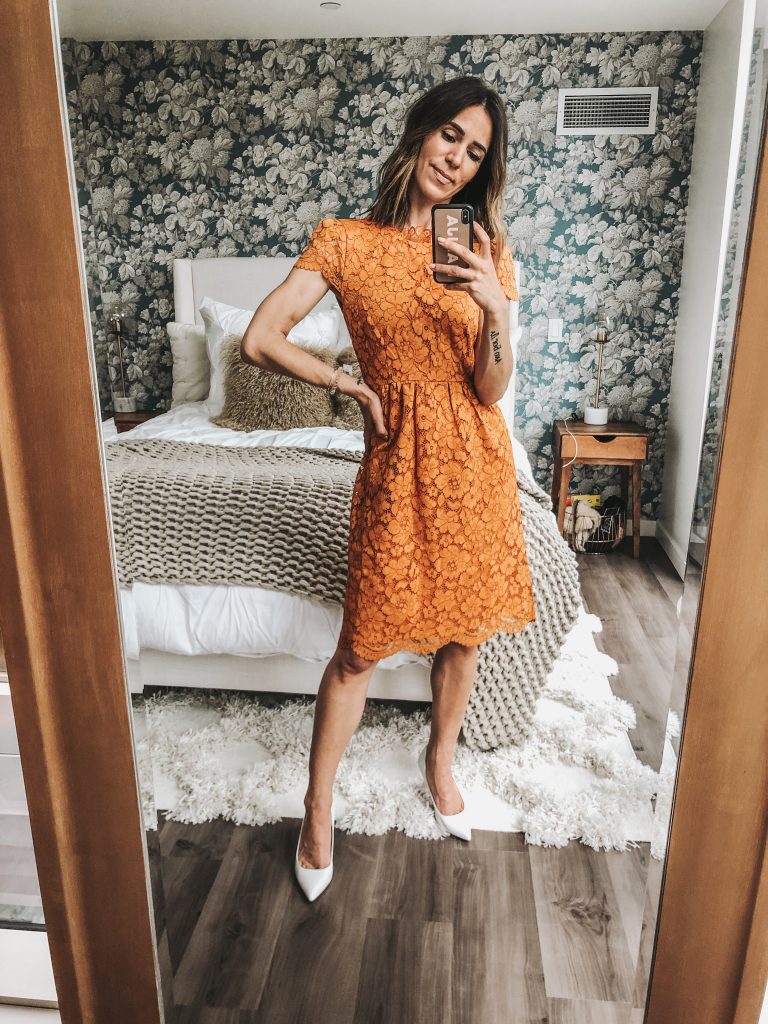 [/ezcol_1half_end]
MARIGOLD LACE DRESS
When I spotted this dress, my hear skipped a bit! The lace is such high quality and the price tag will make your bank account smile. This $49 dress, that comes in two other colors is and the perfect dress to style for work or even a wedding. In the first look, I styled the dress under a blazer and my favorite white pumps – this is a great way to style the dress for work, especially if you work in a more formal setting. The second look, without the blazer, is a great example of what the dress could look like for a wedding or a less formal day at work. Shop the looks below –
LOOK 1: Marigold Lace Dress | White Blazer |  White Pumps 
LOOK 2: Marigold Lace Dress | White Pumps 
[ezcol_1half]
[/ezcol_1half] [ezcol_1half_end]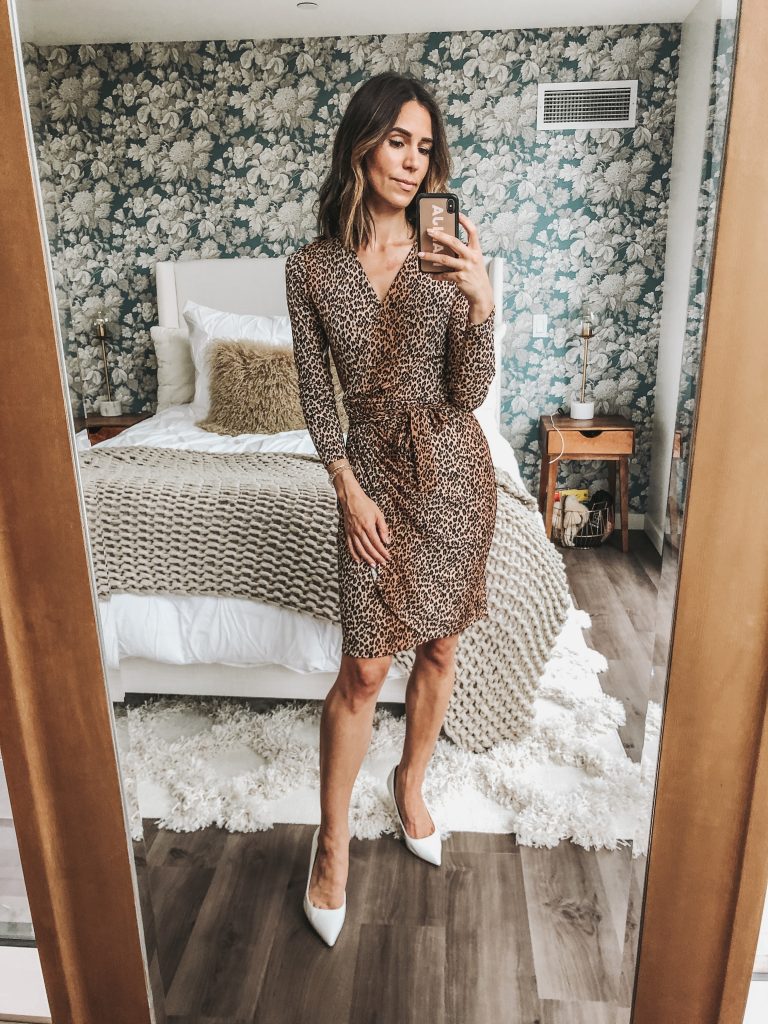 [/ezcol_1half_end]
TUILIP HEM + LEOPARD WRAP DRESS
In searching for the perfect work dress, I stumbled upon this tulip hem beauty! I didn't have super high expectations for the dress considering it's white and under $50, but I was proven wrong. The quality of the dress is beyond it's $40 price point by a long shot! The mock neck along with the piping down the front, give the dress this chic elegance perfect for work or a bridal event! It also comes in black!
I'm always good for one animal print item! I LOVE this leopard print wrap dress! The balance between the print and the length of the dress make it appropriate and tasteful enough for the work environment. The material is BEYOND soft making it super comfortable to sit in all day along! Take this leopard beauty from work to drinks too with adding a fun lip and a bright shoe!
LOOK 1: White Tulip Dress | White Pumps 
LOOK 2: Leopard Wrap Dress | White Pumps 
[ezcol_1half]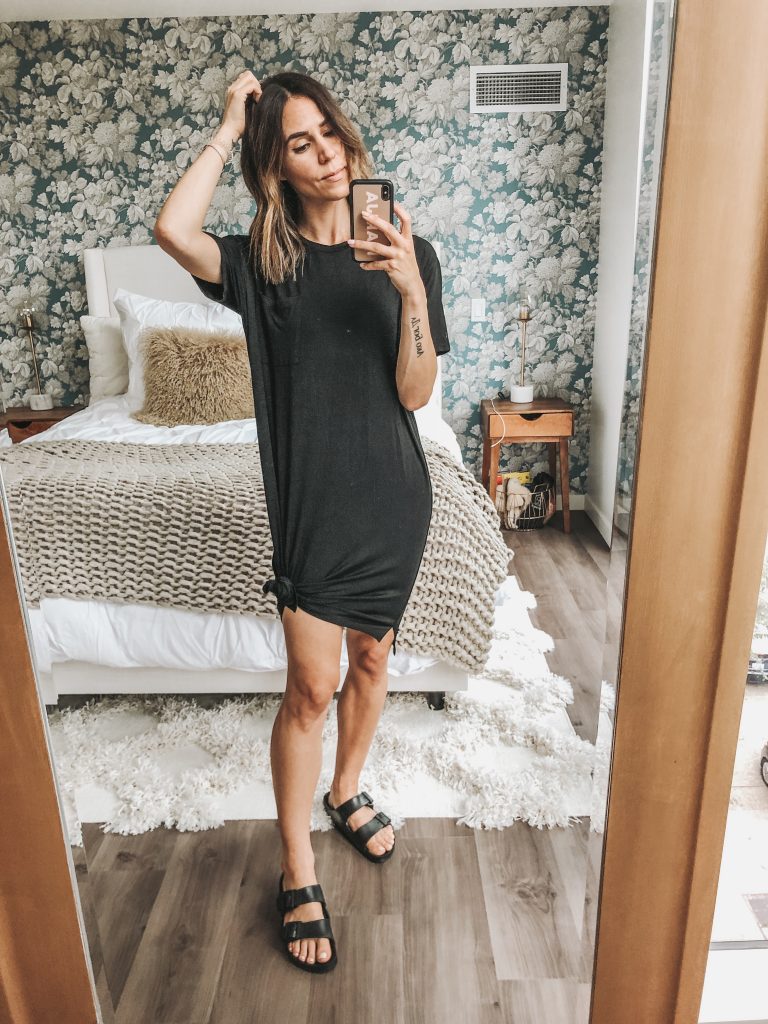 [/ezcol_1half] [ezcol_1half_end]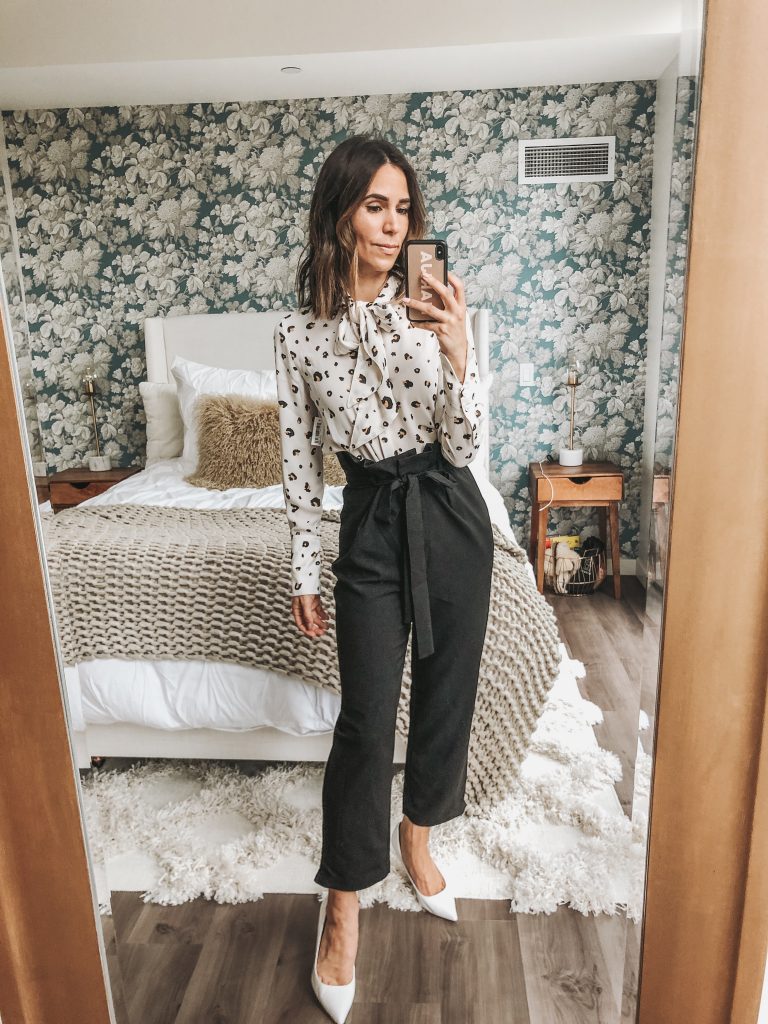 [/ezcol_1half_end]
T-SHIRT DRESS + BLOUSE COMBO
While this dress isn't something I would style for work, it's still something that I want to share. This t-shirt dress is the perfect casual dress that you can quickly elevate with a simple knot and some accessory. It's a great weekend / casual / travel dress! For this look I styled them with my go-to causal shoe – these $40 rubber Birkenstocks that are SOOOO comfy!
During the fall and winter, when I'm styling less dresses and skirts, I'm a big fan of the blouse / pant combo! If you don't own a pair of paper bag pants, you need to. They are super flattering for all body types and the detailing acts as an accessory for your look! I styled these $30 paper bag pants with this gorgeous animal print blouse! This blouse has a removable tie which you can use as a hair accessory too!
LOOK 1: T-Shirt Dress | Rubber Birkenstocks
LOOK 2: Animal Print Blouse | Paper Bag Pants | White Pumps 
SHOP THE POST:
Marigold Lace Dress | Leopard Wrap Dress | White Tulip Dress | Black Sleeveless Blouse | Animal Print Blouse | Paper Bag Pants | T-Shirt Dress

YOU MAY ALSO LIKE