May 29, 2019
Five Things to Do in Seattle this Summer
[ezcol_1half]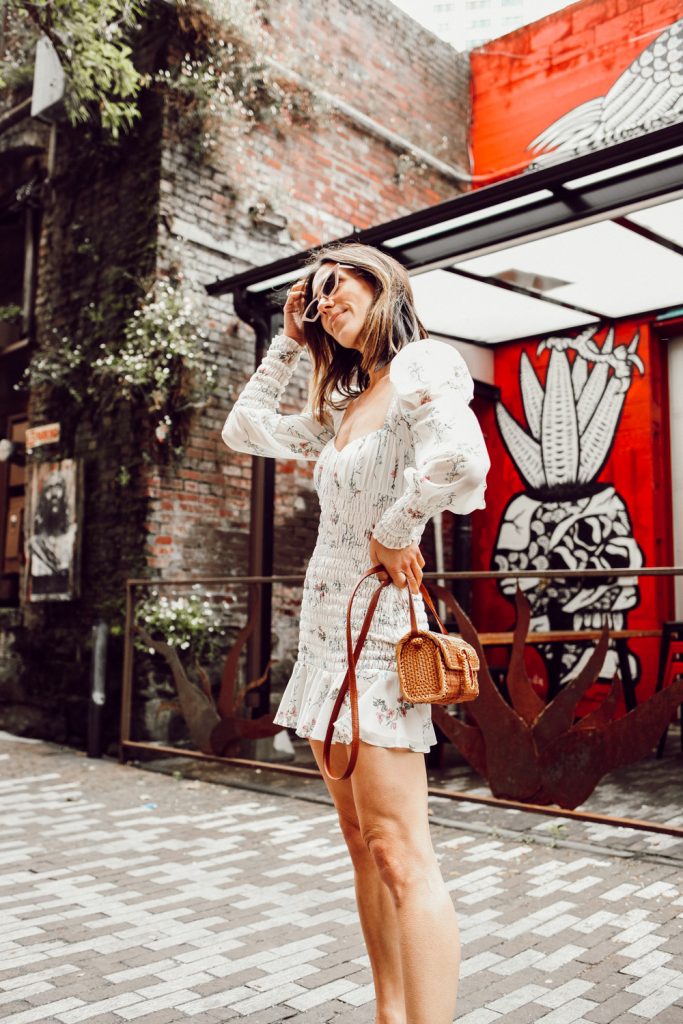 [/ezcol_1half] [ezcol_1half_end]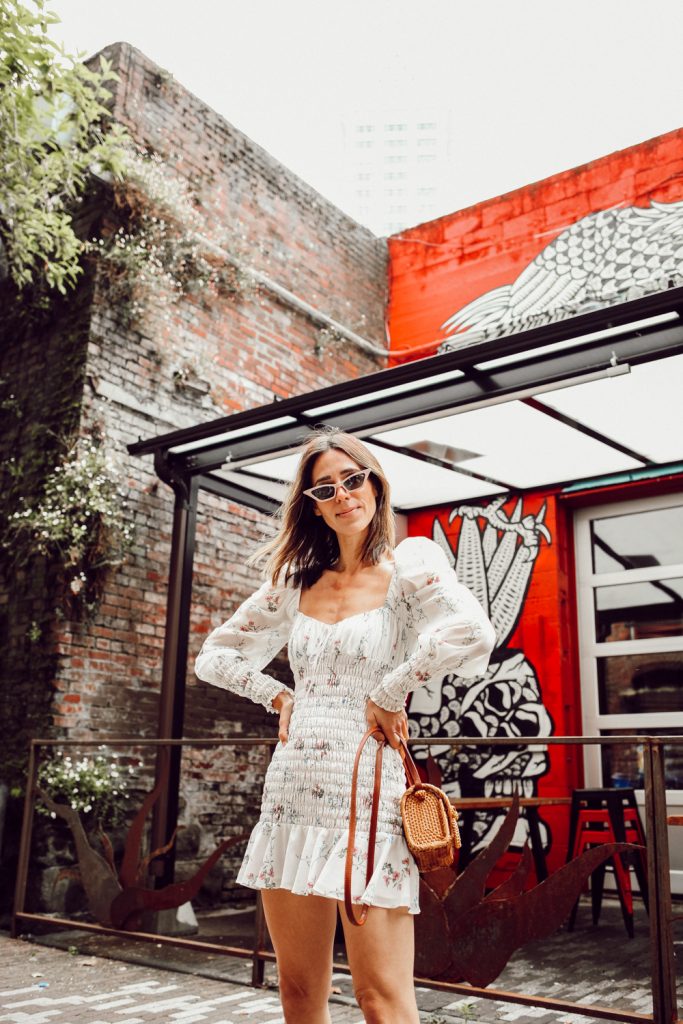 [/ezcol_1half_end]Summer is here, but does anyone else feel like it's over?!? Every year we seem to book all our summer weekends, without actually saving any time for ourselves! This year we are taking a different approach to our summer weekends and are going to enjoy Seattle to the fullest! Today I'm sharing fives things to do in Seattle this summer that are affordable and local activities to help you enjoy the city this summer! BUT it wouldn't be a post if I didn't talk about what I am wearing!
This look was put together with summer in mind of course! This For Love & Lemons Smocked Dress is the perfect combination of feminine, summer and flirty. The dress had to be styled with my new find from The Real Real – these Chanel square toe Ballerina Flats that I scored for under $300! If you aren't a Real Real believer, you need to be! I finished the look with two of m favorites summer accessories – this Wicker Bag from Amazon and my favorite neutral Cat Eye Sunglasses.
SHOP THE LOOK:

[ezcol_1half]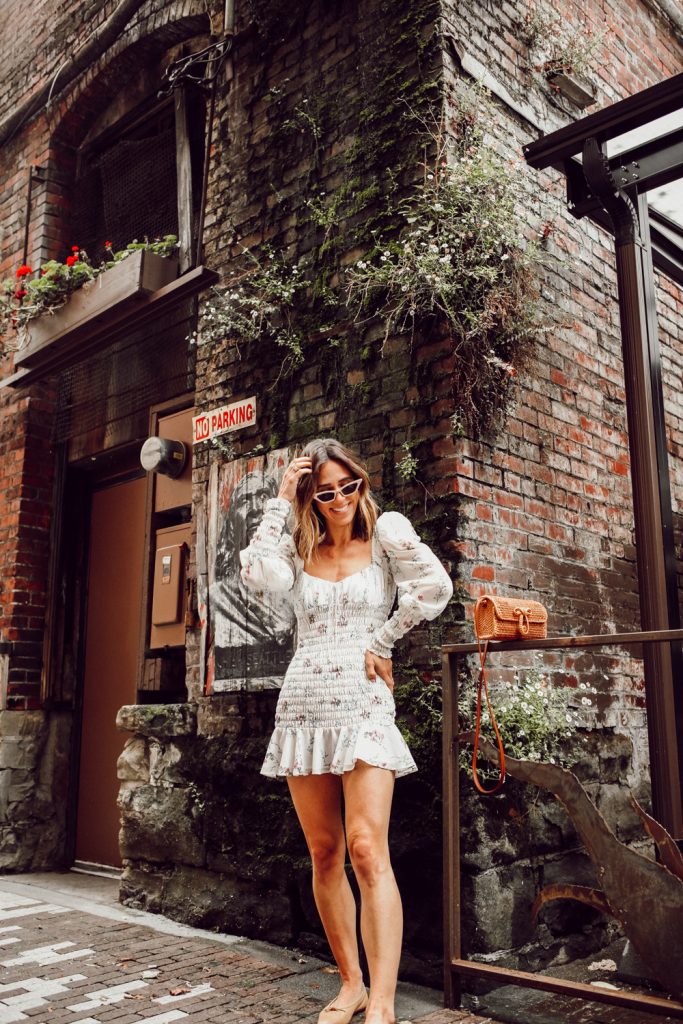 [/ezcol_1half] [ezcol_1half_end]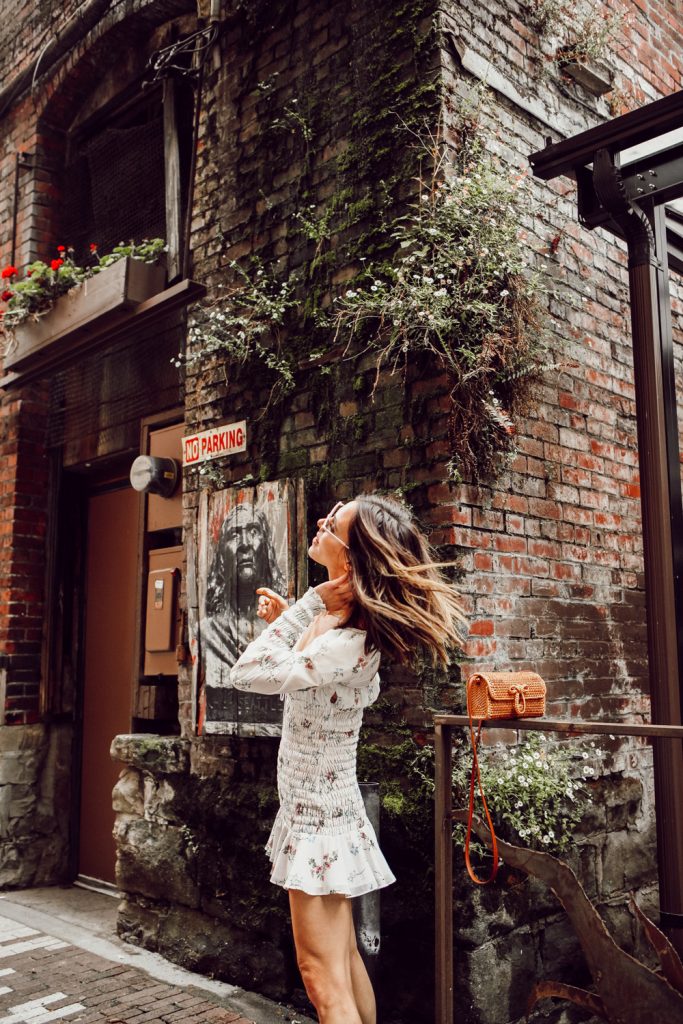 [/ezcol_1half_end]
FIVE THINGS TO DO IN SEATTLE THIS SUMMER
BE A TOURIST || There is nothing more nostalgic than being a tourist in your own city! I know that I certainly take those experiences for granted! In Chicago, we never did any of the touristy things because of the crowds and as a result, never saw the city through the eyes of a tourist. When we moved to Seattle, we did the opposite! A visit to Pike's Place is an absolute MUST. I'd recommend starting at Biscuit Bitch for a taste of gluttony in the form of breakfast, followed by a short walk to Storyville Coffee. They make their almond milk from scratch.
Take your coffee for a walk through the Pike Place market. Watch the workers toss around the fish, walk through the rows and rows of fresh flowers and sample the local fresh vegetables! Walk out the end of the market and walk two blocks to the original Starbucks – if you are a coffee aficionado, wait in line, if not, just peek in. If you are in need of a mid-day snack, pick up a pastry from Piroshky Piroshky!
Walk back towards Storyville on the cobblestone streets towards the famous Seattle gum wall. It's certainly something to see! From there you can walk down towards the waterfront and walk along the pier!
ENJOY SOME WINE || Not much for the traditional touristy things? Washington is home to several amazing wineries, some of which are located 30 minutes from downtown Seattle! Head to Woodenville, WA home of Chateau St. Michelle – it's also one of the oldest wineries in the state! You can spend an entire afternoon bouncing around between between tasting rooms and vineyards. Who doesn't like a wine vacation in their own backyard?! [ezcol_1half]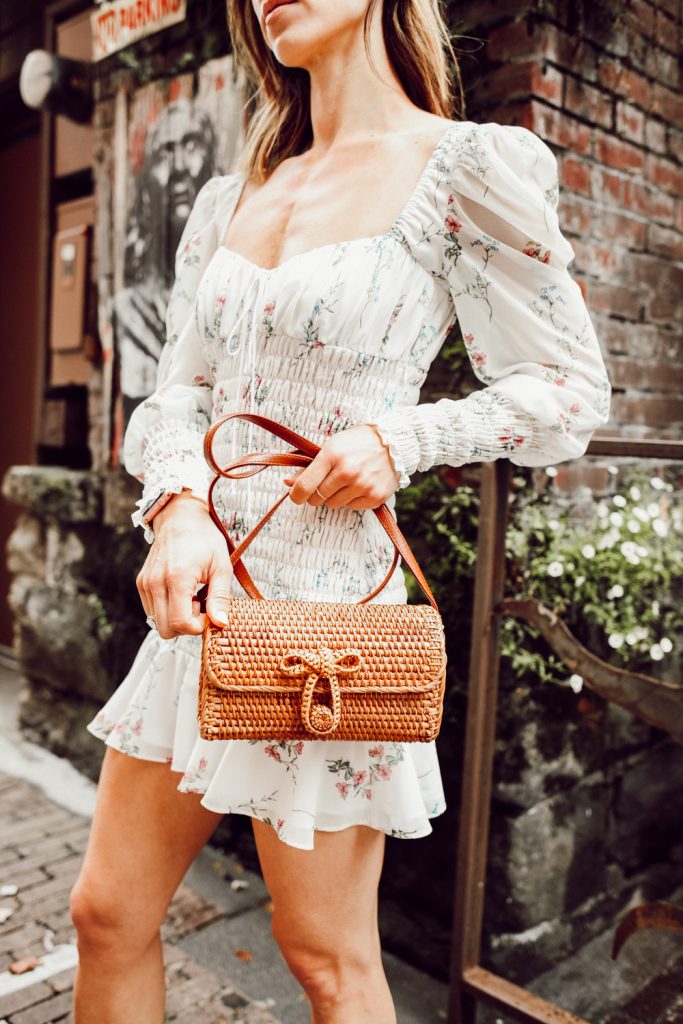 [/ezcol_1half] [ezcol_1half_end]
[/ezcol_1half_end]
FIVE THINGS TO DO IN SEATTLE THIS SUMMER
TAKE A BEACH DAY || In Chicago, there were several beach and pool options over – when we moved to Seattle, we kept sticking out until we found Golden Gardens in Ballard. Tucked away in one of my favorite Seattle neighborhoods, Golden Gardens is a diamond in the rough! The beach front is endless with picnic areas, grills, tanning and beach volleyball courts. TIP: I'd arrive no later than 10am if you plan to drive and get a parking spot. If you don't want to drive, you can bike or take an Uber / Lyft. Also, bring food and drink, alcohol allowed – if you dont, there is a little cafe where you can get the essentials!
GO FOR A HIKE || Hiking options in Seattle and Washington are absolutely endless, but if you want to do something local, with great views, Discovery Park is the way to go. I think it's the most underrated park / hike near Seattle. It's a casual 4-5 mile hike into the beautiful Seattle woods with part of the hike on the Pugent Sound shoreline. There is even a lighthouse involved! Located 10 minutes from downtown, this one is not to be missed!
SEE THE CITY FROM THE SKY || Take a flight on Kemore Air from Lake Washington in South Lake Union for a scenic Seattle flight! It's a 20 minute narrated flight over the the Seattle metropolitan area. You take off and land on the water!! Tickets are $99 per person – there are also a few other tours options too, like a flight to Mt. Rainer!
SHOP THE LOOK:
Smocked Dress | Wicker Bag | Ballerina Flats | Cat Eye Sunglasses

YOU MAY ALSO LIKE