September 8, 2017
DIY Tailgate with Marshalls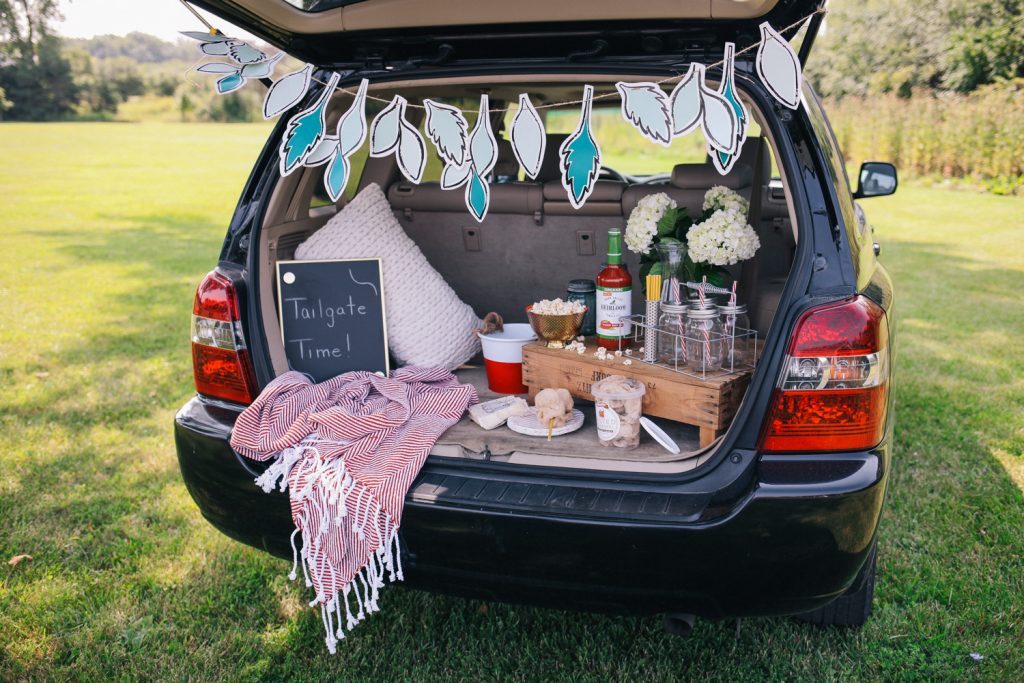 The summer is coming to a close and my favorite season is on the horizon…Fall! Fall is arguably the best time of the year – chunky knit sweaters, pumpkin spice lattes, football and tailgating! I love nothing more than a cool crisp morning on the weekend filled with tailgate snacks and football! This year I decided to kick-off my tailgate season with Marshalls – it all started from a shopping trip that led me to an unexpected surprise. Thanks to Marshalls I was able to build my own tailgate in the trunk of my car with some fabulous finds! Today I'm sharing three easy steps to building your perfect DIY tailgate with Marshalls…in your car!
Shop the Tailgate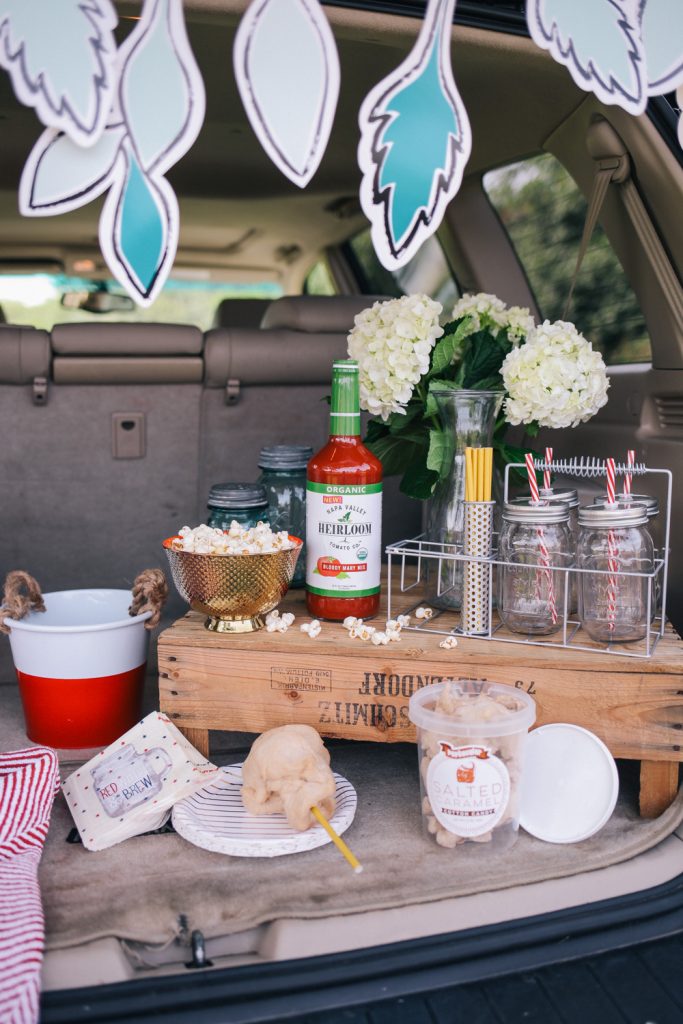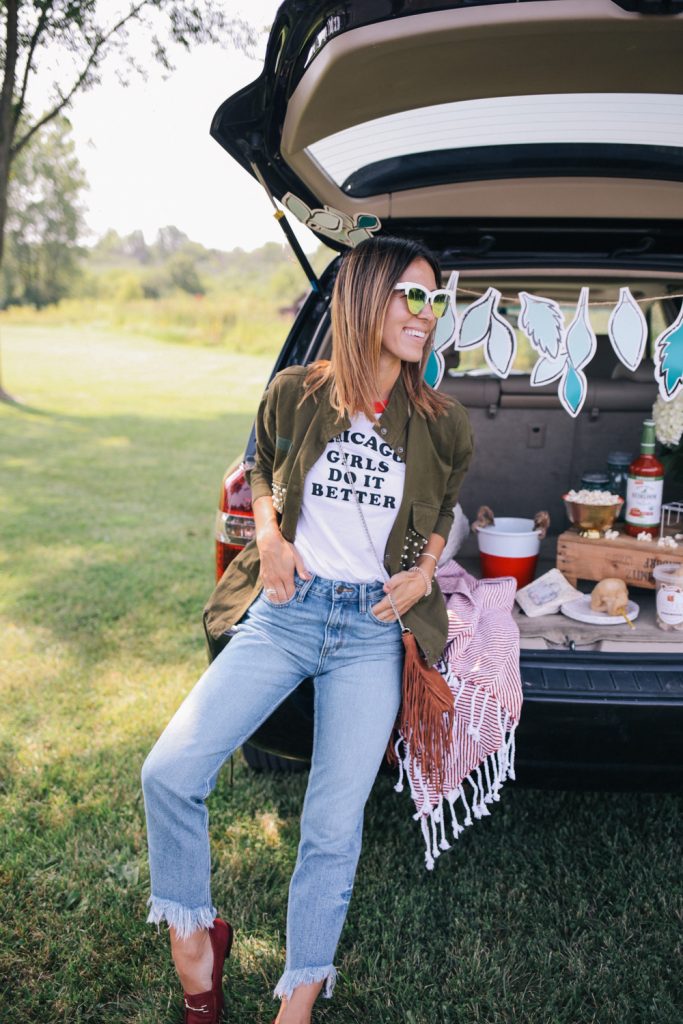 Pick Your Theme
Sure it's fun to build something off your team colors, but I was so inspired but this hand painted leaf garland – who can resist Fall! I mean how cute is this garland? It drapes perfectly under the trunk door of my car and can then later be used for another fall festivity like Thanksgiving – for $5.99 that's a steal!
The garland then lead me to this adorable chalkboard sign with a gold frame and magnets. These chalkboards are perfect for hosting and home organizing. I love using them as menu boards when I'm hosting a dinner or a tailgate. You can use them to write out the menu or just a simple message, like I did here.
With my theme in mind, I grabbed a few other pieces to help bring my car tailgate all together. Fall mornings are always brisk, but the afternoons are always warm so it's important to be cozy in both – this knit pillow and stripped blanket are the perfect accessory for this tailgate. It serves it's function and adds some darling esthetic to my trunk! The idea is to disguise the trunk 🙂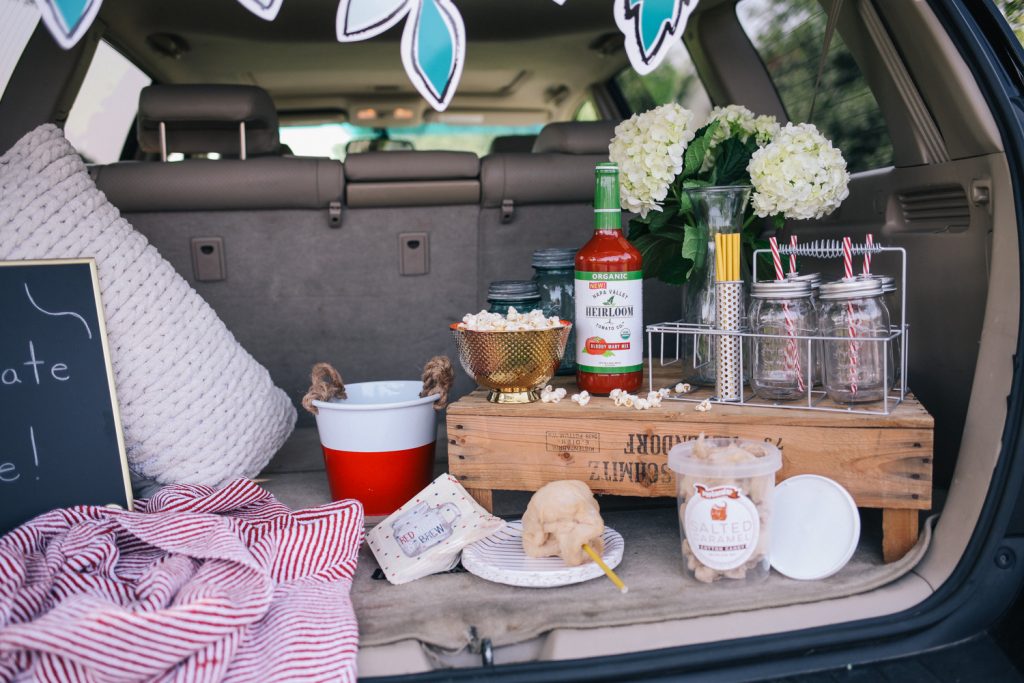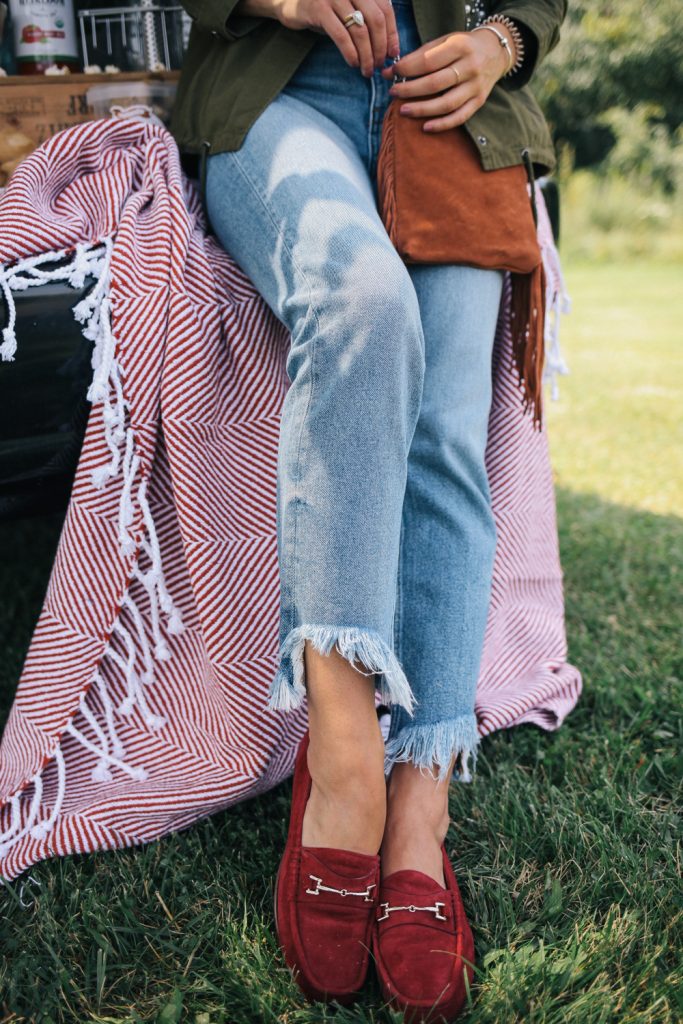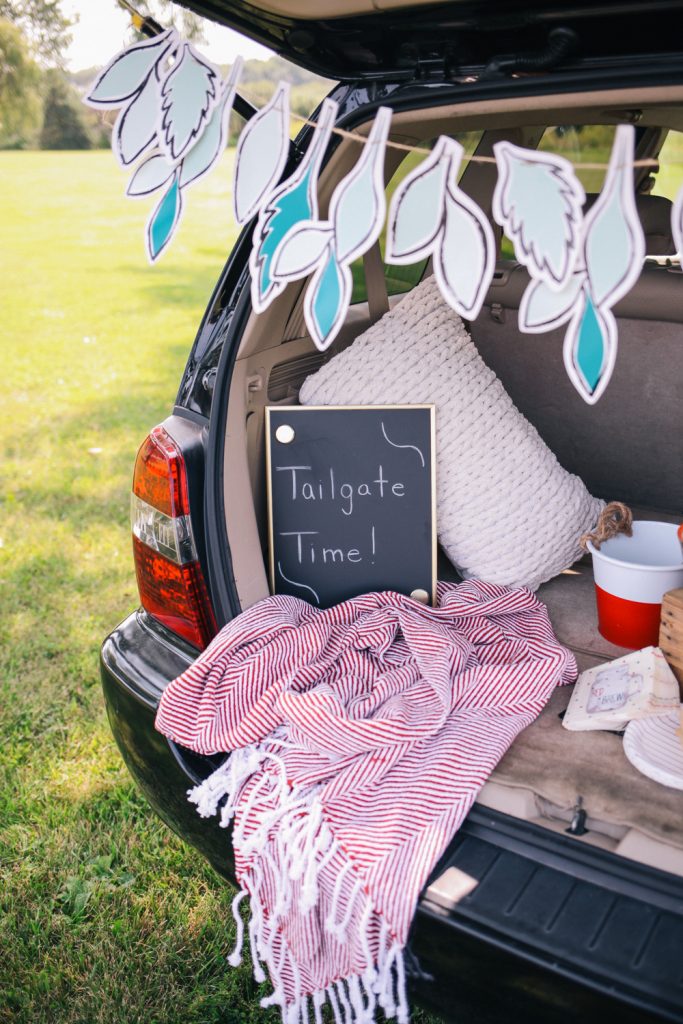 Select your Menu 
Let me start this by saying I'm a HUGE fan of the food section at Marshalls? Anyone else? I always shop there for kitchen essentials like olive oil and Himalayan salt – I can always find high end products for less which is my life MO. In search of some tailgating snacks, I headed to the food section in Marshalls. As I walked up to the food section guess what the first thing that jumped out at me was….heirloom Bloody Mary Mix. Say that again with me heirloom (boujie) Bloody Mary mix. What would a tailgate be without an on-the-go Bloody Mary Bar?!
With cocktails taken care of, I grabbed some gourmet popcorn and wait for it, this amazing maple cotton candy! These gold straws, $1.99 from Marshalls, were used as sticks for my "Adult" cotton candy set-up. You don't need to always over think the tailgate menu – I know that I always do. This time, I wanted to make it really easy for myself and for an easy clean-up too!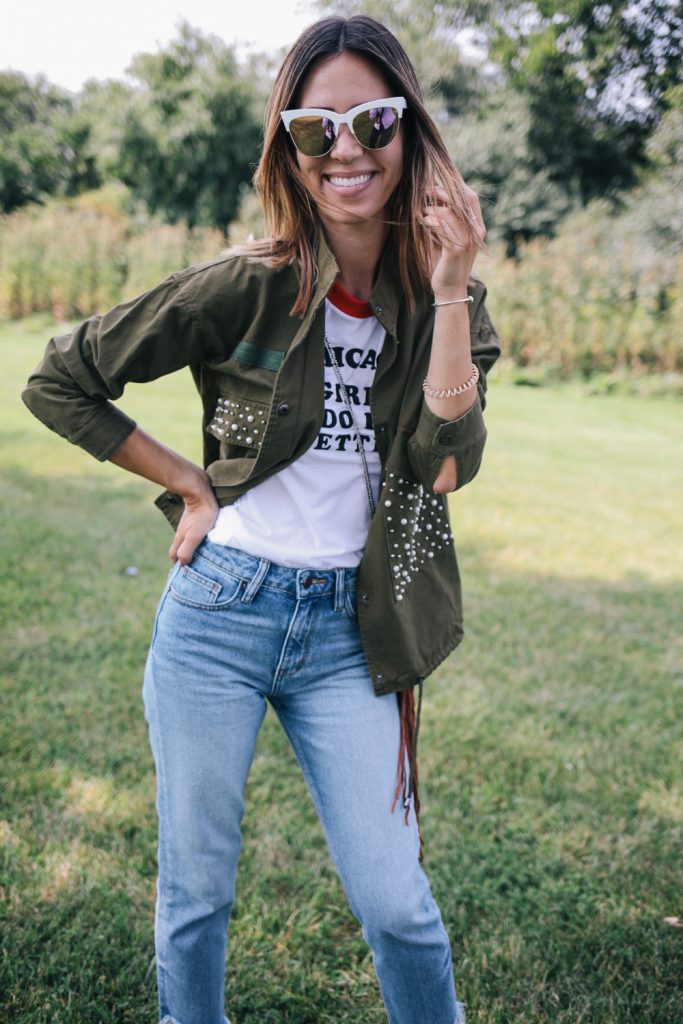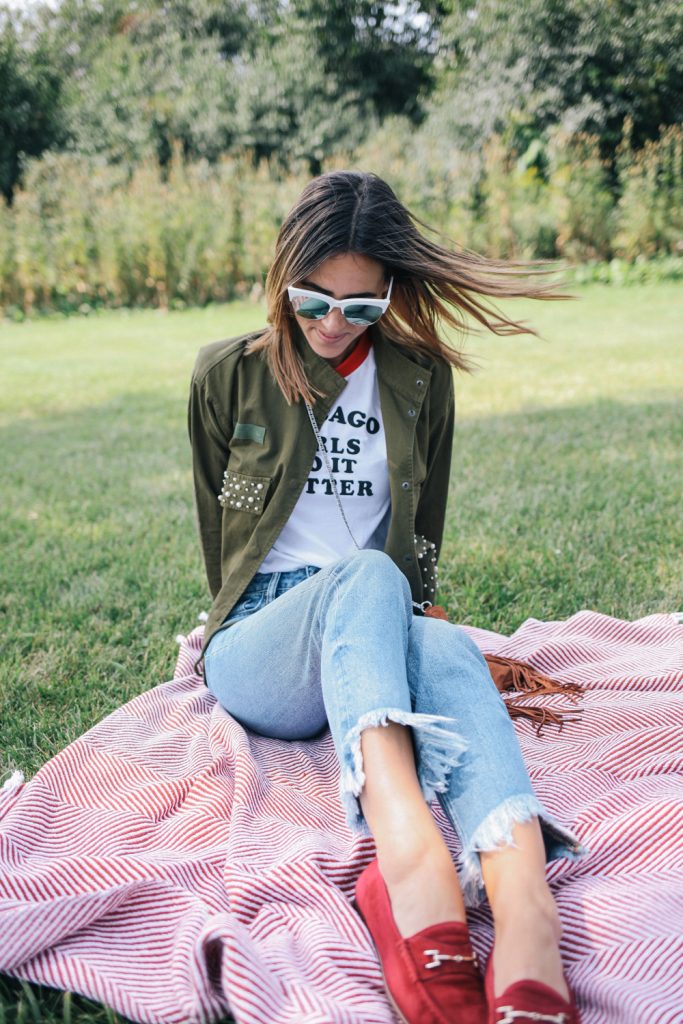 Get your Game Day Fashion
Last but not least, your game-day playbook isn't complete without your game day look. For me, game day is all about fashion and function! I love a great pair of jeans and lightweight jacket – something that I can sit and enjoy the game in for hours! Frayed bottom denim is a super hot trend right now – they are great to dress up or down. I picked these up at Marshalls for $39.99 – it's like I stole them.
A lightweight jacket is a game day must – this army green jacket with pearl embellishment is a stunner and for $39.99 I couldn't walk away from it. Everyone needs a game day statement piece! To complete my game day look, I found this adorable suede fringe cross body that is stadium compliant – did I mention it's only $7.99? Finally, these suede loafers are not only a fall must-have, but they are perfect for all your game day adventures. They are a bold accessory for Fall that everyone needs in their closet and are $49.99.
Happy Tailgaiting!
Thank you to Marhsalls for sponsoring this post!
Shop the Tailgate

YOU MAY ALSO LIKE