September 1, 2017
College Colors Day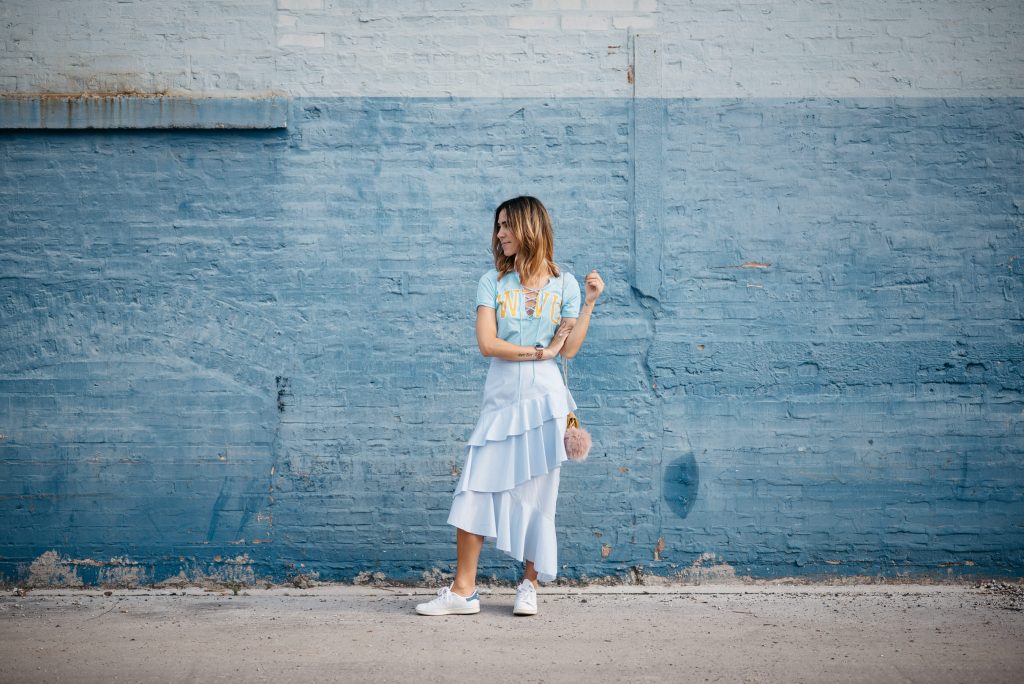 The day is finally upon us! College Game Day is here – our weekends will now be filled with brisk mornings, hot cocoa, game day fashion and NACHOS. And not in that particular order 🙂 Today is College Colors Day – a day inspired by all the fandom that surrounds college football and a great way for every fan to support their team. Before you grab for your all black look this morning, re-think your Friday and let's celebrate College Colors Day with your favorite game day fashion!
Shop the LOOK:

[ezcol_1half]
[/ezcol_1half] [ezcol_1half_end]
[/ezcol_1half_end]
Why I Love These Items:
Retro Brand Tee – Love this brand for game day tees – their silhouettes are fun with a vintage cotton feel
Ruffled Skirt –  Great skirt for so many different situations. I've worn it on trips, to work and now for game day!
Furla Bag with Fur Pom – This bag has been on repeat since I purchased it last season! It's such a classic!
Stan Smith Sneakers – My favorite go-to sneakers!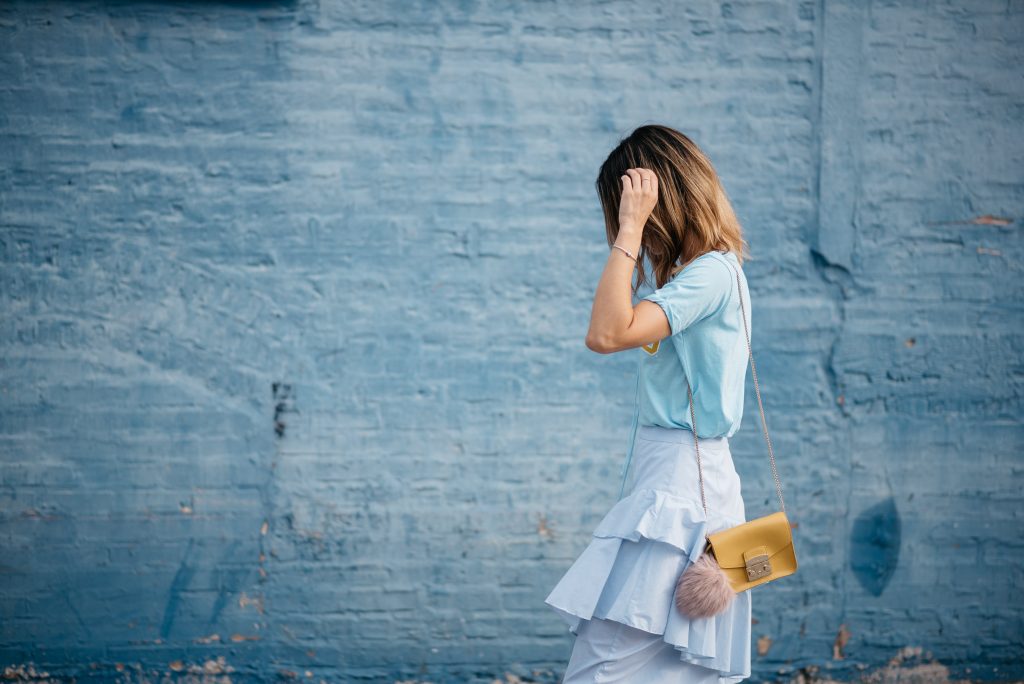 For me game day fashion is like second nature – grabbing my game day tee to style with anything in my closet is my favorite thing to do! For College Colors Day, I accepted the call and wore my first, and soon to be favorite, game day look of the season! As mentioned in this post, Retro Brand is one of my favorite game day brands and this skirt falls nothing short of that love!
I purchased this baby blue tee from the Ladies Huddle event in Morgantown (see here) from a store called Park & Madison – if you are a WVU fan they have  THE best game day fashion! This tee isn't for sale online yet, but you can shop similar tee's here!
[ezcol_1half]
[/ezcol_1half] [ezcol_1half_end]
[/ezcol_1half_end]Game day fashion for me always consists of a current trend pairing. This ruffled skirt is a dream and a hot trend right now – check out this one in a different color here. Did I also mention that it's on MAJOR sale? Check out the skirt here – see how I also styled it here. And because comfort is key on game day, I almost always style my look with these Stan Smith sneakers – they pair with just about everything!
How are you styling your College Colors today?
[ezcol_1half]
[/ezcol_1half] [ezcol_1half_end]
[/ezcol_1half_end]
Shop the LOOK:
Retro Brand Tee | Ruffled Skirt | Furla Bag with Fur Pom | Stan Smith Sneakers

YOU MAY ALSO LIKE