June 19, 2017
Chelsea Ruffle Midi Skirt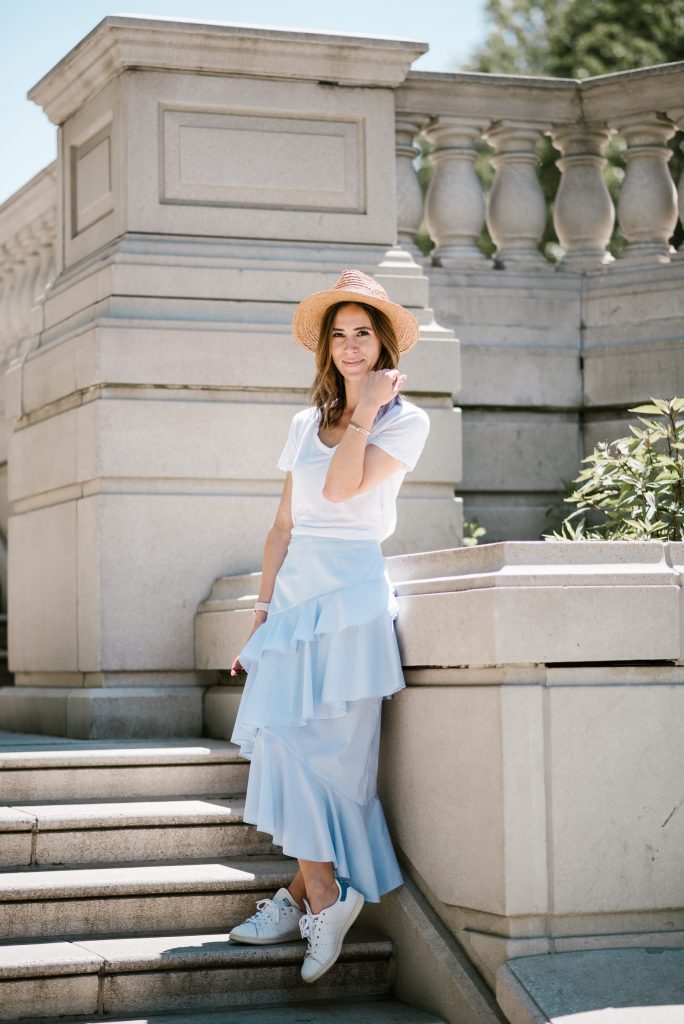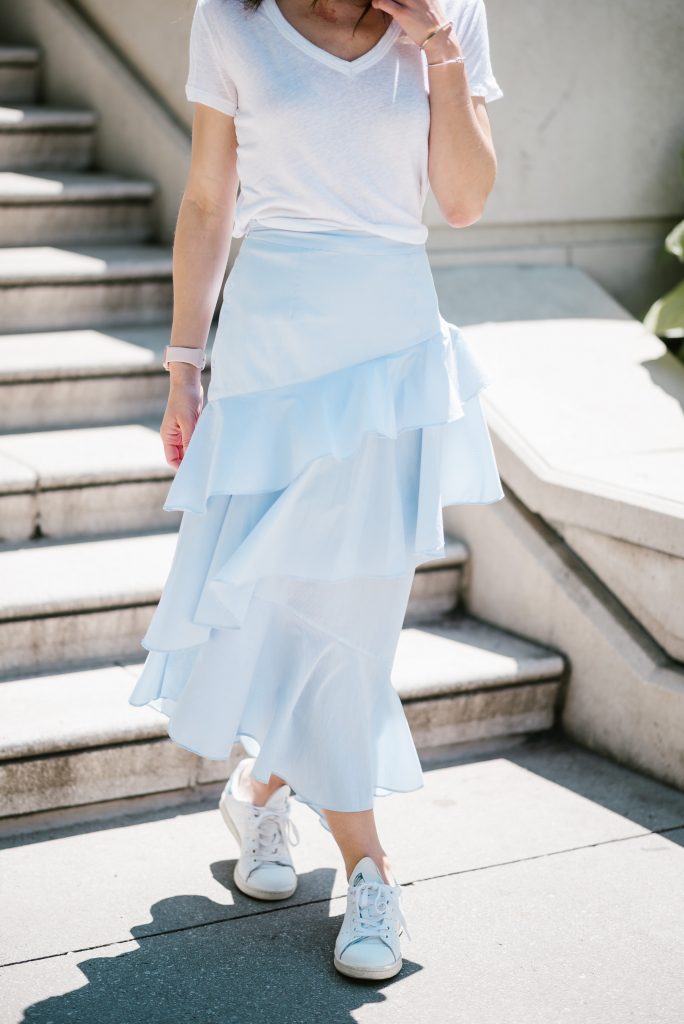 Helloooo Summer! The first day of summer is nearly here! I think what excites me the most is that it's felt like summer in Chicago for the last few weeks and it hasn't officially started. ALTHOUGH, the clock starts ticking towards the fall laster this week and that makes me a little anxious. This summers theme is all about being in the moment am I right? Today's post is all about embracing summer fashion to the fullest and it all starts with
this
Chelsea Ruffle Midi Skirt.
SHOP: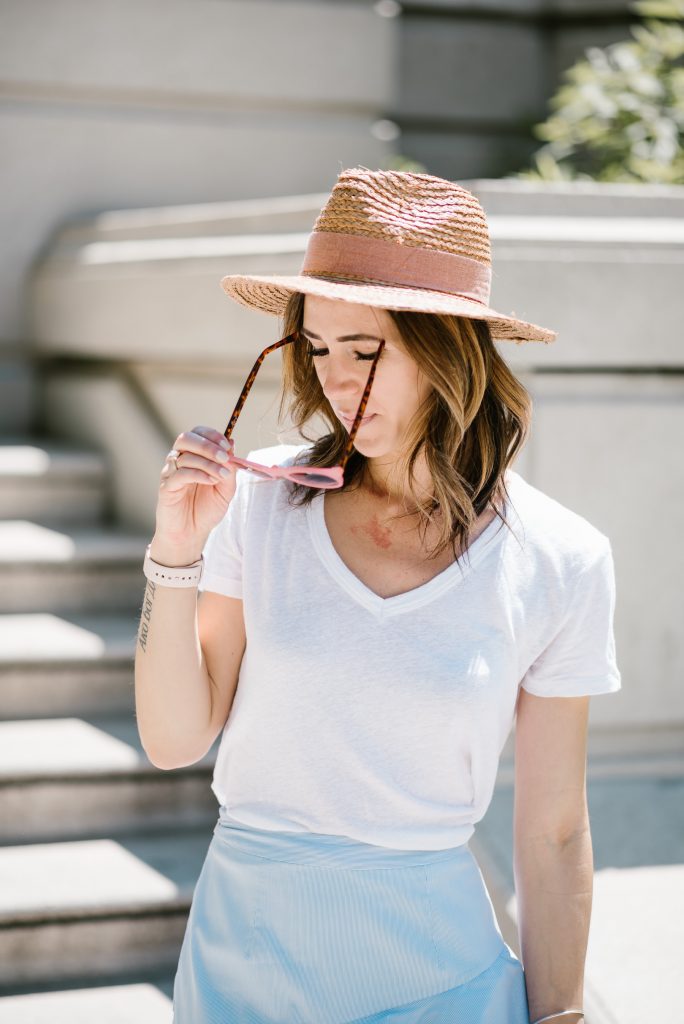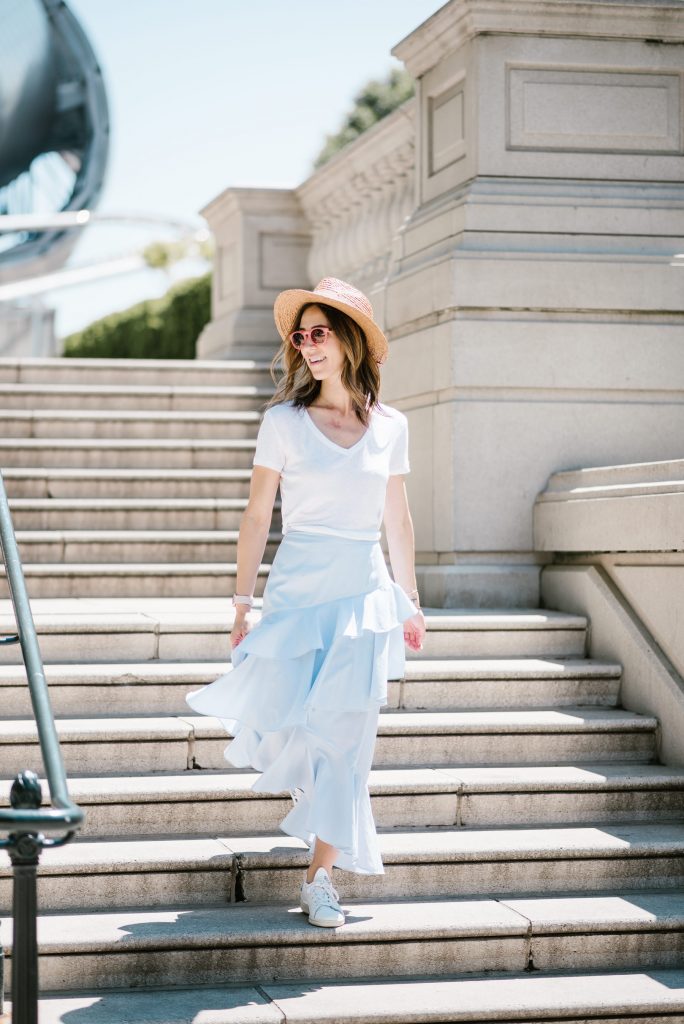 Shop the LOOK:
Chelsea Ruffle Midi Skirt – LOVE the versatility of this skirt and it's under $100!!
Linen V-Neck Tee – THE best basic white tee in the game.
Straw Hat – I've received so many compliments on this hat. It was a steal from Sole Society for $24.99!
Stan Smith Sneakers – These are my 3rd pair and I'll never own another pair of casual sneakers – TIP: buy the kids versions, they are cheaper 🙂
Pink Sunnies – Great colored sunnies for the summer! Every time I put them on I feel like I've been transported to Positano.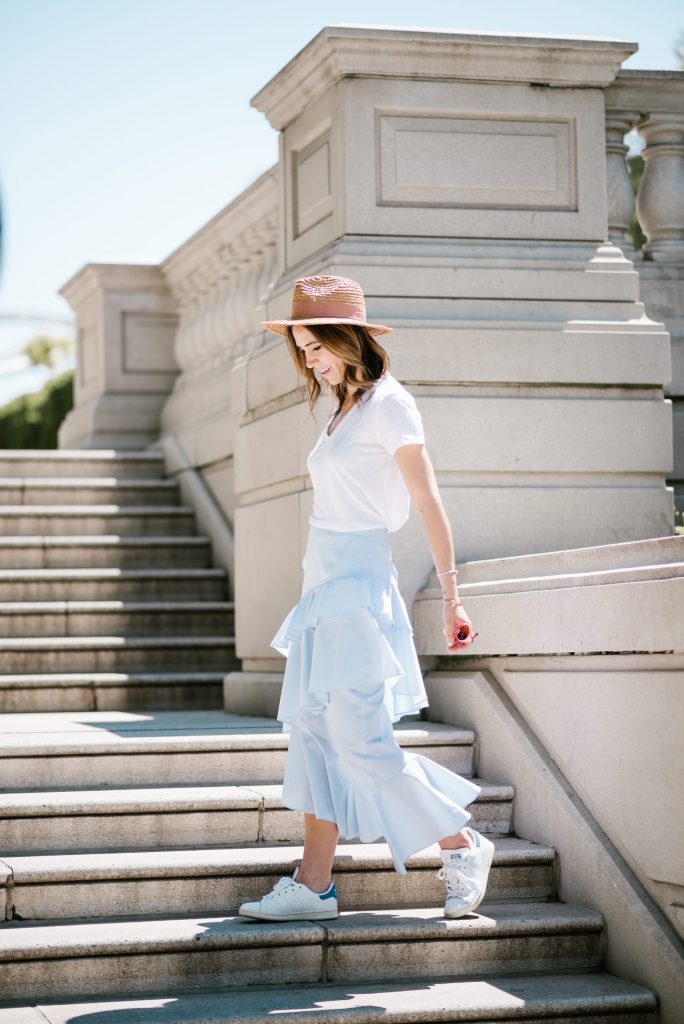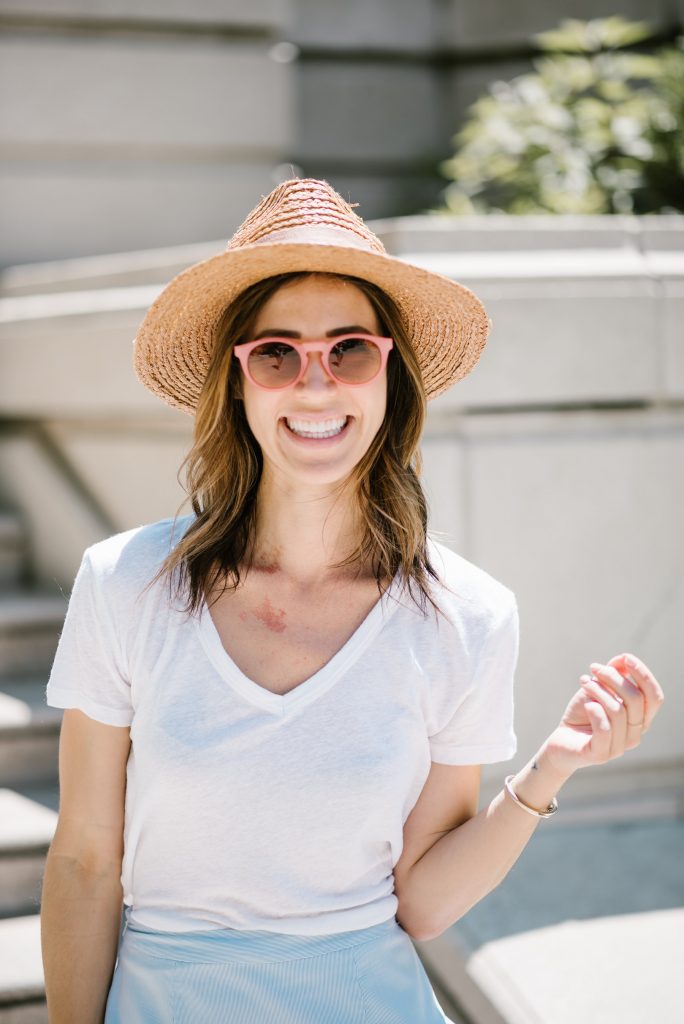 Why I Love This Skirt
This summers trends have been tugging on my heart strings with all the beautiful flower prints, bright colored mules, little bit of mom jeans and alllll the frills! This seasons uber feminine trends have me dancing in the sunshine. This look is an ode to my summer style – plain white tee, feminine skirt, sneakers and a hat. It has summer ease with some effortless chic. Summer is all about easy pieces that you slip on run – why waste that time in the morning when you can be at the beach!
I don't know about you, but during the summer months, I tend to LIVE in the same few pieces over and over styled every which way. This t-shirt for example has become my second skin – it pairs perfectly dressed up with a skirt or dressed down with some distressed denim! This tee if from Lou & Grey – they make the best cotton pieces! I always struggle finding good cotton, especially a cotton tee that can be worn every day without pilling.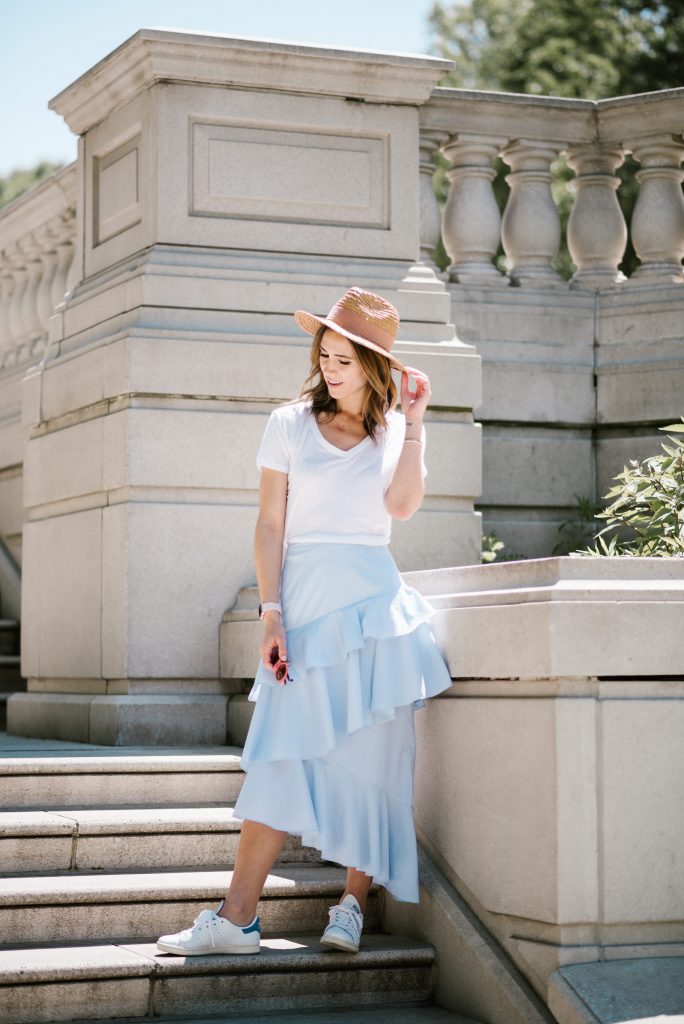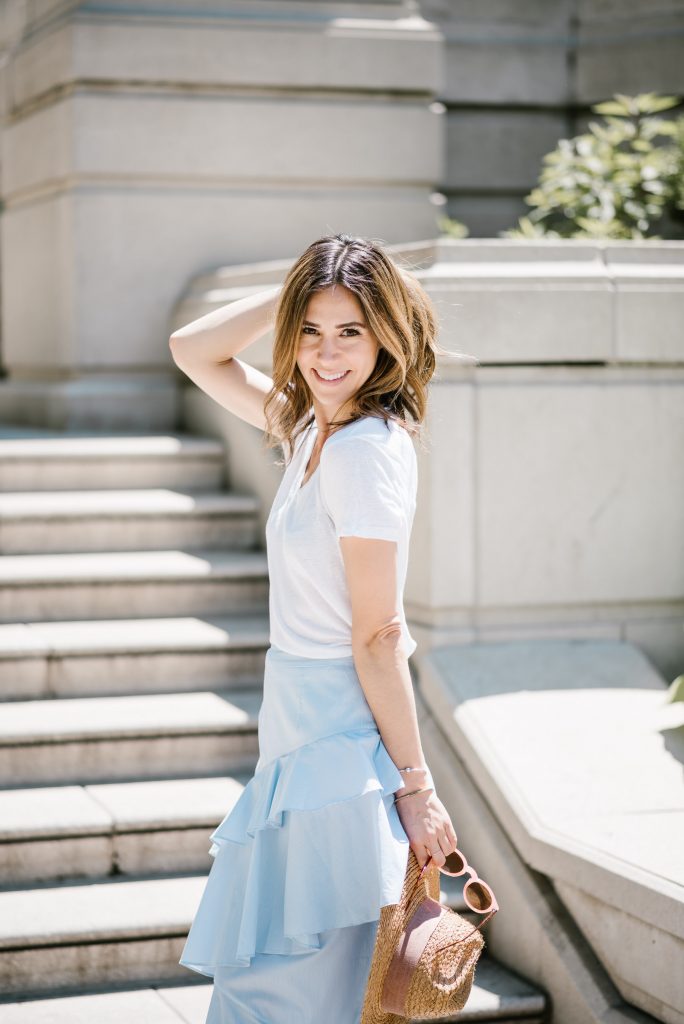 This
Chelsea Ruffle Midi skirt just might be the greatest thing since sliced bread – now, I know I say that about every one of my favorite pieces which only deludes that validity, but this time I mean it. Wearing it casually like this with a tee might be my favorite – it's a relaxed, almost Parisian look, that's perfect for summer weekends. Style the look with a printed top, like this, or a cropped tie front top like this – pair the look with a nude shoe and a straw clutch and you are ready for some summer cocktails!
See how I also style this Chelsea Ruffle Midi skirt here.
Shop the LOOK:
Chelsea Ruffle Midi Skirt | Linen V-Neck Tee | Straw Hat | Stan Smith Sneakers | Pink Sunnies

YOU MAY ALSO LIKE