October 7, 2016
Levi's Game Day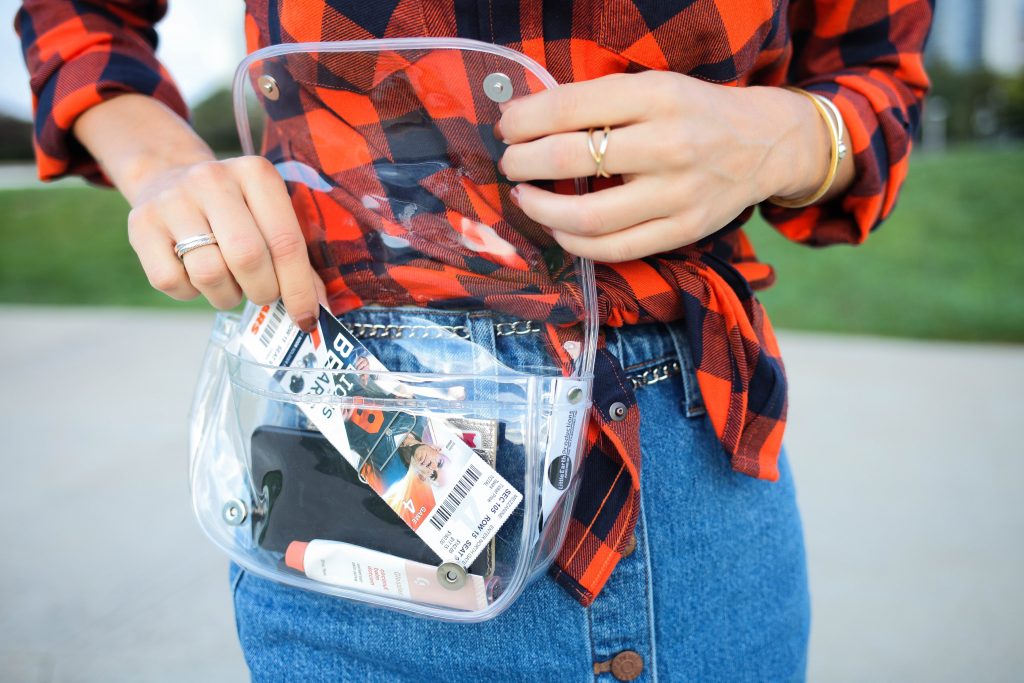 Shop the LOOK:
Levi's Checkered Top c/o | Midi Button Front Skirt | Orange Mirrored Ray Bans | Clear NFL Regulation Bag | Dolce Vita Booties
Hello Friday, hello game day and hello sweater weather! Who is ready for the weekend? This week flew by so fast I honestly woke up and thought it was Thursday today. I couldn't believe that Friday arrived so quickly, yet I'm not complaining…..at all! Any big plans for the weekend? This weekend it's the Chicago Marathon in Chicago so I'm having some people to cheer on their runners – running a marathon is truly an amazing accomplishment so they need encourage meant along the way! Well friends, it's Friday and you know what that means….game day! Today's game day look was a game day lucky charm last Sunday and helped the Bears to their first win!!!! 
This
 Levis NFL Western Shirt is the perfect game day go to this Fall and sweater weather season!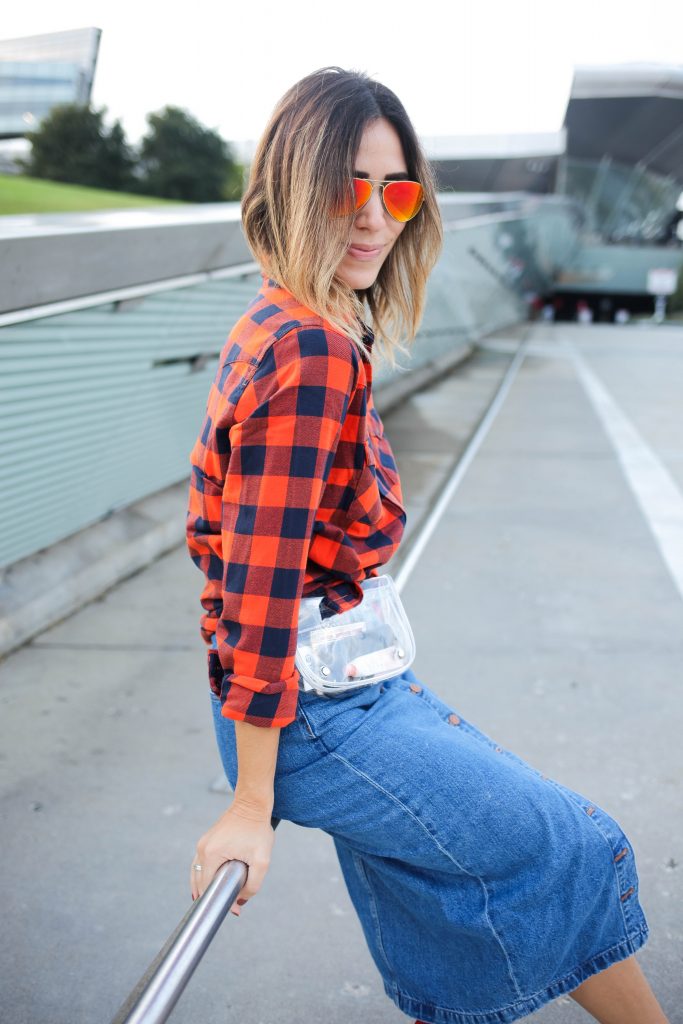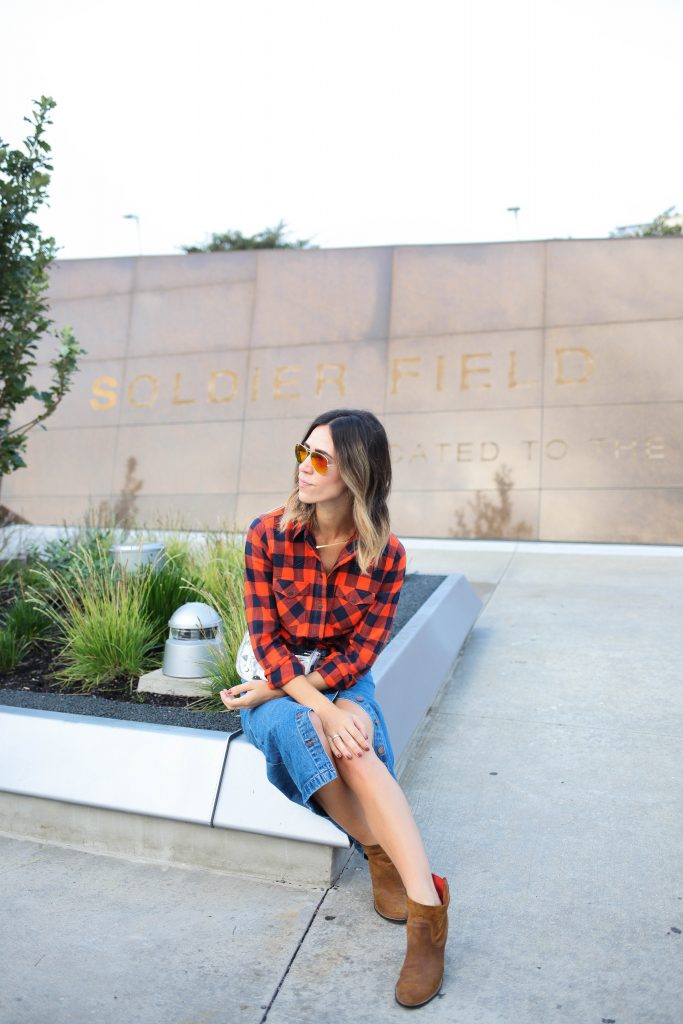 You know me and how I love a good game day look – I'm a sucker for it actually. I'm always look for unique ways to incorporate game day pieces into my every day wear with it being covered in pink and sequins! The collection that Levi's put together is on trend for fall with flannel button-ups and vintage 90's denim jackets (yessssss!). This
Levis NFL Plaid Western Shirt
is a THE best transitional game day piece – it carries the color from my hometown team (Chicago Bears), but can still be functional for every day wear! It's refreshing when a brand stay true to themselves and creates thoughtful game day wear – thats a brand that I can stand by!
I paired the Levis NFL Plaid Western Shirt with my favorite denim midi skirt from the summer (it's still Summer in Chicago) to give the look a country feel! Who doesn't love denim and plaid – denim and plaid is like peanut butter and jelly. These Ray Bans always come in handy around the game day season and pair so well with my Bears game day fashion!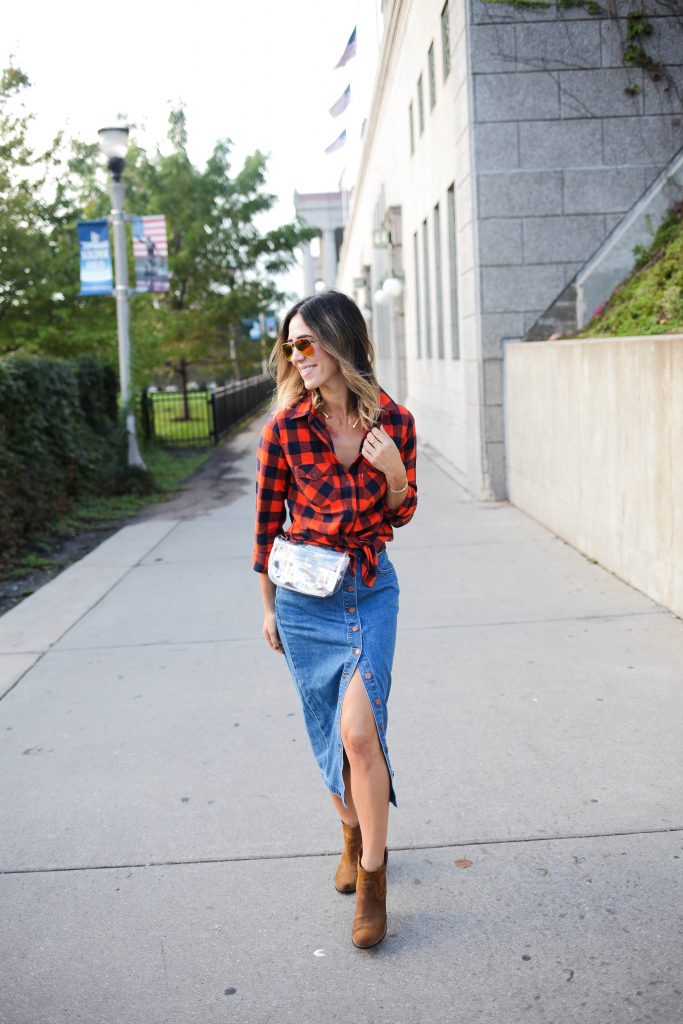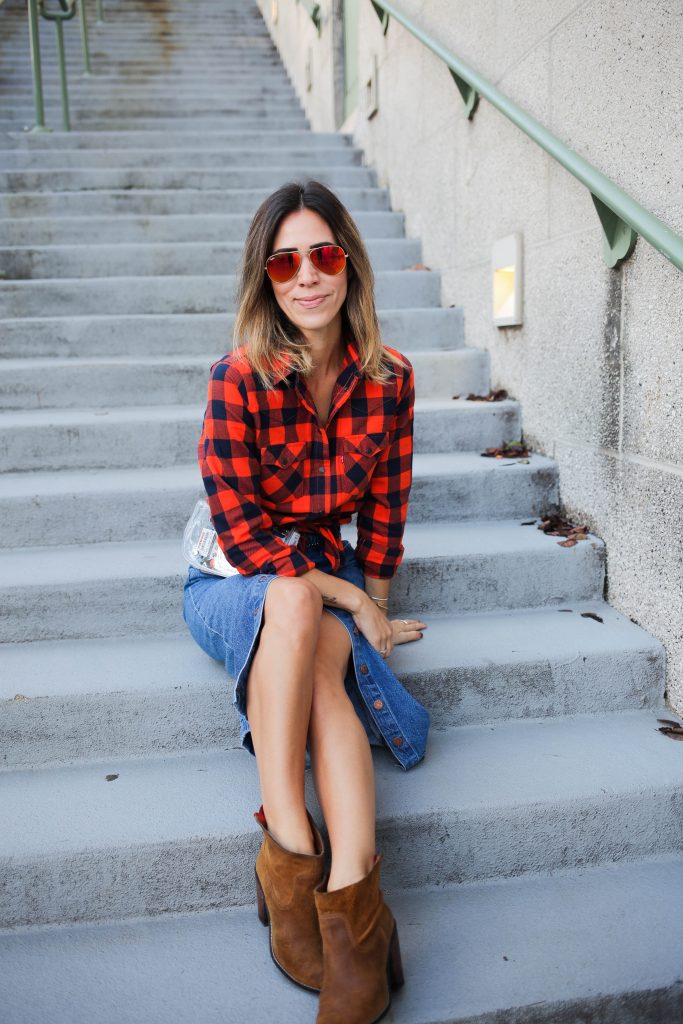 To check out the full Levi's NFL collection (so many cute things for all your favorite teams!!)
click here
. For more game day fashion inspiration, visit my game day page
here
for all my recent post on how to style your favorite game day wear! Have a great weekend!
This post is sponsored by NFL Fan Style. Thank you to NFL Fan Style and their partnership. All thoughts are my own. 
Shop the LOOK:
Levi's Checkered Top c/o | Midi Button Front Skirt | Orange Mirrored Ray Bans | Clear NFL Regulation Bag | Dolce Vita Booties

YOU MAY ALSO LIKE