November 2, 2018
How to Throw a Homegating Party
'Tis the season for tailgating! This weekend my Mountaineers will be heading to Austin to take on the Texas Longhorns for likely one of the toughest games they will play this season! The Mountaineers have been crushing football weekends since the start of the season, but when you are this close to the end of the season, the more nail-biting that occurs. BUT it's Mountaineer Nation Day this weekend and every Mountaineer across the globe will be watching and celebrating the Mountaineers. In celebration of the weekend, I'm sharing how to throw a homegating party – it's the best way to celebrate your team from afar and who doesn't like an excuse to throw a party?
Earlier this week I received an amazing package from my friends at WVU to help me put together an amazing homegating party. The goodies inside were AMAZING and were the perfect anchors to my party!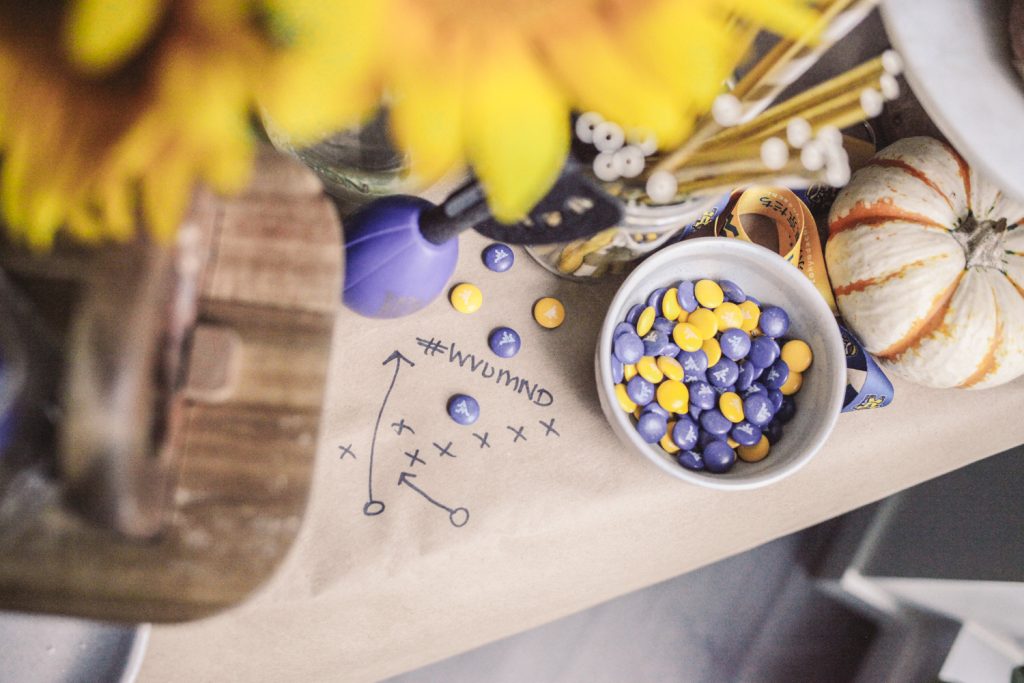 There are three essential components to a throwing a home-gating party – 1) the food, 2) the drink and 3) the décor! Here is a look in to my home-gating playbook….
HOW TO THROW A HOMEGATING PARTY
THE FOOD
Ok, I know what you are thinking, putting together a party can be overwhelming and time consuming. I'm going to show you how to pull off the perfect party with a great menu that will have your guests asking, "can I get the recipe?". Trader Joe's has been my secret weapon of mine for some time now – their pre-made items make life super easy and give you so much time back in your day! [ezcol_1half]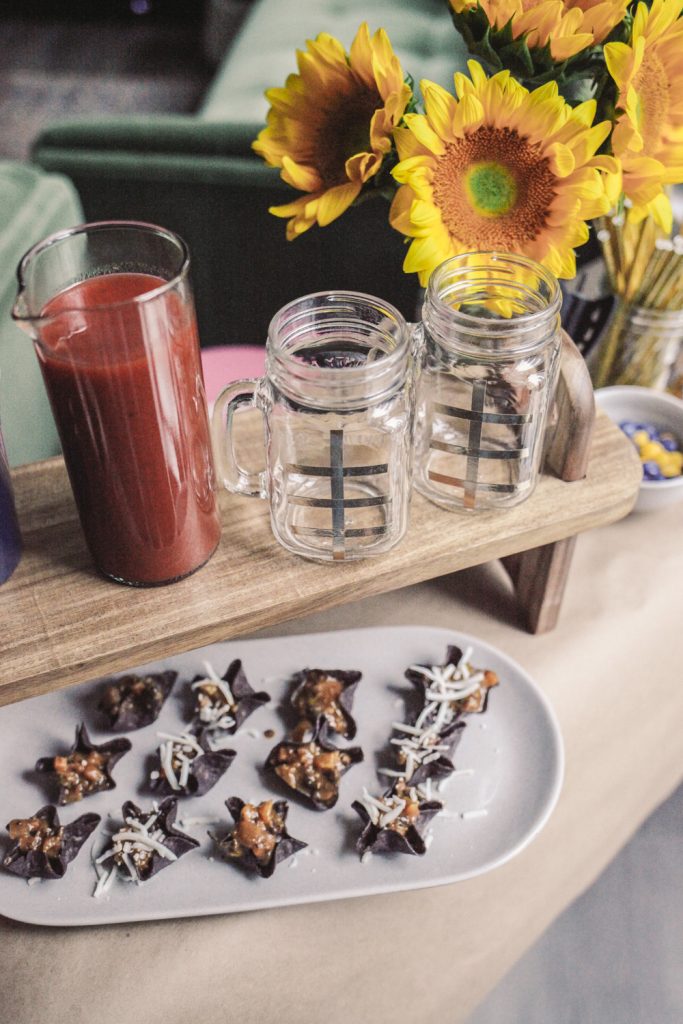 [/ezcol_1half] [ezcol_1half_end]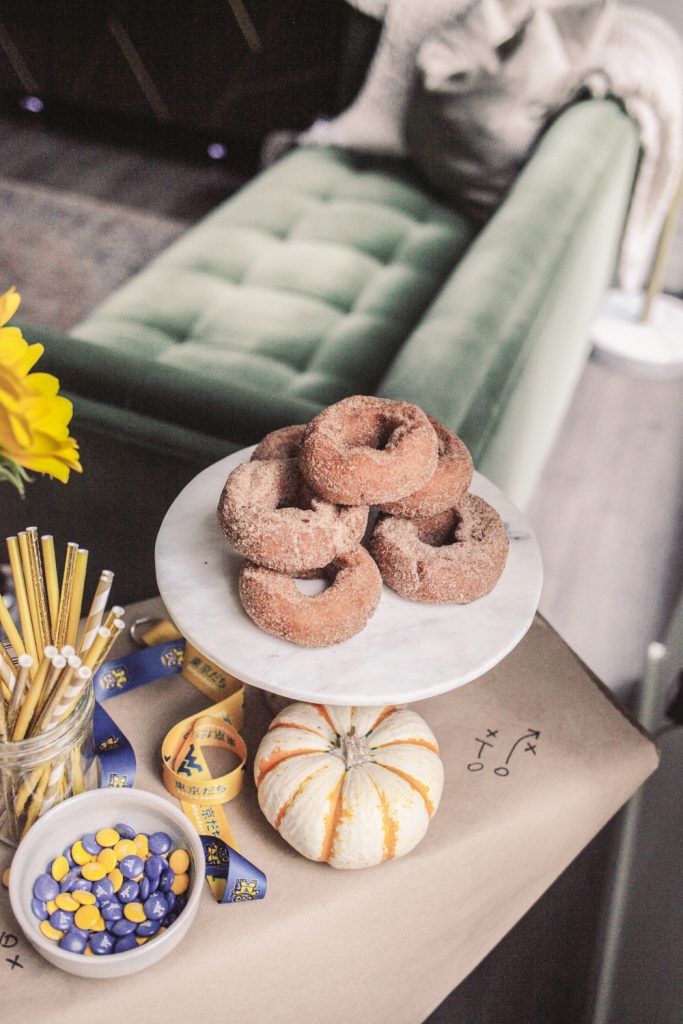 [/ezcol_1half_end]
During the colder months, comfort food is the #1 tailgating go-to. The best part about comfort food is that while you can make it at home, you can also take this on-the-go for tailgating! Mini chili cups are a fast and easy way to win your guests over! Purchase the Harvest Chili from Trader Joe's and pair it with dipping chips (the ones that are built like a bowl – scoops). Pre-heat and scope the chili in to the mini chip cups and top with sour scream and cheese. It's a meal that you can put together in minutes and make you look like a Rockstar!
THE DRINK
When you think of weekend cocktails, what is the first thing that comes to mind? Bloody Marys! (or is that just me). They are easy to make and assemble but look like you slaved over them for days! To get started, purchase pre-made Bloody Mary mix, I like this version from Trader Joe's – it has the perfect kick! Load up on toppings, because that is what makes the bloody right? My personal favorite – jerky sticks, string cheese and of course, celery! Craft the drink in a team branded cup and voila! How cute are these reusable WVU solo cups?! They are the perfect game day accessory and environmentally friendly! [ezcol_1half]
[/ezcol_1half] [ezcol_1half_end]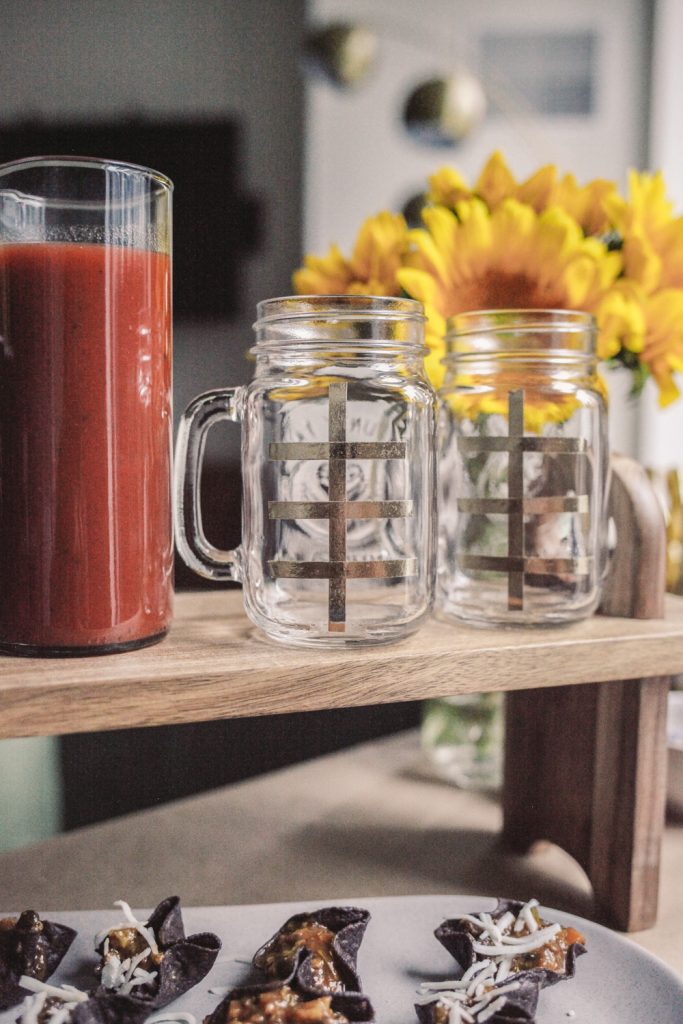 [/ezcol_1half_end]
THE DECOR
My biggest of advice when putting together a party – don't over think it. I always do and then find the simplest elements are the most impactful! Starting with your table scape, I used craft parchment paper, or butcher paper if you have it, as a table cloth. Layout your spread and then add football play symbols where you have visible space to give it that game day touch!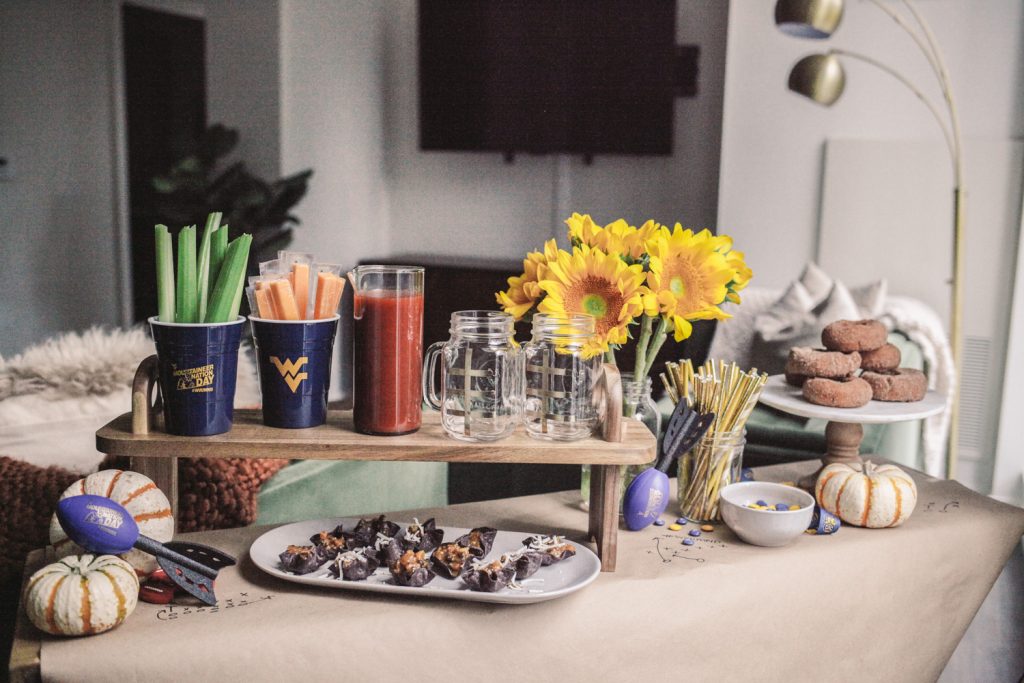 You'll look at duct tape a whole new way after this…purchase some white duct tape (Target sells it) and cut in to thin stripes. Place the stripes on any glassware you have at home in the pattern of football stripes! This is perfect for drinking glassware or your vessel for straws / silverware.
On Moutaineer Nation Day, be sure to follow @WestVirginiaU on Twitter and Instagram and @WVUMountaineers on Facebook for a chance to win WVU prizes. Use the #WVUMND hashtag to share your photos and enter to win prizes such as two (2) football tickets to the Oklahoma game and Tokyodachi prizes, swag and so much more!! To learn more visit the Mountaineer Nation Day page here.
[ezcol_1half]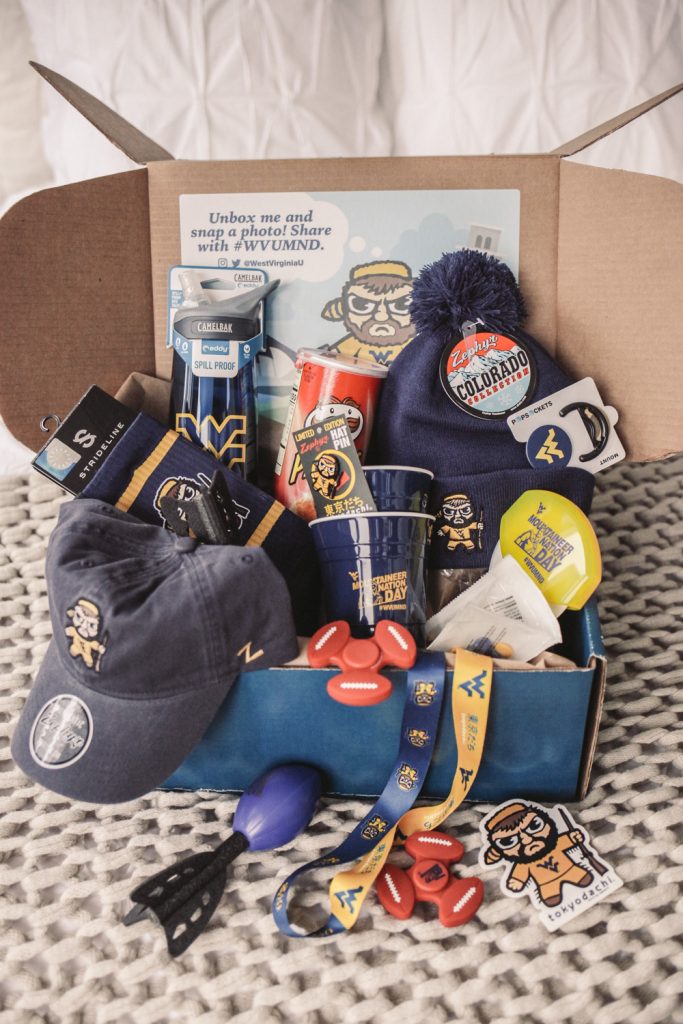 [/ezcol_1half] [ezcol_1half_end]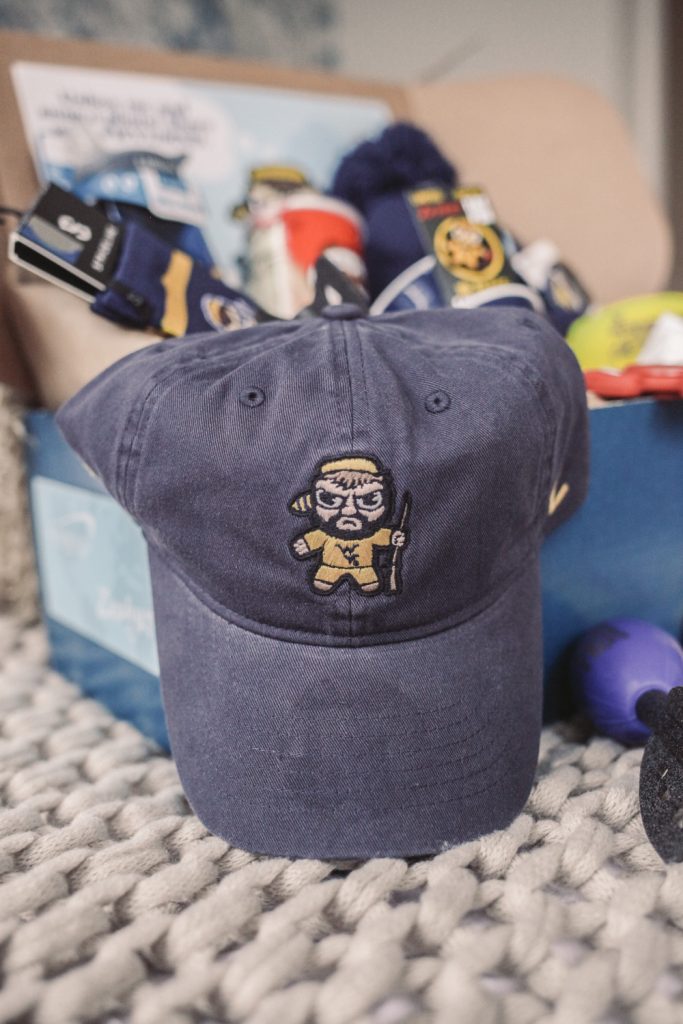 [/ezcol_1half_end]
Need local Mountaineers to party with? Check out all the viewing parties taking pace across the country here or register yours!
For more game recipes and fashion, click here.

YOU MAY ALSO LIKE