October 14, 2016
Chicago Bears – Rain or Shine!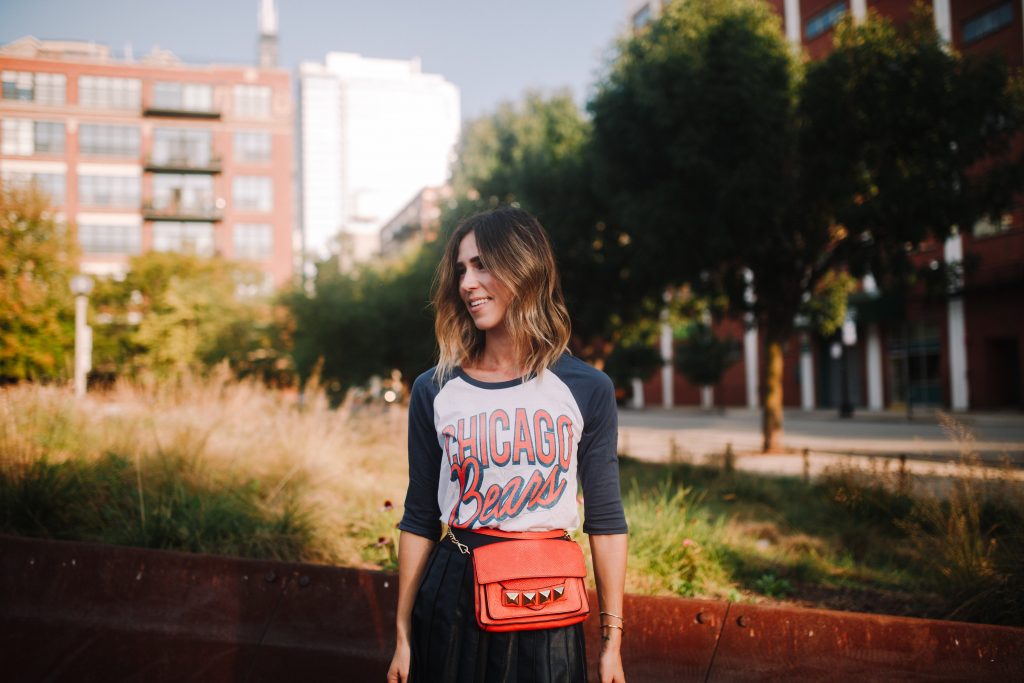 Shop the LOOK:
Chicago Bears Tee | Navy Pleated Skirt | Cuce Rainboots | Grayson Crosbody | Mirrored Sunglasses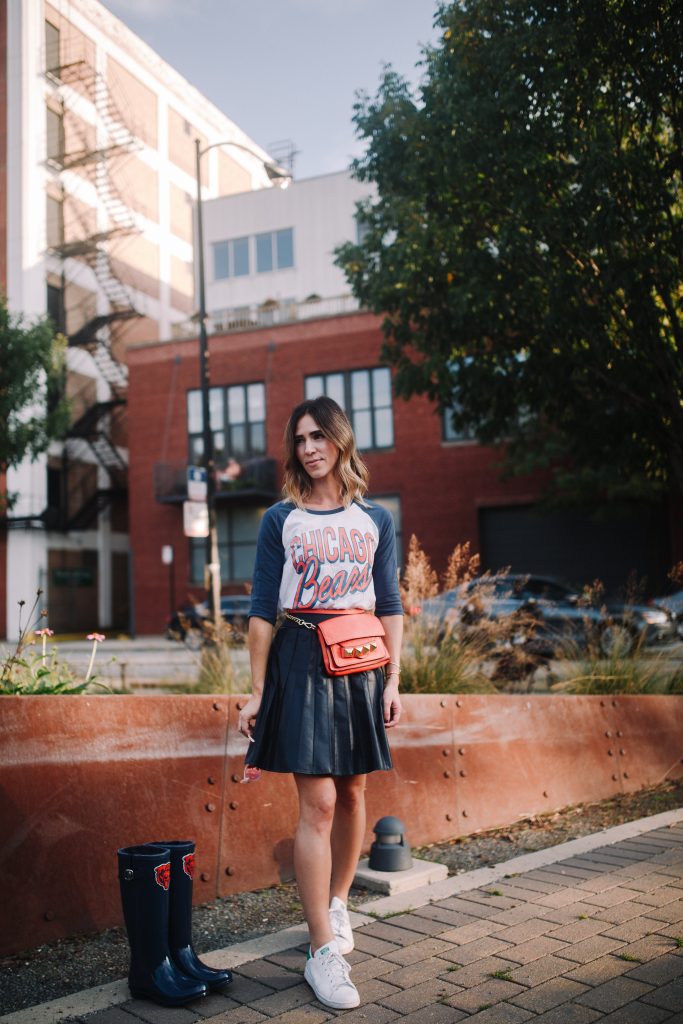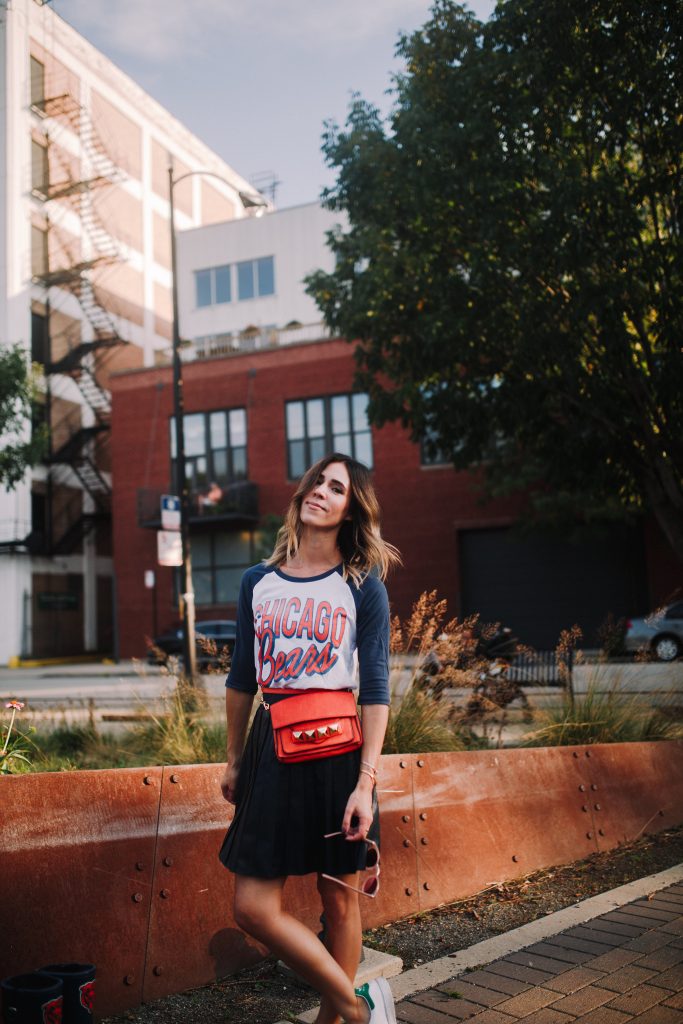 Helllooooooo Friday and hello game day! Who is ready for the weekend? I am! We are headed to California this weekend for our final wedding of the season! Be sure to follow along on Instastories! I picked up this GORGEOUS dress from Rent the Runway for the trip – I can't wait to share it with you all! We have some time before the wedding on Saturday to take in the town so we are headed to an Ostrich Farm (yes), Mini Horse Farm (double yes) and some wine tastings (Hell Yeah!). Weird animals and wine is the theme 🙂 Today I'm sharing the perfect fall Chicago Bears Game Day Fashion look! Come rain or shine, game day happens and so does game fashion!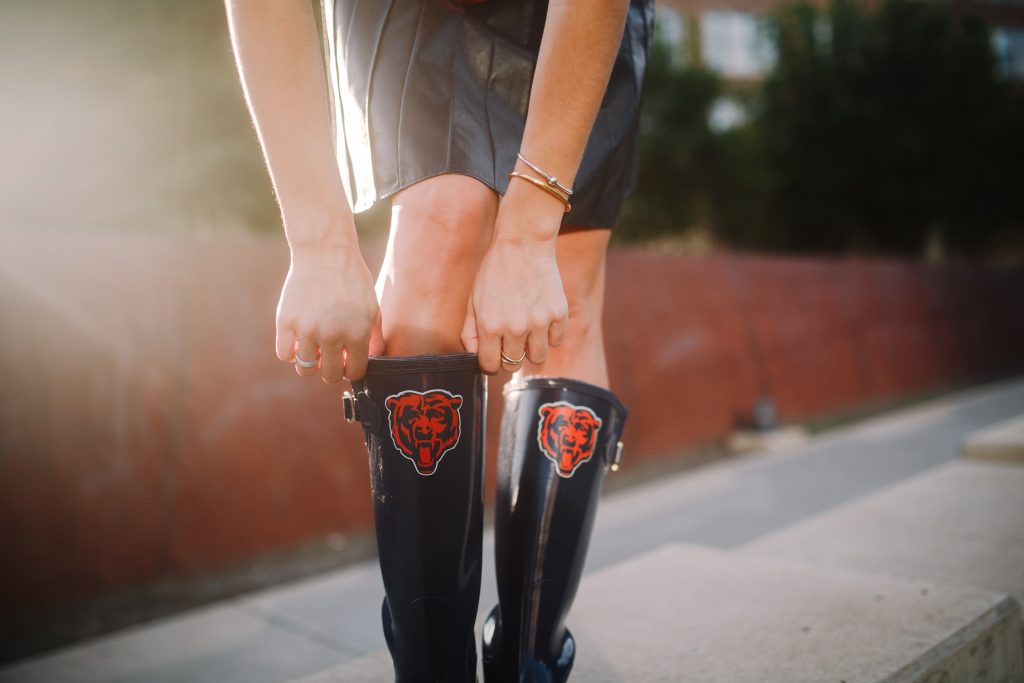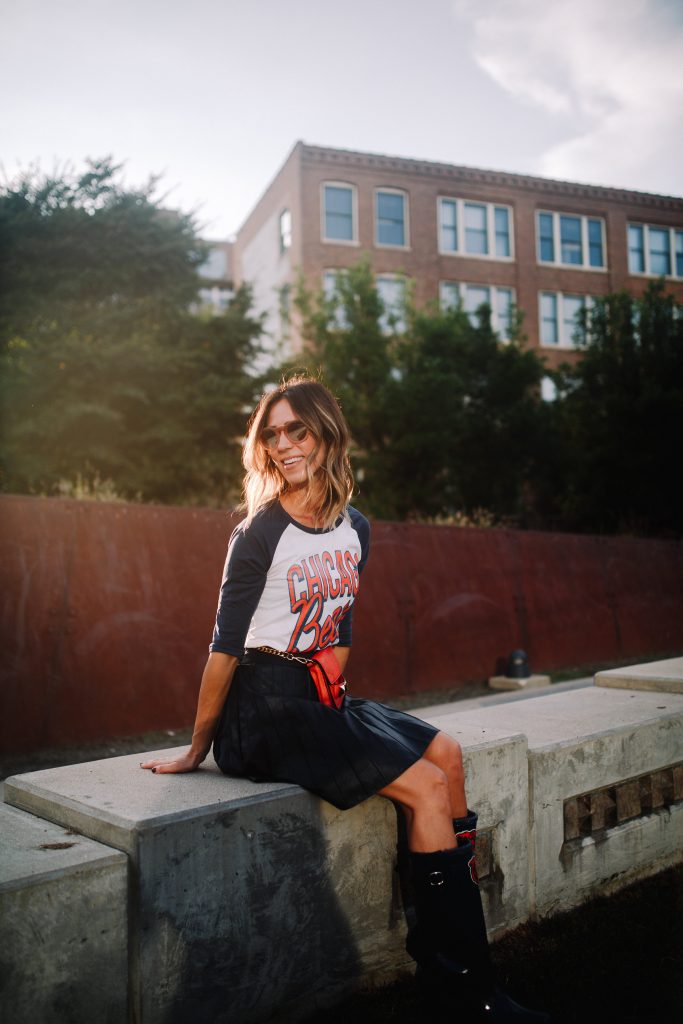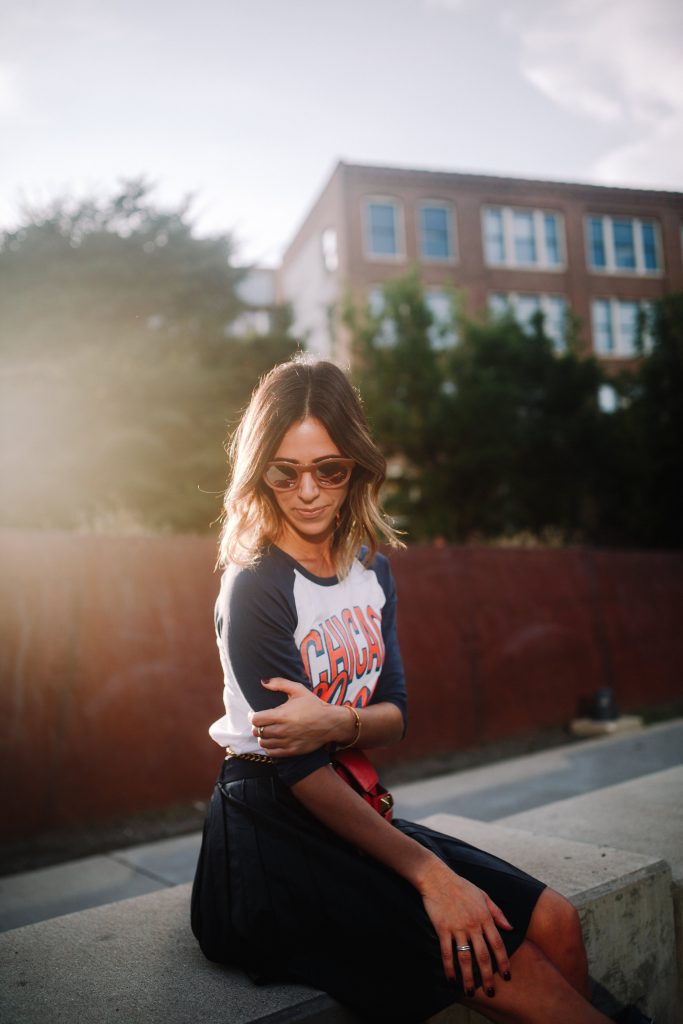 Even though the Chicago Bears aren't doing so hot, that doesn't stop me from wearing from favorite game day gear! I love nothing more than a good game day tee paired with some denim or leather skinnies on the weekend, or even this faux leather pleated skirt. It's the perfect way to incorporate your game day tee in to your every day look with no fuss! Now,
Junk Food
is likely one of my favorite brands for game day apparel. All of their tees have a vintage look and feel that give the look a little touch of effortless chic!
This
Chicago Bears one is super adorable – I love the vintage text and baseball tee cut. Win win! Check out their NFL collection
here
.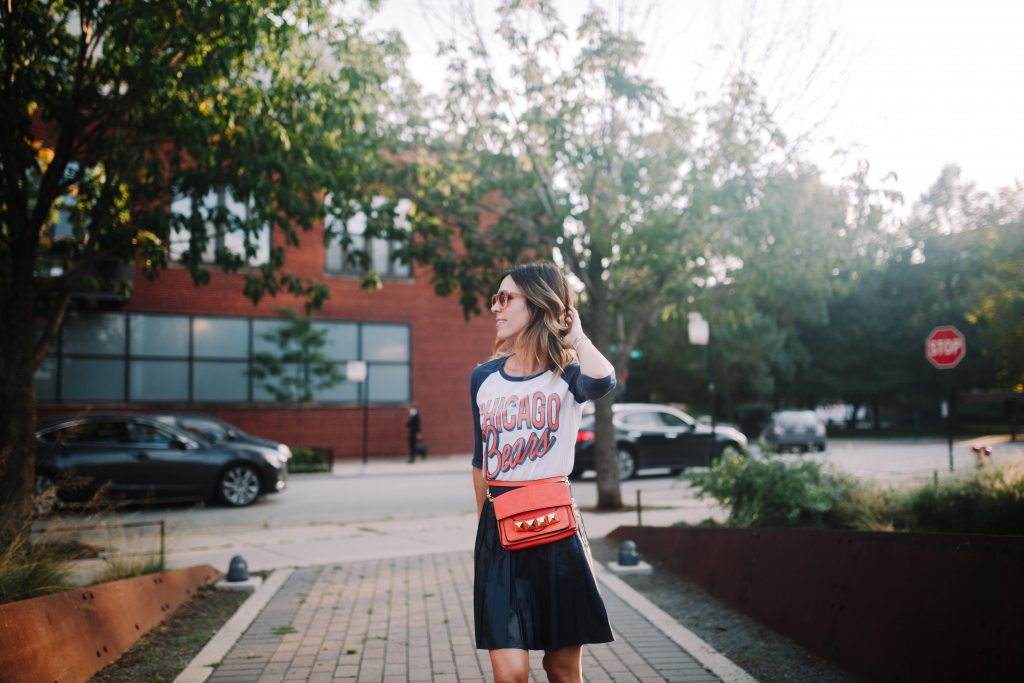 Just in time for Fall, I styled 
this
tee with my go-to skirt. Navy is such a regal and royal color that is easy to pair with just about everything! The one featured here is an oldie, but
here
is a one that is similar from Nordstrom! And since game day is come rain or shine, I'm always prepared for any fashion weather malfunctions!
These
super warm and adorable rain boots by Cuce are perfect for those rainy and cold games! They are super soft and really is to walk around in which is important on a game day!
For more game day inspiration from my previous posts check out my page here! Be sure to follow along in Pinterest too where I share game day fashion inspiration and tailgating goodies!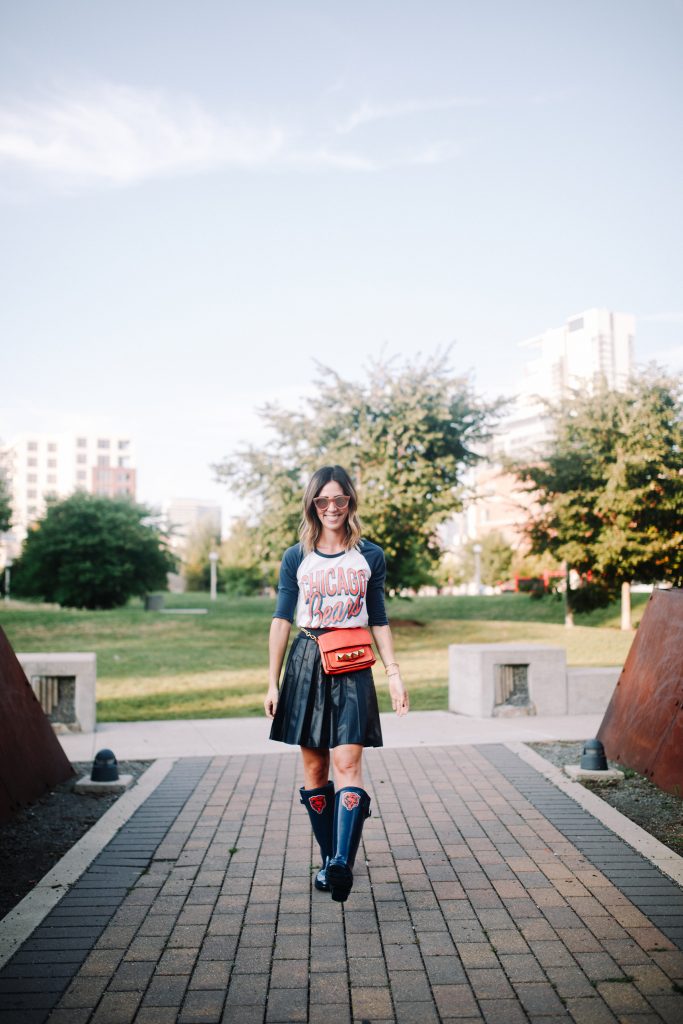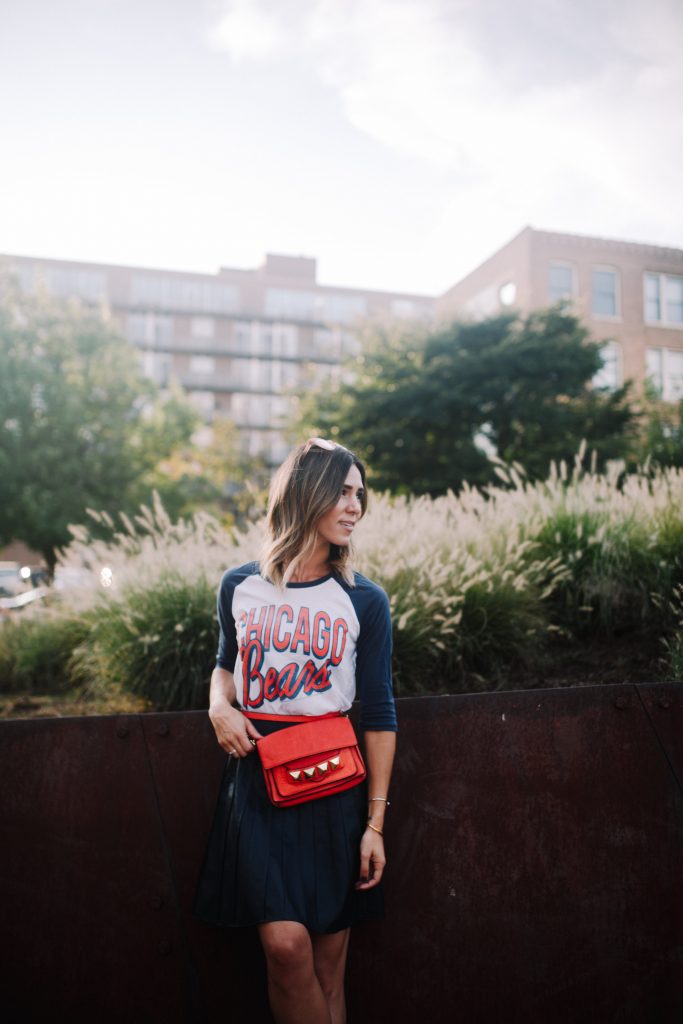 Shop the LOOK:
Chicago Bears Tee | Navy Pleated Skirt | Cuce Rainboots | Grayson Crosbody | Mirrored Sunglasses