March 22, 2019
Beauty Bento Box

BEAUTY BENTO BOX
This month I'm headed to gorgeous country of Japan to experience, and soak in, their local culture, eat my way from Tokyo to Kyoto and learn all their beauty secrets! Japan is famously known for their single portion take-out or home-packed meals, otherwise known as bento boxes. Today I'm putting a twist on the traditional Japanese meal and filling my bento box with the beauty products for my travels to make a beauty bento box!
SHOP THE POST: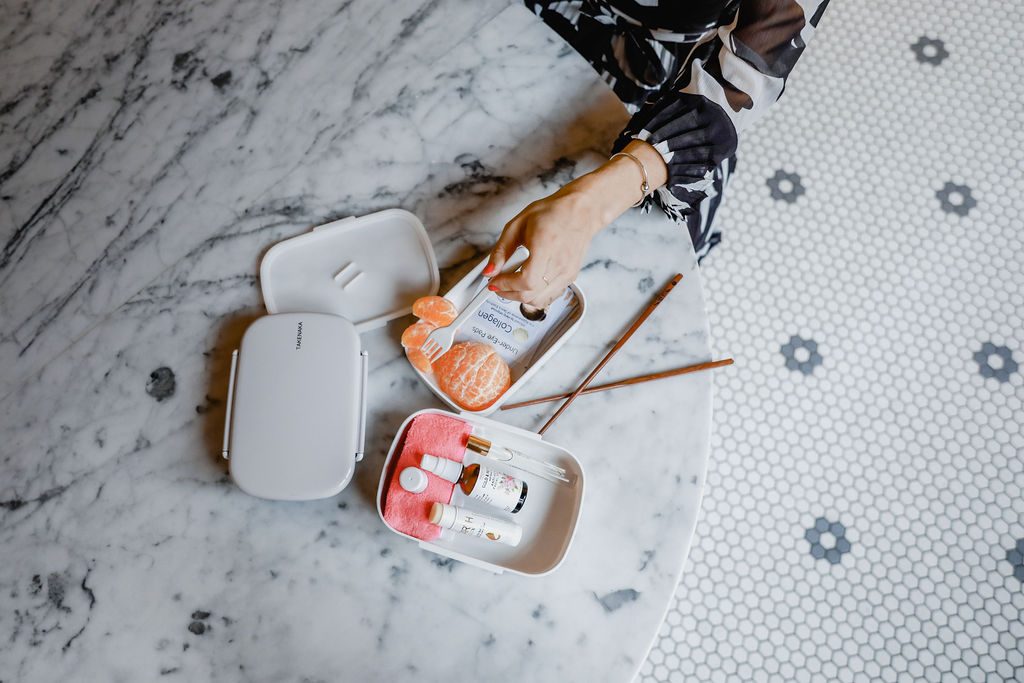 Takenaka is a Japanese company, with minimalistic vibes, that crafts the most beautiful and reusable bento boxes. Their boxes are sleek elevating the way you travel with your food for the everyday! The durability of the box got me thinking, why not use my bento box to store all my in-flight favorites for my trip to Japan!
Any time I'm flying overseas, I am THAT person that brings all my products with me on the plane. Why? 1) I firmly believe if you continue your normal routine, even on the plane, this helps with jet lag. My night time routine gives me that opportunity to feel clean and decompress – these are all important steps in getting a good night's rest. 2) It's important to wash all the impurities on your face off, especially those from a flight.
TAKE-OFF
My "take-off" routine involves one major element – HYDRATION! The cabin of an aircraft will pull all the hydration from your body – it's important to stay hydrated by drinking water and using the right products that will keep your skin hydrated for 10+ hours! First things first, I cleanse my skin. I start with these Precision Beauty Rose + Collagen wipes to clear myself of leftover make-up or product from the morning. The rose and collagen combo in the wipes is game changing – they are incredibly gentle on your skin, all while helping with the appearance of your skin's elasticity. Following the cleansing wipes, I'll run half my Elite Magic Make-Up Remover Cloth under cold water and take one more pass at cleansing my skin and use the dry end to prep my skin for product.
Once the cleansing process is complete, I'll apply the Precision Beauty Gold + Retinol Rose Oil Serum all over my face, neck and décolleté. If you aren't familiar with the benefits from rose oil, sit down, grab a drink and let me tell you. There are so many incredible benefits that if rose oil isn't part of your regular routine, you will need to make time for it. Rose oil helps your skin heal from scars, it's moisturizes, fights inflammation, relieves stress and promotes circulation. Are you sold yet? What I like most, is that rose oil literally checks every inflight box I have!
[ezcol_1half]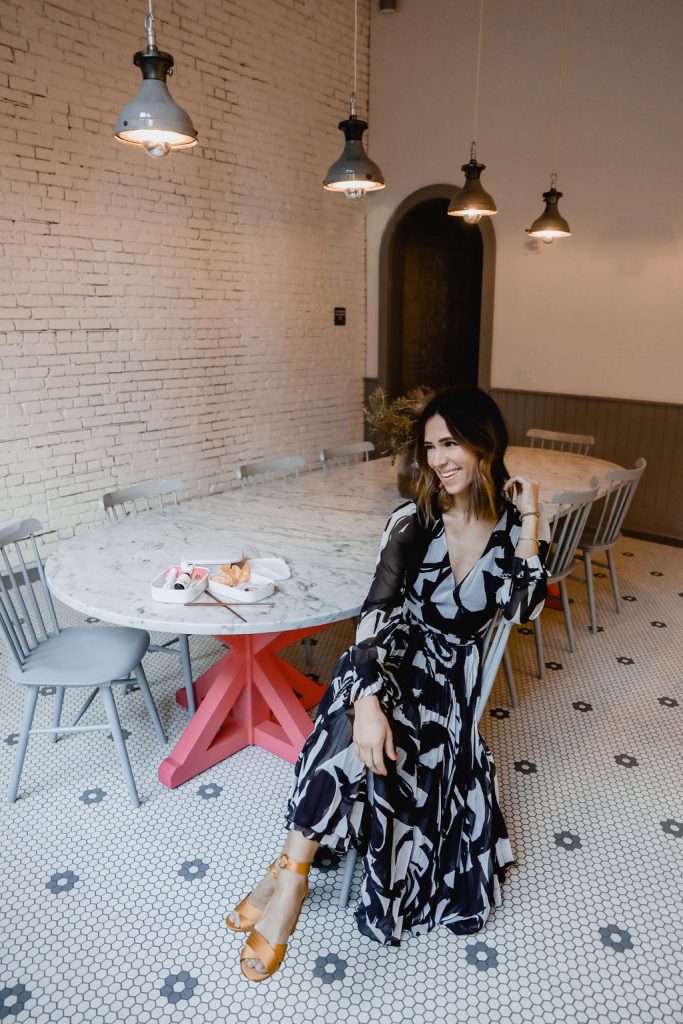 [/ezcol_1half] [ezcol_1half_end]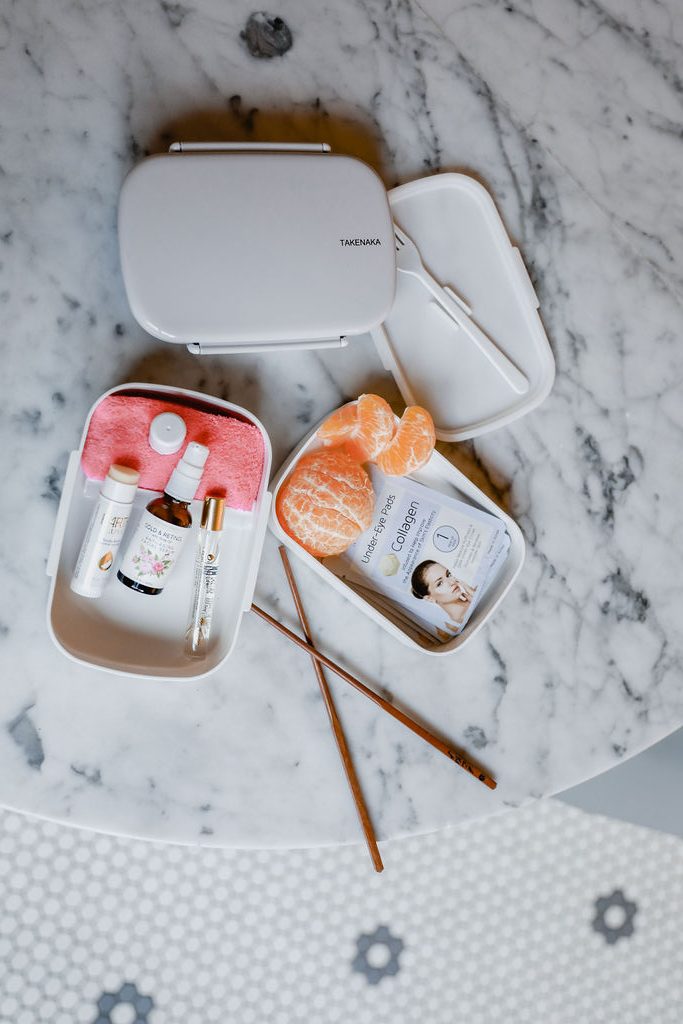 [/ezcol_1half_end]
HYDRATE + RELAX
After the serum has set in my skin, I'll layer the Earth Luxe Body Balm over the same areas and finish with adding a thin layer on my lips. The Earth Luxe Body Balm stick is PERFECT for travel – it's a compact 3-in-1 product that stows easily in your liquids bag all while giving you multi-functionality!
The FINAL step in my "take-off" routine ends with this Earth Luxe Roll-On Essential Oil Roller in "Relax". If you use essential oils at home, why not use them on the go? This roller is the perfect travel accessory and can double as a clean fragrance during your trip! The oil is a tranquil blend that helps calm my senses and gets me ready for a good night's rest!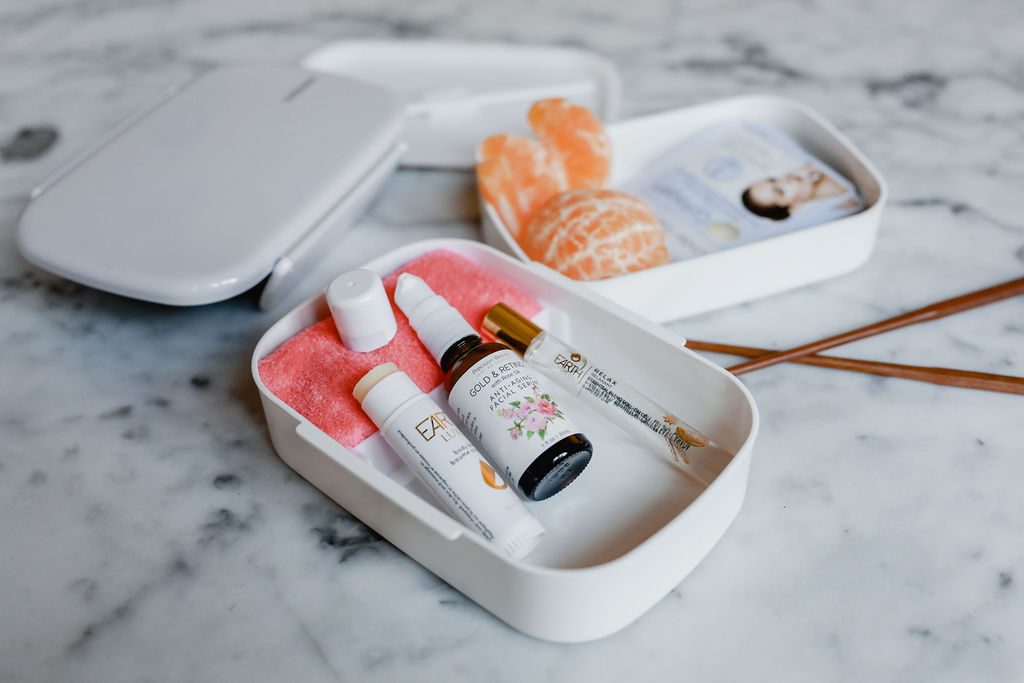 LANDING
Roughly an hour before landing I'll wake-up to start adjusting to the time, grab a bite to eat and complete my "landing" beauty routine. Following all the steps from my "take-off" routine, I'll head back to my seat and indulge in these Precision Beauty Collagen Under-Eye Pads. Having that tired look on your face after a long flight is the inevitable, but these eye pads help reduce all my in-flight puffiness and dark under-eye circles in just 15 minutes! If I don't feel refreshed, I'll certainly look it!
This post was sponsored by The Inspired Home – all thoughts are my own. 
SHOP THE POST:

YOU MAY ALSO LIKE