January 31, 2018
Super Bowl Party Recipes and DIY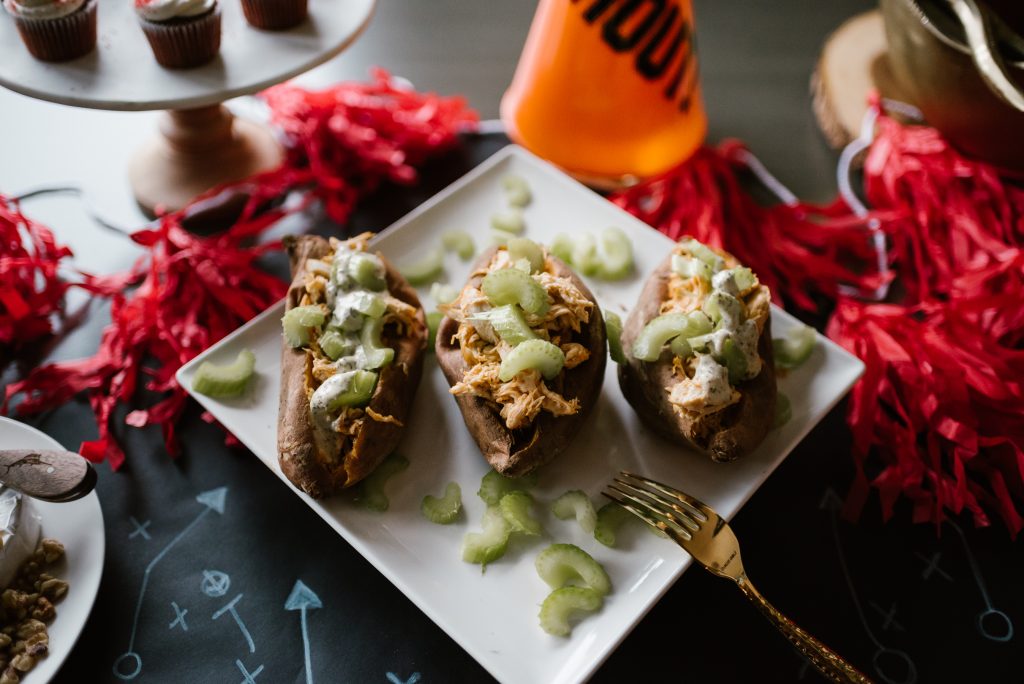 It's almost here friends!!! Super Bowl Sunday is only a few days away! 1) Do you have your menu planned? 2) What are you wearing? 3) Are you ready for Justin Timberlake? There are so many things to think about where do we begin. Well, I'm here to help with all your Super Bowl needs this week and will be sharing my favorite Super Bowl Party Recipes and DIY ideas for your own party!
SHOP THE POST:

[ezcol_1half]
[/ezcol_1half] [ezcol_1half_end]
[/ezcol_1half_end]
SUPER BOWL PARTY DIY IDEAS
I LOVE hosting parties and I LOVE hosting Super Bowl parties! Who doesn't love a good novelty party right? It's the one day where you can literally have 100 cheese items on the menu and snack on appetizers for 6 hours in a row. I mean does anything get better than that? I don't know why anyone would want to go to the Super Bowl, because being at home is WAY more fun! Ok so I'm going to share two of my super easy and favorite DIY tricks for a Super Bowl party. Don't worry, I've linked to Amazon Prime items so if you are in a pinch, Amazon will get it to you by Friday!
X's and O's
First, instead of a table cloth, lay down some black chalkboard paper. I like cutting squares versus a long roll – this way it lays better with your buffet layout. Once I've got all the pieces in position, I'll draw out X's and O's to look like a football play / route – now, if you have no clue what that is or means, you can google "sample football play" and write it over and over 🙂 It's such a cute and easy way to really tie the football theme together. Shop black chalkboard paper here.
Down, Set, Hike!
Secondly, give your glassware, or plasticware, a little makeover with some white tape to make them look like mini-footballs. You'll need one strip for the middle and three more for horizontal stripes – again, this is super easy to do and the residue will come off in the wash! If you don't have white tape and home, try this version. You can use any type of glassware for this – on this occasion, I used my favorite mason jar glasses – you can shop them here!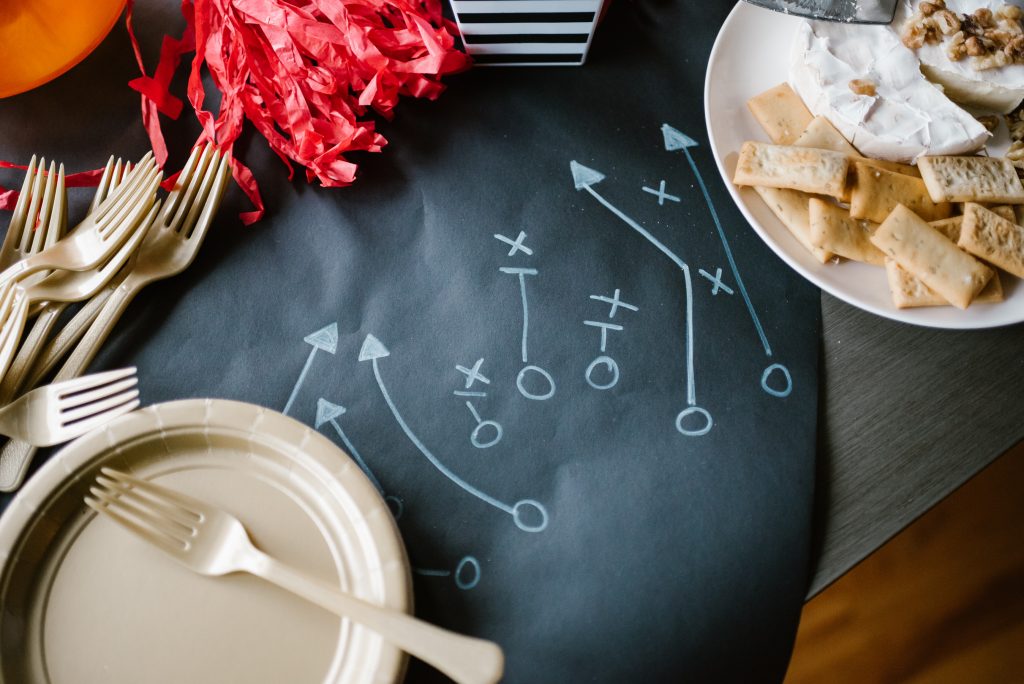 GAME DAY FASHION
There are so many great places to shop for your go-to game day gear! For the Super Bowl, I generally look to Fanatics, Etsy or even the NFL shop site. Etsy is great for vintage pieces – I scored this Bledsoe jersey there a few years back. Fortunately for me, I get to wear it almost every year! Go Pats!! Check out some of my favorites below and stay tuned to see what I wear I Sunday!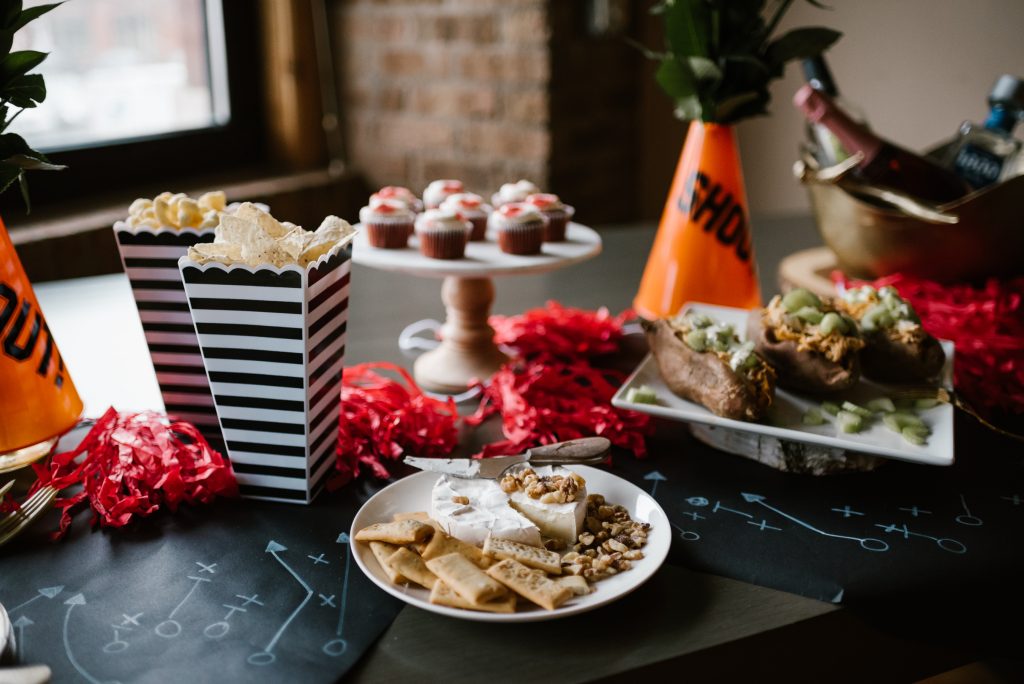 SUPER BOWL PARTY RECEIPES
Ok friends, this is the bread and butter of your Super Bowl party – the food. There is no need to hold back, go all out on all the carbs, fat and ranch. Yes – ranch is it's own food group in my world. Here are some of my favorite Super Bowl recipes that won't make you feel like you've been stuck in the kitchen all day. You can thank me later friends!
Healthy Alternatives
Buffalo Chicken Baked Sweet Potatoes – For those that choose to be mildly healthy on game day, this one is for you! I found this recipe on Pinterest last year and ended up making it for day like 3 weeks in a row. While it may look like a demanding recipe, I can assure you it's easier than it looks – it also tastes as good as it looks!
Chili Bites -For the vegetarian friends in your life, this is a great go-to! This takes all of two seconds and you'll love it! Pick up a can of vegetarian chili at Trader Joe's, you'll need some scoops (chips) and shredded cheese. Heat up the chili on the stove and then pour the chili in to the little scoop cups – from there, top them with cheese and you're done! So easy!
Go Big or Go Home
Buffalo Chicken Dip – I'm letting you all in on a little secret. This recipe comes from one of my very good friends. He lent it to me knowing I'd share it with you all, but let me just tell you this…it's the best DAMN dip recipe in the game. If you want to impress your guests, you will make this and they won't even touch the rest of the buffet. Let me know how it goes 🙂
Cheeseburger Stuffed Mushroom Burgers – Yes, it's a mouthful and sound like a lot of work, but they are so delicious you'll never look back. It's easy to quick fire many of them to accommodate your guests, so thats a huge bonus!
Happy Super Bowl Sunday friends!
SHOP THE POST:

YOU MAY ALSO LIKE