July 24, 2018
My Clean Daily Skincare Routine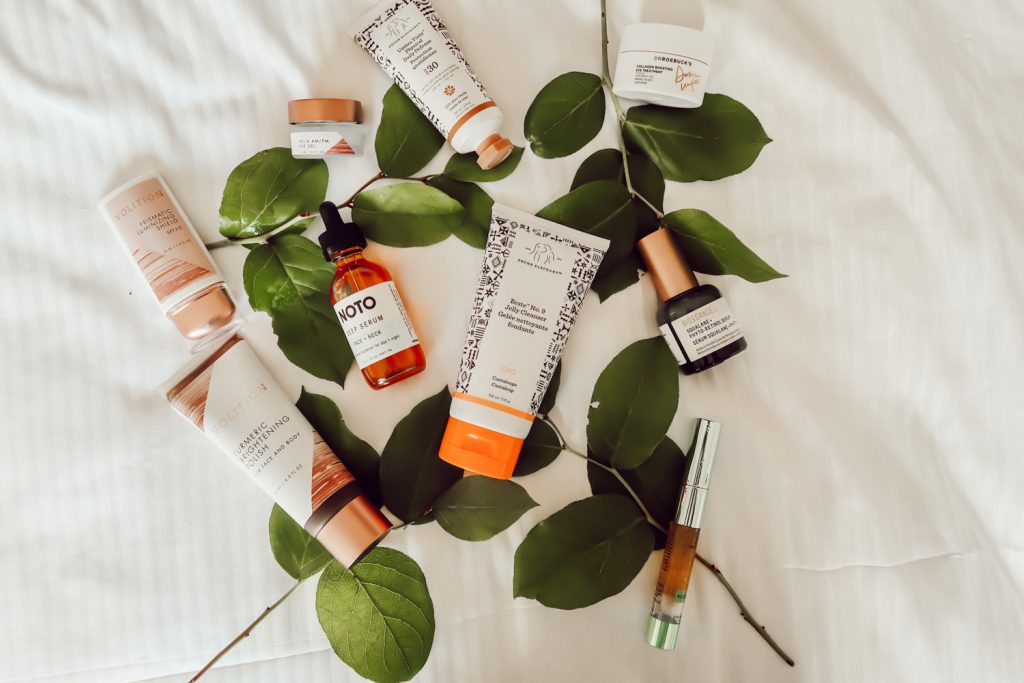 We live in day where there beauty market is completely over saturated with brands and products that it's making it harder and harder to find the right products that work for you! I know that when I walk in to Sephora I get COMPLETELY overwhelmed and don't know where to direct my attention to what I need versus what I want – it's kind of like going in to a Forever 21..ah! Today I'm sharing my CLEAN daily skincare routine and the products I'm falling in love with!
Shop the POST: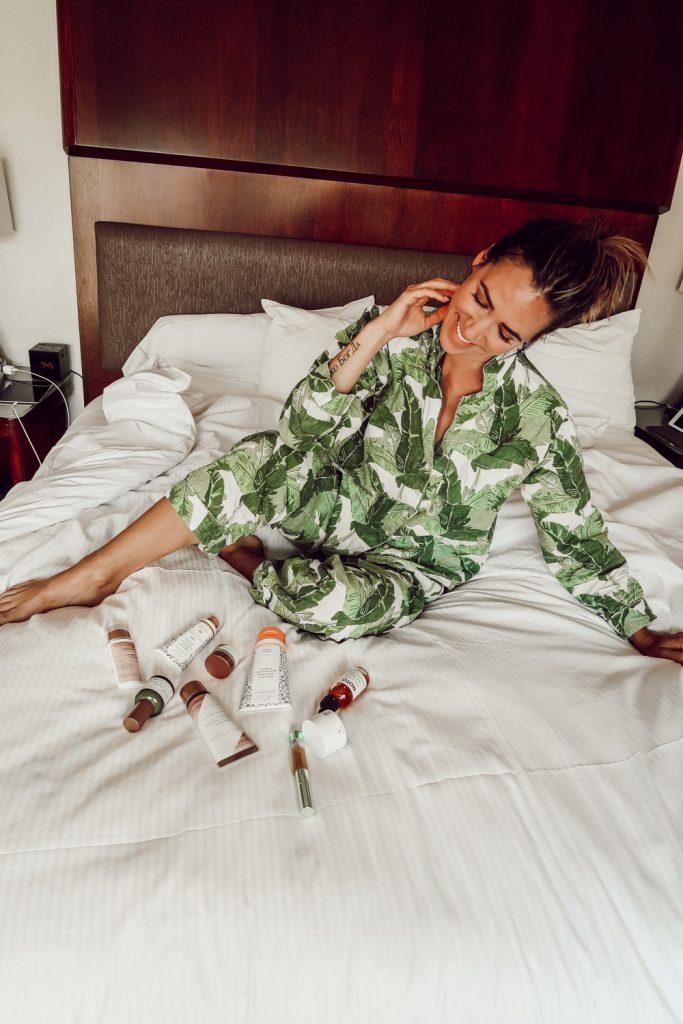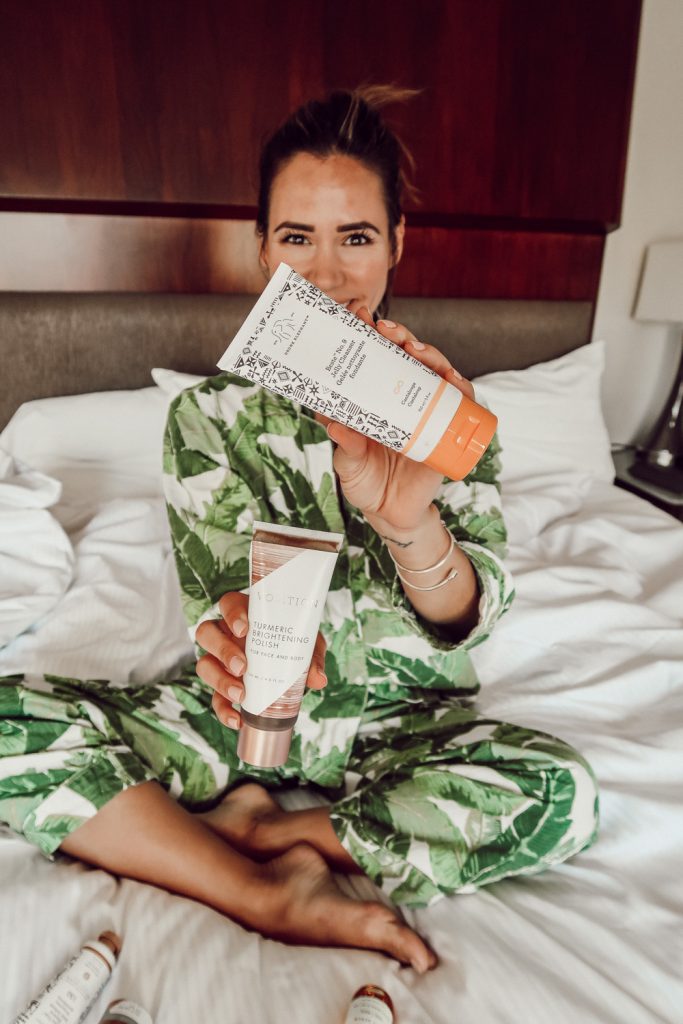 EYE TREATMENTS
If you are over the age of 18, you should be using an eye cream / gel in your skincare routine EVERY DAY! There  is no harm in starting early – the benefits only multiply for you later! This Helix Eye Gel will make all your dreams come true – I promise. The texture of gel the heaven going on your skin. I love using this at night as it takes a little longer to absorb in your skin.
Dr. Roebuck's Collagen Eye Treatment
This is a great eye cream for the morning – the constancy is thicker, but it's fast absorbing. Honestly, the price point is what really drew me in, but I love the product! If want to start using a daily eye cream, I'd recommend this one as an intro product!
SERUMS
Drunk Elephant Anti-Pollution Serum
Ok, so I'll be honest, marketing is what essentially made me buy this product! Does that happen to anyone else? The thought of something protecting me from pollution had me sold from the start! Now, after trying the product, I simply swear by it. This is a multifunctional serum that can be used as a serum, sunscreen or your everyday BB cream. It has a tint to it, but it's really light and not messy.
I've been using this product for a couple months now and I'm addicted – I actually looked up the brand to see what else they have I loved it so much! A little of this face & neck serum goes a long way! Depending on how I feel, Ill wear this morning or night! It's a really light and refreshing oil that works as a reparative oil or moisturizer!
I'd heard so many great things about this brand and wanted to try it for myself. I recently ran out of my primer and wanted to try something new – little trick that I play on my skin so it doesn't get complacent. I've only ben using this product for a few nights, but the I'm really enjoy the light texture – I've been using this both day and night.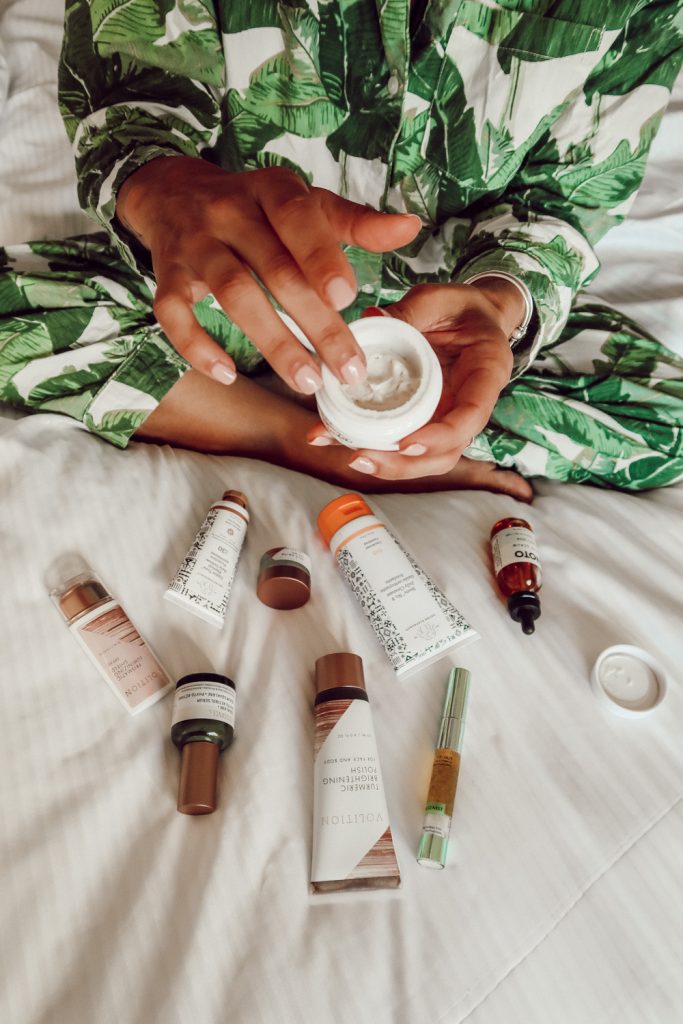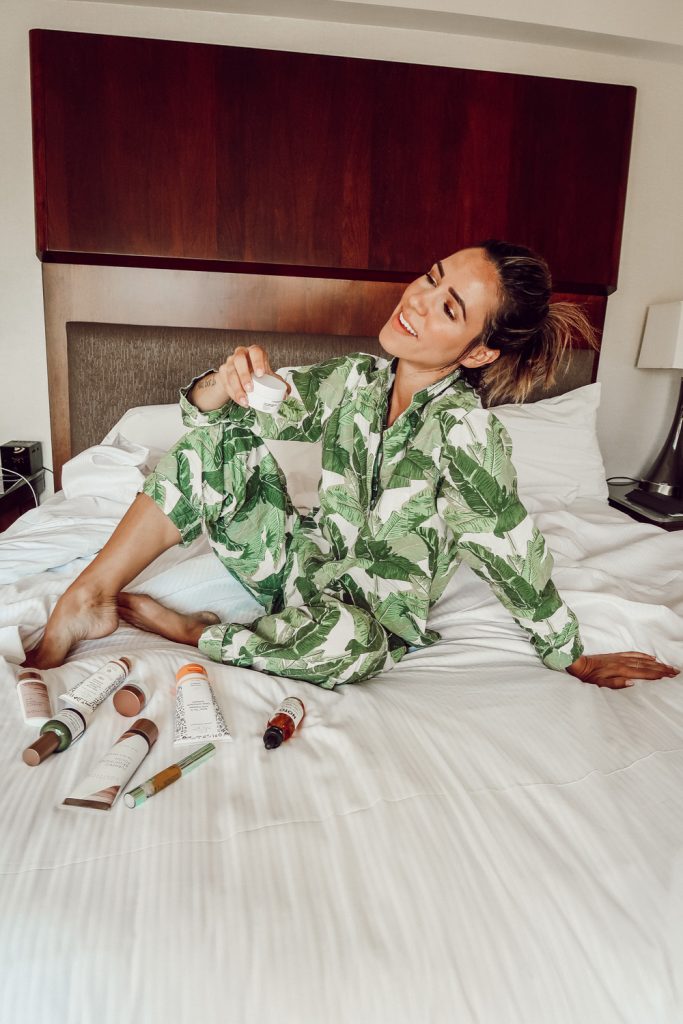 CLEANSERS
I was in need of a new cleanser and really wanted to make the shift to something clean – the best way to take care of your skin is to know what you are putting on it. I use this at night with my Clarsonic – it's a great jelly cleanser that suds perfectly with the Clarisonic.
Volition Turmeric Beauty Polish
If there is one thing I've heard consistently from beauty experts it's to exfoliate your skin! It's super important to remove all the dead skin from your face and body every now and then to prevent breakouts and then some! Since I loved the Volition Helix Eye Gel so much, I thought I would give this a try. Anything with turmeric, I'm in – it acts as a great natural anti-inflammatory and what a better combo than paired with an exfoliant!
LIP REPAIR
I've always been a big fan of any Alienist product – I also love that the are housed here in the US! This is one of their newest products from their collagen line. It's a treatment that keeps your lips looking fresh and plump – whats not to love! I use this product day and night….gotta work for those plump lips!
Shop the POST:
Volition Beauty Helix Eye Gel | Volition Turmeric Beauty Polish | Biossance Serum | Dr. Roebuck's Collagen Eye Treatment | Drunk Elephant Jelly Cleanser | Drunk Elephant Anti-Pollution Serum | Noto Face & Neck Serum