September 11, 2019
It's Tailgate Season
There is nothing better than waking up on crisp fall day and with game day spirit in your heart! Football Saturdays are the pride and joy on every college campus during the Fall and with that it means it's officially tailgate season! They are filled with traditions, camaraderie and school pride – pride and traditions that are passed down from generation to generation. With game day weekends quickly approaching, it's time to start planning for the perfect tailgate experience for you and your friends. When tailgating on a game day, you are somewhat restricted with your space and are generally limited to your trunk and the area around it! Hoping to provide inspiration to all your game day loving hearts, I'm going to wave my Dorinda Medley wand over this tailgate and "make it nice."
The key to executing a successful tailgate boils down to a few simple elements – the food and the set-up!
s h o p   m y   g a m e   d a y   l o o k
Ann Taylor Tweed Blazer | H&M Bodysuit | Levi's Ribcage Denim | Chanel Flats

[ezcol_1half]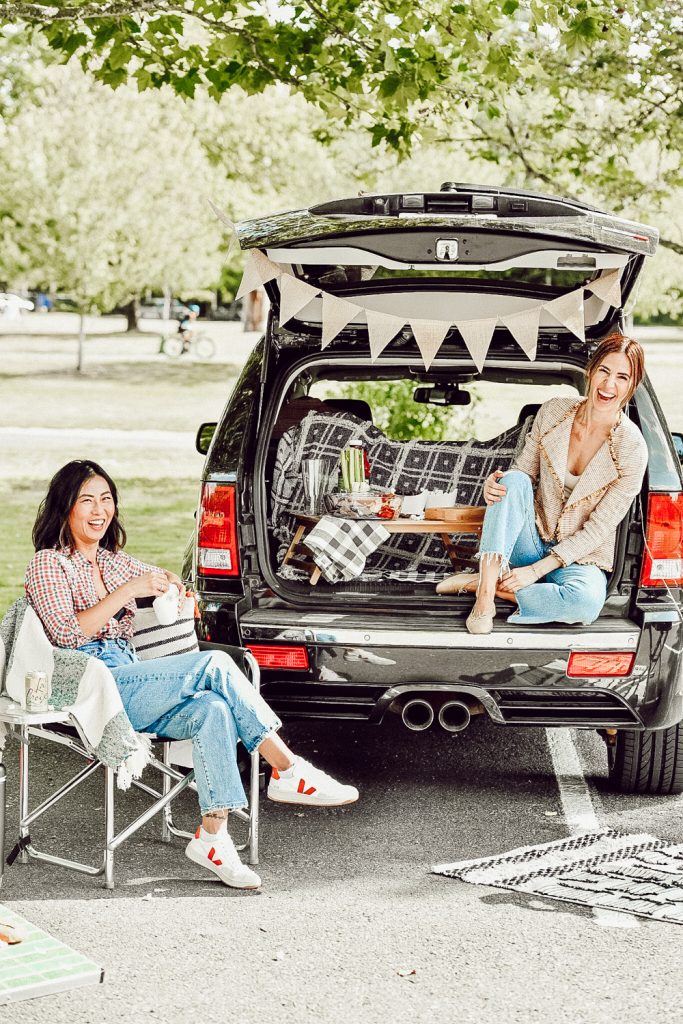 [/ezcol_1half] [ezcol_1half_end]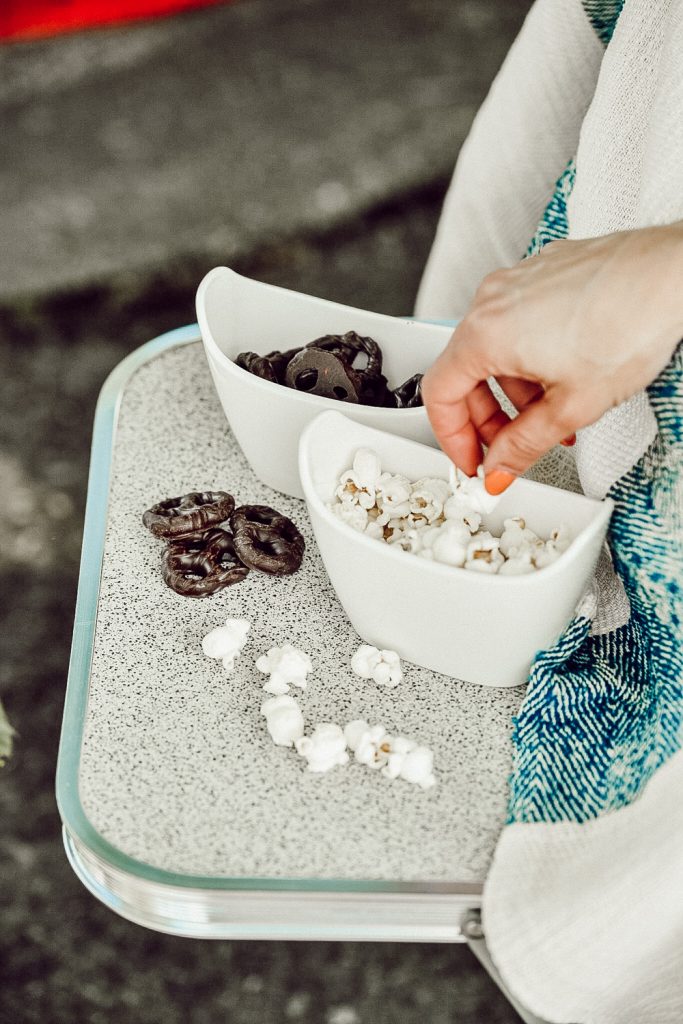 [/ezcol_1half_end]
THE FOOD
When it comes to game day, I really don't crave anything other than stadium-like food, local tailgate food traditions and a good ole seven layer dip. There is a time and place for everything and a tailgate is the best time and place for all the stadium type eating! To make things simple, I set-up a snack and drink station so passersby and friends can eat what they like and be on their merry way! You can never go wrong with the perfect chip and dip selection your tailgate – it travels well and is an easy one hand style of food that allows you to keep a drink in the other hand.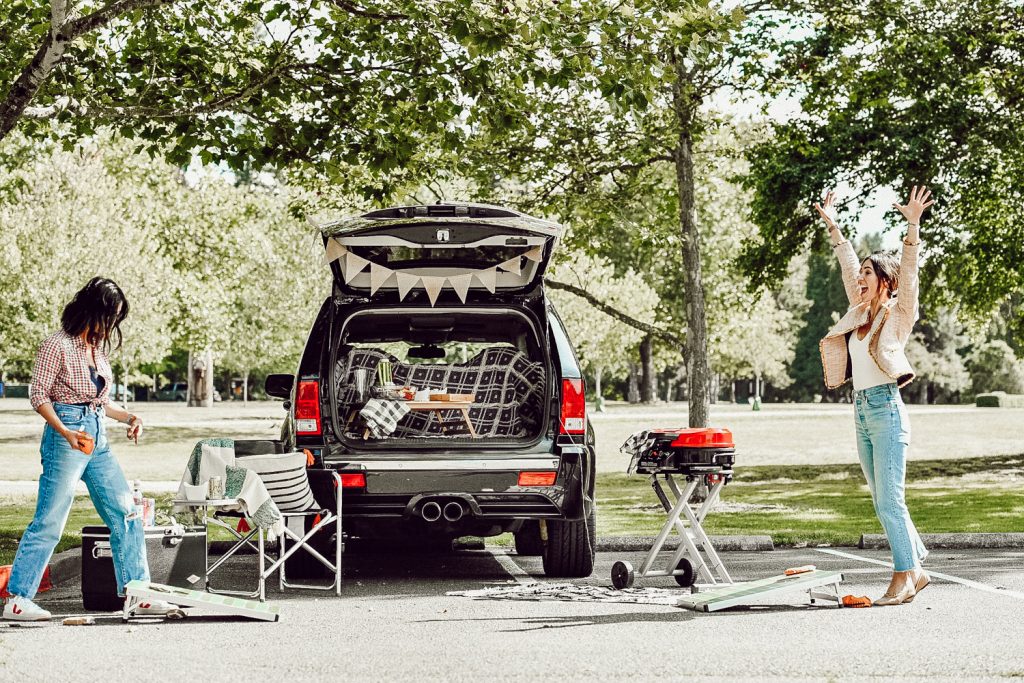 This Libbey two-piece "break resistant" set is PERFECT for your game day set-up! Of course unbreakable items are a key component for your set-up. Especially when you have a cornhole set-up in your tailgate! The Coleman portable grill was also a major life-saver – being able to cook fresh food at your tailgate is always a plus. The Coleman grill has legs that fold so it's easy to stow in your car! I also love the convenience of the Coleman cooler – it's the perfect place to house your drinks and any perishable foods you brought. When it's time to go to the game, you can toss everything in the cooler to stay fresh while you are counting touchdowns!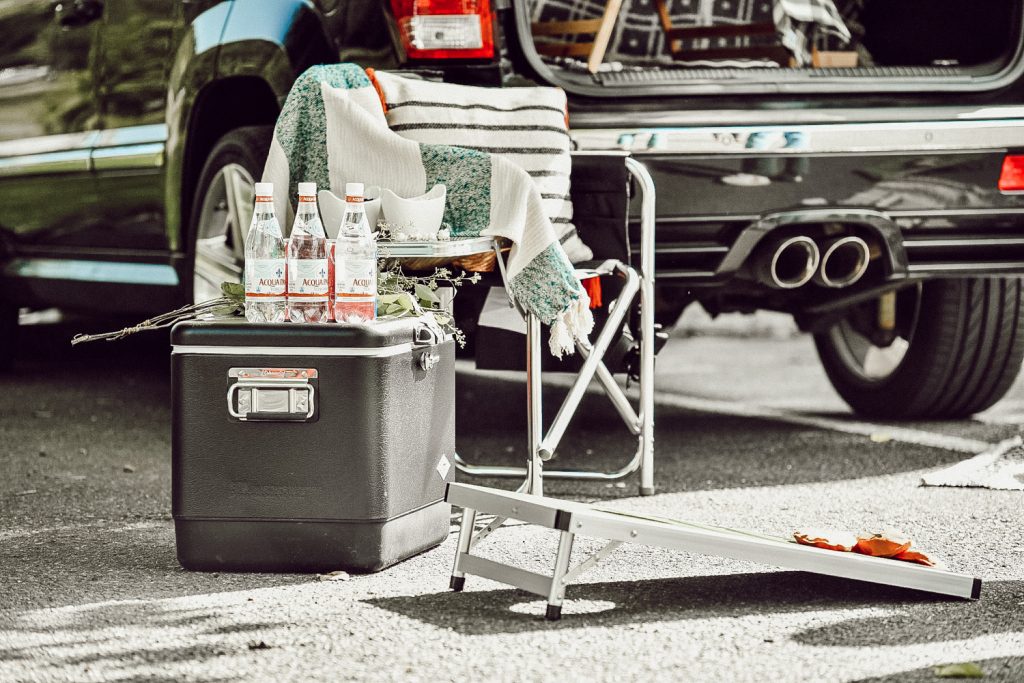 THE SET-UP
My goal for the set-up was to create a tailgate the represented me, my style, and disguise parts of the car that just weren't aesthetically pleasing. First to be covered, the interior of the car! Tossed over the back seat of the car is my favorite Time Concept fringe blanket – it added a fun print and texture to my set-up and the best part, the colors compliment the car! The blanket then served as a nice backdrop to the food set-up!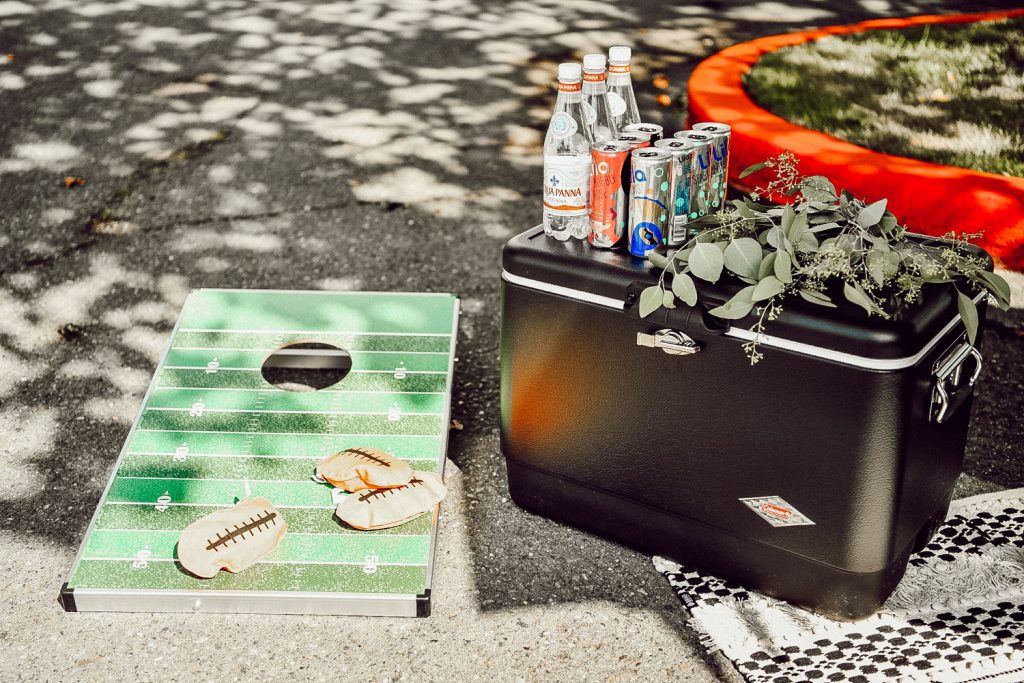 Around the exterior of the car, I added some functional, and fun, elements! You can never go wrong with adding seating like this Picnic Time sports chair – there are so many great functions to the chair including the arm table for drinks and snacks! Rounding out the set-up is this bean bag toss from Picnic Time! Tailgates are more fun with games and a great way to encourage camaraderie with others who are tailgating too!
For more posts on game day fashion, tailgating and tailgate recipes, head to my game day page here!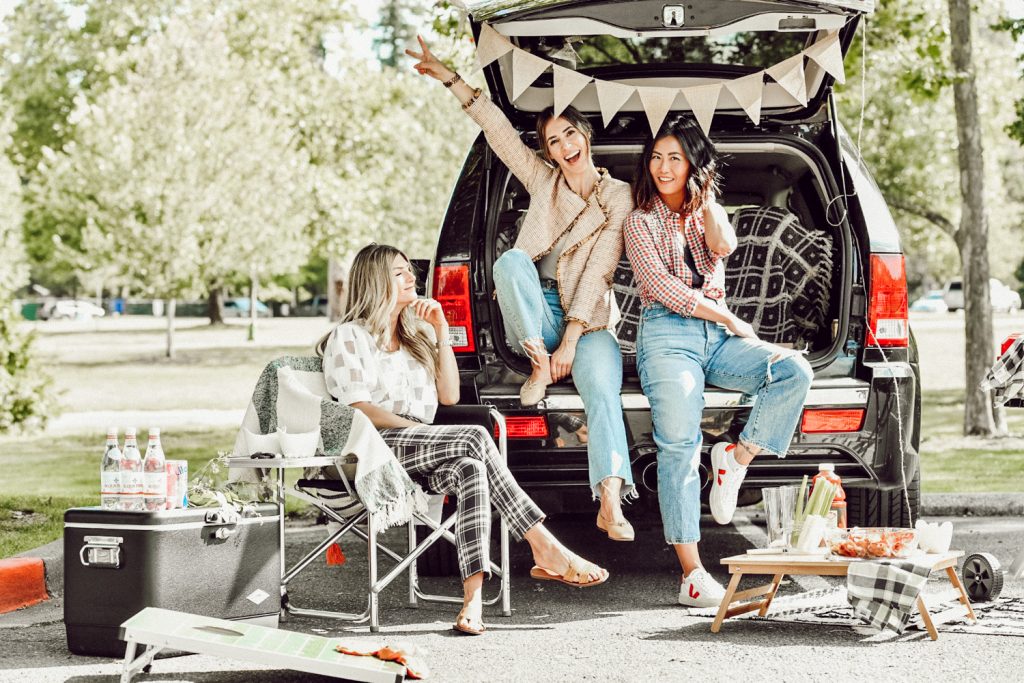 Thank you to The Inspired Home for sponsoring this post – all thoughts are my own. 
Guest Appearance by Elisa from E for Elisa and Cortney from The Grey Edit | Photography by Jason Tang
s h o p   t h e   p o s t
Coleman Grill | Coleman Cooler | Chip + Dip Bowl | Breakfast Table | Bag Toss | Pillow | Tribal Rug | Picnic Time Chair