November 5, 2018
Brixton Wide Brim Hat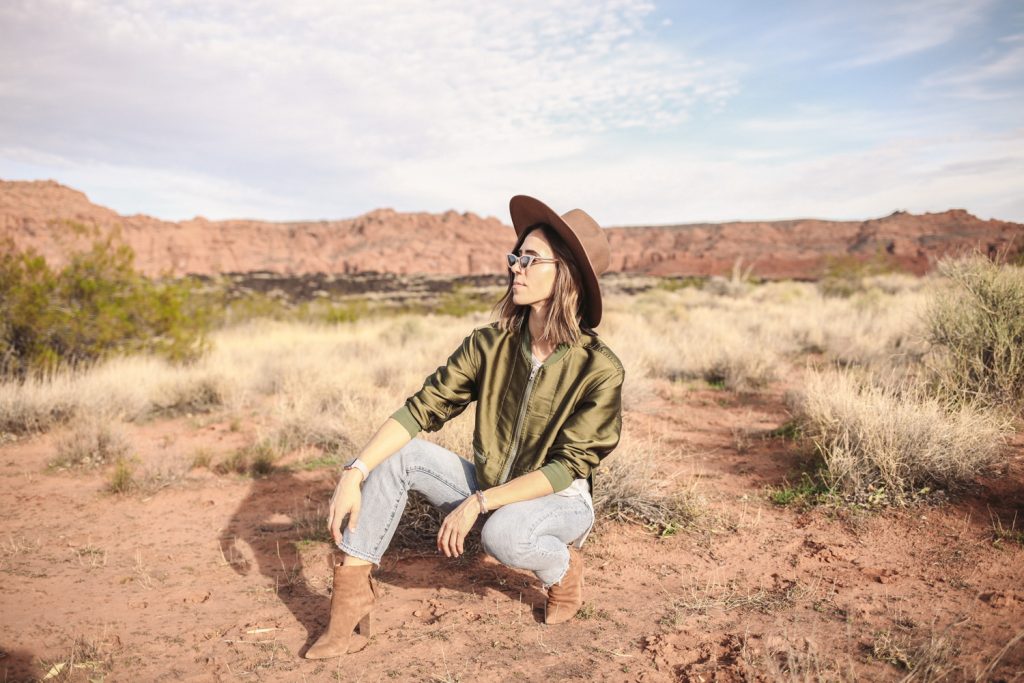 Hello Monday!! Are we all feeling refreshed and reenergized from the weekend? God bless day light savings – I'm LOVING the bright mornings…said a morning person. This past weekend we drove to St. George, Utah for a little R&R and some hiking! I can't wait to share the full details on our trip and stay – the Red Mountain Resort was an absolute dream! This Brixton wide brim hat was a must on our western vacation this past weekend and certainly helped me dress the part!
Shop the LOOK:

[ezcol_1half]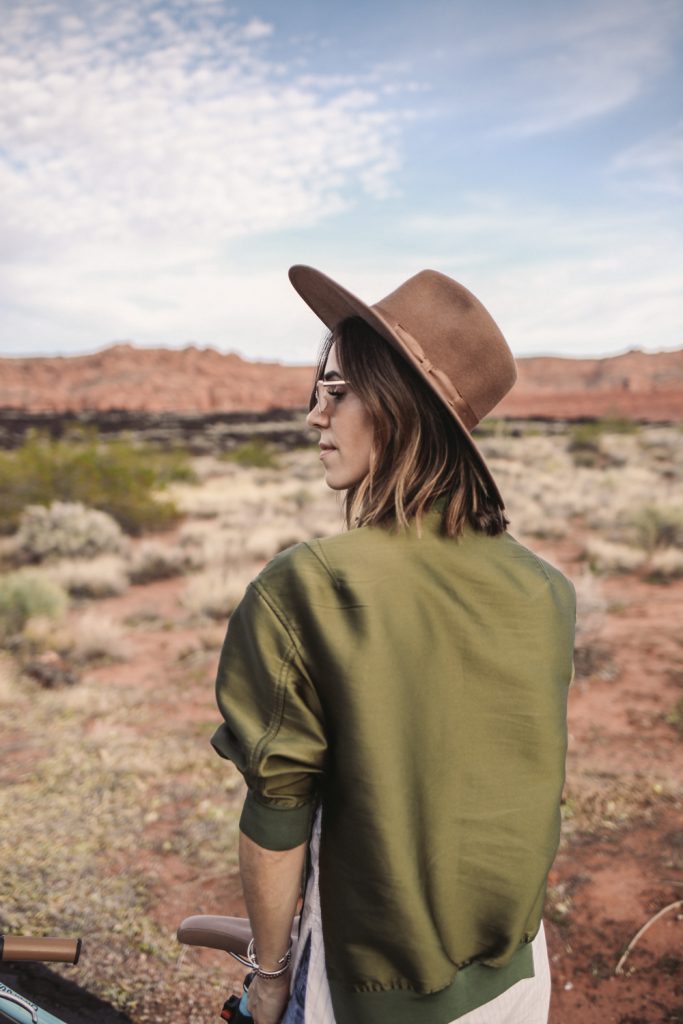 [/ezcol_1half] [ezcol_1half_end]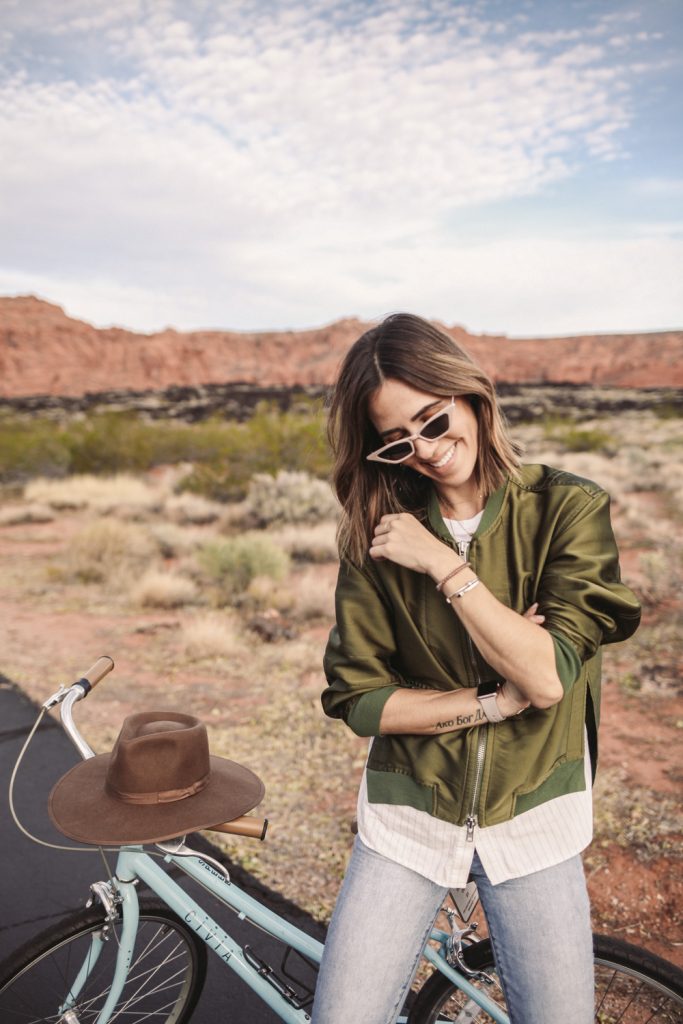 [/ezcol_1half_end]
WHY I LOVE THIS LOOK
3.1 Phillip Lim Bomber // The weather in Utah was pretty mild so there was no sense in layering up. I found this amazing piece on Rent The Runway and it was love at first site! It's a bomber jacket with a built in button up top – it gives the affect that you are wearing layers, but in fact you aren't! Genius! If you are looking to buy, it's being sold here for half the price!
Brixton Wide Brim Hat // I LOVE a good hat in the fall – don't you agree? There is just something about the weather where I feel more inclined to wear one! This wide brim hat is the perfect fall accessory that you can wear year in and year out! See how I styled it a few years ago on our trip to Scotland here – I was actually wearing this hat when Brian proposed to me! The style I'm wearing in this post is sold out, but here is a similar one!
Mini Cat Eye Sunglasses // I'm a sucker for the mini cat eye sunglasses trend – I find them super easy to wear, style and they are so flattering! Hopefully this trend hangs on for a while! I found these in the Vegas Nordstrom last week before our trip to Zion. I LOVE the neutral color and the shape, AND they are only $19.99![ezcol_1half]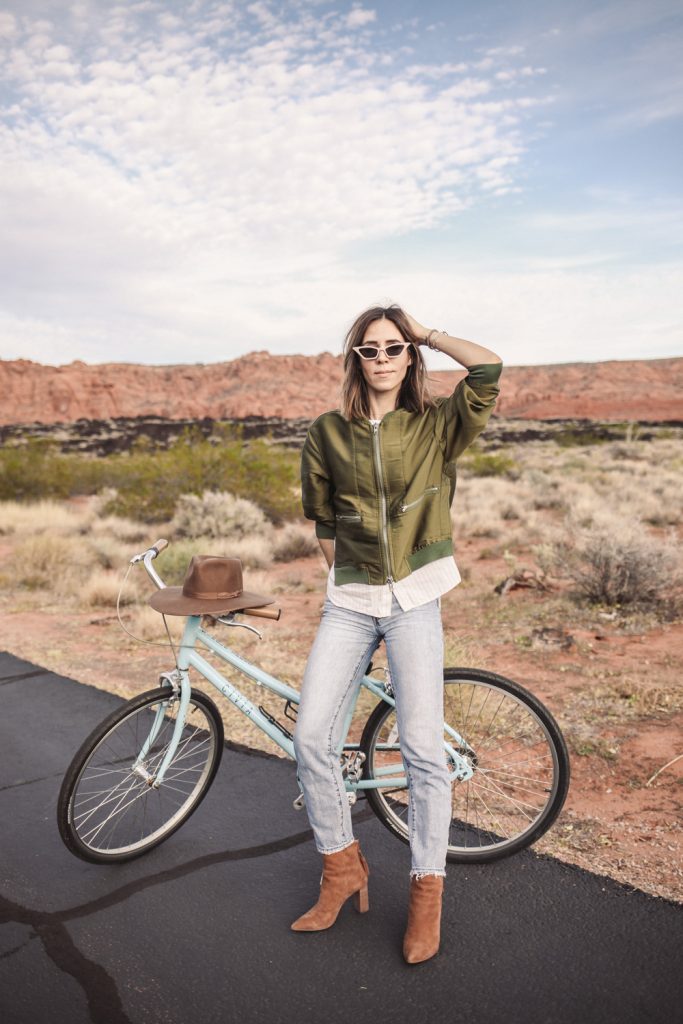 [/ezcol_1half] [ezcol_1half_end]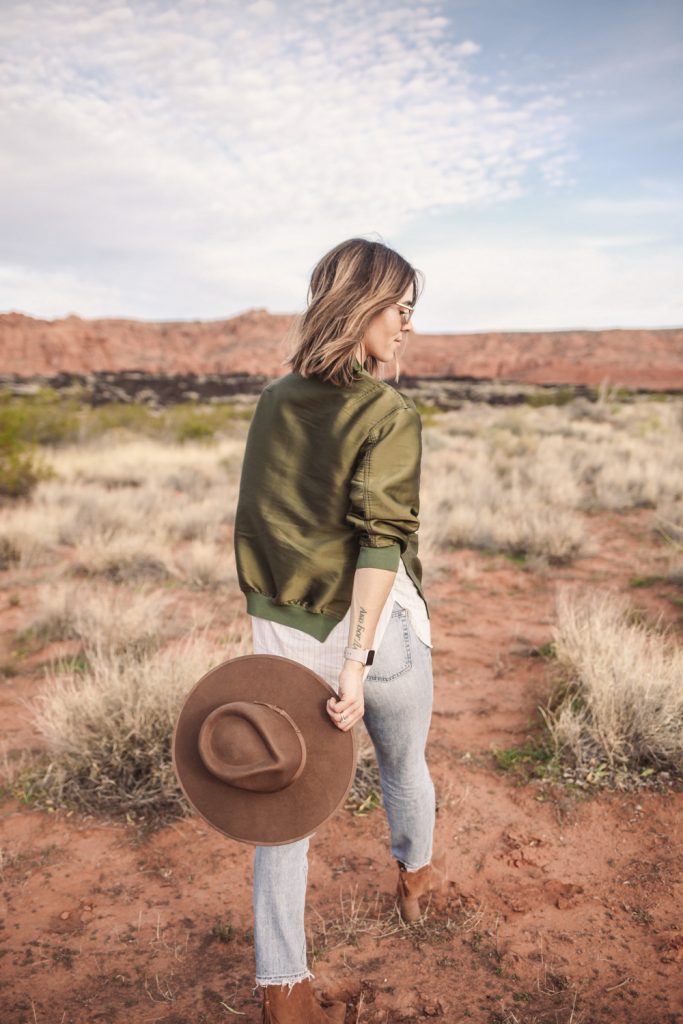 [/ezcol_1half_end]
WHY I LOVE THIS LOOK CONT.
Brown Suede Booties // I truly believe that everyone needs a pair of brown suede booties in their fall wardrobe. They are multifunctional and can be dressed up or down! I found these beauties at Banana Republic and bought them on major sale! With the holidays around the corner everyone is about to unleash all the sales! Stay tuned and you'll likely be able to pick up a pair on major sale!
High Waisted Denim // High waisted denim is MY JAM! Nothing beats the comfort of a pair of high waisted mom jeans – these were also a really good find at Banana Republic. I have strangely been shopping there a lot lately – their winter outerwear is on point this season!! The wash and distressed details on these jeans are nothing short of perfection and give them a lot of versatility.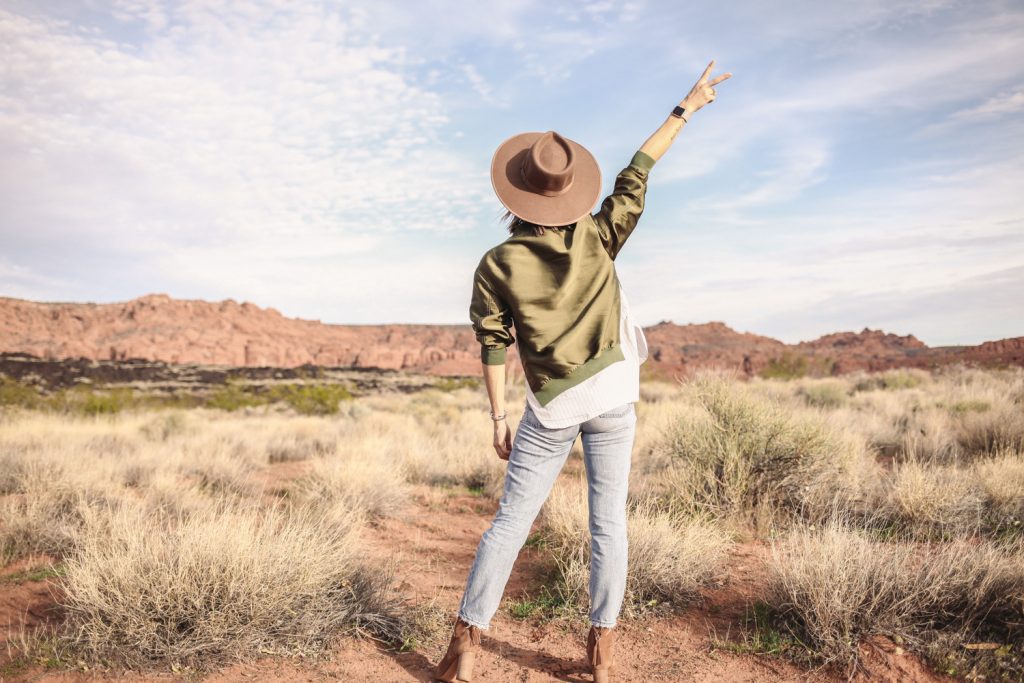 [ezcol_1half]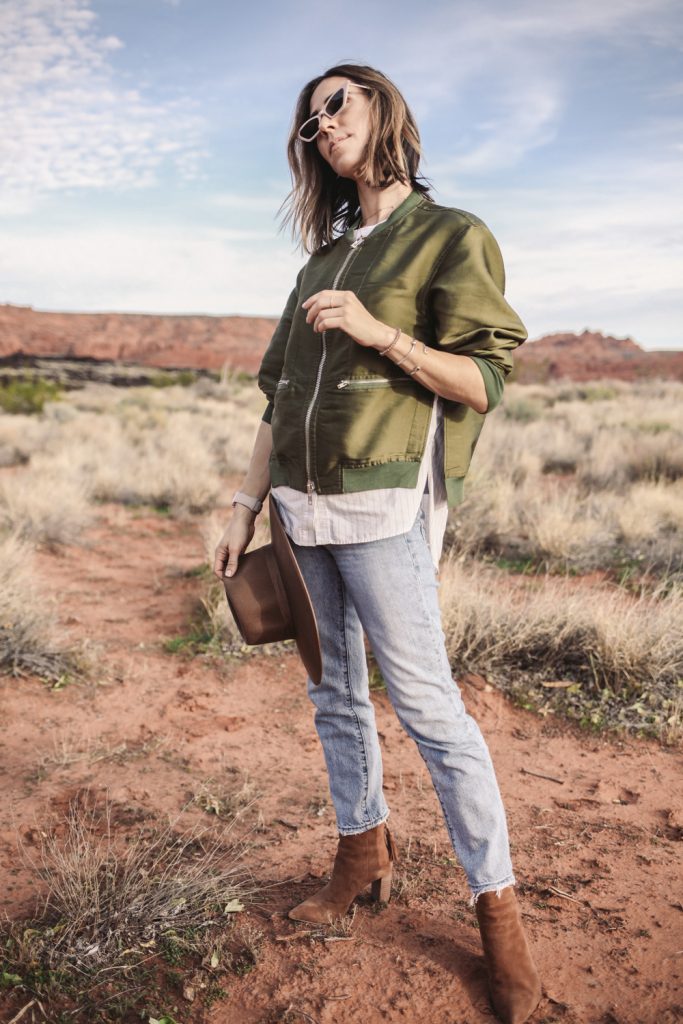 [/ezcol_1half] [ezcol_1half_end]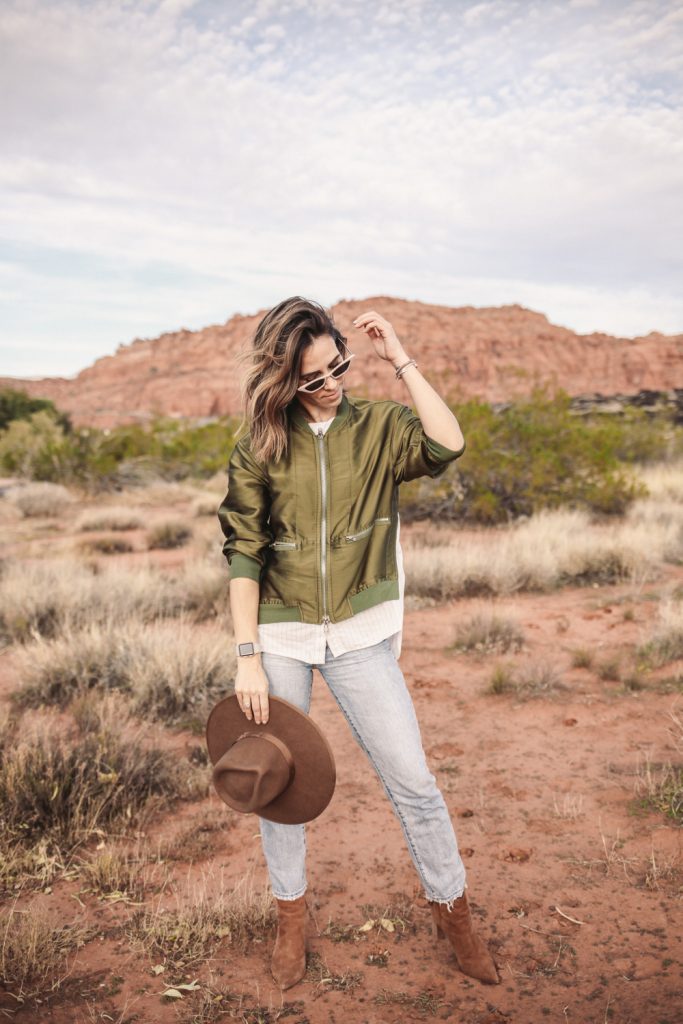 [/ezcol_1half_end]
Shop the LOOK: