April 13, 2020
Stylelogue: Vegan Leather Separates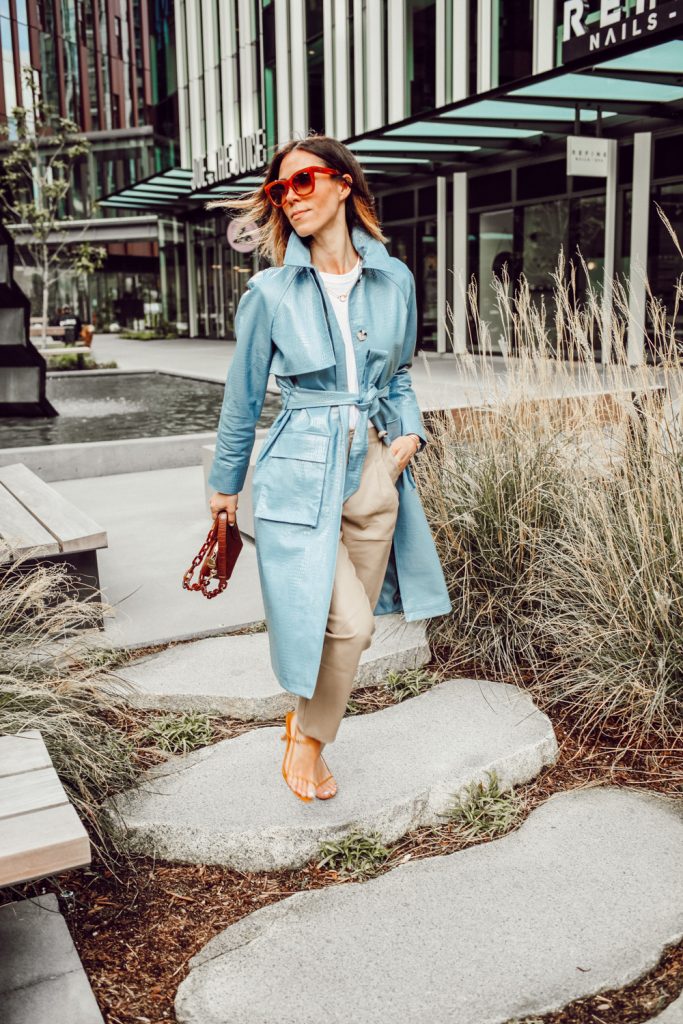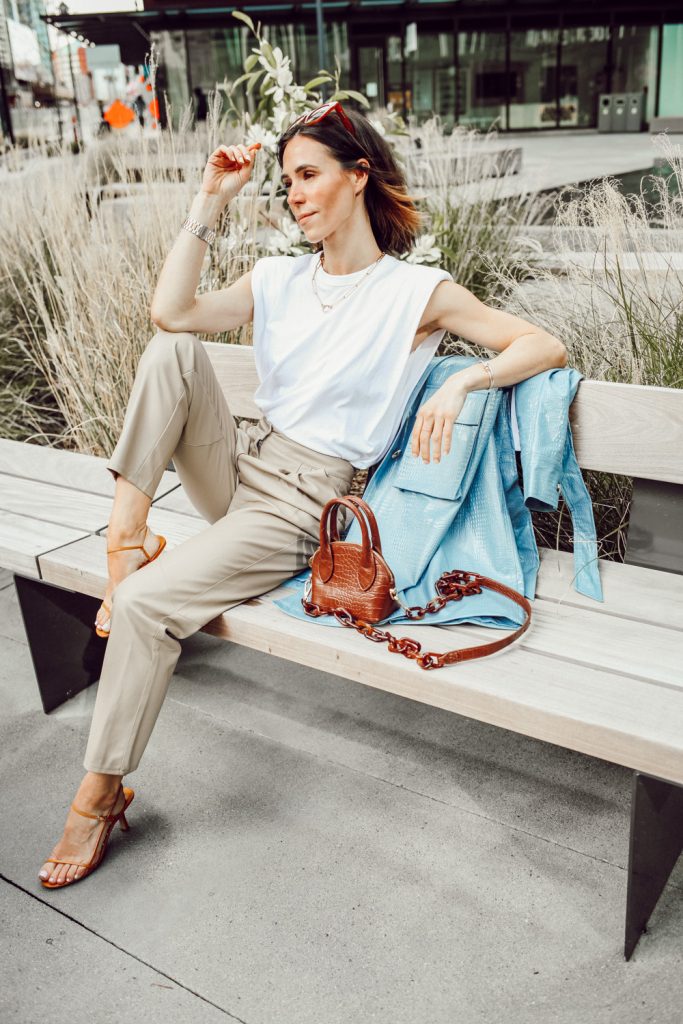 Happy Monday friends! The
Stylelogue
is back in a somewhat unconventional way this month! Considering all the moving parts around us, we still felt the desire to create and bring you all some fun and inspiring content during this time! For the first time we are all shooting our own content and separately. Don't worry, we are keeping our fingers crossed that we can shoot next month's content together and it will be an ever so sweet reunion! For today's post, and thinking about Earth Day, we are styling three looks that capture our truest style while featuring vegan leather seperates. This trend that has been around for some time and will continue to be. Today we are styling three looks sharing inspiration on how you can style vegan leather for spring! Catch up on all our posts
here
.
s h o p   t h e   l o o k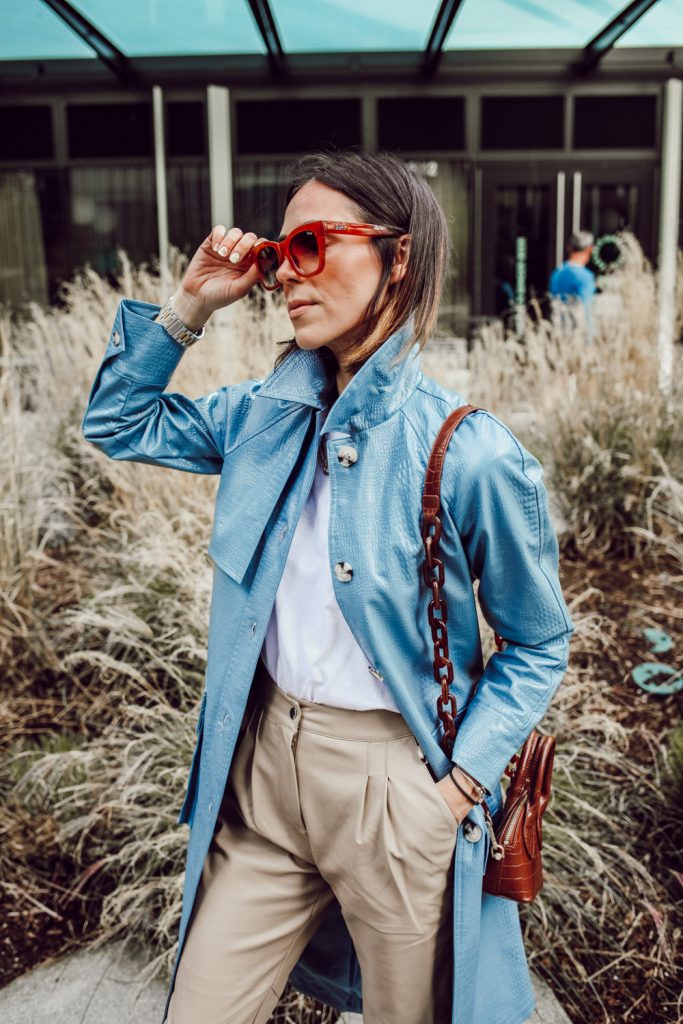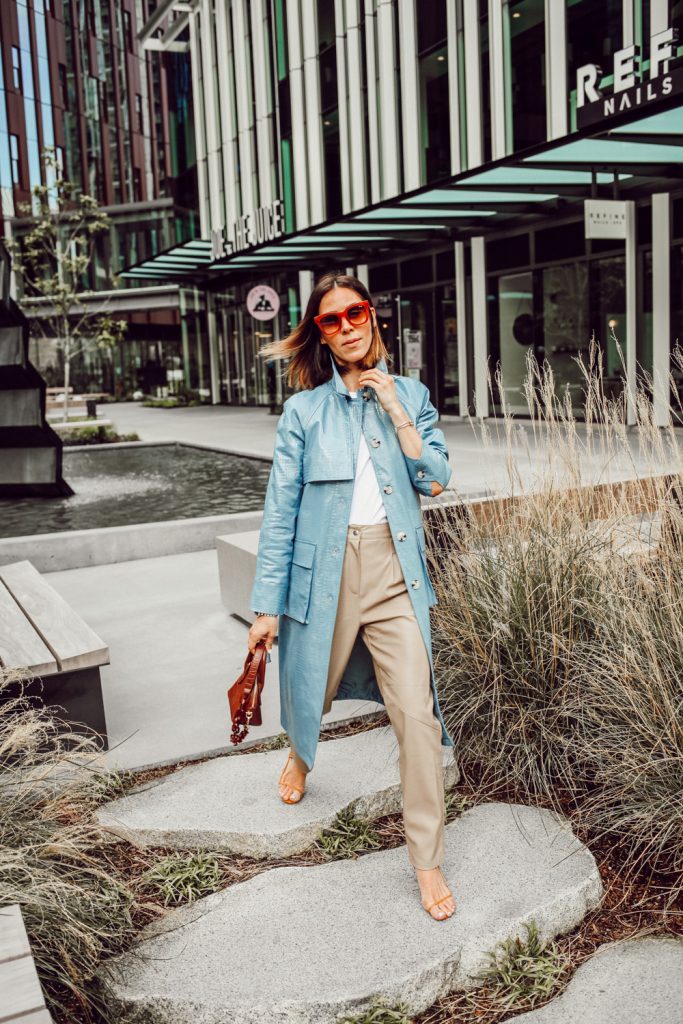 How to Style Faux Leather 
For my look, I wanted to style pieces that have the functionality to be styled alone, but could also work well together! I styled my pieces for a day at the office! I started with these faux leather pants (obsessed with the color) – I love that I will be able to wear them both in the fall and spring! One of my favorite staple pieces that I have been wearing every day this spring has been this Frankie Shop muscle tank – it can be layered to add some volume to the shoulder and can easily be worn alone as a statement piece! This trench caught my eye as soon as I saw it – the color is on trend and the texture is super fun! To top the look off, I styled these GORGEOUS strappy sandals that I have been stalking for over a year and these perfect taupe sunnies and mini bag to bring it all together!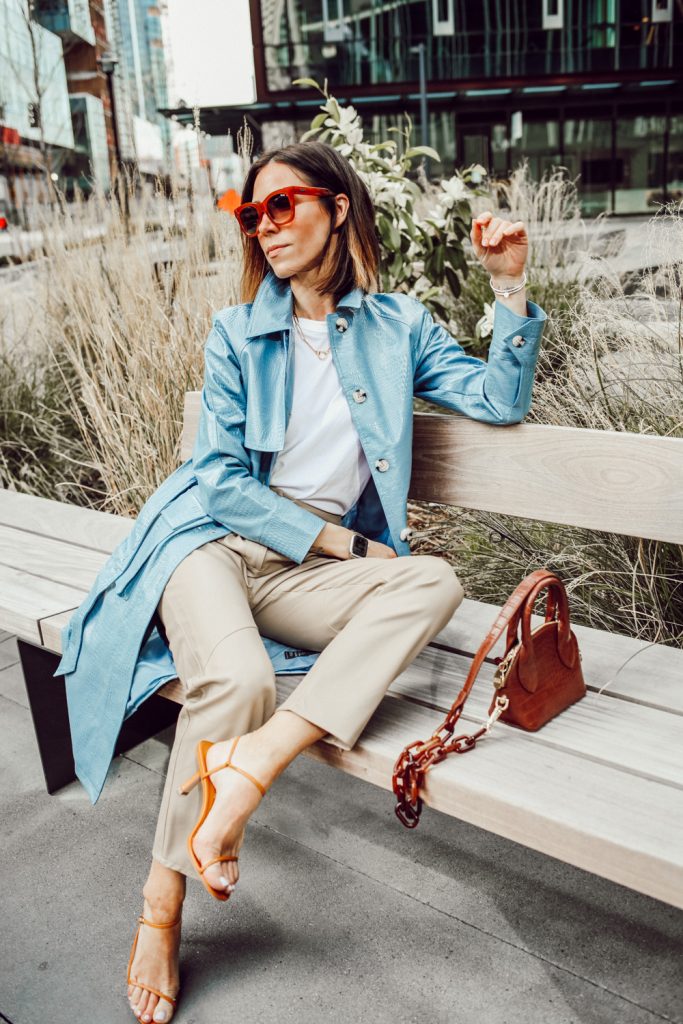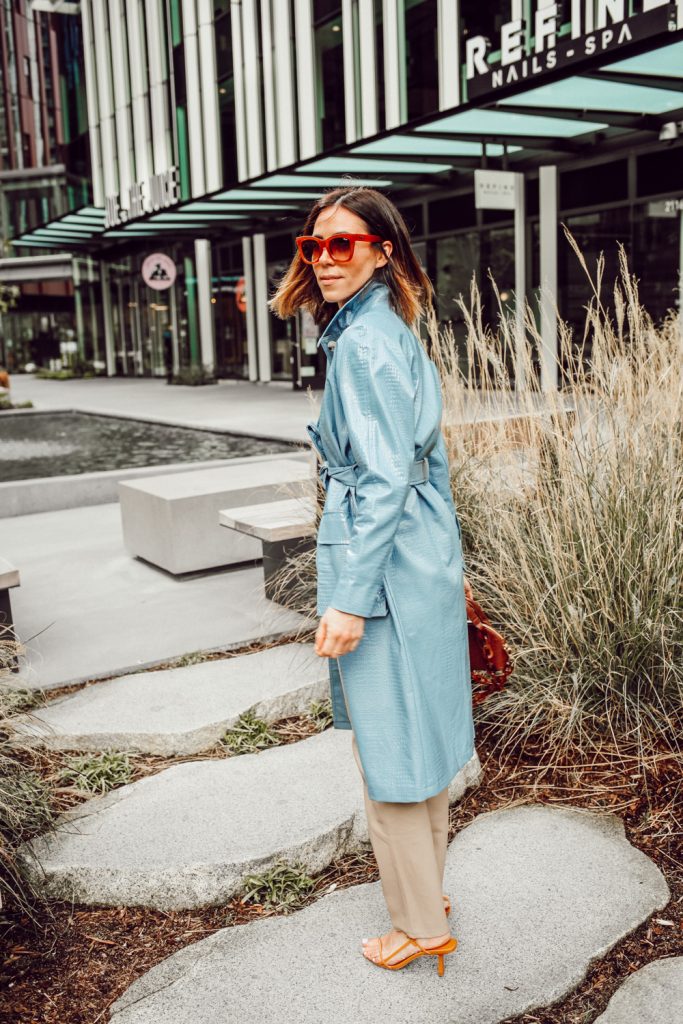 Looking to shop the trend? I've pulled together a list of a few of my favorite pieces, most of which are on currently on sale! Making the investment in vegan leather pieces will always pay off due to their seasonable versatility! Faux leather jackets and pants are pieces you can wear during almost any season and they will never go out of style! A faux leather skirt is always essential, love
this
one from Topshop! You can never go wrong with a vegan leather jacket –
this
color is perfect for spring! If you want an investment statement piece, I'm obsessed with
this trench
.
See more of my favorites below:
s h o p    t h e   t r e n d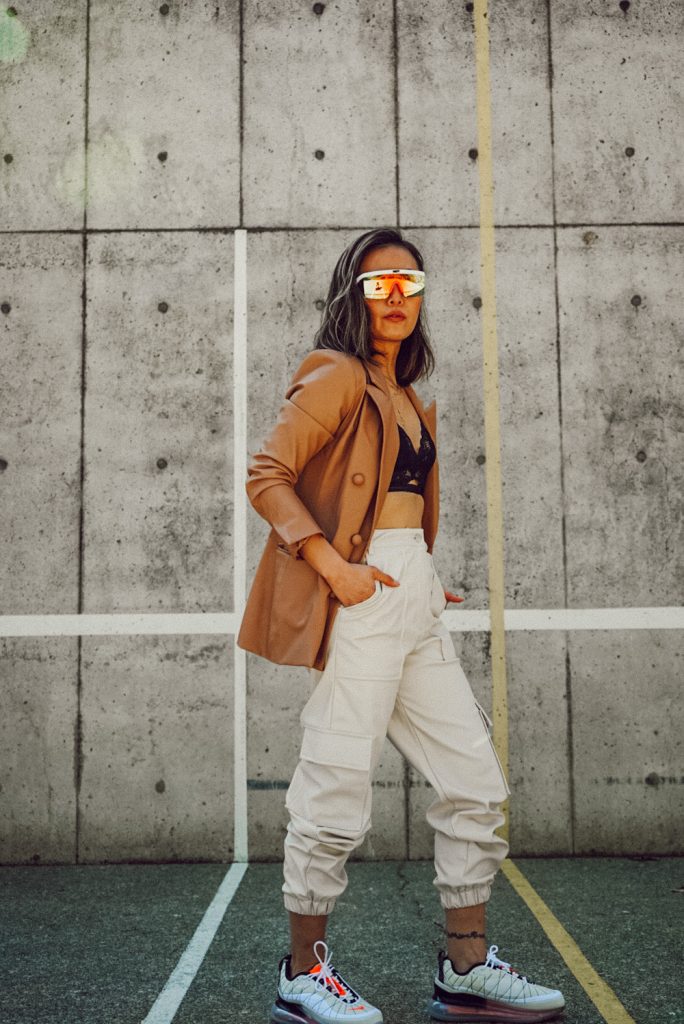 s h o p    c o r t n e y ' s    l o o k
Loving how Cortney utilized her faux leather pieces to layer and accessorize her look! Layering the faux leather top over a classic white monochromatic and using her accessories for more pops of black! To read Cortney's full post, visit The Grey Edit. 
Faux Leather Shirt | Tank | Denim | Sandals | Sunnies | Fanny Pack
s h o p    e l i s a ' s    l o o k
Love how Elisa went full trend and edge with this look! Styling this oversize faux leather blazer with a lace bralette is perfection – gives me all the sporty spice vibes! Styled with these cargo faux leather parts and her new Nike sneaks! NikesTo read full Elisa's full post, visit E for Elisa.
Blazer | Bralette | Pants | Shoes | Sunnies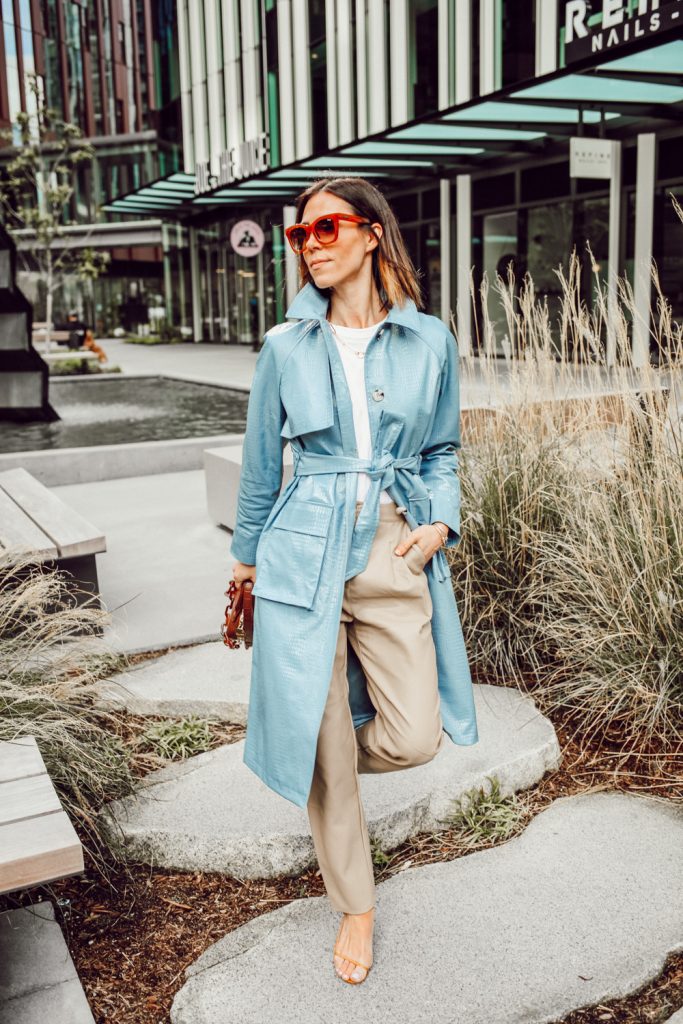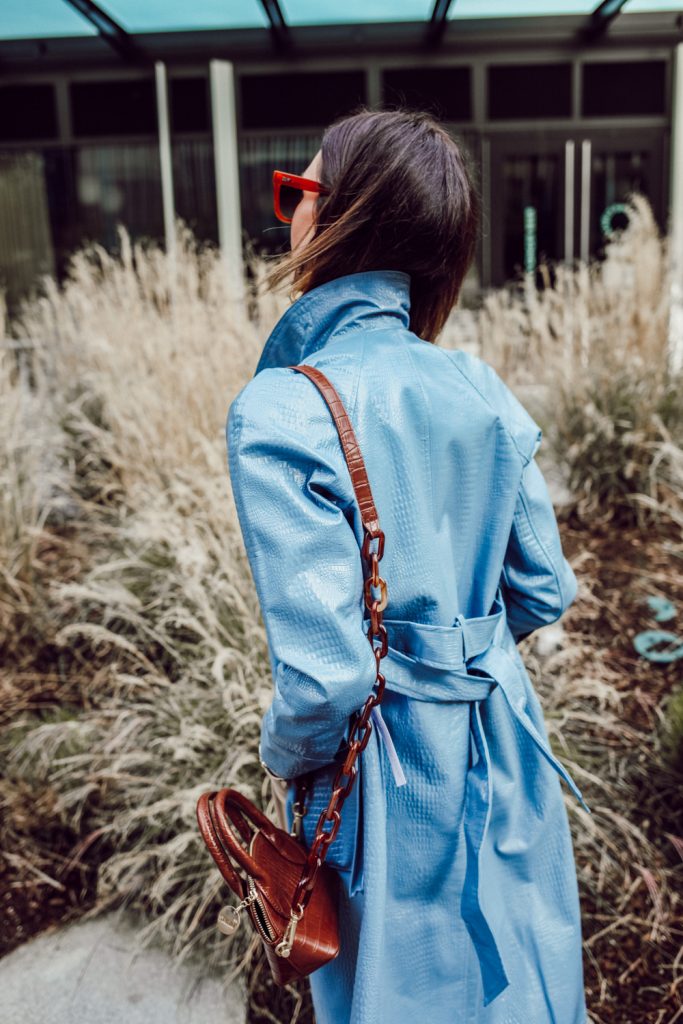 s h o p   t h e   l o o k 
faux leather trench | muscle tank | faux leather pants | strappy sandals | sunnies | mini bag