July 23, 2018
Our Wedding Day
Today marks 365 days of marriage for Brian and I. It's impossible to comprehend that a full year has gone by since our beautiful day. When people say that the day goes by fast, they FREAKING mean it – that and the whole first year. We've had quite an unusual year as Brian was finishing his MBA and during that time we lived in separate places – he then went to South Africa for four months to study abroad. While today marks our one year anniversary, it truly feels like the first day. Here's to many more! Today I'm sharing many many photos from our wedding day and everything we loved about – I hope you enjoy!!
THE DRESS
Since we got engaged in November of 2016 and decided on July 2017 for a wedding date, it was go go go from the start! What I enjoyed most about the timeline is that it puts the pressure on you to make a decisions – it allows for less time of contemplating and so on!
For my dress, I knew I wanted something slightly unconventional (i.e. not white) – I was searching on the inter webs and came across the designer Kelly Faetanini. Aside from conventional, I really wanted something that matched the romanticism of the early 1900's Italian villa that was our venue. Kelly Faetanini made all my dreams come true in this blush tulle gown. Honestly, I knew I wanted it, went to the shop to try it on and they convinced me to try on others in the event I didn't fall in love with the dress. Well, when it comes to fashion I know what I like / want – I tried it on and bought it 10 minutes later. The rest was history!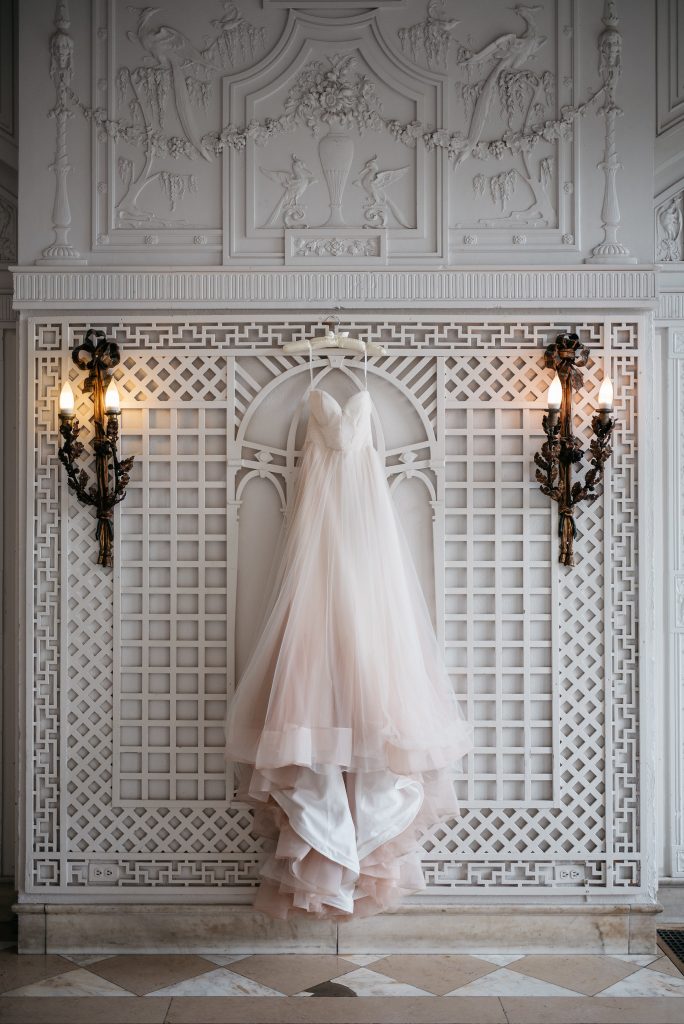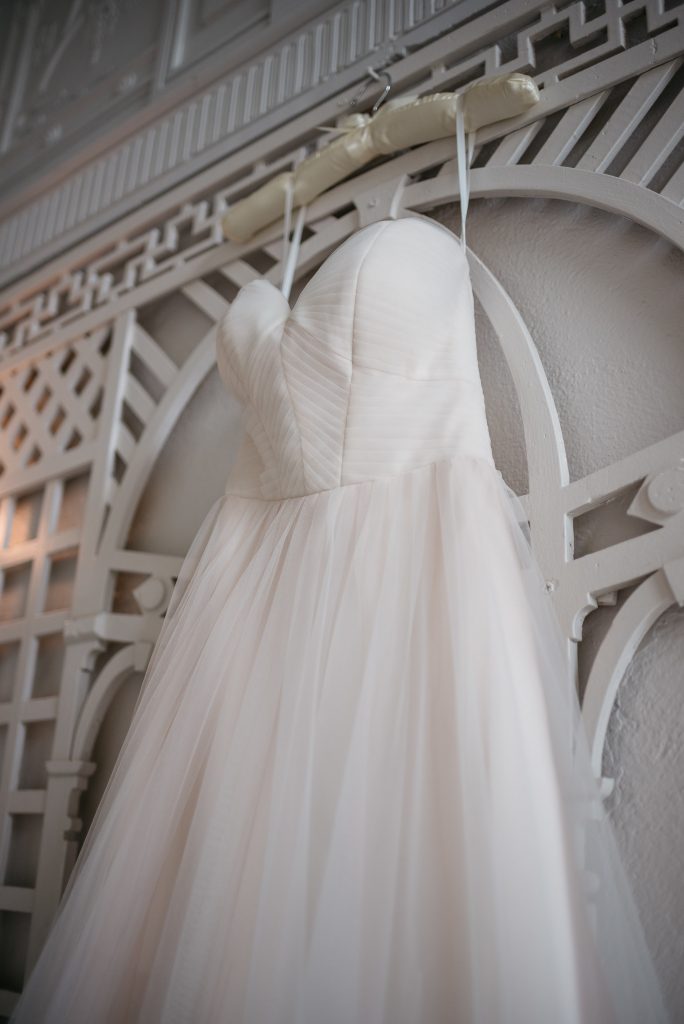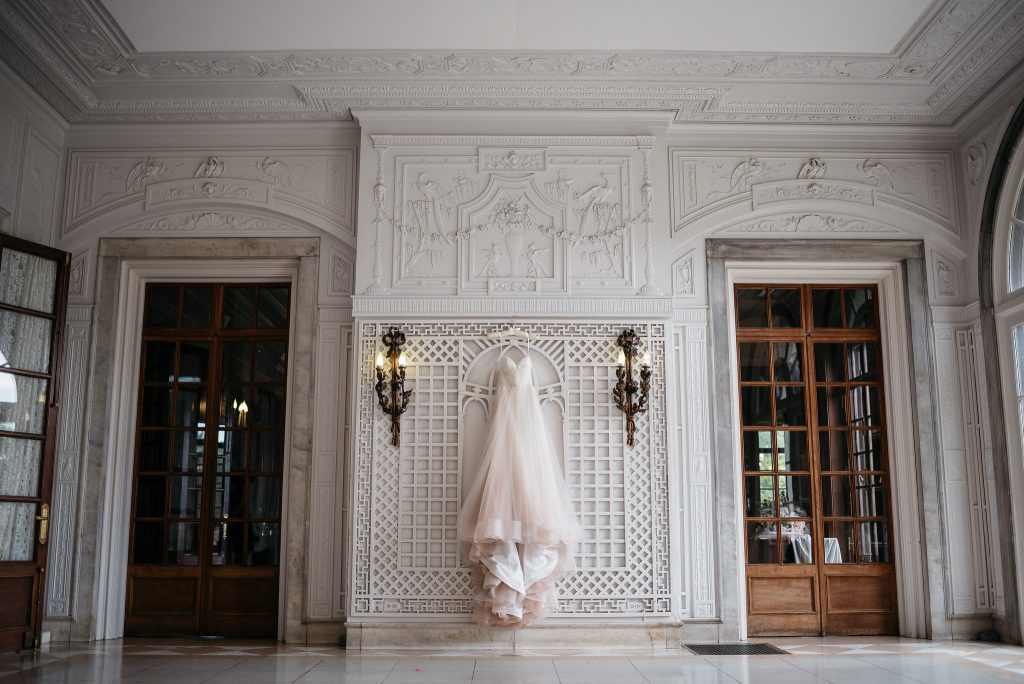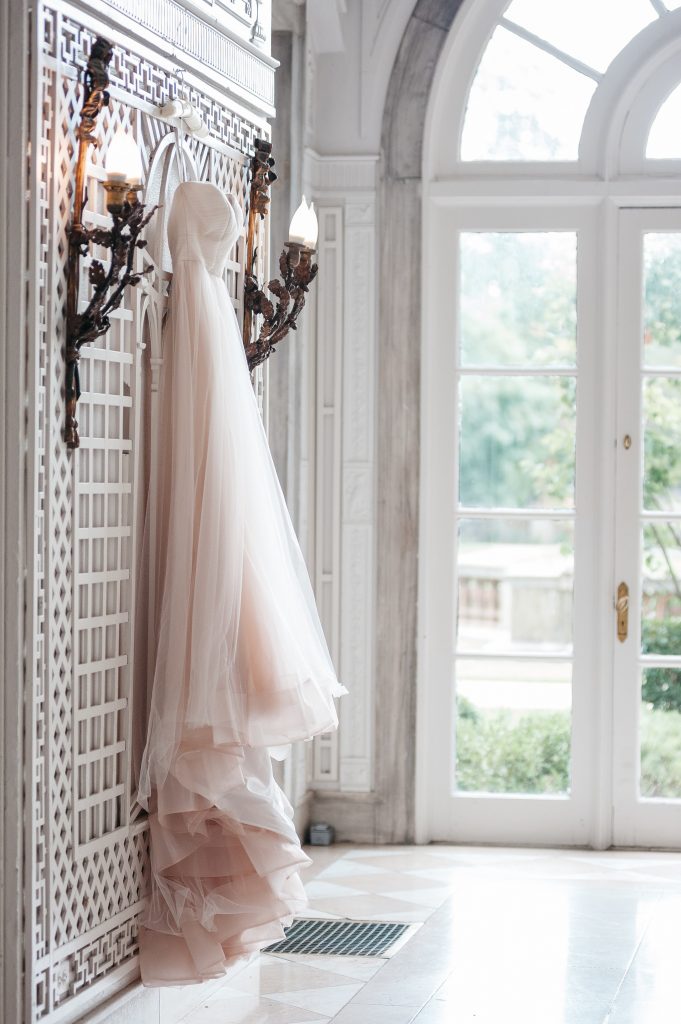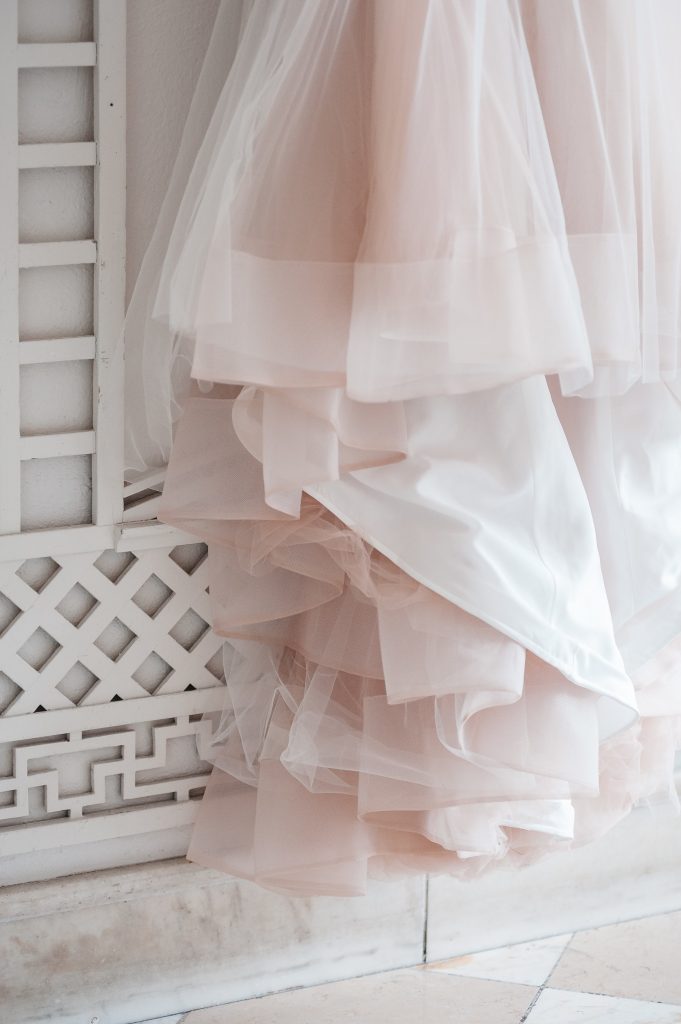 OUR INVITES
Playing off the venue, I really wanted something that captured how the venue truly made me feel. I enlisted the creative mind of Ashley Cooper (friend and amazing talent) – I was able to communicate to Ashley want I wanted and she put that all in to design. The outcome was even better than expected!
THE BOYS
Wearing a black tux at the Armour House felt just a little off so Brian when with a gorgeous navy tuxedo from Bonobos. He wears there clothing on a regular basis and their tailoring is perfection for his body! For the groomsmen, he went with The Black Tux for rentals – they had a great selection including a navy tuxedo that was closely colored to his tux.
THE FIRST LOOK
So we went back and forth on this several times, but decided that doing a first look really would help with the wedding itinerary and allow us to be present during cocktail hour. Our first look took place inside the Armour House at the top of the staircase that Mr. Armour built for his daughters wedding. The windows, the antique wooden railings and the pink and emerald tiles made for the PERFECT first look setting!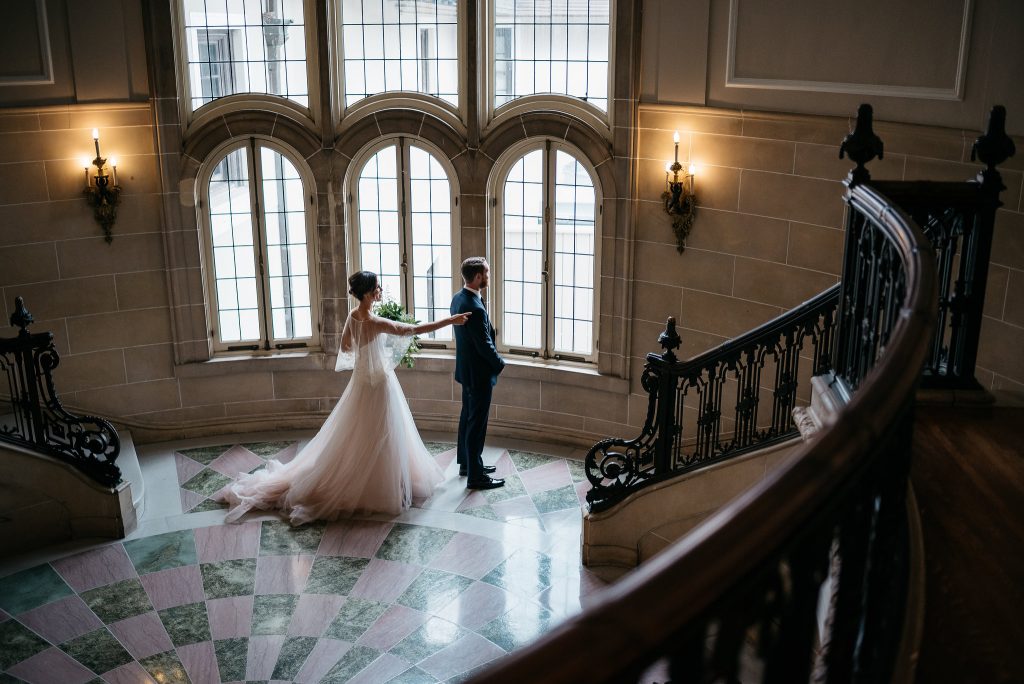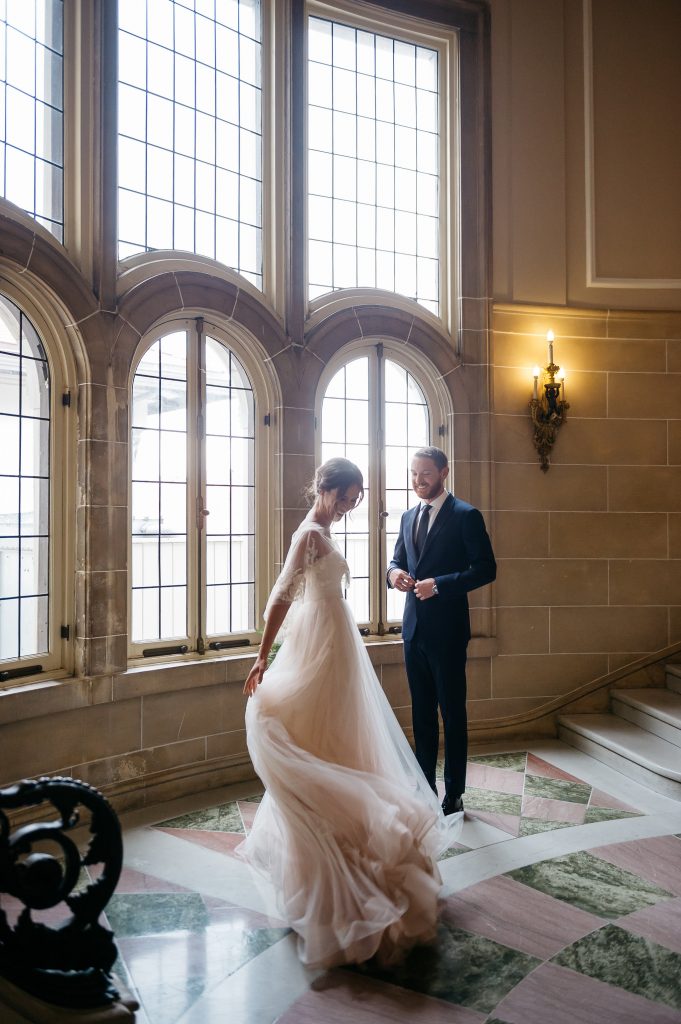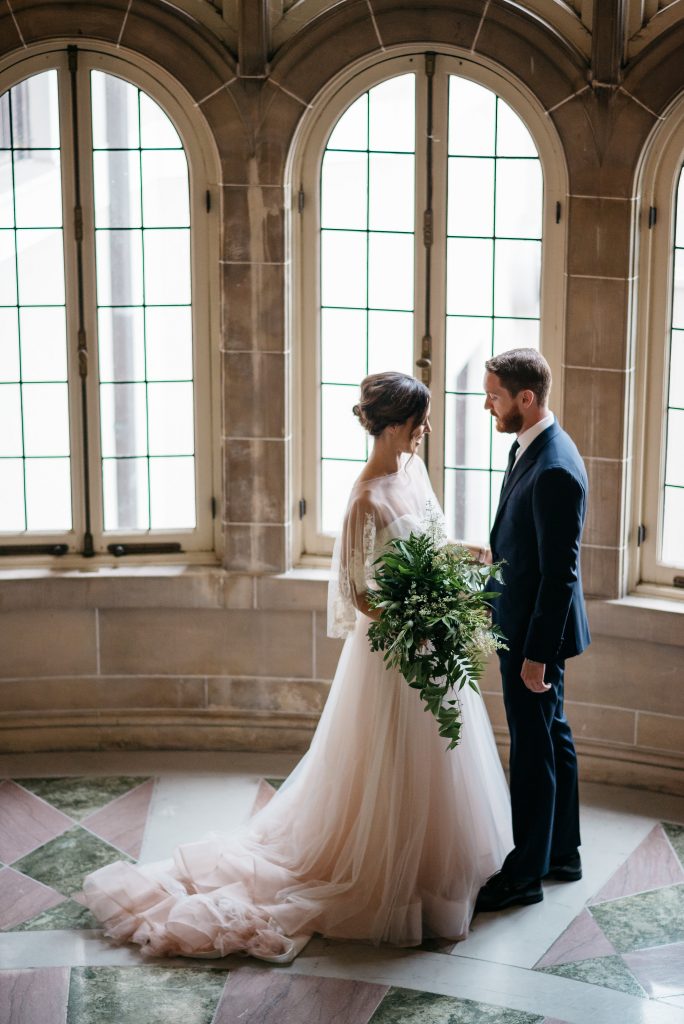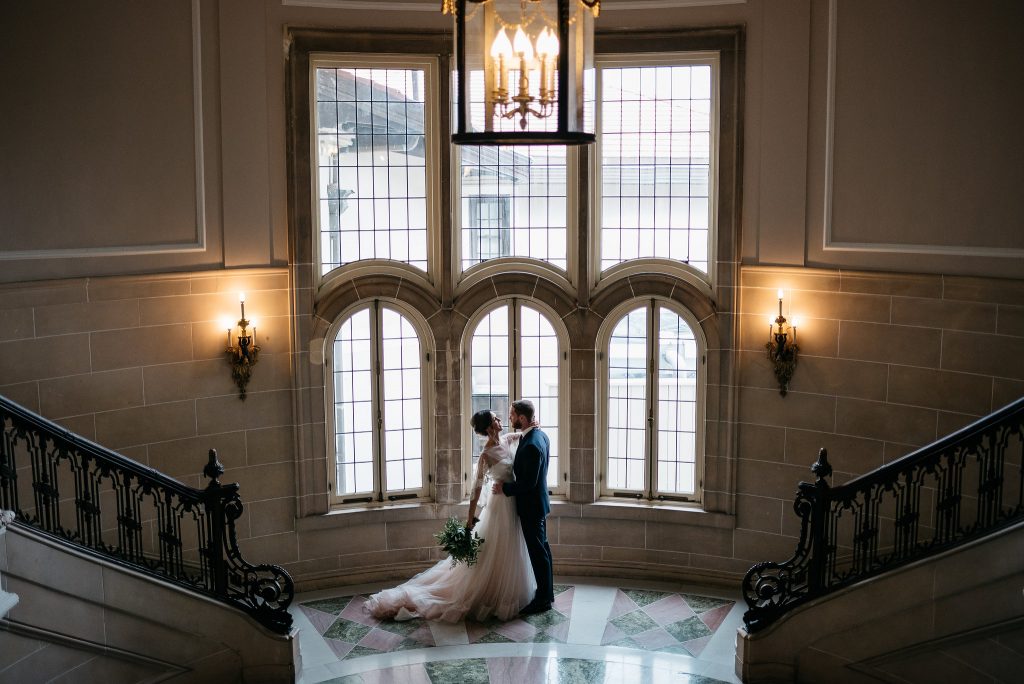 COCKTAIL HOUR
The second cocktail hour, yes, second, took place at the actual wedding venue. Our first cocktail hour took place at the church which celebrated my Serbian roots and culture. Not sure I'm ready to share those pictures ha! The gardens on the property served as the PERFECT backdrop for our cocktail hour – our guests could truly stretch their arms out, enjoy the property and some refreshing cocktails!
Over the course of our engagement we racked our brains for something fun and creative for our guest book – since we lve collecting vintage maps from places we travel, we thought we would have our guest sign a vintage atlas – they were able to sign the page that corresponded to a map of where they came from! It was such a cute idea and a great moment for us!
If you are looking for something similar, we found ours on Etsy – here is a link to some! Also, here is a link to our wedding sign – also from Etsy!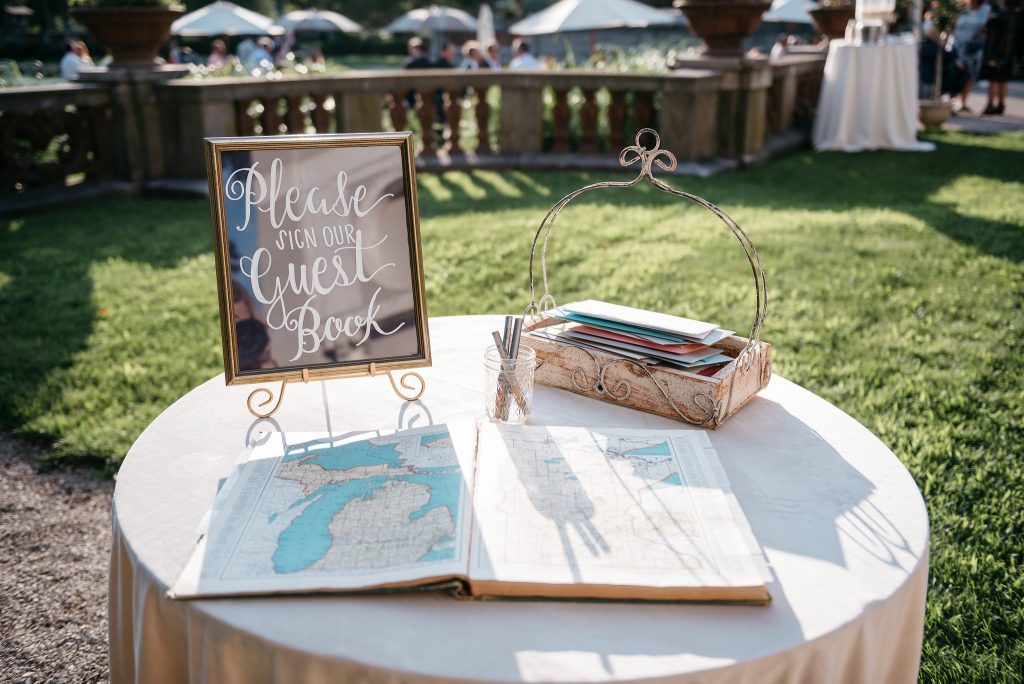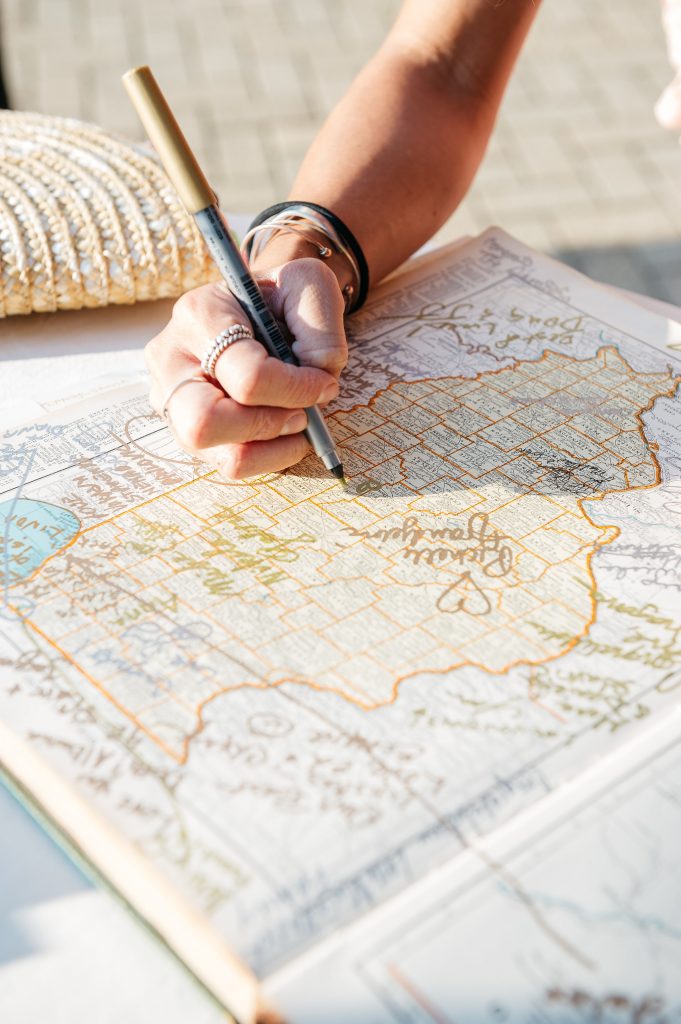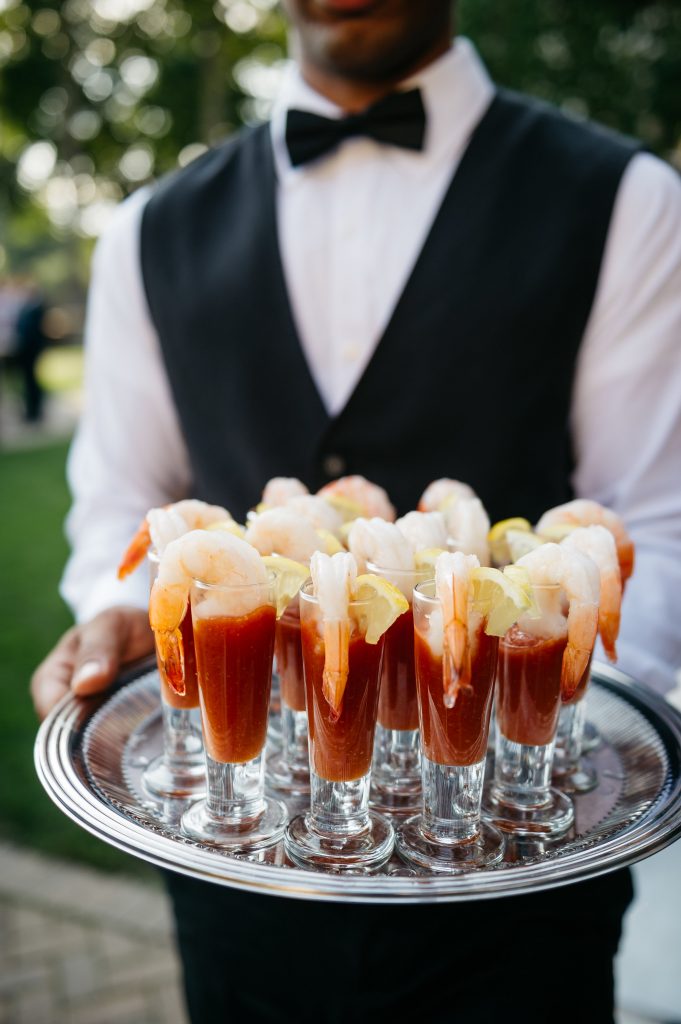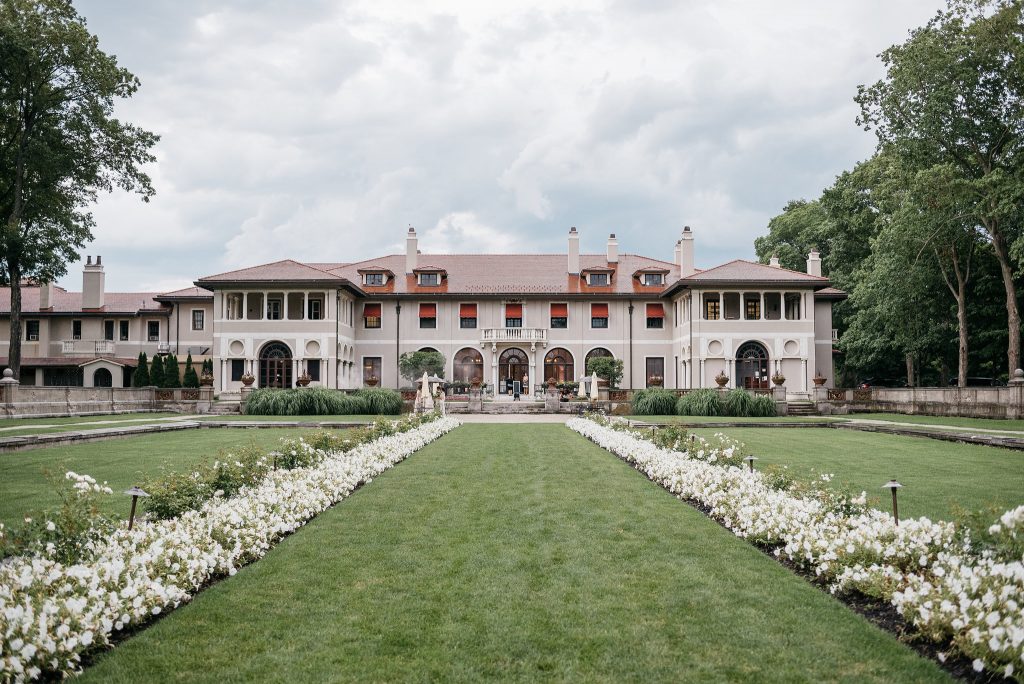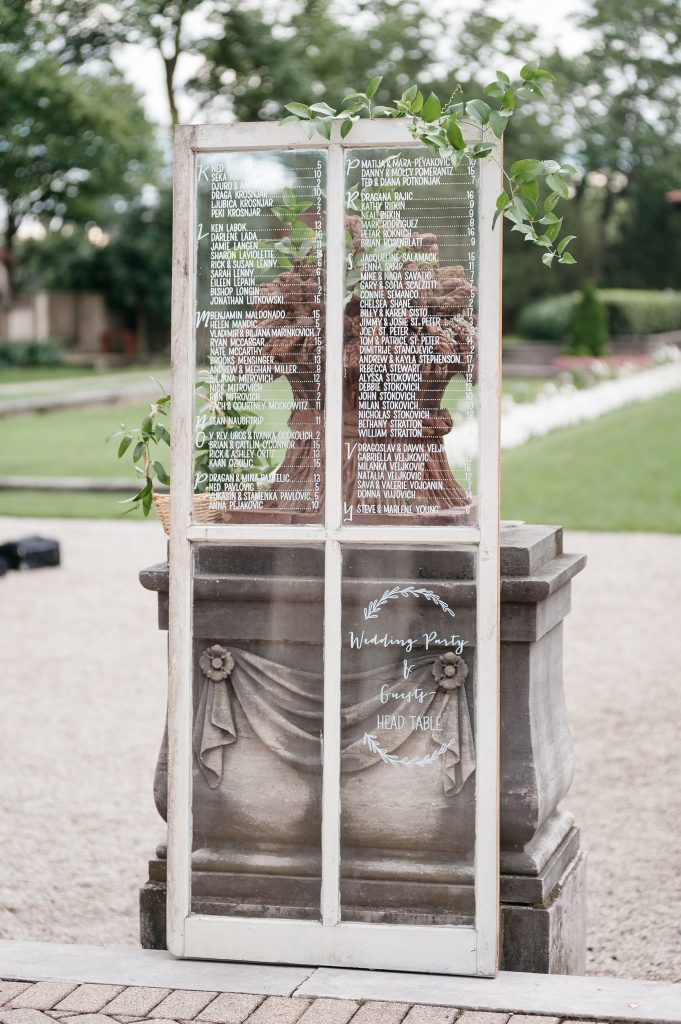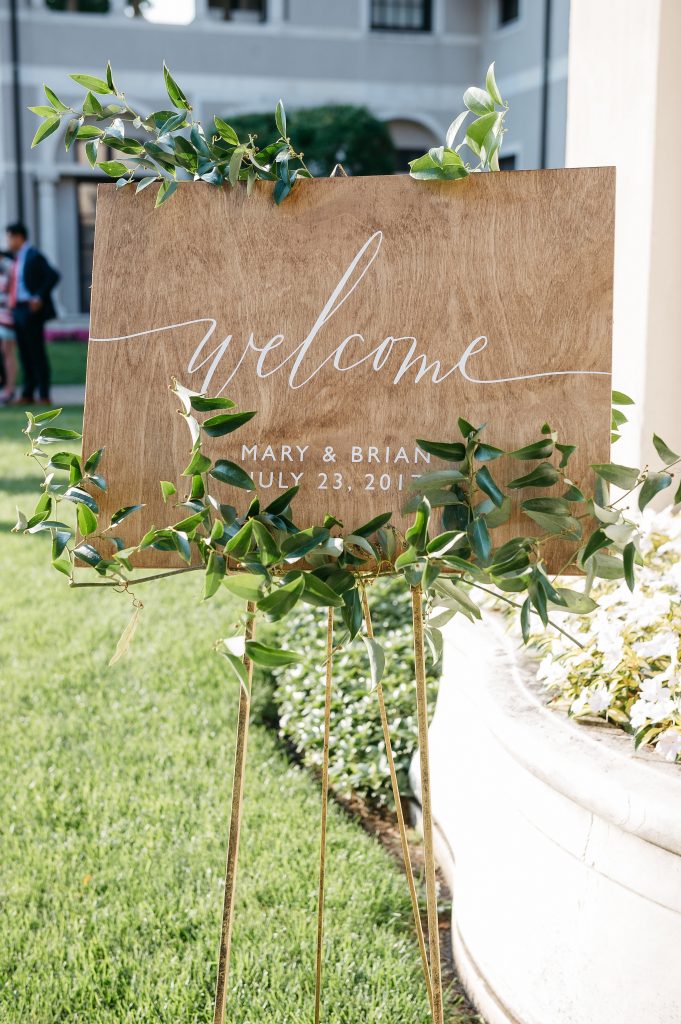 FAMILY 
Yes, I was that bride that kindly asked family to dress within the same color scheme so that the color palate was the same across all the photos. Am I psycho? Sure, but hey, the coloring in our photos look STELLAR 🙂 I had the flower girls in these adorable tulle dresses from Jenny Yoo with lace-up gold flats from Zara. Their print matched that of the maids of honor – it was super lovely!!

THE BRIDAL PARTY & FLORALS
Compromised of some of closet friends – we have never felt more loved than we did with this group. I will forever cherish the memories on this day I made with these people. It was an honor have them all stand by our side on our special day – I hope they all know how special they are to us!
For the bridesmaid dress,  I went to Jenny Yoo – they really have wedding party thing down to a science. So many great style options, prints and colors that it couldn't have worked out better! I put the bridesmaids in a solid color and the maids of honor in a print. Again, the goal was to stay within a scheme and truly capture every gorgeous inch of the venue!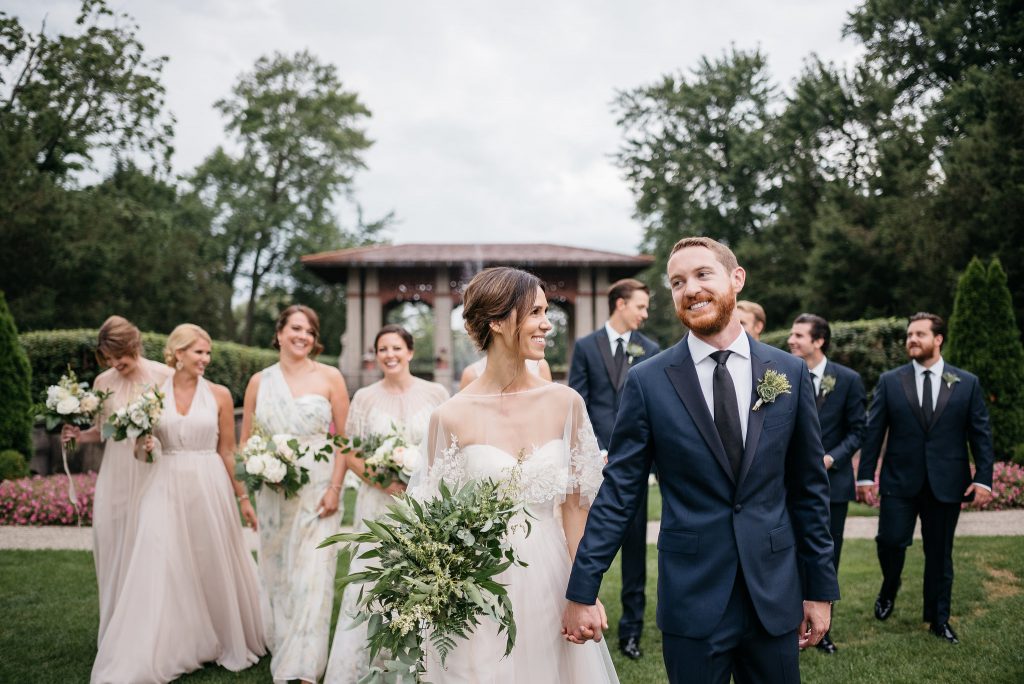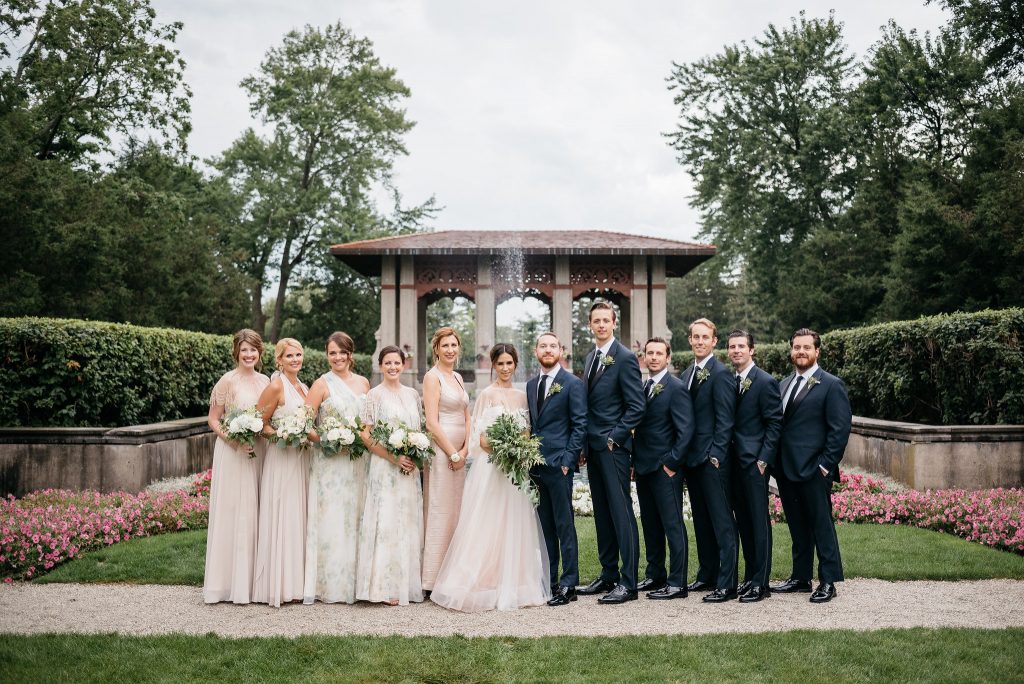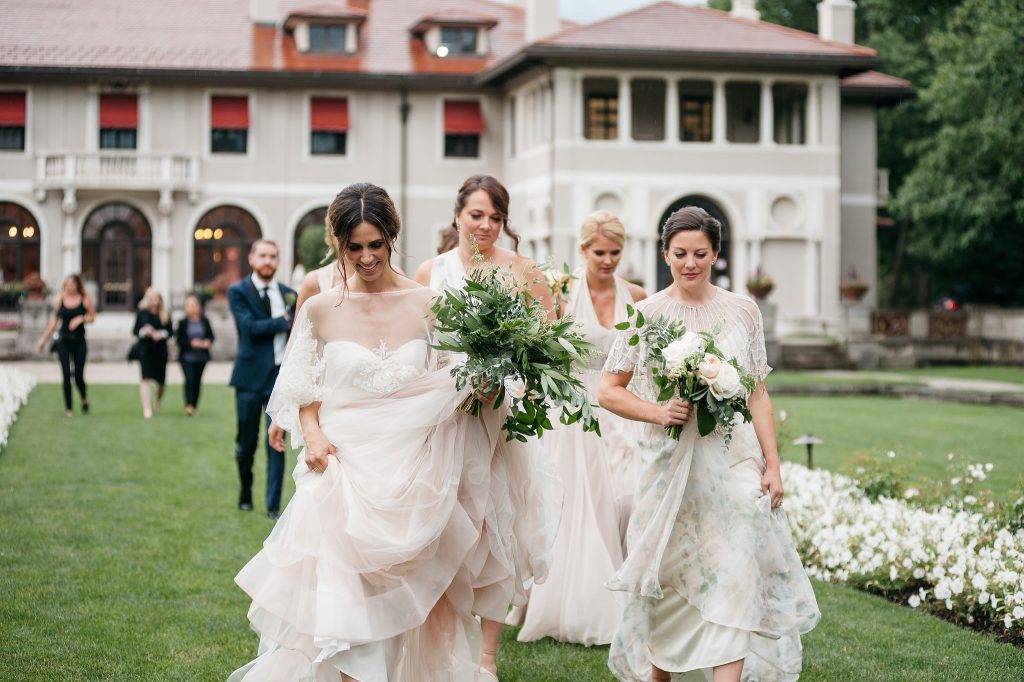 Flowers were at the top of the importance list – I knew it was area that I was ready to splurge in as I'm a firm believer that the flowers MAKE everything! We used the amazing Chicago vendor
Field & Florist
 – from day one we were both on the same page in terms of vision.
With greenery being the pantone color of 2017, I was drawn to more greens than florals. For my bouquet, I wanted a full green bouquet – I wanted it to look as if it was picked fresh from the garden on the property. They added rosemary to the bouquet so it was fragrant in the most delicious way!
For the wedding party we went with garden florals only – all the flowers were grow' and picked from their (Field and Florists) farm in Michigan! Nothing like a sustainable bouquet! For the boys we went with succulents…Brians favorite 🙂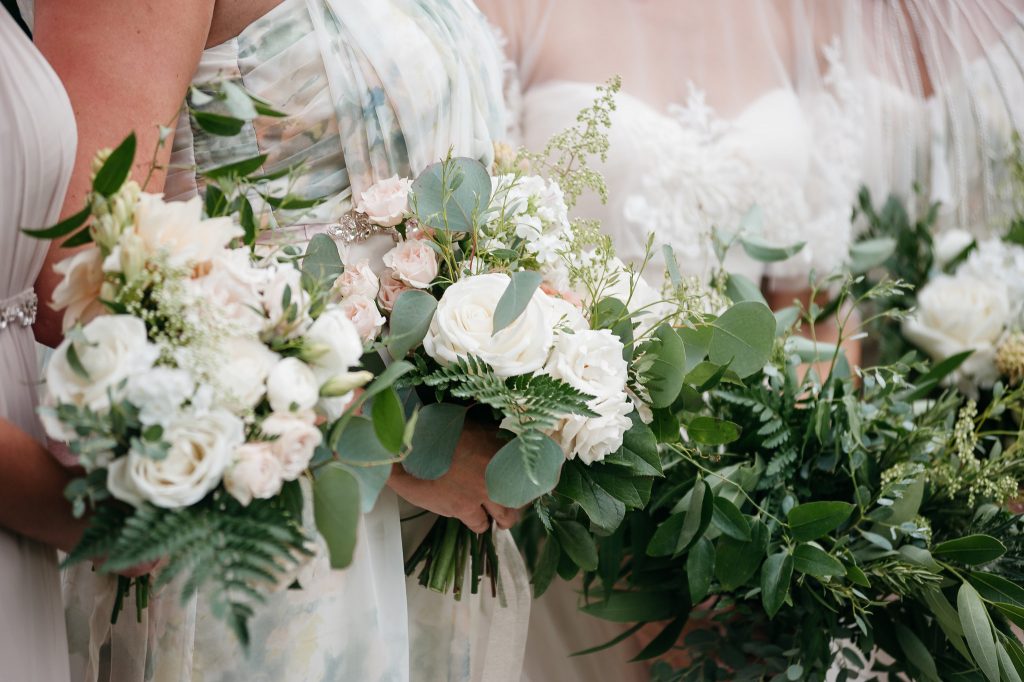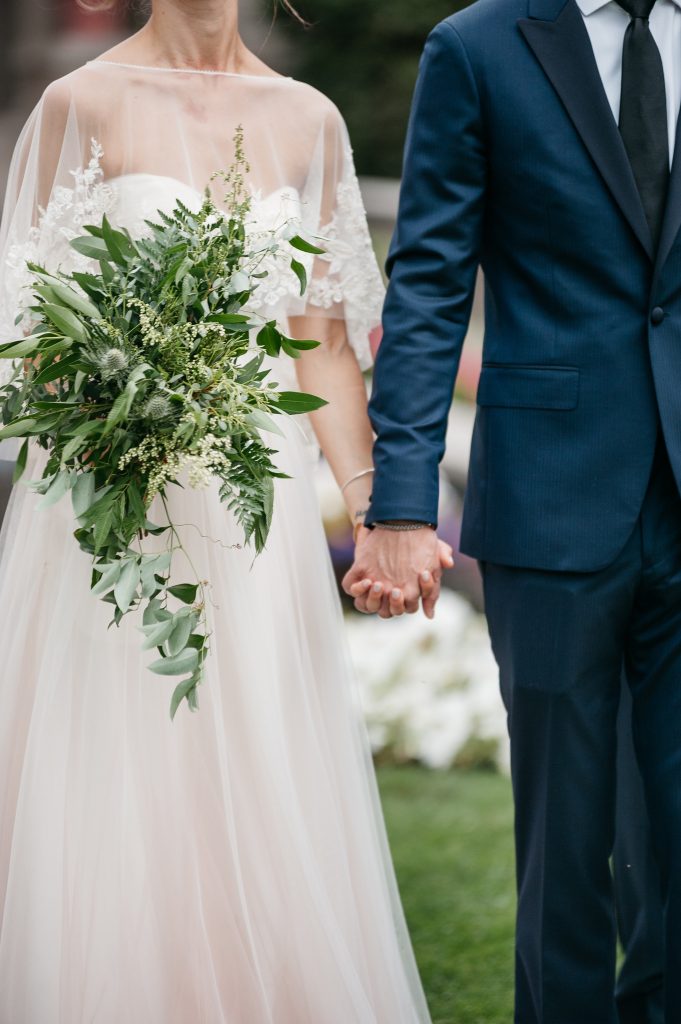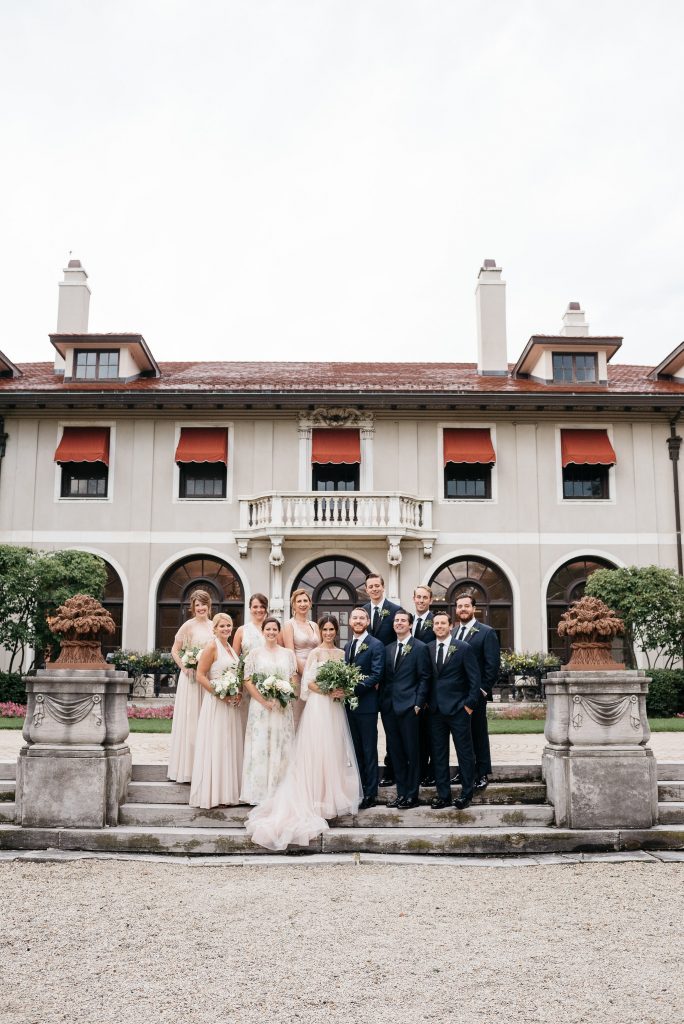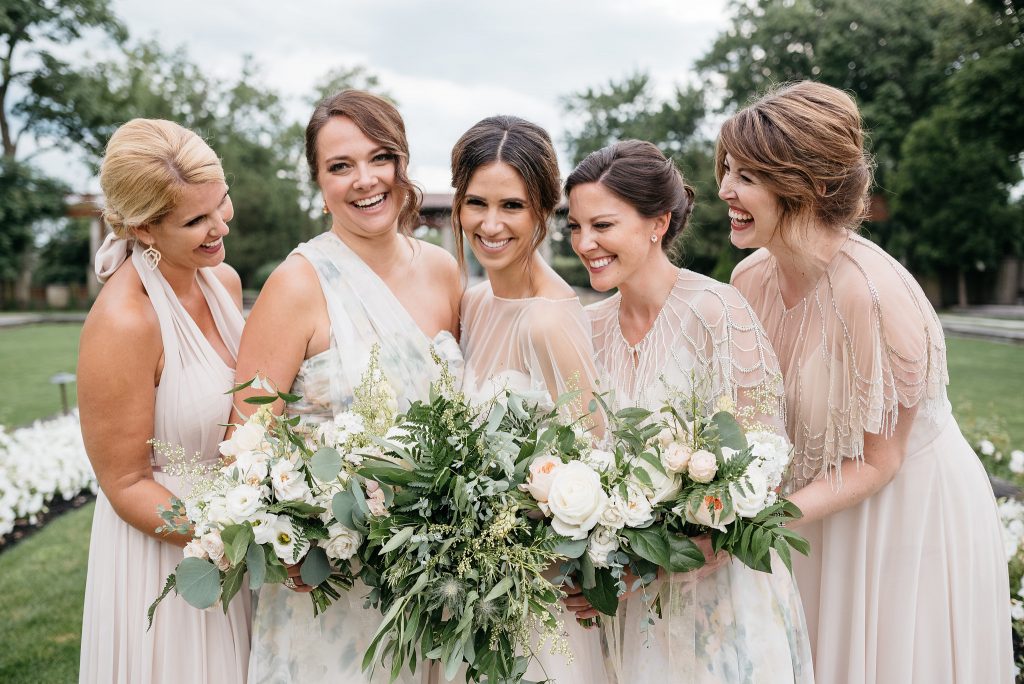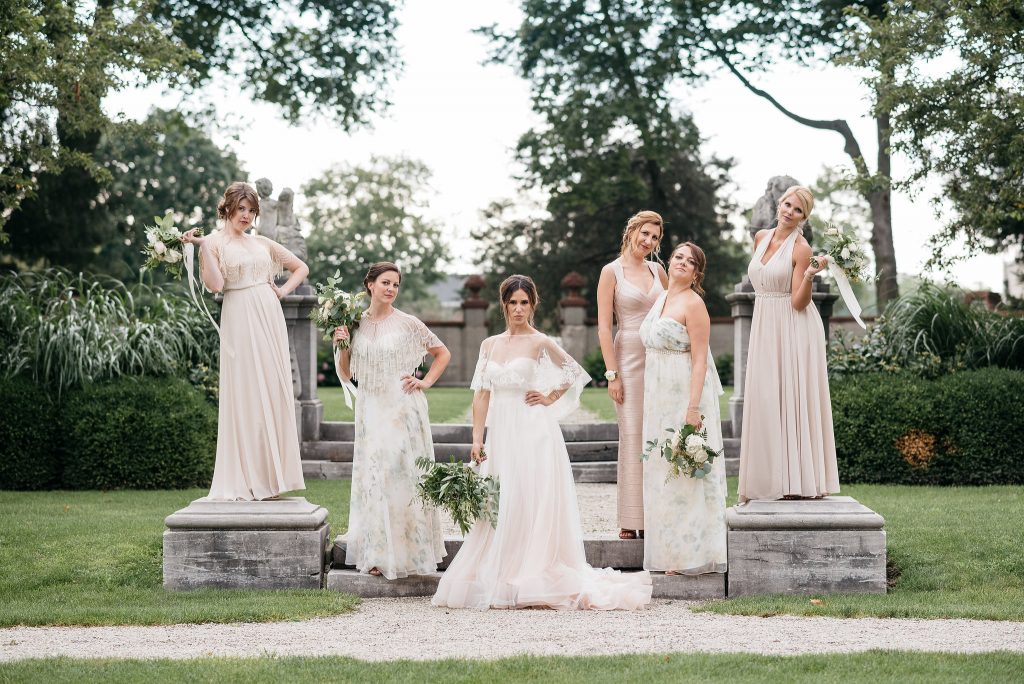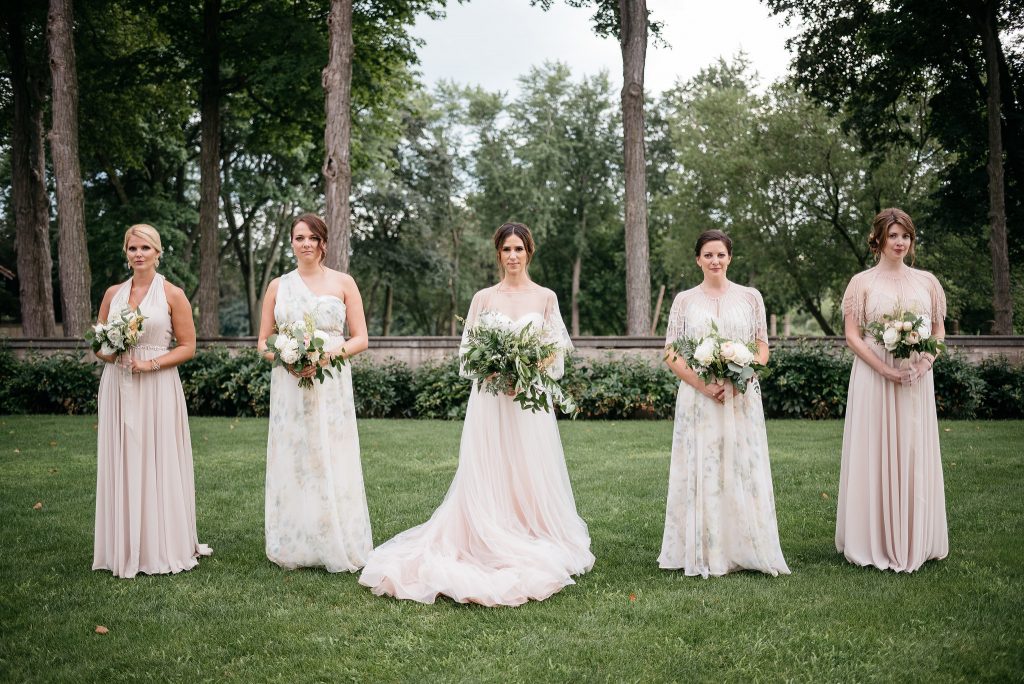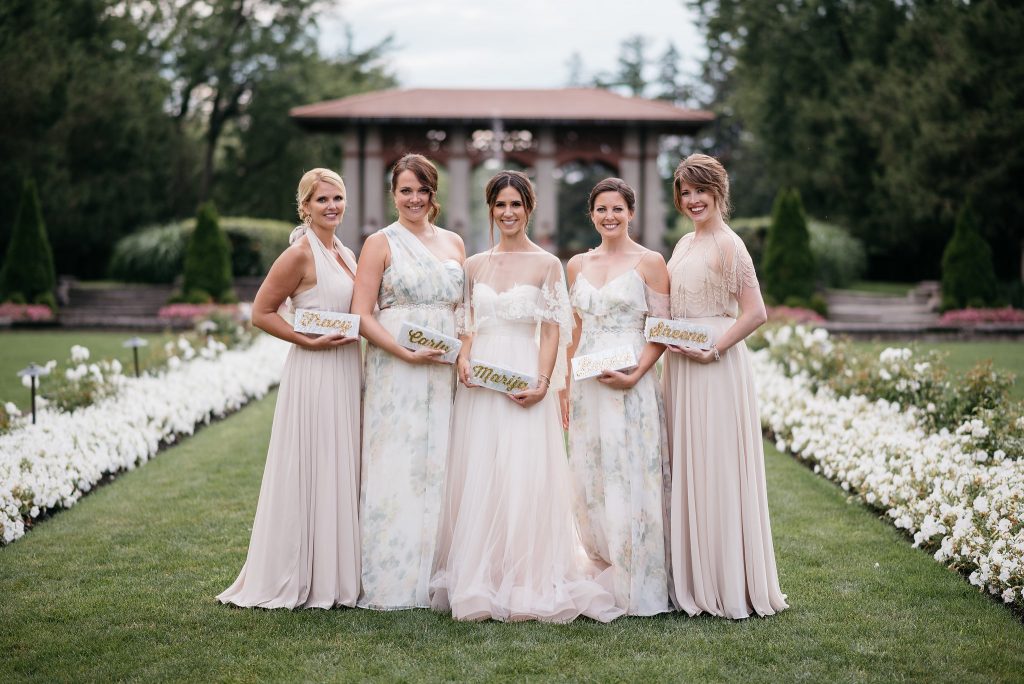 For my bridesmaid gift, I went with these custom acrylic clutches! They were such a fun gift and, hopefully, reusable as well! I purchased these from
Milan Blocks
, but here are a few more options
here
and
here
. If you are looking for a gift, I'd highly recommend these – everyone needs a purse to match their dress no?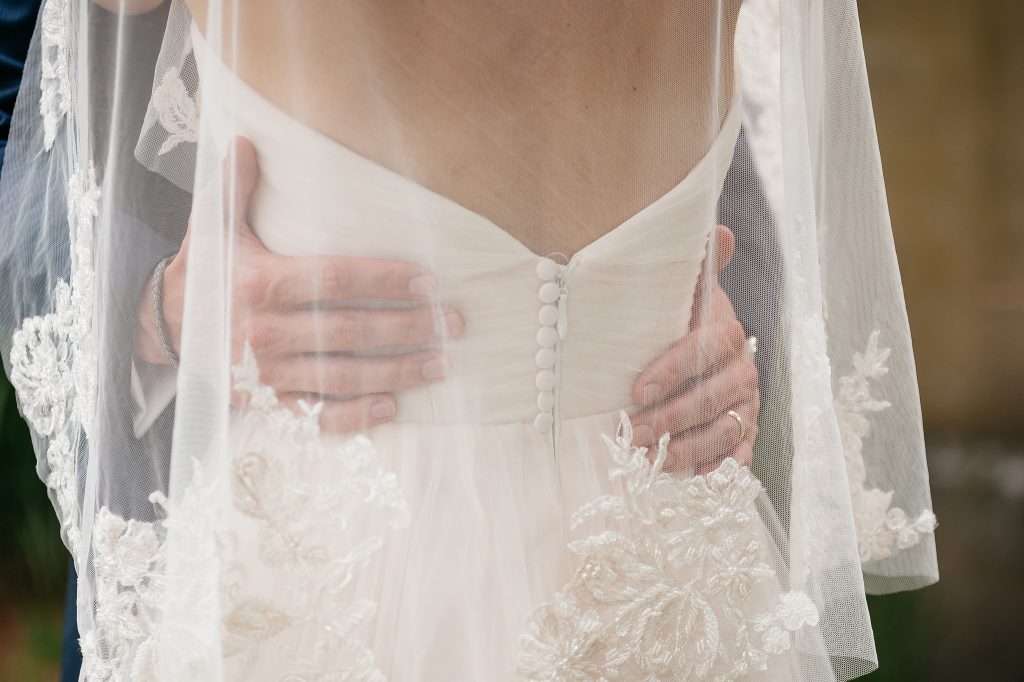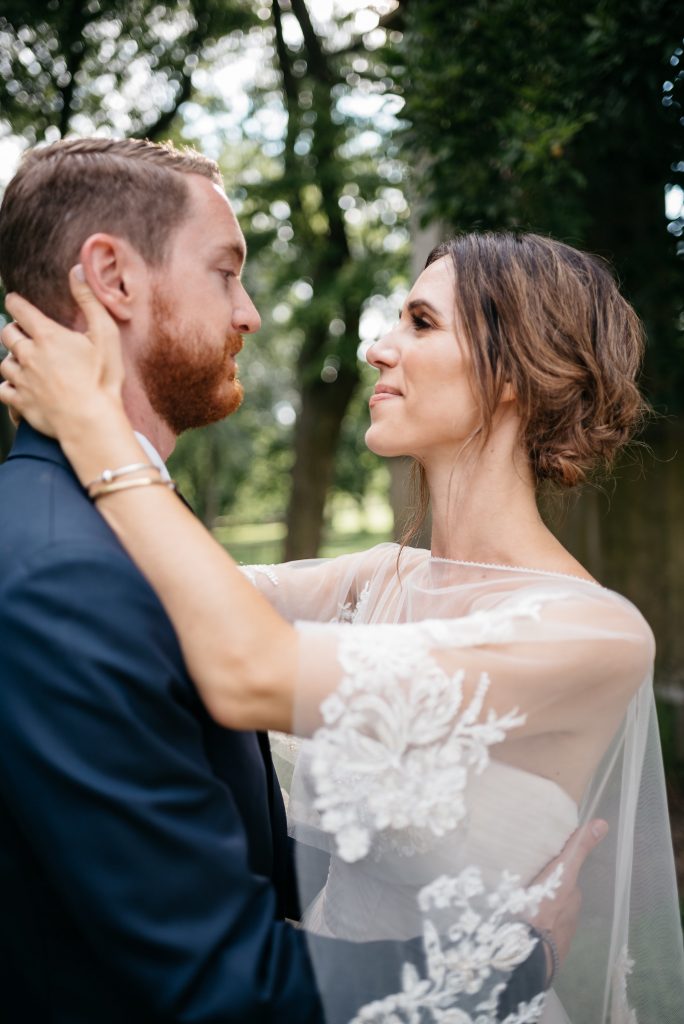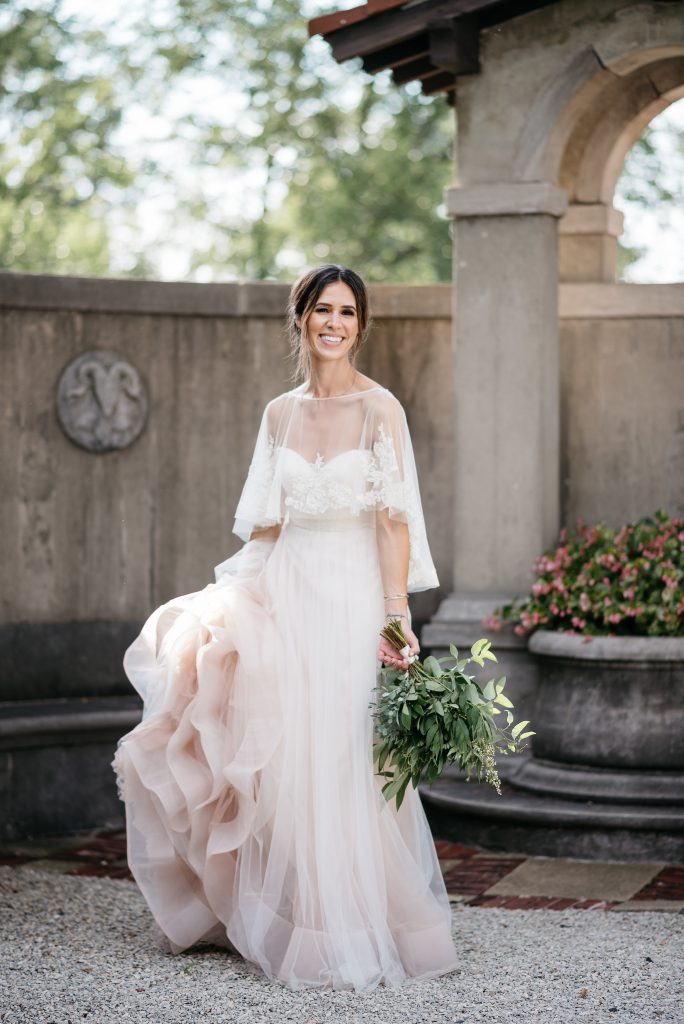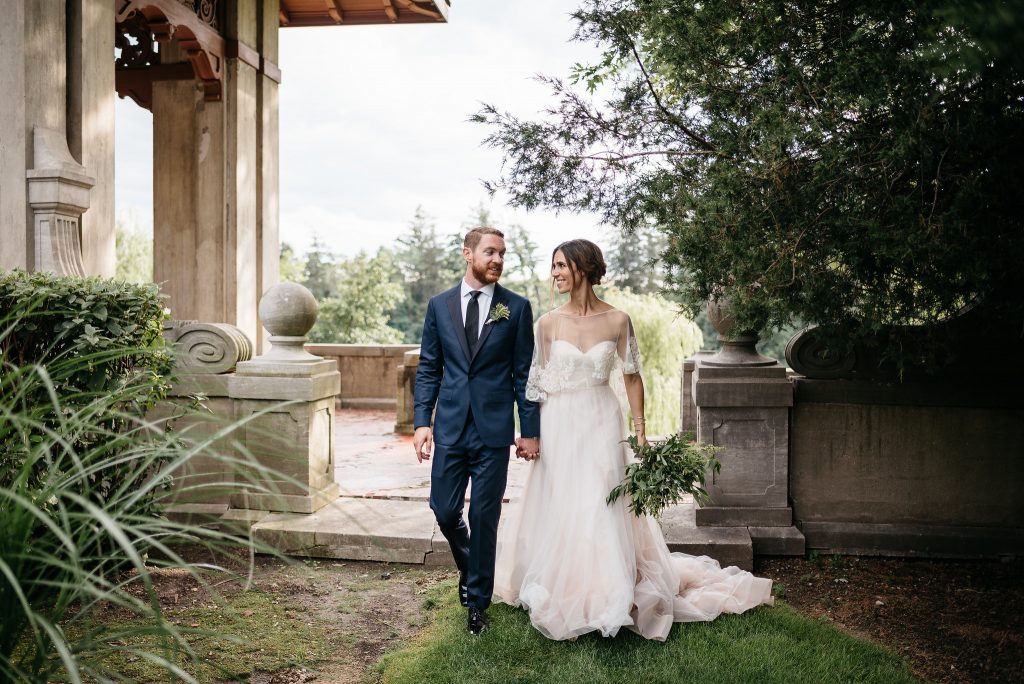 THE VENUE & DETAILS
Ok friends, this is it! This venue was the location for the wedding of our dreams! Located just 40 miles outside of downtown Chicago, hides the beautiful Armour House. Owned by Jonathan Armour, founder of Chicago's meatpacking district, and built for his wife who wanted an Italian Villa home. Every corner is detailed with the decadent finishings. Not shown in this post, but our phootbooth "room" was covered floor to ceiling in PURPLE MARBLE from Italy. It was heaven!
The goal in searching for a wedding venue, was to find something unique – we didn't want to give our guests another hotel ballroom wedding. This allowed everyone to feel as if they traveled somewhere for the day and that is exactly what we wanted! The Armour House fulfilled our wedding dreams….as cheesy as that sounds!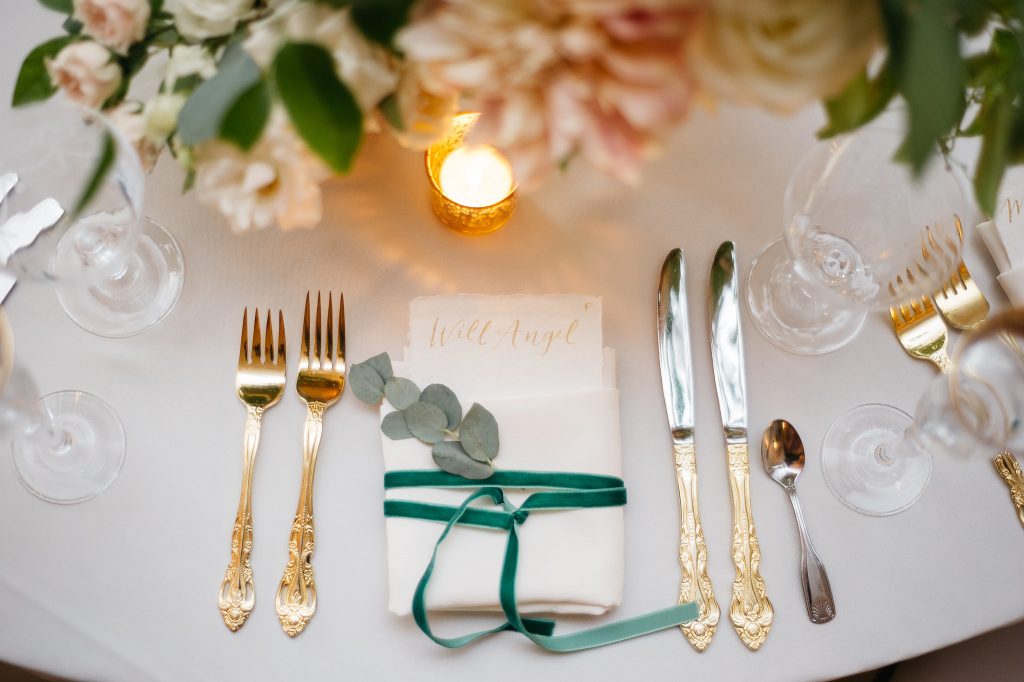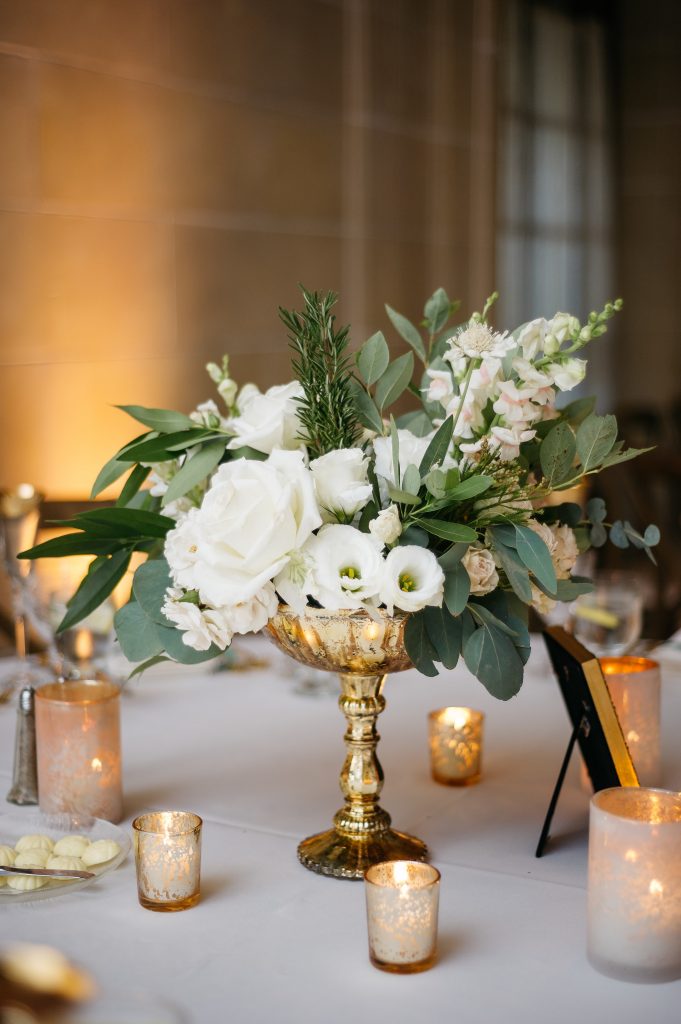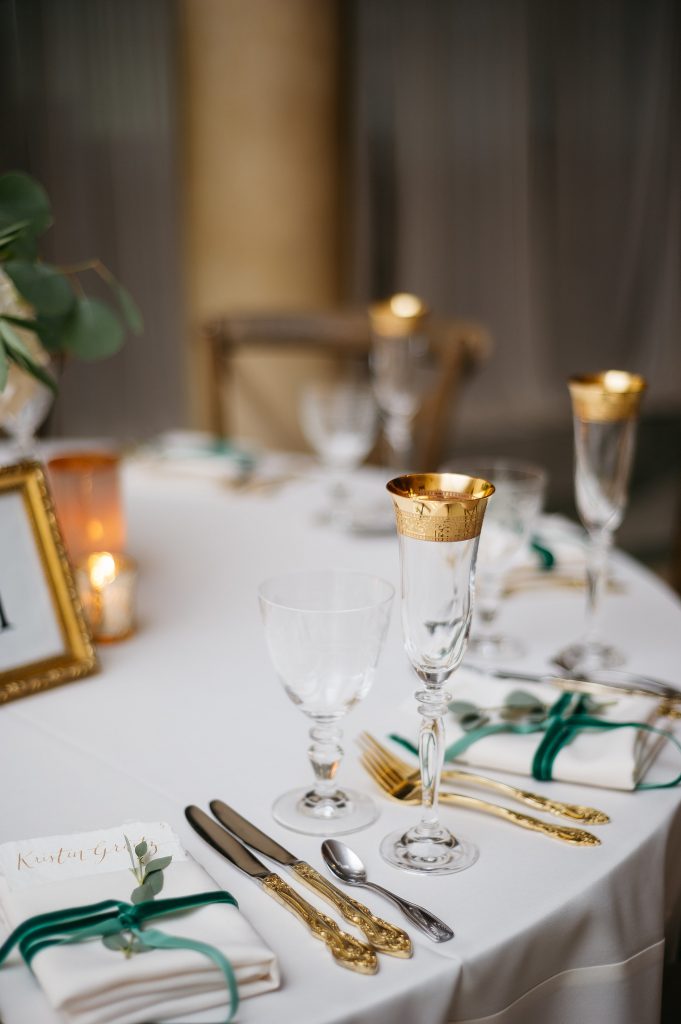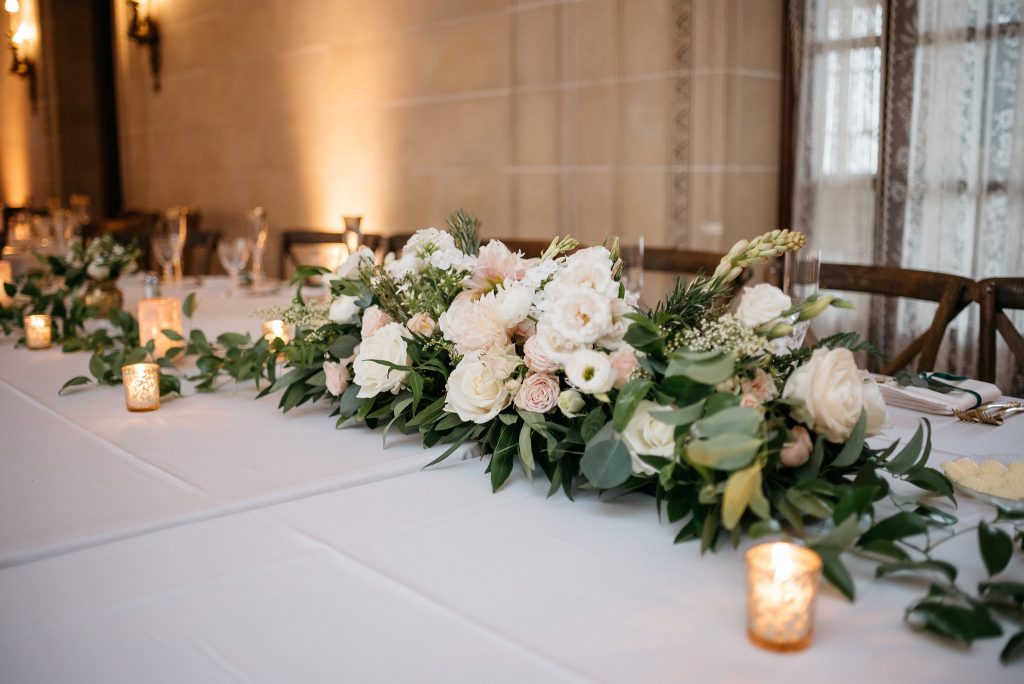 Since the inside of the home has so much vintage charm, we really didn't want to take from that at all, but more or less, compliment it all. We used gold and green accents on the tables – this felt like a nice color scheme to help compliment the stone walls and marble accents.
The grand staircase, the was built for Jonathan Armour daughter's wedding, was covered in dense greenery to bring in the romantic feeling of the outdoor garden inside. Just writing this out is making me fall back in to the dream fairly tale of that home!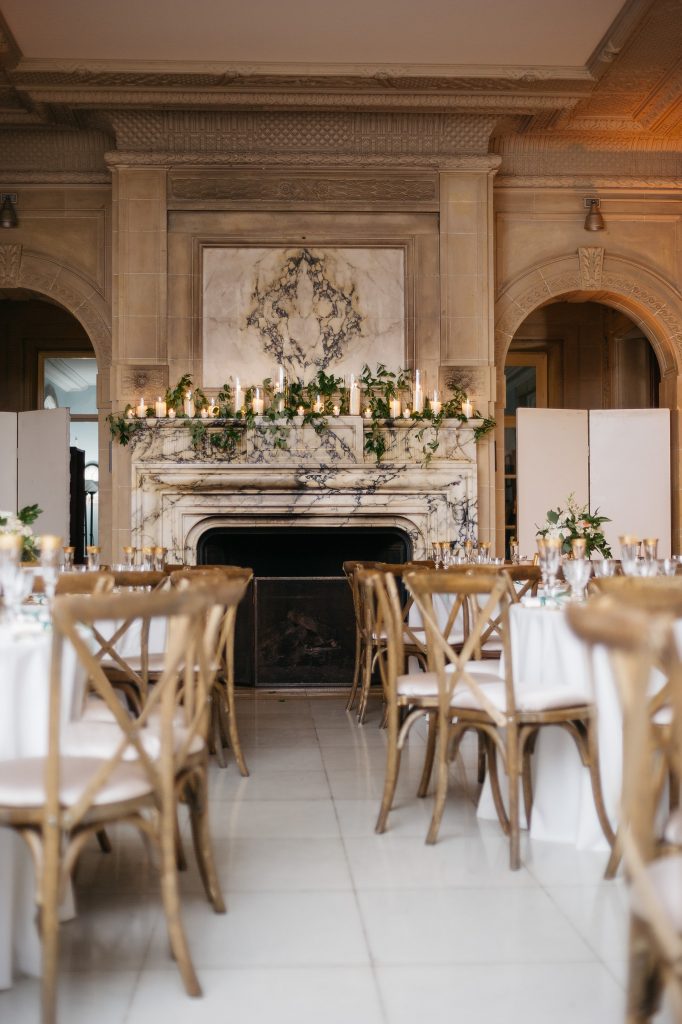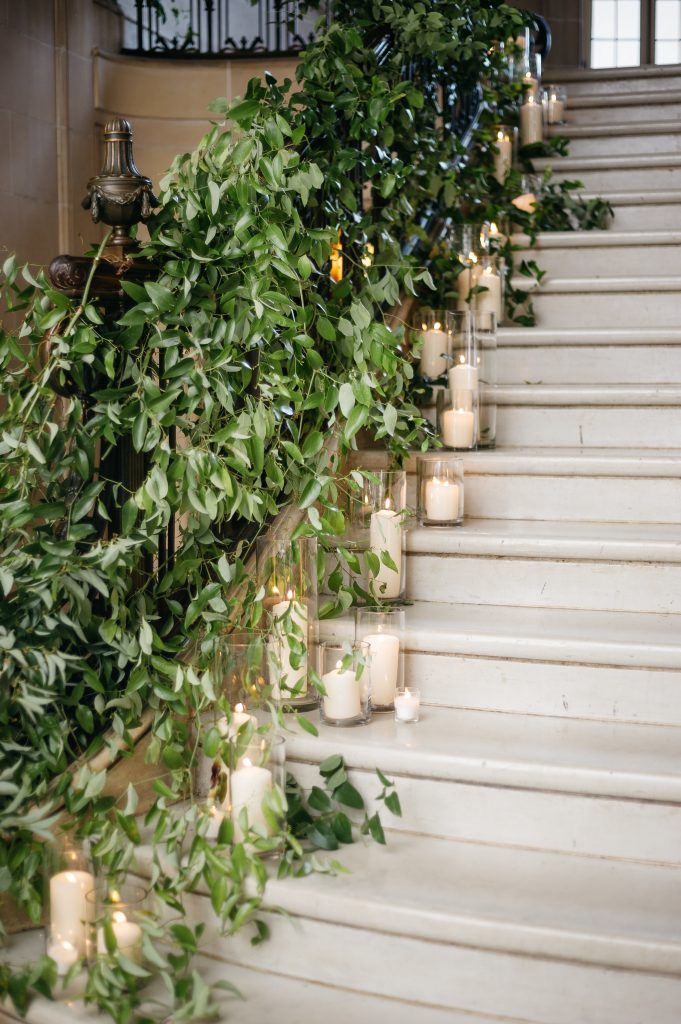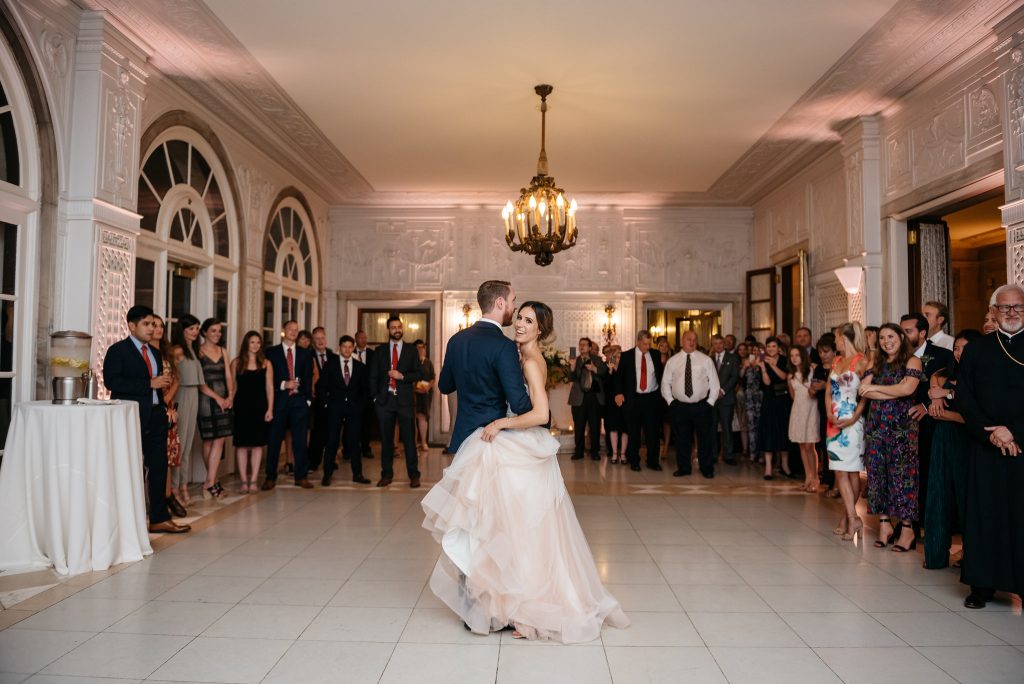 Thank you for reading all the way to end and in celebrating our first year! Here's to many many more!
Vendors:
Photography // Iron and Honey
Wedding Planner // LK Events
Make-Up // Shannon O'Brien
Hair // Base Salon
Venue // The Armour House
Florals // Field and Florist
Band // Blue Water Kings
Shop the POST: