January 12, 2017
Hydra-Essentiel Bi-Phase Serum
Now the holidays are over, I finally have a second to sit and back and reflect on the previous year and plan for the next year. First things first, skincare! With New Years resolutions come new diets, new workouts and new skincare regiments. I don't know about you, but my skincare practices is usually the first thing out the door when I'm busy. a busy day usually ends with my falling asleep on the couch and barely making it to my bed with washing my face! This year, it's a new me, new skin….I have no choice, I'm getting married and I need my skin to be in tip top shape! Today sharing I'm some of my favorite products from Clarins, like this Hydra-Essentiel Bi-Phase Serum, and how it does wonders to my winter time skin!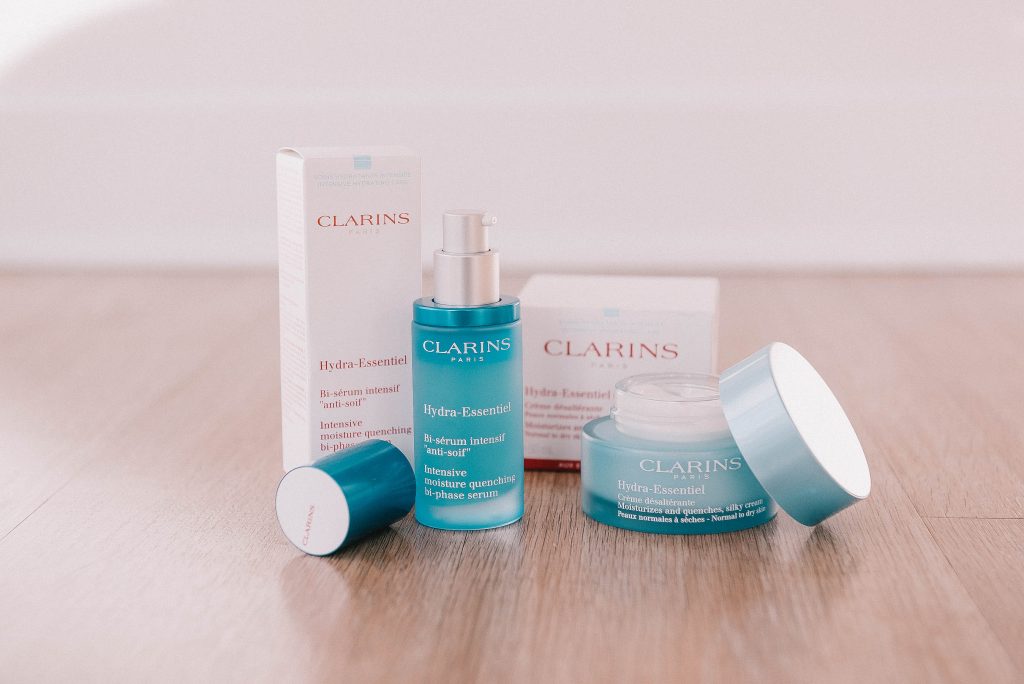 The Chicago winters are nothing short of brutal – you aren't strong until you've done at least one Chicago winter! The temperatures are frigid and the wind chill has a mean backhand. Every morning I commute to work via public transit and am outside long enough to exposure my skin to these crazy elements. My skin panics and drys up within second, and since I'm not a big water drinker I have to find another solution. Well, Clarins has developed a line that will solve all your dry skin problems!
Shop the POST:
Hydra-Essentiel Bi-Phase Serum – I LOVE how lightweight this product is and use as the first step of my nightly care 
Hydra-Essentiel Silk Cream SPF 15 – This cream is like the fountain of youth and has ridded my dry skin
White Cross Front Blouse – Great blouse for every day wear!
 AG Jeans – The best skinny jeans in the game!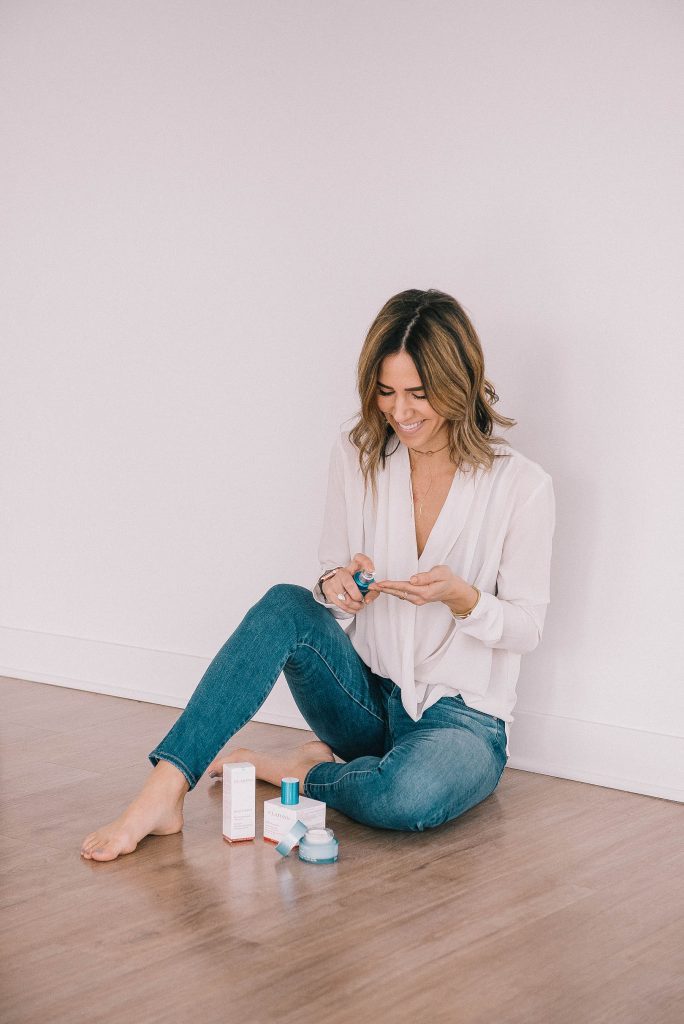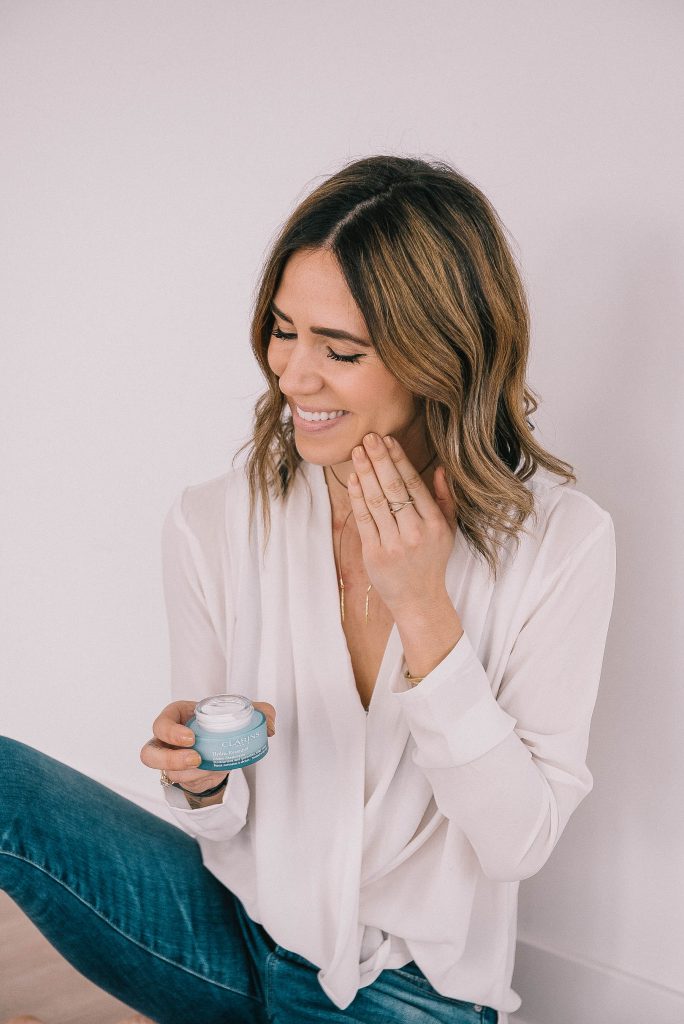 Hydra-Essentiel line from Clarins quenches thirsty skin and boosts skin's ability to retain precious moisture for all-day hydration. With the cold Chicago winter and lack of water consumption, I needed a skincare line that would do the dirty work for me. I'm obsessed with the Hydra-Essentiel line and have seen results even after one day!
My nightly skincare routine starts with a couple pumps of the Hydra-Essentiel Bi-Phase serum. It's silk texture feels so luxurious on my skin and spreads on easily. It's a great top coat for my nightly skincare routine! The final step of the night is a thick coat of the Hydra-Essentiel Silk Cream – I massage this in a circular motion on my face (because I can't be the reason I have wrinkles) with enough cream so that I have a oily glow before I head to bed. I wake up with a fresh face that is fully hydrated and ready to go!
Shop my favorite Clarins products here: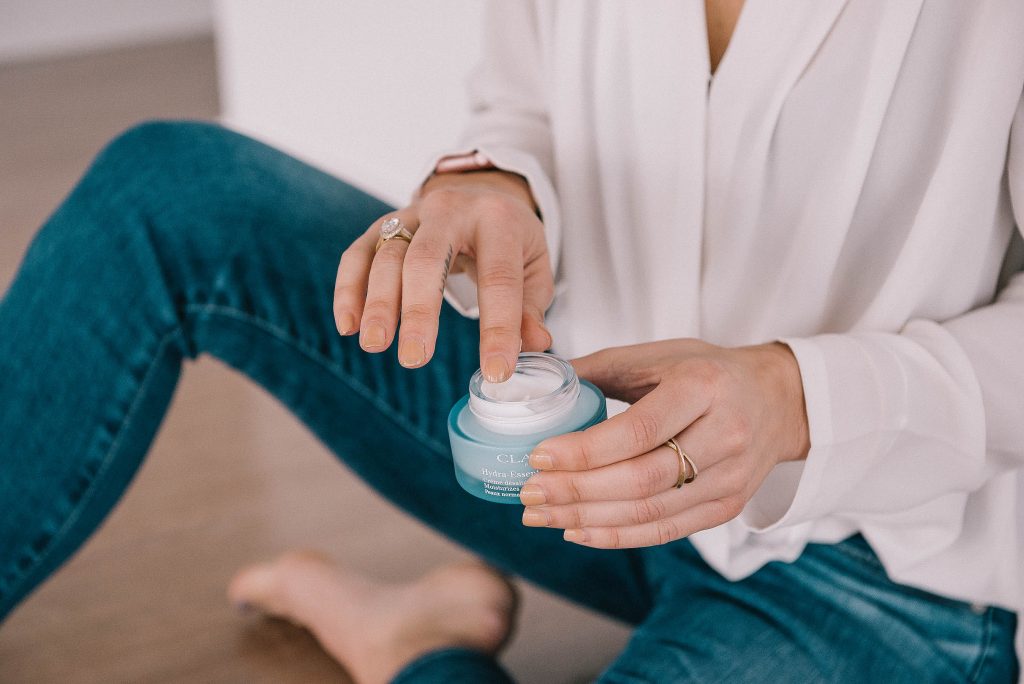 Thank you to Clarins for sponsoring this post. Clarins is a brand value and support – all thoughts are my own. 
YOU MAY ALSO LIKE