September 9, 2016
Fall Game Day Fashion Ideas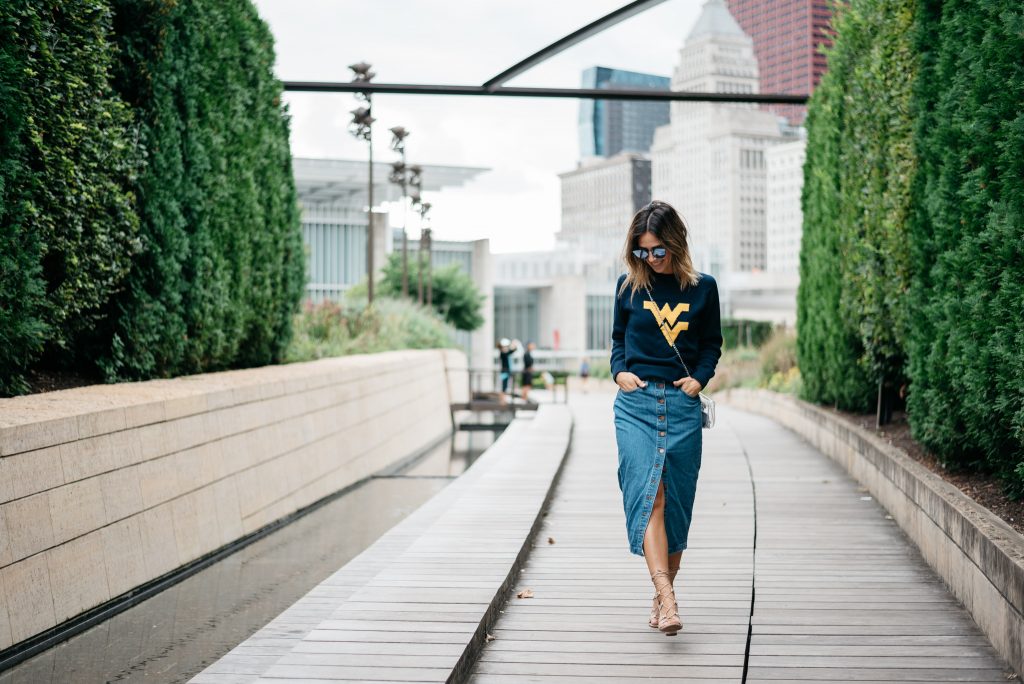 Shop the LOOK:
West Virginia Sweater | Midi Denim Skirt (similar) | Mirrored Sunglasses | Clear West Virginia Bag (similar) | Ghille Sandals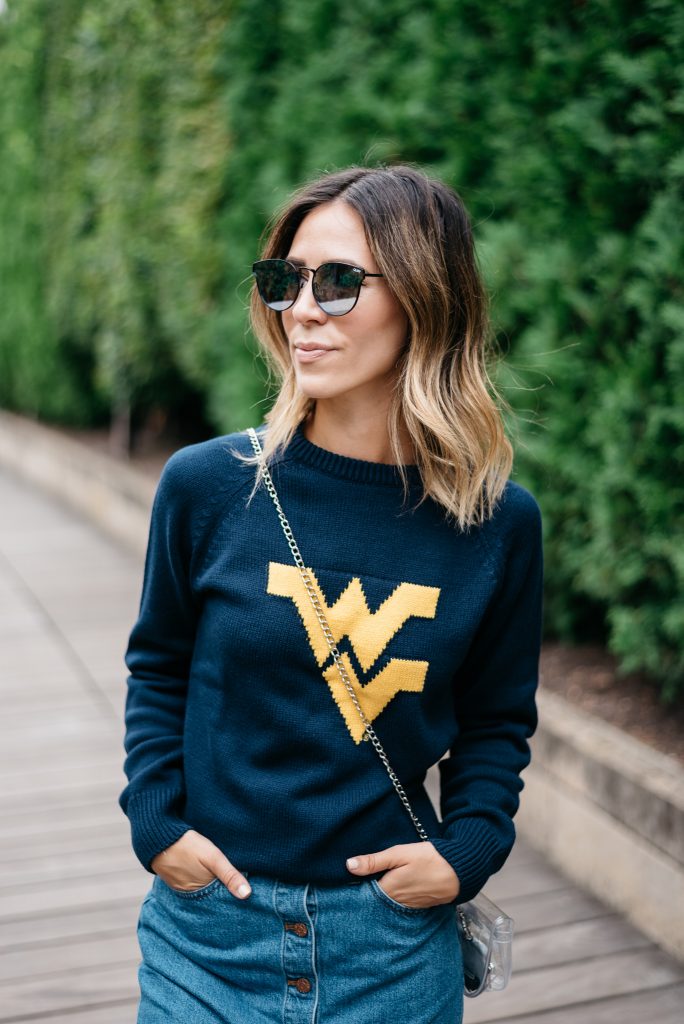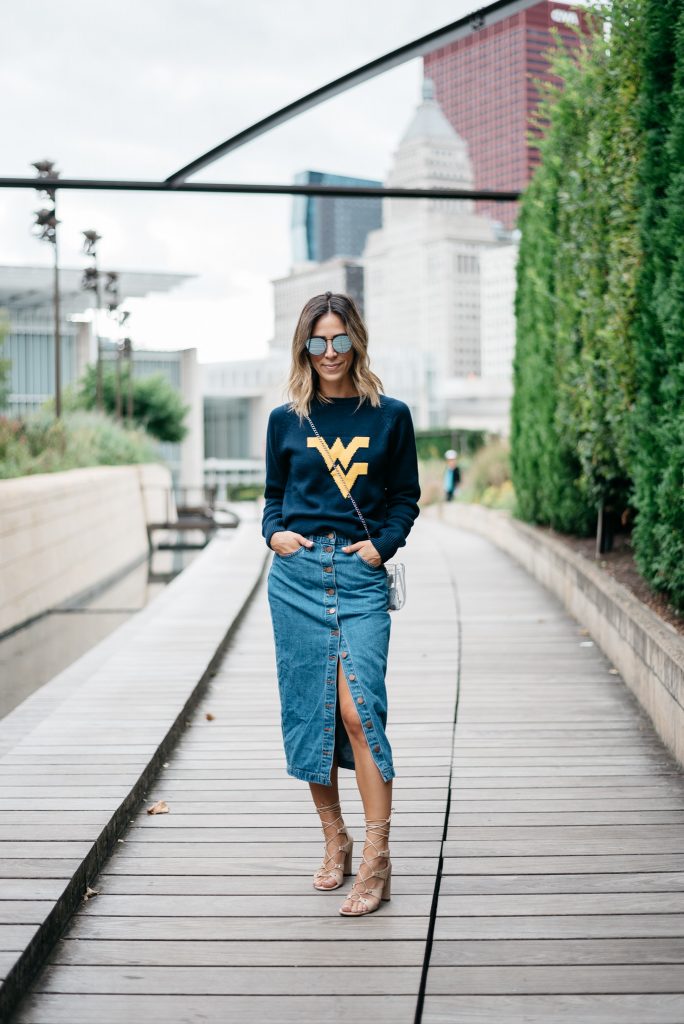 Helloooooooooo Friday! I love Fridays, especially Fridays on a short week! Woo! Today we are headed to Denver for a wedding – another day, another plane, another trip, another wedding! On Monday I head to New York Fashion Week for a few shows and some fun parties!! I went last season and absolutely had a blast and walked away making a few amazing friends! Hopefully the same happens this season! With Fall slowly approaching, I have two things on my mind – Fall fashion and game day! Today my look captures Fall Game Day Fashion Ideas and I couldn't be more giddy – thats a two for one! I really do love this time of year – aside from the fact that I'm in a constant state of sweat. 
This 
vintage game day sweat my JAM and will soon be my go-to this season, once the temperatures drop.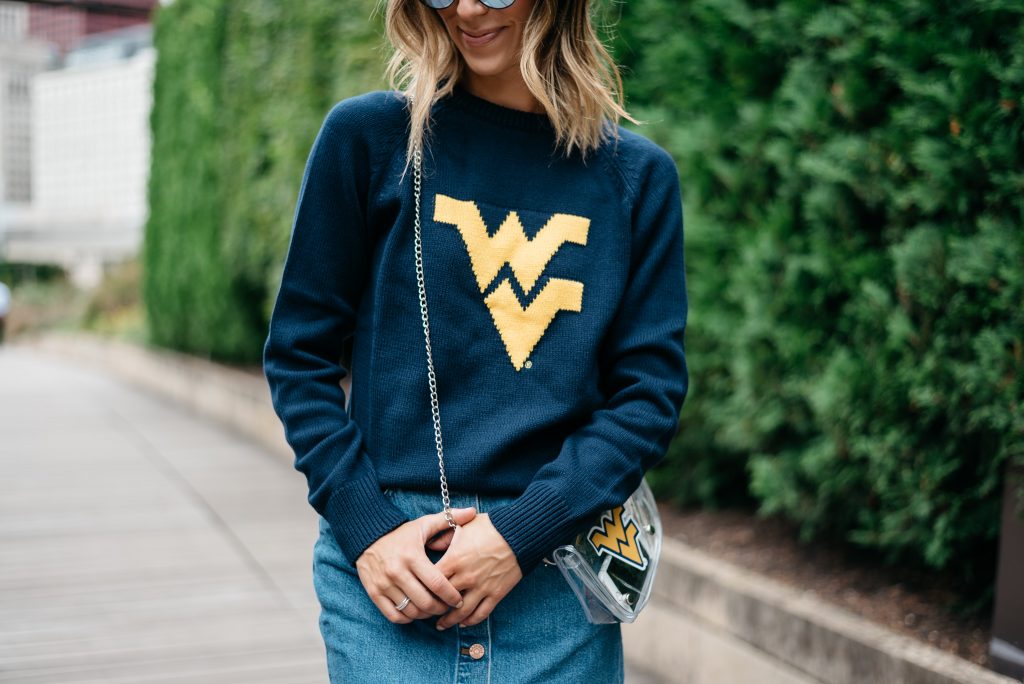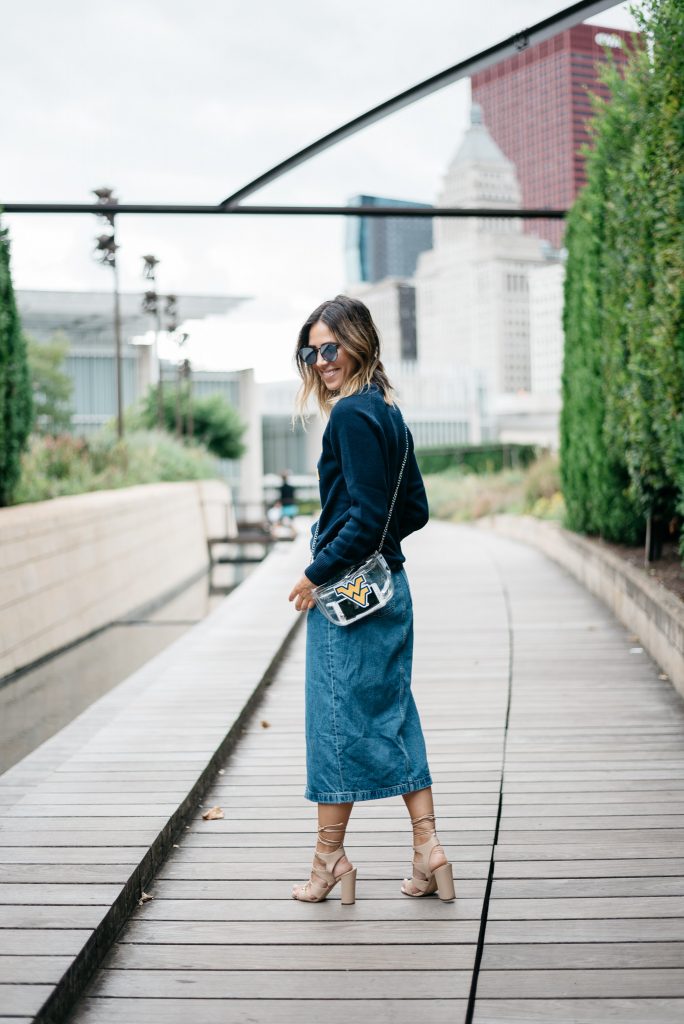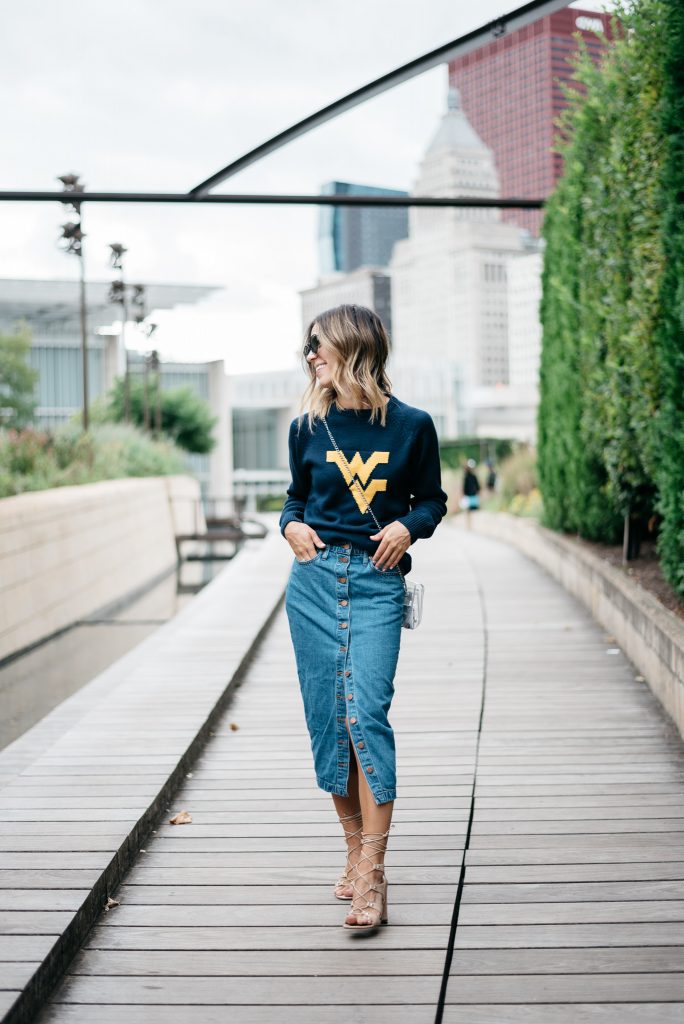 I love a good non-traditional game day look, especially when you are able to incorporate some fun fall trends to complete you look as well! This
denim skirt
has been on rotation since June – see how I styled it then
here
. It's a great piece for fall and denim is so on trend with what we are seeing. Since it's still 1,000 degrees outside, this is a great way to incorporate the denim trend in to your game day look without sweating through your britches!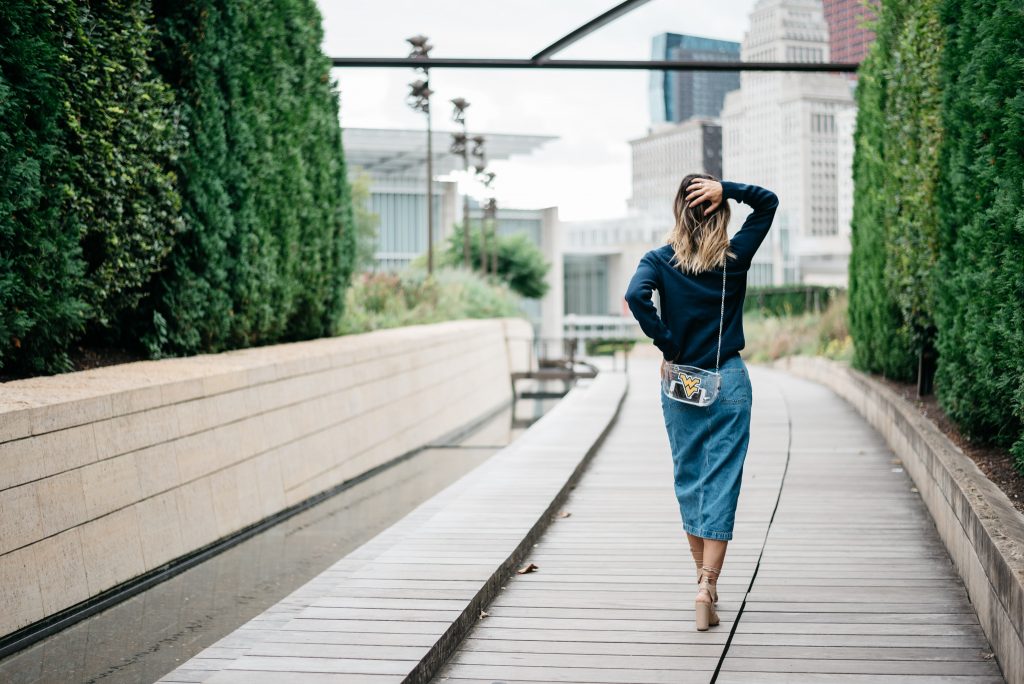 Now, for the man of the hour –
this
amazing vintage sweater from
Hillflint
!
This
sweater fits like a glove and is SUPER cozy for those chilly fall mornings. Finding unique game day pieces can sometimes be a challenge so when I came across Hillflint it was love at first sight! Be sure to check out their site
here
and their other school sweaters! They are SO cute!
Now, if you have been to an NFL game in the last few years, you know that the rules for bags / purses has changed DRASTICALLY! The bag has to be a certain size (small) and it has to be clear. Well this movement has since migrated to the NCAA and for any college game you attend, you'll need to abide by the rules! Considered yourself warned – I've seen women throw bags in the trash because they were denied entry and there are no lockers to store your purse. Little Earth Productions has solved the problem and created fashion bags to wear to games – beats bringing a ziploc! This clear West Virginia cross body (can also be a fanny pack) is perfect for game day – its the best swap for your designer bag! Check out the rest of their game day collection here. Check out how I styled another one of their bags here for baseball season.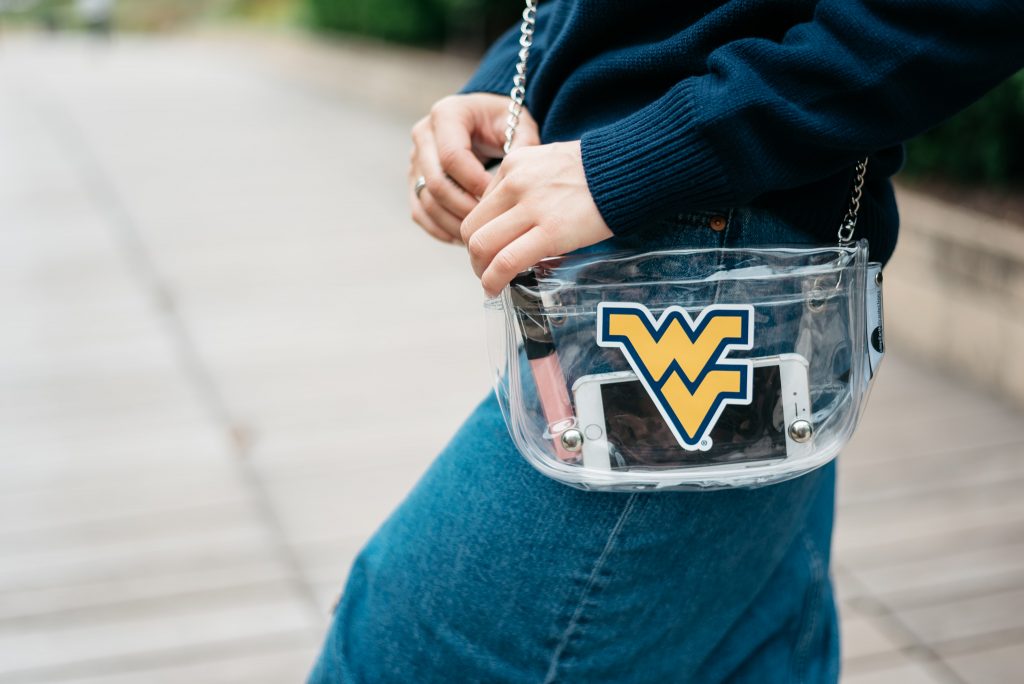 For more Fall Game Day Fashion Ideas, check out my Game Day fashion page here. Thanks for stopping by as always and have a fabulous weekend! Stay tuned on Instagram for weekend updates and NYFW!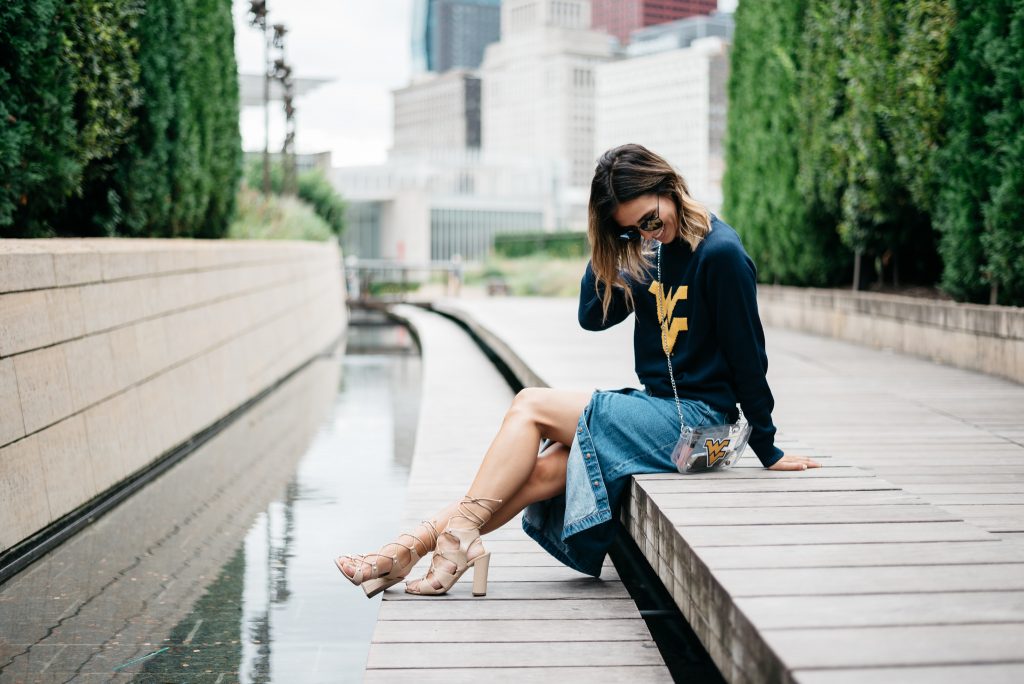 Shop the LOOK:
West Virginia Sweater | Midi Denim Skirt (similar) | Mirrored Sunglasses | Clear West Virginia Bag (similar) | Ghille Sandals

YOU MAY ALSO LIKE